Take a tour round this quirky Georgian cottage in Oxfordshire
A first-time buyer, this owner made her mark on her new house by combining her passions for vintage style and pared-back design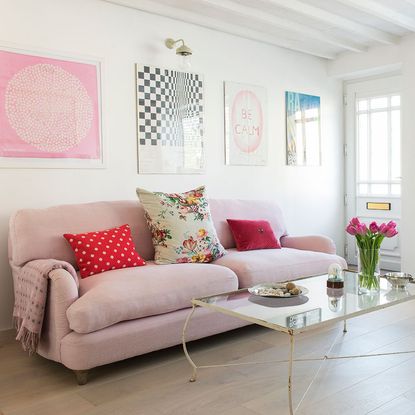 (Image credit: Future PLC/ Colin Poole)
Ideal Home Newsletter
The Home Of Great Ideas For More Than 100 Years
Thank you for signing up to . You will receive a verification email shortly.
There was a problem. Please refresh the page and try again.
'As a child, I had a fabulous doll's house,' says the owner of this three-bed Georgian terraced cottage in Oxfordshire. 'I'm sure that's where my love of interiors came from, as well as growing up with 
a stepdad who worked as an architect. 
I appreciate design and, fortunately, I'm able to visualise space and think how 
it can be changed to improve layout 
and flow, which proved very useful 
once I started viewing houses.
We've got so many fabulous real homes for you to see!
After renting for many years, the owner decided it was time to buy her own property, but on a small budget the search wasn't going to be easy. She began house hunting around west Oxfordshire. 'My priority was to buy somewhere close to 
a town centre, with modern amenities and with easy access to Oxford,' says the owner.
This cottage was the sixth property she viewed, and it looked completely different from how it looks now. 'The dated interior was rather bleak, with most of the walls in exposed Cotswold stone, which made 
it feel very dark and gloomy,' she says.
But as the owner walked around the house, 
she could see beyond the orange pine cupboards and laminate flooring to imagine a beautiful white, open space with smooth plastered walls. 'I decided that if I could make my finances work, 
this was the house for me,' says the owner.
'Eventually, I managed to put everything in place and my offer was accepted. In May 2016, I 
was handed the keys and the house was officially mine – an amazing feeling, as it was the first property I had ever owned.'
Exterior
This three-bed Georgian terrace cottage in Oxfordshire was dated, with orange pine woodwork, a stone fireplace and exposed stone walls that made it feel oppressive.
The downstairs layout felt dark, so the owner painted all the walls white to make it feel larger and laid engineered oak flooring to transform the look of the ground floor.
Living room
The owner wanted to achieve an art gallery, open-plan feel with as much natural light as possible in the living space. Most of her furniture is from vintage shops, or are pieces that she's had for years and has given a new lease of life with a fresh coat of paint or an off cut of wallpaper.
Plastering the walls and painting the beams white has given the whole ground floor a contemporary feel. 'No matter what I place against the white walls it always looks so fresh,' the owner says.
She had great fun choosing a brand-new sofa. 'We went to the Loaf showroom in London, and I don't think the saleswoman had ever been asked to supply that design in pale pink – she did keep checking the colour as I placed my order. I suppose 
it might not be the most practical or neutral shade, but we all love it!'
Get the look
Buy now The Snowdrop sofa in powder pink, £1,540, Sofa.com is similar (opens in new tab)
Buy now For a similar throw try Mondo throw in baby pink, £149, Melin Tregwynt (opens in new tab)
Kitchen
'I had already created a mood board and was also drawing up ideas and making plans of how I wanted the interior to look,' says the owner. She planned to have open shelving in the kitchen, against everyone's advice – 
most people she asked thought she should 
fit cupboards with doors. 'But I was determined to have shelves to display 
my colourful china, as having it out on display looks so cheerful.'
'I love vintage pieces and chintz patterns, and especially like to mix old pieces with new. So many items I've bought over the years have been stored away just waiting to be displayed, and now I have my own home, I've enjoyed rediscovering them and placing them around the house.'
Get the look
Buy now: For similar shelves try the Chrome Kitchen Rack, £199, The Holding Company (opens in new tab)
Dining room
Snug
'My mother gave me the small sofa,' says the owner. 'I removed the old cover and recovered it with calico fabric. I will eventually recover it, but for now its comfortable with my grey throw from John Lewis and cushions I made from vintage French linen.'
Bedroom
The owner's vintage-style bed was an eBay find. 'The eiderdown is gloriously soft and warm and reminds me of my childhood,' says the owner. 'I bought it in the Habitat sale years ago and I am so pleased it is finally out of storage and making my bedroom colourful and cosy.'
Get the look
Buy now: The Oliver Bed, £299, Feather and Black is similar (opens in new tab)
Bathroom
You'll love these Small bathroom ideas to optimise your tiny space
Ideal for a small space such as in a bathroom, the owner found these shelves in a charity shop and painted them white. Not only are they great storage, but also look attractive filled with bits and pieces. For a quick makeover, she used tile paint to freshen up the existing tiles.
'There are still a few finishing touches yet to come for the house, but I'm gradually getting there,' says the owner. This summer, she's concentrating on the garden, using reclaimed wood and old house bricks to change the layout. 'It's 
so exciting seeing it take shape.'
Heather Young has been Ideal Home's Editor since late 2020, and also edits its sister title Style At Home. She is an interiors journalist and editor who's been working for some of the UK's leading interiors magazines for over 20 years, both in-house and as a freelancer.