Three ways to arrange two sofas in a small living room - and one way to avoid
Who says you can't get two sofas in a small living room? Here are the best ways to set them up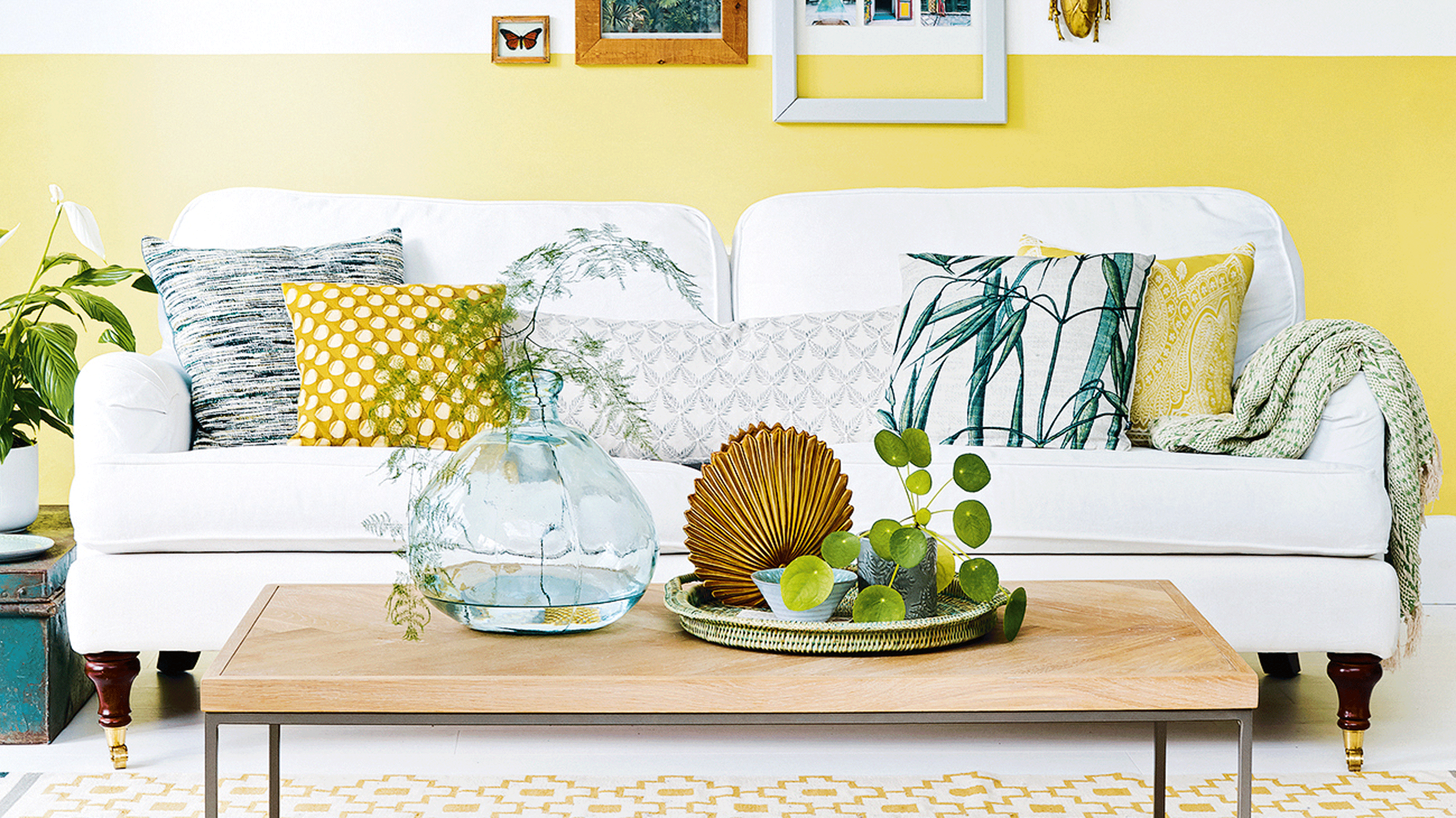 (Image credit: Future PLC)
If you're working with small living room ideas, don't feel you're limited to including just one sofa. Experts have shared their top tips on how to arrange two sofas in a small living room, so that you can create a space that is relaxing, sociable, and comfortable for you and your guests.
Knowing how to arrange furniture in a small living room is crucial for making the most of your space. Whether you want to create a living room that feels relaxed and calm, or the ideal entertaining and socialising space, having two sofas is a game-changer.
But you might be wondering how to arrange two sofas in a small living room so that the room doesn't feel cramped and overcrowded. After all, the best sofas require careful thought as to where they should be positioned, so throwing two into the mix will require even more so.
How to arrange two sofas in a small living room
We've asked the experts to share their top tips on how to arrange two sofas in a small living room, so that you can optimise your seating space and create a room that is both functional and beautiful.
We found that there are in fact only three ways to effectively style two sofas in a small living room without overcrowding your space. Here's how to get it right.
1. Opposite
'For a smaller space, sofas placed opposite one another, with a single slim-silhouette coffee table positioned in the centre, works best to allow for movement through the room without feeling crowded by multiple additional pieces of furniture,' say the interior experts at King Living Design Studio. 'This layout facilitates conversation, allowing guests to be seated opposite one another without feeling far away.'
Arranging two sofas parallel to each other is a great way to create a sociable setting in a small living room. And just like knowing which sofa colours to avoid, choosing the right style of sofa will prevent this layout from feeling too formal.
'By being thoughtful about the sofa shapes, materials and accessories you choose, this layout doesn't have to feel overly formal,' says Helena Davies, Head of Buying, Barker and Stonehouse. 'Opt for sofas with deep seating and in upholstered styles in natural fabrics like linen and cotton to create a warm and relaxing atmosphere that supports the sociable styling of your living room.'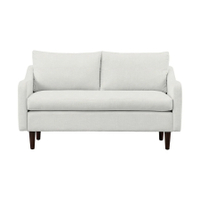 So'Home Elodie 2 Seater Sofa In A Box, £1199 at La Redoute
The Elodie 2 Seater Sofa would be the ideal choice if you're planning on placing two sofas opposite each other. It's not too large, and you can choose from five lovely colours - either mix and match or stick two identical couches opposite each other.
2. L-shape
Arranging two sofas in a L-shape is another ideal setup for a small living room. This creates a nice flow from one sofa to the other, and can also create the illusion of having one of the best corner sofas in the room, if your two sofas are identical.
'Arrange your sofas to meet at the corner as this will create a balanced and comfortable composition as well as encourage face-to-face interactions when entertaining,' says Patricia Gibbons, Design Team, Sofa.com. 'Additionally, this arrangement optimizes the use of space, and creates a focal point making the room appear more spacious and allowing for better traffic flow.'
Placing your two sofas in a L shape will keep the rest of your living room open and help to create the illusion of more space. Keep the sofas close to the walls to leave copious amounts of floor space available, which you can then add one of the best rugs too.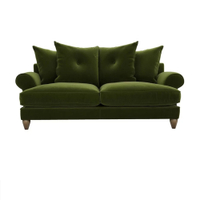 The Lounge Co. Bronwyn Sofa, was £1995 now £1495 at Furniture Village
The plush green of The Lounge Co. Bronwyn Sofa is the perfect touch of elegance and sophistication, especially in smaller living rooms where the rest of the decor might need to be pinned back. Arrange in an L shape next to a neutral, pared-back two seater to make the green sofa a showstopper.
3. Pair different sizes together
Lastly, experts recommend making the most of having two sofas by incorporating two different styles or sizes. Pair a two-seater and three-seater sofa together to create an eclectic aesthetic that makes the most of a small room.
Don't feel like you have to play it safe in terms of colour either; the bolder, the better, as you really want to play up the fact that you've included two different sofas into the design of the space. Or, you can choose sofas that have some semblance of flow between them, whether that's a similar material or different hues of the same colour.
'At Raft, we like to balance the need to create continuity with decorative variations. So, leaning into this idea, if I were styling a small living room with two sofas, I might go for complementary but not identical sofas,' says Siobhan Quinn, Brand Guardian and Co-Director, Raft Furniture . 'For example, if I went for a large neutral sofa I might pull a colour or print out of the scatter cushions and use that on the accompanying sofa or love seat.'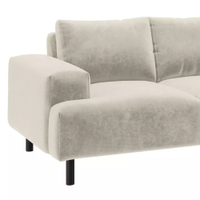 Habitat Julien Velvet 2 Seater Sofa, £670 at Habitat
Nice and roomy, the Julien 2 Seater can actually seat up to three. It would be the perfect accompaniment to a bright three seater, or put it next to a plush armchair with a bold print to really make a statement.
How NOT to arrange two sofas in a small living room
The experts say that the least ideal setup for how to arrange two sofas in a small living room is to place them side by side. This will take up a lot of space lengthways, and not utilise any of the remaining floor space.
'For a small living room, don't line up two sofas side by side,' says John Darling, Founder, Darlings of Chelsea. 'Instead, buy one long sofa to maximise your seating space.
'It's also better to avoid dark sofa colours in small living rooms. And choose thin sofa arms to maximise space.'
FAQs
How do you fit two sofas in a small living room?
It is possible to fit two sofas in a small living room, but you'll need to be strategic about where you place them. Experts recommend positioning them opposite each other, or in an L-shape, to maximise space and create a naturally sociable layout.
'When looking at positioning two sofas, symmetry in a social space always looks great and the balance between two sofas facing each other, or even a sofa and two armchairs, will be visually appealing,' says Charlie Marshall, Founder, Loaf. 'If you're unable to position your sofas opposite each other then consider how the room will be used. Always keep in mind how people will be coming in and out of the room and arrange the furniture accordingly, as traffic flow is key.'
Don't try and incorporate two sofas that are both larger than three-seaters, as your small living room will look overcrowded. Instead, place two identical three-seaters opposite each other, or a three-seater and a two-seater in an L-shape.
What do you put between two couches?
The best things to put between two sofas positioned parallel to each other is a coffee table. 'Introduce a footstool or coffee table in the centre of your two sofas and some ambient lighting for an intimate feel,' Charlie says.
Placing a coffee table between the two sofas will accentuate the arrangement as the natural focal point in the room. Style with relaxed coffee table decor and admire your new living room setup.
Get the Ideal Home Newsletter
Sign up to our newsletter for style and decor inspiration, house makeovers, project advice and more.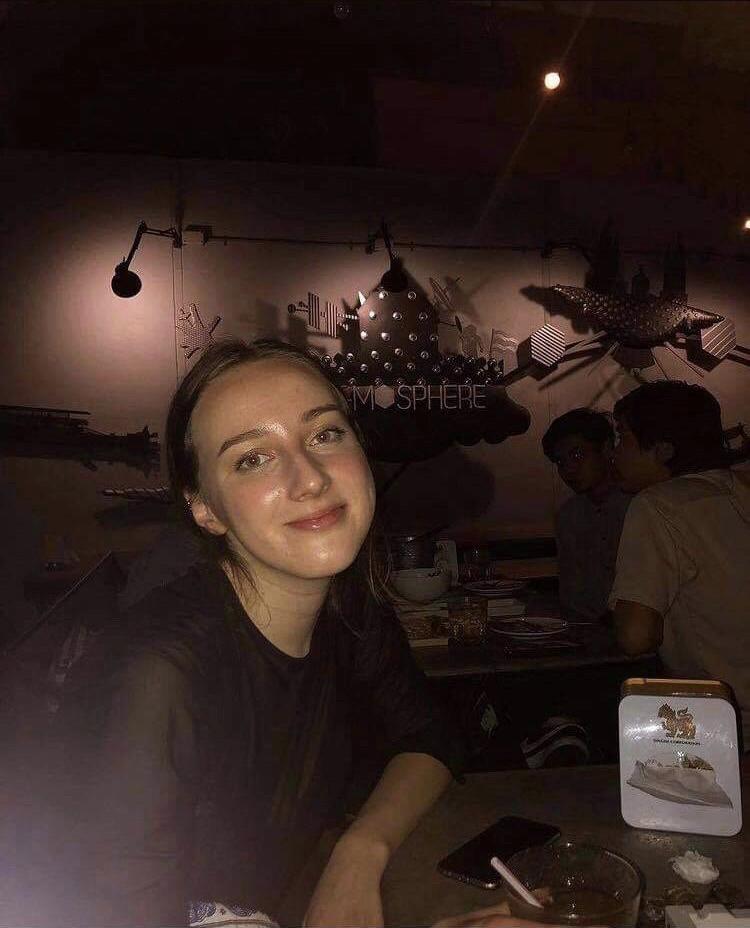 Katie Sims has been writing for Ideal Homes since spring 2022. She qualified from her Master's in Media and Journalism in 2021 and has been writing freelance since. She has worked on Ideal Home's ecommerce team where she researched the best home products on the market, and on the news team, researching the latest trends for feature pieces.