Six statement artworks (and what they say about their owners)
Individual style for inspirational interiors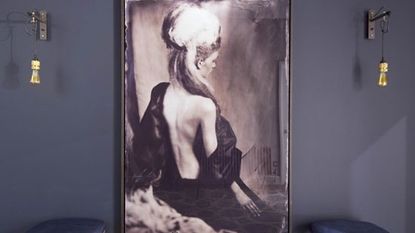 (Image credit: TBC)
From family portraits to abstract prints, the pictures we choose to hang on our walls help define who we are. We've picked out seven stunning artworks that give you an insight into the homeowners' tastes and ambitions.
1. Life is not what it seems
Set against neutral walls but with a riot of colour elsewhere, these photographs make a subdued first impression. However, the muscled shape of that broken doll on the left draws you in for a more detailed examination. These are real-life shots of found objects (a period doll and some broken butterfly wings) which, when set in frames, add depth and contrast to the floral fabrics and pops of pink, blue and purple in the ceramics and accessories. As a complete composition, this is a very canny piece of decorating...
The photographs are by Martyn Thompson from his Heart of Glass series.
2. Every Renaissance needs a punk
Among the curios collected by this couple - check out the vintage crash helmet and French period fireplace - is this arresting image. It has the look of a classical painting, but the subject's tattoed torso is defiantly modern. Each artistic movement has had its rebels (more often than not, rebelling against the previous movement), but this painting suggests that beneath the elaborate painted surface of classical portraiture beats a heart of pure punk.
This mixed-media artwork is by Hector de Gregorio.
3. Nature is there to be played with
With its crisp blue and white palette, this piece of art ties in neatly with the sleek upholstered headboard and stripped-back wall, but again, there's more to the photograph than immediately meets the eye. It's a highly detailed, colourised image of leaves and twigs in autumn, the kind of thing we see year in, year out, though we never take the time to look at other than in passing. It's a canny way of saying we should take more care of our world...
The photograph is by German artist Christiane Richter.
4. Back stories make a great conversation piece
Putting such a lip-smacking photograph centre stage in a dining room tells us all we need to know about the homeowners' love for food, lively chat and entertainment, but the history of the image itself is also a major talking point. 'It's a photograph of [model] Sara Stockbridge's mouth and is an ex-display image taken from Vivienne Westwood's shop', says the owner, which reveals a) he and his partner are into fashion and b) they're not afraid to blag - even from a Dame. After all, if you don't ask, you don't get...
To learn more about the Sara Stockbridge image, visit the World's End website.
5. Shine a light
In such an amazingly dressed space, it wouldn't be easy for an artwork to stand out, so what better way to give it full prominence than with a light-box effect. The gallery-style walls help, of course, and the lack of pendants or lamp shades hanging from the ceiling keep the eyes focused on all the objects. The colours too have been cleverly gradated, moving up from blues and greens in the foreground through yellow until the zingy reds in the photo take centre stage.
The light-box artwork is by Fathi Hassan.
6. Strike a pose
This hallway setting may feature a classical arrangement - symmetrical fixtures creating a focal point at the single object in-between – but if it's worked for millennia, why change it? Simple, discreet wall lighting and cosy seating ask the viewer to linger a while longer, a pause for reflection during a busy day. And if two of you find yourselves drawn into conversation, don't worry. She really can't hear what's going on behind her back...
The photograph is by Igor Vasiliadis.
Get the Ideal Home Newsletter
Sign up to our newsletter for style and decor inspiration, house makeovers, project advice and more.
Tamara was Ideal Home's Digital Editor before joining the Woman & Home team in 2022. She has spent the last 15 years working with the style teams at Country Homes & Interiors and Ideal Home, both now at Future PLC. It's with these award wining interiors teams that she's honed her skills and passion for shopping, styling and writing. Tamara is always ahead of the curve when it comes to interiors trends – and is great at seeking out designer dupes on the high street.