Yellow and grey living room ideas – from subtle hues to bold brights
Wake up your living space with this bright yet liveable colour combination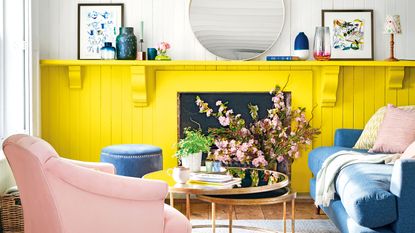 (Image credit: Future PLC / Dan Duchars)
Yellow and grey living room ideas are such a classic. When decorating with vivacious sunny yellows and the most elegant of neutrals, you can really create a space that feels calming yet cheerful – which we all want from the room we spend around four hours a day in.
Grey walls are hugely popular in living rooms and are conducive to a grounding and soothing atmosphere, plus they make for a great backdrop against which other colours can sing. You don't want your living room to feel overstimulating, but you also don't want it to feel flat, and for this reason yellow and grey are a winning combination.
Yellow and grey living room ideas
Inject some zing into your grey living room ideas by incorporating splashes of yellow through paint, furniture, artwork, and accessories, whether you want something bold and daring or a more rustic and neutral look. Grey and yellow were in fact Pantone's joint colour of the year in 2021, with optimistic yellow tempered with the perfect neutral representing a hopeful mood as we gradually came out of the pandemic.
The good news is grey and yellow living room ideas can be worked to suit any style, from country to industrial, contemporary to retro. It all comes down to the saturation of the colours you choose.
1. Add drama with bold tones
Justyna Korczynska is senior designer at Crown. For an instant update, she recommends honing in on the wall behind a key piece of furniture, like the TV or sofa, or behind the fireplace. 'Something as simple as a bold colour, like charcoal with yellow accents, is an easy way to achieve this effect. By pairing a warm colour with a cool colour, a harmonised balance is created.'
2. Embrace a rustic look with barely-there shades
According to research by Hammonds Furniture, people find paler shades of yellow (12%) and grey (18%) to be calming in the home. Use soft yellows and greys in a room with plenty of distressed wood and some white decor to create a soothing and rustic feel perfect for unwinding in.
3. Keep it simple with a statement piece
Changing up your grey living room could be as easy as getting one statement piece in a yellow of your choice. An accent chair or new/reupholstered sofa in mustard yellow will totally transform the room and draw the eye instantly. These classic Ligne Roset armchairs elevate the space with their iconic design, while the rest of the room is kept fairly simple.
4. Go contemporary with neon
A few touches of bright yellow are a sure-fire way to add a contemporary edge to an otherwise neutral space. Make sure you stick to the same neon yellow tone to keep it cohesive. It's a fun and bold look and you might find you already have some old pieces of furniture knocking around just waiting for a bright yellow glow-up. Upcycle an old wooden chair with a fresh lick of yellow paint for instant visual interest.
5. Use interchangeable accessories to enliven your space
Experiment with yellow and grey living room ideas by changing your cushion covers. The radiant yellow and cool grey here create a high level of contrast, waking up the entire room and giving it tons more energy. You could also give your grey sofa living room ideas a new look with a yellow throw, a side table, or zoning it with a yellow rug.
6. Temper a patterned wallpaper with mellow yellow
Creating a feature wall of bold wallpaper in your yellow and grey living room? The room will benefit from a softer approach to using colour pairings for the wall. Using a mellow, creamy lemon shade will inject the brightening quality of yellow without overpowering the statement wallpaper. A mellow undertone is cheerful without being too in-your-face.
7. Pepper a tonal grey living room with yellow accents
Take a softer approach to this living room colour scheme by mixing a variety of tonal greys to create the perfect foundation for adding in hints of vibrant yellow through accessories. Versatile grey has many shades to redefine a space, for instance, the palest of shades can form a light, bright base for key furniture pieces and accessories to stand out. Whether it's cushions, candles or a throw, seek out accessories in similar yellow shades, as with lots of shades of yellow dotted around the room, it could start to look a bit muddled.
8. Get creative with painted yellow accents
Add subtle yellow accents to a grey living room with thoughtful living room paint ideas. From painting doorframes to architectural details between two adjoining rooms, a little splash of colour can go a long way to introducing a statement accent tone. In this stylish living room a slither of yellow on a structural wall helps to welcome a hit of vibrant contrasting colour – paving the way to add more of the same colour through furniture and accessories.
9. Go for retro
Make the colour combination work with your own tastes. This fine example shows how a retro style works perfectly for a yellow and grey living room. From confident charcoal to cool pebble the grey palette encompasses a wide spectrum of useable tones.
Pair a bold retro floral wallpaper on one wall with shades of matching grey and yellow paint on remaining walls to keep the scheme running throughout the room. Dress the decor with vintage furniture pieces to enhance the retro vibes.
10. Inject colour on different levels
When it comes to adding an accent colour to a room, the key is to introduce it on different height levels, from floor to ceiling to ensure it feels even. Welcome bright injections of colour in its boldest form to give the room confidence and vitality.
11. Captivate with totally contrasting shades
Make a statement with your yellow and grey living room by contrasting to the max. Pair soft, pale shades of grey paint with that of vibrant sunshine yellow. The two extremes of colour contrasting helps create a maximalist look. Used on walls choose to paint one feature wall in the yellow or be inspired by our use of the brighter shade below a mid point, to make a statement of a fireplace.
To further the injection of colour add other accent colours to clash with the yellow and grey, such as a pale pink with a bold blue. Add the accent colours through your furniture choices, if you're feeling brave, or accessories to make it less impactful.
12. Take an earthy approach to yellow by using mustard hues
Yellow is the colour of sunshine, but of course there are many shades of sunshine – a warm mustard tone is reminiscent of an ambient sunset. This delicious shade of yellow offers an earthier feel to a decorating scheme, perfect for introducing warm tones of wood furniture and natural wood flooring. In this stylish living room the brick wall has been painted with a pale grey shade to offset the warmer tones beautifully.
13. Create a coloured focal point
As yellow stands out so well against grey you can use the uplifting colour to make a fabulous focal point. Here, a traditional wood fire surround has been given a super modern twist with coat of buttercup yellow. The results not only fill the room with energy but pulls the classic style up-to-date. White furniture balances the room look while monochrome art makes a smart and sophisticated finish.
14. Make it subtle with diluted shades
In its palest forms grey and yellow makes a illuminating ambience that is super crisp and light. Start with a soft wallpapered backdrop with subtle pattern and choose white comfortable seating then add gentle character with pleasing lemon fabrics and accessories.
This diluted palette needs added depth so layer up tones of the same shade as seen here with painted slate grey coffee tables, smoked glassware or even an almost black book shelf.
15. Create a contrast with dark hues
Give the colour pairing real pizazz by contrast with dark and light shades of the two tones. Charcoal grey is a hugely popular choice for brave decorating choices right now. Add a more mellow yellow to take the edge off the saturated element. The beauty of a faded lemon shade by natural light, such as these curtains is that they add a soft glow when the light is shining through them, like a little ray of sunshine.
16. Inject colourful patterns
Team cool grey and geometrics with primrose yellow for a vintage look with a modern twist. Keep the scheme contemporary cool with a backdrop of grey walls and furniture, then add warmth with hints of yellow in geometric prints and accessories. Wood cube tables and copper details complement the retro vibe.
17. Soften the look with flowers
The perfect balance of primrose yellow and cool lead grey creates a harmonious and relaxed feel that's perfect for a country living room. Add in warming wood accessories to keep the room rustic and cosy. Break up a pretty floral wallpaper with a central grey painted chimney breast to balance the scheme.
18. Encourage the combination to feel contemporary
Create contemporary cool by keeping the backdrop simple with pale grey walls and let the furniture do the talking. A modular, mustard yellow sofa instantly livens up the scheme which is then enhanced with an array of interesting and strong shapes. Above the sofa, a display of geometric shelving painted with pops of yellow makes a stunning statement while dark charcoal accessories drama and depth.
19. Introduce uniformed pattern
Create a restful yellow and grey living room with a cool colour combination and whimsical floral patterns. Paper a feature wall with a trailing print of large blooms. Fanciful curved furniture will continue the romance while white shutters and woodwork will add a French twist. Bring in cushions in complementary shades with contrasting prints to finish the look.
20. Allow the shades to take on a Scandi vibe
In their palest forms grey and yellow can be used in harmony to create a tranquil space. This Scandi scheme has turned the tables and used yellow as the primary colour and grey to accent. Soft lemon walls highlight a curved and comfortable sofa upholstered in the coolest shade of grey while crisp white storage keeps the look bright and fresh.
Now all you need are characterful details to make this living room space stylish and interesting; a yellow geometric rug is cheerful and modern, pale wood furniture adds subtle warmth feel and finally floral cushions with just a hint of plum is pretty and sophisticated.
21. Complement the colour pairing with texture
Introduce another element without having to overwhelm with more colour. The look can be tailored to look more diverse with hints of a global influence, such as natural woven textures and dark lacquered furniture pieces.
What colour goes with yellow for a living room?
'Yellow goes extremely well with grey,' says interior designer at Terrys Fabrics, Rebecca Challinor. 'But it also works well with dark blue, providing a beautifully bright and complementary palette for any modern home.'
Laura Rich from contemporary furniture store Furniturebox also suggests adding some blue to your yellow and grey scheme. 'Try some rich blues (think Santorini!) or lots of leafy greens which you can bring in using house plants. Earthy pinks can also look fantastic alongside golden yellow tones.'
Do grey and yellow look good together?
'Grey decor is popularly used in living rooms and a lot of people complement the cool colour with whites and silver,' says Lisa Slack, head of product at Thomas Sanderson. 'More recently, we've seen a lot more people add yellow into their grey decor.
'This pop of colour complements grey perfectly and gives a vibrant feel to what could have been a dull room,' Lisa continues. 'It can be difficult to know what colour to pair with grey, but yellow is a great addition to warm up the room.'
How do you decorate a grey and yellow living room?
'Use hints of yellow around the room in soft furnishing to give a pop of colour,' says Rebecca Challinor. 'For example, choose grey cushions with yellow flowers. This combination will bring a sleek and sophisticated style for your room but won't forgo the warm and homely feel.'
For a relaxed atmosphere with a high-end feel, Kelly Collins, Swyft's Interior Design Expert says mustard yellow is easier to use than bright sun yellow. She says this subtle shade can be paired with both cool and warm greys.
Get the Ideal Home Newsletter
Sign up to our newsletter for style and decor inspiration, house makeovers, project advice and more.
Rachel Homer has been in the interiors publishing industry for over 15 years. Starting as a Style Assistant on Inspirations Magazine, she has since worked for some of the UK's leading interiors magazines and websites. After starting a family, she moved from being a content editor at Idealhome.co.uk to be a digital freelancer and hasn't looked back.