Living room paint ideas - easy ways to transform your space with a lick of paint
Looking for a weekend project to spruce up your space? These living room paint ideas offer a quick win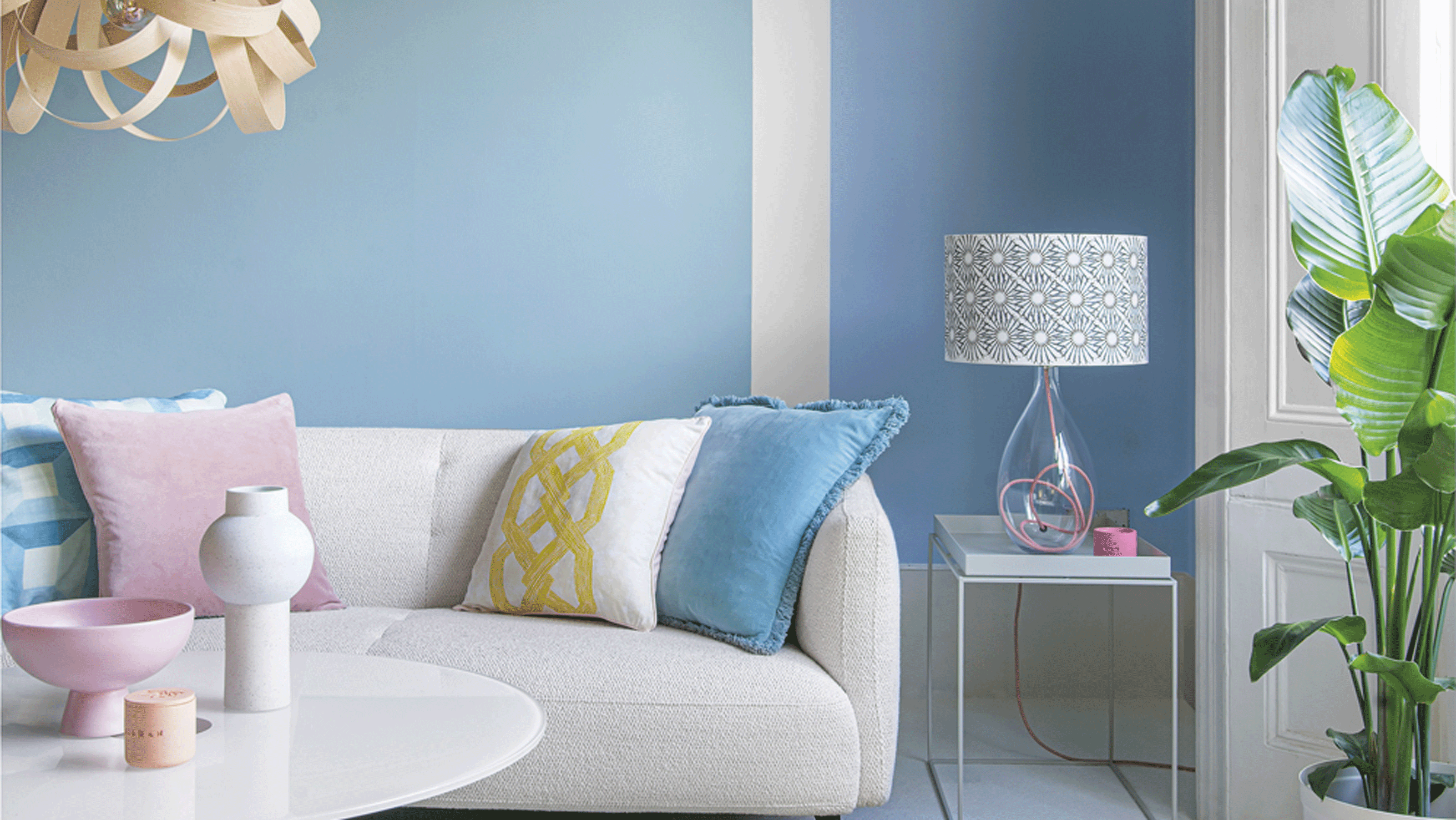 (Image credit: Future PLC)
When it comes to sprucing up your space with limited time or budget, nothing quite beats the satisfaction of clever living room paint ideas. Whether you want to achieve a quick touch-up, complete room redecorate or a playful feature shape, with just a tin of paint the job is simple.
The joy of paint ideas is that there are options to suit every single living room idea. Whether your taste is pared-back or statement, you can tailor the paint shade to your exact requirements. Paint isn't limited to just walls either - venturing up to architraves and ceilings will make a space feel expertly designed.
'Paint is an easy way to transform your living room without breaking the bank,' says Justyna Korczynska, senior designer at Crown. 'Rather than paint an entire wall, why not stencil metallic or textured paint in stripes, squares or circles onto a simple base colour to add areas of drama and interest? Or painting the wall behind your room's focal point, be it a sofa or a desk, is another great and easy way of creating separate zones within a space.'
'Alternatively, consider painting skirting boards and window frames to match the wall colour, as another simple but stylish touch for the living room.'
Living room paint ideas
Not sure where to begin? Our easy living room paint ideas offer something for all skill levels, from simple paint ideas that can be done in a couple of hours to room updates that can be tackled over a weekend…so why not grab some paint and a roller and get stuck in...
1. Take it all the way up
If you want to go for a singular colour for your living room walls, one way to take it to the next level is by matching the paint to skirting boards, architraves and the ceiling.
This takes what might otherwise be a simple scheme into a curated design mirroring hotel-inspired interiors. Extending the colour to every inch of wall and ceiling space also makes the room feel larger. So whether you're blessed with a period property with high ceilings or want to make a small living room feel more spacious, this clever paint trick delivers both style and function.
'If you want to make an impact, paint the ceiling and skirting in the same darker paint colour and add a mirror. By painting the ceiling in the same colour it will make the ceiling feel higher,' says interior designer, Sonnaz Nooranvary.
2. Give limewash a go
Paint ideas don't always need to be bold - limewash is a creative alternative for those to want to keep to a neutral living room scheme but also want to try something new.
Limewash creates a mottled texture akin to suede, adding dimension to a wall without a statement pattern or colour. It has an organic touch which will suit those attracted to trends like quiet luxury, as it looks perfectly down-to-earth yet premium.
3. Contrast an open plan space
Open-plan living rooms are common in many homes, but instead of aiming to create a cohesive scheme with a neutral palette running throughout, why not make a bold contrast?
Not only does this help to zone your home, creating dedicated spaces for dining and lounging, but it also makes for an eclectic interior that is bursting with personality. There are so many colour pairings that are unlikely partners but actually work well together, so finding a combination that works for your home and taste should be simple.
4. Focus on primary colours
Primary colours aren't a common choice for a living room, as many people look towards neutrals or warmer tones, however, if you're into a maximalist aesthetic then this will be the palette to follow.
Bright red, blue and yellow shades work especially well together for an abstract and modern living room idea. You can either go full statement by painting an entire wall or experiment with layering shapes. It's also a great idea if you can't decide on a singular living room colour scheme idea, as it gives you the opportunity to toy with a few.
5. Add colour to unexpected areas
Looking for unexpected areas to paint in a living room will make a space feel professionally designed. If your home has interesting architectural features such as beams, consider using them as a way to display a pop of colour.
It's a great way to tie in a shade without it dominating the room, offering the opportunity to combine it with accent furnishings and accessories. For example, if you're wanting to give pink living room ideas a go but aren't ready to commit, finding a smaller area to feature the shade acts as a great segue into the trend.
6. Match walls to a sofa
We've already mentioned matching skirting and architraves to your wall colour, but why not go one step further and match a sofa to it too?
Whether you have a standalone softly furnished sofa that you can match the tone to or a wooden sofa bed where the base can be customised with the same paint, it will create a warm and inviting look.
7. Look to new neutrals
If you want to stick to a neutral living room scheme but also want to experiment with colour, reach for a new neutral for a twist on an old faithful. Mushroom and khaki shades offer a variation on the grey and beige palettes we see commonly in homes, but they're still easy to style.
Neutrals are popular for their versatility in terms of matching with other colours, and darker taupes will still offer this but with a hint of a bold touch similar to black and navy.
'There are many beautiful warm earthy colours around at the moment, with rich terracotta, cocoa brown and ochres helping to give a room warmth and a flattering glow. Green is still very popular, as it's so easy to live with, but we are seeing a move away from teals, into sludgy olives and khaki and mustard,' adds textile designer, Clarissa Hulse.
8. Add bold blocks of colour
For rooms that lack a focal point, living room paint ideas are a clever way of creating one without involving the cost or bother of undertaking structural work. Paint can be used to trick the eye, draw attention to key areas or create faux architectural details that give a plain room extra oomph.
Paint a bold block of colour on one wall to create a living room feature wall idea in a plain living room. A simple panel painted in a contrast shade creates a colourful backdrop for a display area, with open shelving styled up with artwork, greenery and decorative pieces. Opt for an off-centre arrangement to create extra visual interest, then fill in empty wall space with wall-hung plants and artwork.
9. Try a half-painted wall
Give white living room ideas a colour lift by painting walls in a half-and-half paint treatment. Less hassle than painting an entire room, painting just the lower portion of walls gives the added benefit of introducing a warmer, brighter or more dramatic colour into your scheme without overwhelming the space completely.
Painting the lower section of wall in your darker 'hero' colour can help to ground the scheme and provides a contrasting backdrop for furniture, such as a sofa or sideboard. While having a lighter colour at the top will help to create a sense of height, which is useful for small living room ideas.
Hang artwork that crosses the paint line, so that the paint effect looks intentional and part of a well-thought-out scheme. Opt for mix-and-match frames to provide visual variety and choose colours that complement furniture and soft furnishings.
10. Get creative with a chalkboard backdrop
In a family den or playroom, have some fun and paint a panel or feature wall with black chalkboard paint. It'll provide an area where little ones can get creative with drawings and doodles or could be used as an oversized family memo board in a study area or WFH space with notes and reminders easily chalked on.
11. Try tonal stripes for a chic look
Make a feature of living room alcove ideas by painting them in a bright standout colour. A contrast colour makes a brilliant backdrop for display pieces, with art and ornaments 'popping' against a dark or brighter background.
For a fun look, try painting the alcove inserts in a mix of tonal colours, going from dark to light for an ombré effect. Alternatively, try mixing it up with assorted squares in a mix of toning shades to create more of a random patchwork effect.
12. Add wow with a diagonal design
Create a modern, mid-century living room vibe by painting feature walls in bold diagonal blocks of colour. The perfect backdrop for a retro scheme, choose colours that echo furniture and soft furnishings to create a more considered effect.
Keep it simple by opting for just one or two contrast colours and with the colour restricted to just one corner, rather than all over. Create your diagonal lines using painter's tape to give a crisp edge. Position your longest line first and then create your second area of colour going off from this. You could even take the colour onto a section of the ceiling for added effect.
13. Opt for ombré-stripe walls
Perk up a plain living room by going for chic ombré effect stripes in warm peachy tones. Opting for a graduated wash of colour rather than sharp lines and hard edges creates a softer effect that feels more relaxed and easy on the eye.
Choose a tonal palette of colours with varying depths to achieve this easy ombré effect. For a natural gradation of colour, paint the lower section of walls in the darkest shade, and the midsection in a mid-tone, then use a paler hue towards the top of the walls for an airy feel. Leave the edges soft and ragged rather than clean and crisp for a subtler look.
14. Combine blocks and stripes to add edge
Highlight a WFH space or brighten up a dreary living room corner with a bold colour block treatment. Opt for a mid-toned colour as your starting point, painting a wide panel to act as a backdrop for a desk or large item of furniture. Then add a second narrower stripe of contrast colour in the adjoining corner to add definition. For extra effect, try leaving a border of crisp white around each block of colour.
A bold navy is a perfect partner for neutral living room ideas as shown above.
15. Colour drench the room
For a bold, immersive scheme that is super-easy to create with paint, opt for a single dark shade all over to give a dramatic colour-drenched effect. This works well with green living room ideas and is ideal for a drab living room that needs livening up. Colour drenching is an instant mood changer that will add warmth, colour and atmosphere.
The key with colour drenching is to create continuous colour on all surfaces, so when painting the room, take colour from walls to skirting boards, doors, trims and even ceiling if you feel brave enough. Don't worry about dark colours making a room feel small - continuous colour can help to stretch a room's size, blurring the edges with leaving no harsh breaks in colour.
16. Showcase a gallery wall
Open-plan living rooms can sometimes feel quite vast, so clever tricks that help to break up the space into smaller zones are a great way of making living areas feel more snug.
Try a dramatic colour-block effect to create a backdrop for decorating the wall behind a sofa. Opt for a muted, neutral shade as the anchor point, edged by a band of darker colour all-round to add definition.
Hang a gallery of artwork to break up the lines and bring a pop of pattern and extra colour. If you need multiple frames, save yourself a few pennies with bargains found using home decor discount codes, exploring second hand shops and checking out Facebook Marketplace.
17. Fake a 'built-in' look with paint
Use paint to upgrade basic flatpack furniture and create a sleek, built-in look. Match furniture paint with wall colour and paint both to create an uninterrupted swathe of colour that gives the impression of bespoke built-in furniture rather than freestanding pieces. Add clip-on lights and conceal the cables to further the 'bespoke' effect.
18. Use colour blocking to break up walls
Create a colour-block wall of uplifting colour by using a tonal palette separated by a white border. Think vertically to add height to the room, using blocks of pastel blue and green and dividing the area with an off-centre stripe of white.
The use of white for the dividing line mirrors the skirting boards and ceilings to create a frame of colour to make the coloured blocks feel all the more impactful.
Coordinate the look with matching soft furnishings and accessories. Choose a living room colour scheme to suit your own personal tastes to make the look totally unique for your home.
19. Paint bespoke storage to uniform a feature wall
A savvy living room storage ideas and great way to save space is by having bespoke cabinetry built to fit, meaning you can use the whole wall for storage – from floor to ceiling.
A creative way to make this a feature wall which, despite serving all your needs, look like one uniformed wall is painting it all one statement shade, as shown in this grey living room. Including skirting boards and fireplace surrounds, paint the whole wall in the same shade to make the look feel seamless.
20. Transform an empty fireplace
If your living room features a fireplace that is purely ornamental, i.e it's not a working fire, why not really show it off with a splash of vibrant colour.
The injection of colour creates the ideal backdrop to display an array of home accessories, from candles to photo frames. In this smart living room the yellow accent colour is used on the walls either side of the chimney breast to coordinate with the painted fireplace.
21. Stack tonal shades
Add interest by using two different colours to create a divide without having to put up a picture rail. In this pink living room the already decorative living room wall panelling ideas are giving a sense of division thanks to the banding colours painted one on top of the other. Use shades that work well together but allow enough of a difference to make a statement.
22. Make it matching
There are no rules that say just because bold or bright colours are trending, that you have to use them to create a fashionable feel for your living room.
As this stunning cosy living room idea demonstrates sometimes simple can be more powerful. A subtle mink shade of paint on the walls coordinates perfectly with the textiles and furniture pieces within this room to create a cohesive colour scheme that feels sophisticated and serene.
23. Define the fire surround in an accent colour
Paint your fire surround in a bright, happy shade and top it with colourful accessories to make it the focal point of your living room. To take the colour inject up a level try painting logs in an assortment of complimentary shades, as shown in this bespoke living room fireplace ideas.
24. Add a dramatic painted stripe to a living room
A new twist on the living room feature wall ideas right here: a band of colour running around the centre of the room like a belt between jeans and a tee! Take the stripe through anything that it touches too, as interrupting the bold strip of contrasting colour would lessen its impact.
Little Greene's impressive example contrasts a striking blue with a bold white band.
25. Frame a knock-through with a painted stripe
With open-plan living rooms growing in popularity there are often two spaces merged into one that you might like to give a slightly different purpose to.
While it makes sense to paint the two spaces in the same colour, to provide a sense of continuity you could clearly define the two rooms by adding accents on architectural points of interest, such as archways. This simple act subtly zones distinct living ares within the same open-plan space.
Given it's not a huge area of paint coverage you can change the colour seasonally, or when you switch up accent accessories within the room without huge expense.
26. Use accent colours to highlight features
Celebrate features rather than try to hide them under a uniformed wall colour. An accent colour border will draw attention to lovely period door frames, skirting boards and picture rails. Picking out key architectural details can help to add depth to your living room and create interest.
Even if the space is devoid of features, you could fake a feature with clever paint ideas. No skirting board? Simply paint a two-tone feature on the wall to create the illusion of its presence.
27. Opt for a nature-inspired palette
Not all hero colours are bold attention-seekers. This soft tone that hovers between brown and grey is a quiet game-changer that'll make a room look warmer and more sophisticated at a brushstroke. Plus, it plays well with other colours, so you can indulge pretty much any whim when it comes to accents.
Sandstone blends with other browns, as well as greys for a smooth mix. Brown neutrals can be sludgy and dull unless you cut through them with the right accents. We recommend blue and mimosa yellow.
28. Work a whitewash
Brilliant white paint has a transformative effect on interiors. Use it on walls and ceilings and it will make a star of every non-white piece of furniture and accessory in your living room.
Opting for a neutral backdrop means that your accessories can do the talking, and it forms the perfect foundation for truly relaxing. There are multiple white shades you can opt for too, so make sure you pick the best white paint with the correct undertones for your space.
29. Use white to brighten
Period properties are favoured for their characterful details, such as original wooden beams and low ceilings. While these elements can ooze charm they can sometimes make the room feel quite dark and therefore feel smaller.
A great way to combat traditional design features from encroaching on the space is to brighten it with a splash of white paint. Painting with precision allows the beams to remain untouched, retaining their original aesthetic. A bright white paint on the ceiling helps to keep the space feeling as airy as possible.
30. Anchor an alcove with grey
Grey is the new neutral. Use it in a living room where its rather understated nature allows it to introduce warmth without shouting at your visitors.
Start with your chimney breast and take the paint into alcoves too where it will make a feature of stripped wood shelves and your book collection.
This scheme has bravely taken grey down to the skirting and up to the ceiling too, leaving just the floor – in stripped pine – to provide a contrast. Bring in wood furniture and leather and cow-hide style upholstery to complement the shelving.
31. Paint a feature wall
If you're not too keen on the bold-is-beautiful school of decorating, pick out a single feature in your living room and treat it to your favourite shade.
This warm pink doesn't overwhelm because it's restricted to one area only – the chimney breast. Pick a shade that will work with your fireplace and integrate it into your room by using the same shade on a single piece of furniture and for a small selection of accessories.
32. Be bold with abstract black and white
Plan carefully and an all-over white decorating scheme doesn't have to be plain. A white backdrop provides the opportunity to be more adventurous with bold patterns and signature furniture, allowing you to create a living room that is chic, modern and adventurous.
The whitewashed walls and white furniture featured in this living room work together because of the touches of black. Look for fabrics with a subtle modern black-and-white design that will break up a run of pure white.
33. Balance dark colours
Dark paint can be scary; but it can bring a real sense of character and sophistication to your living area. In this blue and grey living room idea, the heady mix of textures and tones makes for a luxuriously atmospheric space.
34. Unite shades from the same colour palette
Give your space a thoroughly modern update using a palette of gentle pastels in unexpected places. Paint a door frame and door in a sundae shade and keep the rest of the wall space white to stop the scheme from looking too sickly sweet. If you have two interlinking rooms, create harmony by repeating key colours across both, but on different surfaces.
35. Paint the whole wall
Choose versatile teal for a living space that's both sophisticated and on-trend. Paint the walls, skirting boards and fireplace in one shade to give your space a truly cohesive feel. Team this classic shade with mid-century modern pieces and interesting artwork to offset the green-blue colour.
Teal living rooms pop with bright white and its colour wheel match is coral. It's a classic that works with nearly any style, from contemporary to traditional.
36. Create an artistic watercolour finish
Embrace your inner artist, or better still pay a skilled decorator to take the pressure off. Use brushstroke patterns to add an artistic flourish to any scheme.
Don't be afraid to experiment with innovative paint techniques. Choose your favourite colour and work with shades from the same palette to create a graduated effect along one feature wall. Think about including inky dyed textiles with soft blurry edges and ombre, watercolour washes for a painterly effect.
What colours are on trend for living rooms?
There's no denying that grey living room ideas are still the most popular mainstream colour choice. It has become the neutral of choice, replacing cream and beige for the modern home.
However, the most popular colours are darker, brooding hues of blue. Thanks to the presence of Instagram we can see inside others' homes to gain a better feel for what is trending – giving homeowners a sense of braveness with bolder colour choices. As a result the most fashionably on-trend colour for 2021 decorating living rooms is most visibly a rich navy blue.
Which colour will you be using in your next decorating scheme?
Get the Ideal Home Newsletter
Sign up to our newsletter for style and decor inspiration, house makeovers, project advice and more.