51 grey living room ideas to suit every style home and budget
Forever popular a beautiful grey living room idea will never go our of style with our top tips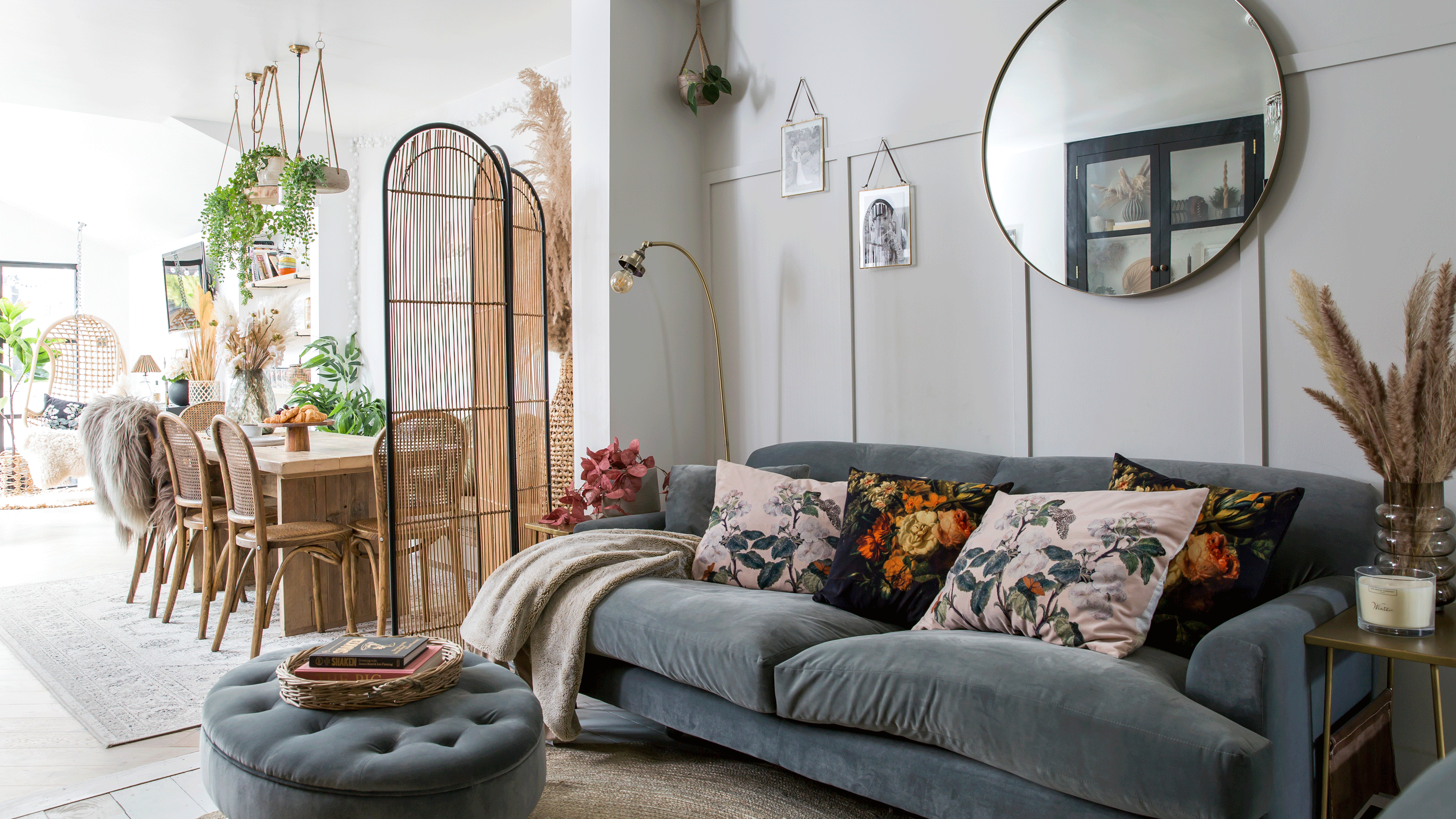 (Image credit: Future / Lizzie Orme)
Grey is perhaps the most versatile 'neutral' you can find right now, and it shows no signs of being replaced. It's no surprise that grey living room ideas appeal to so many of us as it comes in shades that work with every style and it looks great with other living colour ideas.
'Grey will continue to have a presence in interior design because of its enduring neutrality as a backdrop for decoration with textiles, furniture and accessories; in addition, grey has the ability to display so many different nuances of colour through the variety of undertones it can hold,' says Andy Greenall, head of design, Paint & Paper Library. 'When selecting a grey for any space, start with the most important considerations - the orientation of the room and the proportions of the space.'
Whichever style of living room ideas you're looking for in your home, there's sure to be a grey to suit your scheme. Grey can create a warm scheme as easily as a cool one; it can channel edgy modern and charming country; be calm and soothing or vivid, lively and energetic.
Grey living room ideas
'The term 'grey' covers a huge number of colours which are often not true greys but contain colours that create distinct warm or cool undertones,' explains Joa Studholme, colour curator, Farrow & Ball.
From a colour drenched scheme, to perfect palette pairings, here are some of our favourite grey living room ideas.
1. Paint your ceiling grey
Love grey but not sure you want it everywhere? Then consider painting the 5th wall – the ceiling. Right on trend, painted ceilings are a key interior design feature and can transform the look of your space.
If you walls are light then choose a charcoal grey, it will work wonders if your living room ceiling is overly high and you want to create a cosier feel.
2. Layer your greys
The beauty of having a colour theme is that you can take tones of said colour and layer them to create a really fabulous space.
'Soft greys and taupes are the perfect way of creating a calm look and feel in your living room,' says Punam Chada, carpet buyer, Carpetright. 'A tonal design which layers different shades of the same colour is particularly effective.
Keep the overall look of your room simple with a considered blend of soft shades of grey. Introducing an understated carpet or rug to your scheme, whether it is patterned, plain or textured is a great step towards creating a harmonious interior.'
3. Choose contrasting tones
Paint is such a wonderful tool that you can really create a standout scheme by choosing pale and dark shades of the same colour and use them to contrast within the living room.
'Light and mid greys look wonderful together as they are in the same colour family and create harmony,' say King Living Design Studio. 'Contrasting light and mid greys, highlight the different shapes and materials on your sofa, adding depth and visual interest, while maintain the luxe style.'
4. Limit your grey to key pieces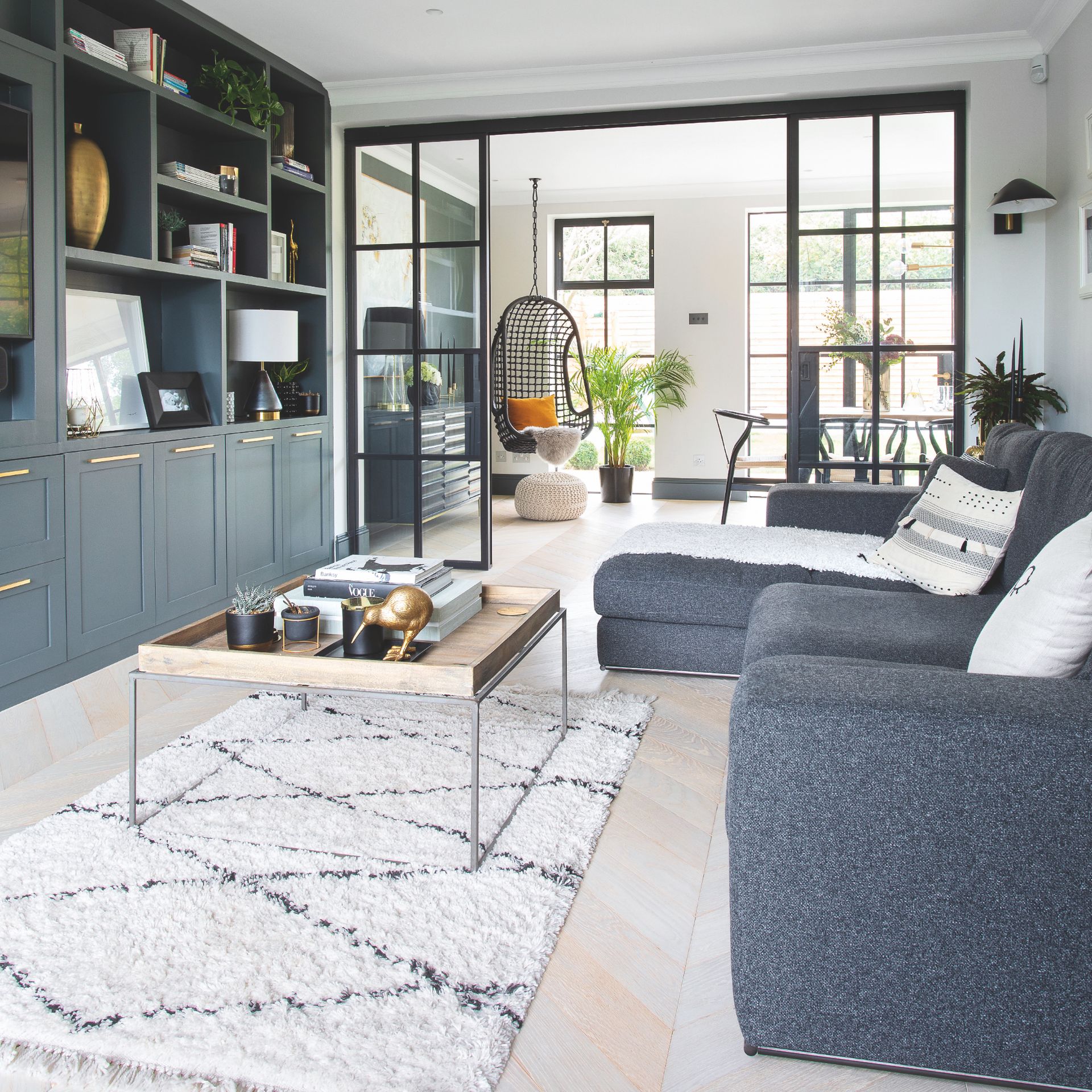 Too much of anything can be overpowering, so limit your use of grey to key pieces to prevent this.
Large blocks of grey can look great if they're split up by other colours. For example, a large L-shaped sofa in a mid-grey teamed with a media centre painted in a similar tone will look fabulous if the rest is white.
5. Use grey as a background to artwork
When you're designing your living room scheme it's important to consider all the elements you want to show.
'The balance between your soft furnishings and walls is a hugely important consideration when designing your space,' says Gisela Lancaster, head of buying, Sofology. 'If you're looking to create harmony between the two, you can find a good balance with a grey scheme, where you pair your sofa with a wall colour that's the same shade but a few tones darker or lighter.
For example, pairing a dark grey sofa with light grey walls can establish a classic scheme and delver an incredibly calm feel.'
Once you've chosen your key pieces you can then accessorise with artwork, and a pale grey wall will act as the most perfect blank canvas.
6. Team with black accents
If you love pale grey but don't want it to feel too wishy washy then choose a jet black as an accent. It will give the space a really modern edge that's smart and sleek.
It doesn't need to be everywhere – think minimal like a black coffee table, side tables, floor lamp and picture frames. Keep the rest in a soft grey. Learning to balance a scheme is an important element of interior design.
7. Learn to balance your tones
With so many greys available it's easy to end up with a shade that's too cold, or too blue. James Sirett, head of product at Fired Earth has a tip to keep it feeling warmer:
'One trick to help prevent a grey living room looking too cold or a little drained of colour is to choose a grey that sits on the cusp of two shades – perhaps a grey-green or a grey-brown such as Fired Earth's Oak Apple.
'This complexity and ambiguity will instantly add visual interest and a sense of warmth to a scheme. It will also create a versatile backdrop for a wide range of decorative elements, drawing out – say – the rich brown tones in a grey by pairing it with wooden furniture.'
James Sirett, Head of Product, has spent his entire career in the tile industry. He first worked at Fired Earth in the mid-90s and, having spent some time working for a tile distributor and running his own company, he rejoined Fired Earth in 2018. James is passionate about supporting artisan tile makers around the world and loves nothing more than spending time in their workshops watching designs come to life.
8. Team with citrus shades
Balance out a mid to dark grey with a citrus yellow. It's brave and punchy, but will give you a striking scheme.
'Incorporating colours that are considered 'acid bright' can seem daunting, but in fact, are easy to pull off – even with an object as dominant as a sofa,' says Patricia Gibbons, design team at Sofa.com.
'If you're working with a neutral canvas, such as a shade of grey, it's worth remembering that it's a colour that pairs well with almost everything. Yellows and pinks pop against the sleek backdrop of grey adding a dynamic and energetic touch, giving the space a playful and refreshing sense of character.'
9. Take the colour through to your windows
For an all encompassing grey living room use your chosen shade on your window frames too. It's a contemporary paint effect that's similar to painting your skirtings a colour and one we're embracing as it's more subtle that the classic white woodwork.
'Add interest to a grey living room by balancing both light and dark grey tones,' suggests Dani Burroughs, head of product, Snug.
'For those with dark walls, consider using the shade across your skirting boards and window frames for added impact. Offset this with thick grey curtains and a neutral sofa before accessorising with scatter cushions or a tactile throw.'
10. Create your own focal point
For a thoroughly modern grey living room idea paint shades of grey on your walls to tie in with a plain grey rug. Similar to colour blocking, it's a design statement that's more sophisticated that the usual take.
'For a restful, elegant scheme, combine greys, using them at different strengths or in colour blocks to create design interest; 'Sharkskin' with its dash of violet works beautifully with the neutral grey 'Slate IV',' says Andy Greenall, head of design, Paint & Paper Library.
'When pairing colours, consider how the space flows from one area into another. Using greys that have the same base colour as your colour highlights, such as Monument' , with the lavender toned colour 'Quail' , will result in a cohesive and harmonious scheme.'
In the role since 2016, Andy Greenall leads the Design Team at Paint & Paper Library, specialists in premium paints and wallpapers for exclusive interior designers, architects, specifiers and homeowners all over the world.
With a keen eye on products and brand, Andy oversees the development of all new paint colours and finishes, and a discerning range of contemporary, coordinating wallpapers. He works closely with collaborative partner RIBA, which helps inform the brand's ideas about the role of colour and pattern in interior architecture.

11. Make gallery walls pop
We love the gallery wall look. Mix and match prints, photography and even empty picture frames - pick up all shapes, sizes and styles using home decor discount codes so you can really play around and see what works.
Grey walls are the perfect backdrop for creating these displays. As it's a neutral, this allows the gallery details to pop and create impact. Choosing a deep charcoal over a paler dove will make a cool contrast=, especially if you're using gilt frames.
12. Pair with purple for a luxurious look
Think elegant luxe and combine grey with regal purple tones. This colour combination is a match made in interiors heaven, especially when used across sumptous materials like satins and velvets.
This combination works best using a paler grey, with creates a bold contrast with bright purples, and a soft effect with gentle lilacs.
13. Choose a two-tone style
Can't choose between light and dark grey? Simple. Use both. Paint the lower half, or two thirds of your wall in one shade, and finish with the other.
This works best when the darker shade is on the lower half. Lighter colours above will trick the eye into making the room appear larger than it is.
14. Paint architectural features
If you have wall panels or other architectural details in your room, paint them the same grey as the wall. Not only does this create a cool colour drenched effect, but the ridges will pick up lights and shadows, adding interest and depth to your space.
15. Add colour behind books and objets
Grey living room ideas are the perfect way to decorate your home if you own a lot of colourful accessories. A warmer and more interesting background than white, this neutral allows your books and objets room to breathe and stand out, rather than clashing against yet another colour.
16. Paint all the woodwork
A super-soft dove grey living room colour scheme works as a gentle contrast to rosy toned upholstery and accents. Painting all of the woodwork in the same colour has created a chic, seamless look and creates the illusion of more space and an airy, open room.
Take care when picking the best grey paint for your walls – you'll need to consider your room's size and situation.
17. Use silvery tones
The striking rough-luxe wall mural brings texture and movement to the space. The metallic highlights of the silky silver rug and wallcovering reflect the light, giving this glam living room even more of a lift.
A plush velvet sofa in a deeper grey punctuates the space and layers on the luxe. Combining touches of blush pink with the cool grey creates grown-up sophistication.
If you like this combination, or the previous look, our smart pink living room ideas will inspire you to introduce the shade into your home.
18. Create a textured wall
Get creative with smart living room paint ideas such as paint effects, which are back in fashion! But things have moved on since the sponge effect championed on Changing Rooms. Textured emulsion paint such as the Craig & Rose Artisan Concrete Effect Paint and Crown's Suede paint will create a rustic, artfully imperfect finish.
Alternatively, a limed effect can be created using watered down flat matt emulsion, chalk paint or a specialist limewash such as Bauwerk's selection.
Start by applying a bonding primer for plasterboard or previously painted walls. Then with a wide brush, apply the paint in random, sweeping strokes. A second and third coat needs to be watered down to allow the layers and textured effect to build.
Complement the walls with tactile velvet, layered in tonal hues for a vibe that's calm, yet cost and oozes easy elegance.
19. Let architectural features pop
It's common to want to hide architectural features such as RSJs. But in a grey room, letting them sing by painting them in white can create an interesting structural contrast. It also helps zone the space and therefore make it seem cosier – a neat trick, particularly if you're using a cooler grey palette.
20. Integrate shelving
Smart and sophisticated, charcoal grey brings depth to an elegant living room. Smart geometric designs on the cushions and rug along with polished chrome accents bring a timeless touch of boutique chic to the space.
Create the illusion of expensive, built-in storage by painting shelving the same colour as the walls. For example, alcoves can become a smart feature wall idea that's easy to adjust. But sticking to a simple palette of black, white and silver reflects the pared back aesthetic of the room.
21. Use grey as an accent
If wall-to-wall grey isn't for you, inject modern anthracite accents. A sofa in warm grey is not only a fail-safe style choice, it's a practical option too. Tie in other features around the room such as fireplace surround, door or windows.
Floor to ceiling wooden framed windows are a striking feature, and grey will pick them out against neutral walls, highlighting the shape and detailing. If you don't have wooden framed doors or windows, UPVC windows can also be painted, just look for a specialist primer or paint for durability.
22. Lift your grey scheme with a mix of sorbet brights
If you are not a fan of washed out sorbet tones but the idea of primary brights scare you to bits, why not try a punchy-pastel alternative. Think Primrose yellow, not lemon sorbet and blues that veer towards turquoise rather than soft powder blue.
Choose a neutral grey colour to allow you to experiment with the palette on artwork and accessories.
23. Add depth with different shades
Use a variety of greys to give depth to your grey living room. Use a lighter, warmer grey when painting the walls and layer darker saturations with a painted fireplace surround and statement furniture pieces. Layering the same colour in different tones creates a calming atmosphere that feels cohesive.
Soft grey and dark charcoals are both equally enhanced with the addition of some natural greens, whether real foliage or as accent soft furnishings. The flourish of green helps to connect the space with a sense of nature.
24. Wow with brooding dark shades
There's no denying interior trends in recent years have very much embraced the dark side. As confidence in colour has grown homeowners have been looking to express their personalities more with bold colour choices. A striking almost-black charcoal grey is ideal for an attention-seeking statement, like with a striking fireplace idea.
A colour of this nature is not just for larger rooms either. Used wisely it can be a great small living room idea also – says Laurence Llewelyn-Bowen.
Using dark paint to make a space feel bigger might seem counterintuitive, but Laurence Llewelyn-Bowen explains that particularly when you have a wall-mounted television, painting the space behind it will work much better.
25. Echo natural shades of grey
Allow the colour of natural stone to inspire your grey colour choices. Use your paint samples on a piece of card to hold against the original walls to determine the perfect pairing to complement the natural warmth on the walls. Offset the light grey decorating with darker accents on the furniture to add depth, as shown in this rustic living room.
26. Keep grey understated and sophisticated
Sometimes understated can have the biggest impact, especially when paired with bold furniture and furnishing choices. The light grey on the walls can help to act like a blank canvas, without being as stark as white.
'Our most popular group of greys is made up of Wevet, Ammonite and Cornforth White – colours that are so relaxed and easy to live with you barely notice that they are there,' explains Joa Studholme at Farrow & Ball.
'They have a gossamer-like appearance so are perfect for those who prefer understated decoration which does not challenge us very much but gives a huge amount of versatility.'
27. Create a sanctuary with slate and wood accents
Slate grey walls look anything but cold when paired with rustic, natural woody furniture accents. Fill the room with plenty of textures such as a fluffy berber rug and straw basket for storing blankets to complete the relaxed living room scheme.
28. Cocoon yourself with a warming grey
Colours that whisper rather than shout are a must for rooms designed to promote relaxation. Deep greys like Stable Gates by Dulux gently cocoon and visually don't distract, so you can focus on a film or good book.
Stable Grey's warm make-up also means that it works as well with a terracotta or blush as it does with a pale or stonewashed blue – or indeed, a forest green living room. That versatility comes in handy if you like to switch up soft furnishings on a regular basis.
29. Warm up grey walls with bright prints
A floor to ceiling pale grey colour palette is the perfect canvas to make a splash with brightly coloured wall display ideas. A floating picture shelf is a great non-permanent solution to displaying wall art. You can easily swap one print for another as your collection grows and changes.
Putty and blue-coloured patterned cushions and a geometric rug in dark navy add pops of muted colour for a sophisticated, yet cosy living room.
30. Use warm tones of grey to soften statement patterns
Pale grey walls create the perfect backdrop for statement patterns in this country living room. The warm undertones of grey absorbs busy patterns, meaning it's less stark than, say, white walls. This quality allows pattern to sit more comfortably within the overall scheme. Want to see if white works better? Our white living room ideas show you how this shade can be used.
31. Create calming vibes with natural foliage
Cool shades of grey can have a calming effect on an interior space. This can be enhanced further with the addition of natural house plants and foliage, a hugely popular accessory choice.
32. Take the colour from the floor to ceiling
Colour drenching is having something of a moment right now, so why not go all out with grey. Paint your walls and ceiling in one shade, and select flooring in as close to a matching grey as possible. Keep things light and bright with pastel accessories.
33. Try a panelled wall
In addition to the cocooning deep, blue-toned grey, the fine ribbed panelling creates cosy texture. It's a great trick for adding features to new builds and boxy rooms that don't have any architectural interest.
A contemporary, corrugated wall panelling idea is totally on trend too. Pitch the line of panelling above key pieces of furniture. Ramp up the intimate feeling by painting above the panelling and the ceiling in a dramatic charcoal.
34. Update a grey country scheme with paisley print
Update the backdrop in a classic country scheme with paisley-prin