Seven seriously smart ways to spend a bank holiday
Hurray! Bank holidays mean three fabulous days to do whatever we please! Take a look at our fail-safe ideas to keep you busy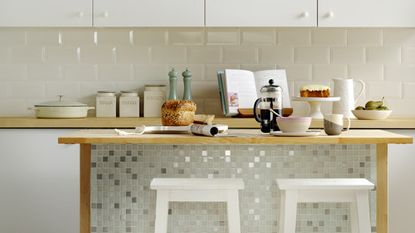 (Image credit: Future PLC /Dominic Blackmore)
Whether you've got just half a day or an entire long weekend at your disposal, we've got some great ideas to help you make the most of your precious time... and your home.
1. Take on a mini project
Now's the perfect time to roll up your sleeves and get a proper decorating job done. Three days is a good stretch to really accomplish a task and feel great afterwards. Maybe you could spruce up a disused corner, put up a feature wall with the lastest beautiful statement wallpaper, or even redecorate a smallish room, such as your home office.
2. Upcycling
Unlock your creative flair and breathe new life into an unwanted object. Upcycling is a great way to repurpose and make use of unwanted and often cheap items. Take a look at our online tutorials for inspiration.
Whether it's an old noticeboard or chest of drawers, when you've finished, you'll own something truly unique and the sense of accomplishment is astonishing.
3. Freshen up the garden
If the weather holds over the weekend, consider getting outside and giving your garden a good tidy. Maybe your decking or patio needs a rub down or your shed could do with a repaint. Hit the garden centres to pick up a few colourful plants to pot - most stores have great bank-holiday discounts.
4. Make some extra cash
'Clear your house, clear your mind' - isn't that what that say? And making a few extra bob at the same time is even better. Boot-sales are the perfect excuse to clear out those cupboards and attics, get up early, dust off those wallpapering tables and make some money. Alternatively, if you're a crafty type, take the plunge and sell your 'made with love' goods at a local craft market - they're becoming more and more popular.
5. Get some fresh air
From a full-on feast to a simple snack, a picnic is the perfect way to celebrate a short break the old-fashioned way.
Prepare and pack sandwiches, drinks, sweet treats and your travel blanket, then head to a local park or any outdoor place that makes you happy. And if it's a bit chilly, find a lovely walk that ends in a cosy cafe or family pub.
6. Throw a dinner party
Why not up the ante from a country picnic or pub meal to a dinner party at home? Three days should give you plenty of time to plan a menu, shop for delicious recipes and cook up a storm without any drama, thus allowing you to stay totally calm and relaxed - and enjoy the party.
7. Do absolutely nothing
With such busy lives, it's hard to find time to ourselves these days, so use the bank-holiday weekend to simply recharge and spend quality time doing very little with whom you choose. Try not to make plans, tell people you are away and sit back, relax and simply enjoy just being at home.
For more decorating inspiration, craft ideas and cleaning hacks don't miss our dedicated DIY guide.
******
Get the Ideal Home Newsletter
Sign up to our newsletter for style and decor inspiration, house makeovers, project advice and more.
Rachel Homer has been in the interiors publishing industry for over 15 years. Starting as a Style Assistant on Inspirations Magazine, she has since worked for some of the UK's leading interiors magazines and websites. After starting a family, she moved from being a content editor at Idealhome.co.uk to be a digital freelancer and hasn't looked back.