6 ways to master the barbecue and boost your skill at the grill
Want to know how to host the perfect BBQ? We have all the answers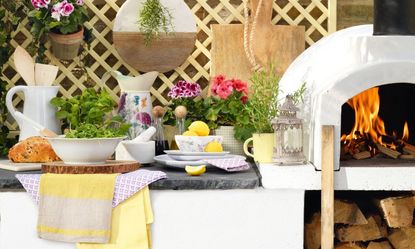 (Image credit: Future PLC /Tim Young)
Ideal Home Newsletter
The Home Of Great Ideas For More Than 100 Years
Thank you for signing up to . You will receive a verification email shortly.
There was a problem. Please refresh the page and try again.
Barbecue tips
Want barbecue tips? Brits have moved on from bangers and burgers to 'haute barbecues', meaning guests may be as likely to be served a cauliflower steak as a cut of beef.
Half of barbecue party guests say they would be disappointed if their al fresco fare stopped at traditional meat in buns, which explains why around a third of home cooks are upgrading their kit to expand the garden party menu.
B&Q's outdoor market manager, Christopher Ray, shares his six key trends to master the 'haute barbeque' and effortlessly impress guests.
1. Bag a barbecue that is versatile
With scores of barbecues to choose from, it can be a challenge to know which one will do you proud. Whether you're looking for your first barbecue or upgrading your kit, choose one that has features to help you turn your hand to different types of grilling and helpful touches to save you time and make cooking easier.
2. Fish for compliments
Salmon, prawns and tuna steaks are among the most popular barbecue dishes for guests according to the new research. When you're planning your menu, be adventurous and expand your barbecue repertoire to cater for fans of fish and see your brownie points soar.
3. Get creative with your chips
A novel way to add flavour to your barbecue food is to use oak wood chips. The smoke will infuse flavour just like a seasoning and give food sophisticated taste notes and an appealing aroma. A step on for home cooks who have always barbecued with traditional charcoal and natural cooking wood, flavoured chips are a simple addition to the barbecue that will allow you to experiment with new flavours whilst looking every bit the professional.
4. Let them eat pizza
Once thought of as a fast food, pizza is considered a gourmet addition to the modern barbecue. Whether it's home-made or freshly bought, adding pizza to the barbecue spread gives guests a menu option that adds variety to their plate.
5. Sear and salivate
The 'haute barbecue' experience wouldn't be the same without the ability to cook up some last-minute delicacies. A plancha grill helps the host take requests and in just minutes, get a hot cooking surface ready to go. Delicate foods, vegetables and even fruits can be stir fried and seared across its surface, cooking in their juices to produce perfect results.
6. Cheat to the start line
With so many interesting and delicious dishes to get grilling, a helping hand to get the charcoal started will be truly welcome. Get charcoal heated up ahead of time so guests don't get grumbly tummies waiting for the cooking to start.
What do you think of these barbecue tips?