Nosy Minnie heaven: take a sneaky peek inside the walls of the private garden at 10 Downing Street during June's Open Garden Squares Weekend
Calling all gardening fiends - with over 200 fabulous gardens opening up across the capital, the weekend of the 14-15 June is one for the diary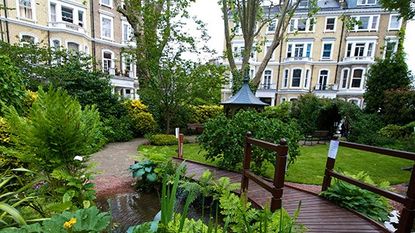 (Image credit: TBC)
Ideal Home Newsletter
The Home Of Great Ideas For More Than 100 Years
Thank you for signing up to . You will receive a verification email shortly.
There was a problem. Please refresh the page and try again.
That's right, you too can enjoy the impressive garden at No.10, just like the Prime Minister, his family and Larry the Downing Street cat (aka Chief Mouser)! Or how about visiting the (usually private) Rosmead Garden, which Hugh Grant and Julia Roberts break into in the rom-com, Notting Hill?
Not to be missed, the weekend of the 14 to 15 June 2014 sees the return of Open Garden Squares Weekend, where 200 private, hidden and communal gardens across the capital are open to the public. From traditional squares to roof gardens and allotments, as well as spaces belonging to historic buildings, schools, shops and cafés, there is sure to be something of interest to everyone.
Including football lovers! They certainly won't mind traipsing around the Highbury Stadium Square, a garden at the centre of the former Arsenal football stadium.
If you're thinking of creating a kitchen garden, you'll find inspiration at the Nomura Building, which has beautiful city views and a large kitchen roof garden. Looked after voluntarily by the receptionist team, it boasts 25 different varieties of vegetables and edible flowers, many of which are sold to staff, with proceeds going charity.
******
Or, for something completely different, there's a unique chance to see the inner-city prison garden at Royal Holloway, complete with hen house, which is maintained by prisoners to help them gain qualifications.
And that's not all; there will be fun activities for all ages, ranging from puppet shows, music and refreshments to walks, exhibitions and gardener chats.
Plus, if you've got a bike, why not take advantage of the cycle route that's been arranged by London Cycling Campaign and Central London CTC? It's a great way to visit more gardens than you would normally on foot.
One ticket allows entry to all sites over the weekend. Ballots are being held for the extremely popular gardens to avoid over capacity. Visit opensquares.org (opens in new tab) for more information.
Not able to get to London? Then check out the many Open Gardens events up and down the country throughout the summer. Just visit opengardens.co.uk (opens in new tab) and type in your postcode.
Rachel Homer has been in the interiors publishing industry for over 15 years. Starting as a Style Assistant on Inspirations Magazine, she has since worked for some of the UK's leading interiors magazines and websites. After starting a family, she moved from being a content editor at Idealhome.co.uk to be a digital freelancer and hasn't looked back.