Be inspired by Jonathan Adler's iconic redesign of the Parker Palm Springs
Whether you're headed to Palm Springs for the awesome artwork and outlet malls, or to party up a storm at Coachella, with its Jonathan Adler-designed interiors and gorgeous grounds, the Parker Palm Springs is about as hip and stylish as a hotel can get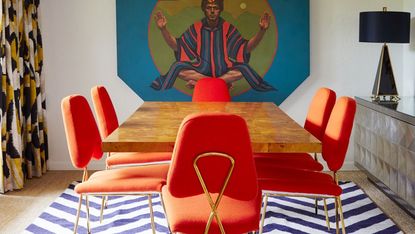 (Image credit: TBC)
Ideal Home Newsletter
The Home Of Great Ideas For More Than 100 Years
Thank you for signing up to . You will receive a verification email shortly.
There was a problem. Please refresh the page and try again.
Our first look inside designer Jonathan Adler's (opens in new tab) first foray into public art is stylish, cool and absolutely fabulous. Along with the redesign of the Parker Palm Springs (opens in new tab), Jonathan's work spans myriad of categories, from pots to swanky sofas. In less than 20 years he's opened nearly 30 stores.
The home decor expert refurbished the luxurious hotel with his signature flourishes and a vibrant and playful colour palette.
'This hotel is a psychedelic passion project that has been part of my life for over a decade. When it came to refreshing the vibe I wanted The Parker to stay groovy but feel new.'
Standing proud on the Parker's lawn is the main attraction, a seven foot tall bronze banana, complete with perch-worthy peels is certainly something to be admired.
'Because the iconography is provocative, I knew it had to be rendered in a serious and timeless medium. I thought a lot about what public sculpture means in the age of Instagram. I wanted it to be relevant, communicative, evocative - all the right notes for the social media age. I will consider the sculpture a success if I see happy guests chilling and chatting on it rather than just looking at it.'
The 144-room upscale property offers a host of features, including two outdoor pools and an indoor pool, a croquet lawn, petanque courts, clay tennis courts, and a full-service spa.
Each room is stocked with several Jonathan Adler books - perfect for all your interior design inspiration needs.
Tempted by this flamboyant affair? Check yourself into the Gene Autry suite, a two-bedroom private residence within the Parker's grounds, complete with screening room. 'Louche and luxurious, its the perfect fantasy of what a Palm Springs house should be,' says the designer.