The questionable retro lighting trend we never thought we'd see again is BACK…
Are you ready to let these lamps back in your homes?
2020 is finally coming to an end! And with the new year comes a whole host of home and lifestyle trends. But which are set to be big in 2021? Looks like the answer might be lava ...
Related: How to create a Santa's Grotto in your garden – with lighting, decorations and fun games
Lava lamps are one of many lighting trends set to come back in a big way. A quintessential staple of the '60s and the '70s (Ideal Home definitely loved them back in the '70s), the novelty home decor piece has made a series comebacks in the decades since.
Legend has it the lava lamp was dreamed up in a bar back in the 1960s, by someone who was inspired by the motion of an egg timer. Since then, millions of people have been hypnotised by the lamp's calming, yet quirky design.
They are a perfect accompaniment to a retro, hippy or bohemian interior design fan and more often than not, can be very affordable.
The lava lamp trend explained
One lighting expert thinks they will come back in fashion for 2021. 'After the horrible year that has been 2020, it seems people are seeking a touch of nostalgia, with lava lamps making a comeback,' says Julian Andriuta, CEO of Smart Lighting Industries.
Julian adds that social media interest has grown for lava lamps in recent weeks. There's been '17.7k Instagram hashtags and searches for them increasing by 56% in the past month,' he notes.
Other design trends Julian predicts will be hot in 2021 include standing lamps, geometric light features and pieces designed with mindfulness and our mental health in mind.
But if you fancy resurrecting the lava lamp in your home, below are just a few options that have your style - and your wallet - in its best interests.
Best lava lamp deals 2020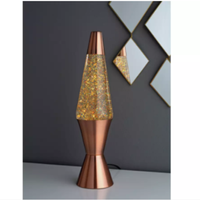 Lava Lite Glitter Lamp – Rose Gold, Argos
All that glitters is not gold … because this lava lamp is a beautiful Rose Gold! With its sharp design and glittery liquid, this lava lamp is more than ready for the new year.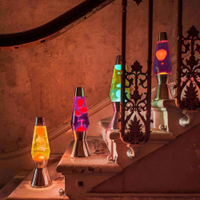 Lava lamps: Graham and Green
Bringing the sixties back into full swing, these groovy lava lamps are made of aluminium and glass and available in four bright, entrancing colours.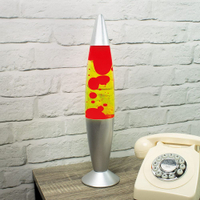 16in Silver Aluminium Lava Lamp: Amazon
Groovy! This yellow liquid and red wax lava lamp provides that perfect nostalgic and retro look and feel to your home – maybe even your child's room? And for under £15, you'll struggle to find a better value-for-money deal.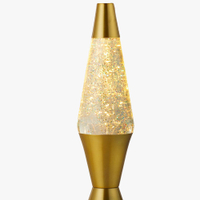 Lava® lamp Large Table Lamp, Brushed Gold/Glitter: John Lewis
This effortlessly chic lava lamp is a beautiful brushed gold colour. While the glitter inside looks like a million fireflies dancing inside, this lava lamp would look perfect in any room of your house.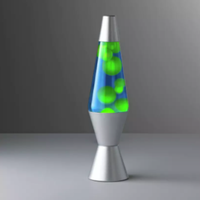 Lava Lite Classic Lava Lamp – Green & Blue: Argos
Like the gentle ebb and flow of the oceans current, the Classic Lava Lamp provides a truly relaxing experience. Making this iconic lamp a perfect addition for your home, office, or child's room.
For more great deals, whether it be the best vacuum cleaner or the prettiest kitchenware, don't forget to check out our website. Happy shopping!
Get the Ideal Home Newsletter
Sign up to our newsletter for style and decor inspiration, house makeovers, project advice and more.