Catwalk to couch: Look sharp! Steal Myleene Klass's cutting edge geometric red carpet look from the Olivier awards
Each fortnight we show you how to bring the hottest catwalk trends into your own home - this week we're loving Myleene Klass's geometric style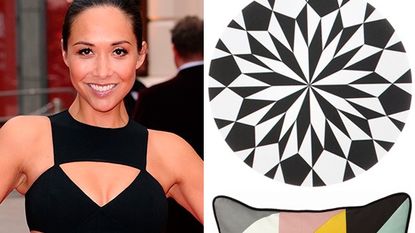 (Image credit: TBC)
Ideal Home Newsletter
The Home Of Great Ideas For More Than 100 Years
Thank you for signing up to . You will receive a verification email shortly.
There was a problem. Please refresh the page and try again.
Question: What do you wear to a red carpet awards ceremony just days after your divorce is finalised?
Answer: See below.
Myleene Klass looked incredible in this geometric black dress at the
Oliver Awards last night, so we've decided to salute her style with a special geometric-inspired Catwalk to Couch this week.
******
This is a trend that has absolutely no time for fuss or flounces, it's sleek, precise and effortlessly chic. Here's how to steal her style for your home.
Walk all over this style trend with a geometric monochrome rug. We can totally see this working in a cool, minimal scheme, livened up with a few shots of acid yellow or zingy lime. If it was a dress it would be an LBD. With killer heels.
Geometric rug, £150, The Plantation Rug Company (opens in new tab)
If
you find yourself chained to the kitchen sink more often than you do
the red carpet you can still nab Myleene's style with these geometric tea
towels. No, they're not the same as a dress, but they are much more
affordable. And you'll get more 'cost per use' from them. Guaranteed.
Harlekiini Kitchen Towel, £10.95, Hus & Hem (opens in new tab)
If you're the type of person who likes to carefully arrange your cushions
in neat rows on your sofa, this is
the cushion for you. The colour palette has a pleasingly retro feel and the black piping keeps the whole thing looking urban and smart. No slouching here.
Ferm living remix silk cushion, Yellow, £59, Cloudberry Living. (opens in new tab)
There's
nothing soft and floaty about Myleene's dress, similarly this chopping
board hammers the geometric style point home. It might not change your life but it'll make chopping the
vegetables just that little bit more exciting.
Star cutting board, £23, Scandinavian Design Centre (opens in new tab)
Loved this? See more great shopping ideas in our dedicated shopping channel. And for more decorating inspiration, don't forget to follow us on Twitter (opens in new tab) and find us on Facebook. (opens in new tab)