Plant up a colourful herbaceous border for your garden
Use successional planting in a patchwork of colourful hues to create a garden border that will last long after summer has ended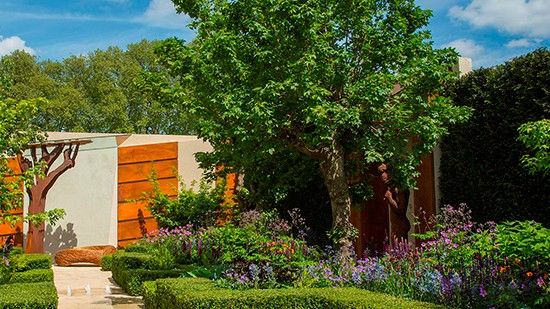 (Image credit: Chris Beardshaw)
Be inspired by the gloriously colourful herbaceous planting executed by garden designer Chris Beardshaw for his Morgan Stanley Healthy Cities show garden (above) for the RHS Chelsea Flower Show this year, and plant up an herbaceous border or two that will billow and burst with colour in your own garden.
Depth is important
Despite its name, this type of border contains a mix of both herbaceous perennial plants (ones that die back down to the ground each winter and reappear the following spring) and shrubs. This combination makes it much more managable if you have a small garden. Shrubs help to give some year-round structure and they need less intensive maintenance than perennials.
Herbaceous borders are traditionally long and rectangular, and often (but not necessarily) against a wall or hedge backdrop (as in Chris Beardshaw's garden, above). Whatever their shape, they are most effective when the beds are at least 1.5m deep. Too narrow and it is hard to build the layering and bulk that create the desired exuberance and fullness of planting.
Ensuring continuity
Plan with successional planting in mind. As certain plants fade, others take over. The aim is to create a smooth transition that makes the border attractive over a long season. This is, of course, easier said than done as many plants peak and fade at similar times, leaving gaps. While herbaceous borders can flower from May to October, most are best in high summer, often in June or August. Annuals are very useful for bridging gaps during the season. Ammi majus, a beautiful pant which was used to fantastic effect in annual beds in the Olympic Park, is one to try.
Be bold and playful
Follow the lead of Chris Beardshaw, and of the late Christopher Lloyd, a celebrated gardener and the owner of Great Dixter, and use vibrant colours such as orange and purple or red and yellow to create eye-catching contrasts. Temper bright combinations with green foliage plants or darker, muted colours such as purples. Do not be afraid to experiment or make mistakes. Combinations that do not work can always be changed.
Key plants
Lupins - Chris Beardshaw used Lupinus 'Masterpiece'; we also recommend Lupinus 'Morello Cherry'; try Thompson & Morgan (opens in new tab).
Digitalis purpurea 'Dalmation Purple'; try Crocus (opens in new tab).
Persicaria amplexicaulis 'Taurus'; try Claire Austin Hardy Plants (opens in new tab)
Centranthus ruber 'Coccineus'; try Burncoose Nurseries (opens in new tab)
Geranium maderense; try Van Meuwen (opens in new tab)
Asclepias tuberosa; try Special Plants (opens in new tab)
To extend Summer interest in your garden
Make sure your planting includes late-flowering perennial. Dahlias are particularly useful as they carry on flowering until the frosts. They make wonderful cut flowers too; to encourage large blooms, restrict the number of flowering stems to three to five per plant. They are thirsty plants; keep them moist but protect from slugs, which are attracted to the stems. For a good range of cultivars, try The National Dahlia Collection, which supplies rooted cuttings in the spring.
To ensure the perfect border
In late autumn/early winter, tidy by cutting back dead stems. Lift and store tender perennials such as dahlias over winter. Leave other stems and seed heads for winter interest, and as food and shelter for garden wildlife.
In late winter/early spring, before the border comes back to life, clear through and remove any remaining dead stems that were left standing over the winter. Also mulch your border with well-rotted organic matter to keep weed growth down, to stop the bed from drying out too quickly and to feed your plants.
In autumn/winter, every three years or so, divide those herbaceous perennials that need to be (read and keep the plant label when you first buy it) to keep them healthy and vigorous.
By late spring, stake tall plants and deadhead certain plants as blooms fade, to extend flowering and promote new blooms.
Chris Beardshaw's Healthy Cities garden
Chris's Chelsea show garden has been carefully dismantled and is in the process of being relocated and used as the central feature of a new community project in Poplar, in East London. The project is part of an ongoing programme created and run by Morgan Stanley that helps improve the health and wellbeing of children in various cities around the world, through philanthropic community involvement.
For more gardening ideas, visit the Homes & Gardens website.
******
Tamara was Ideal Home's Digital Editor before joining the Woman & Home team in 2022. She has spent the last 15 years working with the style teams at Country Homes & Interiors and Ideal Home, both now at Future PLC. It's with these award wining interiors teams that she's honed her skills and passion for shopping, styling and writing. Tamara is always ahead of the curve when it comes to interiors trends – and is great at seeking out designer dupes on the high street.