Do I have to have a smart meter fitted? The facts about adding one to your home
We settle the debate about smart meters becoming compulsory, plus explore the benefits of having one in your home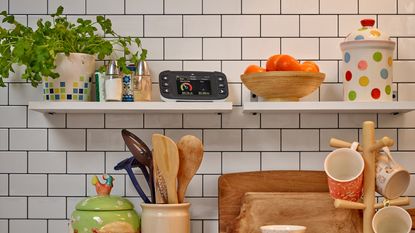 (Image credit: Smart Energy GB)
Smart meters have gained a lot of momentum in recent years. These tech-savvy devices monitor exactly how much energy your home is using, and send the readings straight to your provider before they bill you. With the Government smart meter rollout currently in full swing, you're probably wondering do I have to have a smart meter fitted?
You may be thinking of joining the smart meter hype, either because you're hoping it will help keep your energy bills down, or because the thought of never having to send in your meter readings again appeals.
But with a lot of people questioning are smart meters compulsory, you might be thinking that the choice is out of your hands anyway. So the question is, do I have to have a smart meter fitted, or can I keep my tried and tested meter as it is?
Do I have to have a smart meter?
So, to answer the question do I have to have a smart meter, we've done our research and spoke to the relevant experts. Here's everything you need to know.
What is a smart meter?
A smart meter will replace an existing gas and electricity meter and keep track of your usage, sending the data straight to your energy supplier. It means you no longer have to submit meter readings.
'Smart meters measure how much gas and electricity you're using in your home,' explains Andy Kerr, Founder, BOXT . 'Typically, they come with an in-home display screen that helps you to see your energy usage in real life and how much it costs.
The display is handy because it provides a visible representation of just how much energy you're using. This may be helpful when it comes to working out why your utility bills are higher than expected.
Chances are your energy supplier has already been in touch about installing a smart meter. They may even be repeatedly asking to fit one in your home. That's because the Government set supplier's targets in January 2022, with an aim for all homes to have a smart meter in 2025.
So do I have to have a smart meter fitted? Here's everything you need to know.
Are smart meters mandatory?
If you're wondering are smart meteres compulsory, the answer is no. If you don't want to have a smart meter installed, you can decline.
However, according to Gareth Kloet, energy spokesman at GoCompare, if you don't want a meter, it's still good practice to read your gas and electricity meters regularly. This is because passing them on to your energy supplier means they can bill you accurately and adjust regular monthly payments so that you don't build up debt or large credits and need to look into energy bill help.
'At this time of year, most customers will be using more energy than in the summer months so it's important to have a good idea of how much you are using so that you can budget appropriately. Your energy supplier will help you do this if you need to come to an alternate payment arrangement.'
For even more insight, pick up an energy monitoring plug, available on Amazon, so you can see what's using the most energy in your home.
Smart meter benefits
Smart meters can make your life easier, mainly because you don't need to worry about regularly updating your energy provider with your usage figures. They'll also ensure you're being billed based on your actual energy usage.
'With a smart meter you can wave goodbye to estimated billing,' says Victoria Bacon, Director, Smart Energy GB. 'The smart meter shows a digital meter reading and uses a secure smart data network to automatically send the readings to your energy supplier at least once a month, so you will receive accurate, not estimated bills.'
'If you have a smart meter you also have the option of taking part in schemes where you are offered financial rewards for using energy at off-peak times, such as the recent National Grid ESO Demand Flexibility Service,' adds Victoria.
Going forward, the Government's push towards smart meters means there may be more tariff options available to you if you have one installed. 'Opting for a smart meter means you could have access to a greater range of tariff options that may be cheaper,' explains Andy from BOXT. 'This is because, in the future, customers with smart meters might be the only ones qualified for the lower pricing that suppliers offer.'
How to get a smart meter installed
'Your energy supplier will contact you beforehand to arrange a time and date for installation of your smart meter', says Victoria. 'They will tell you what to expect, how long it will take and if there's anything special you need to do before the visit. If you haven't already been offered a smart meter, you can request one from your energy supplier.'
How long installation will take depends upon your provider, although the major providers usually take between two and four weeks to complete installation. Smaller providers may take longer.
The not-for-profit company leading the smart meter rollout, SmartEnergyGB, has a dedicated request page that lets you enter your energy provider, and will then take you straight to their smart meter request webpage. You can also call 0300 131 8000 to request a smart meter instead.
The device can be installed in rented accommodation as well as homes that are owned. Whoever pays the bill has the right to request a smart meter. However, according to Ofgem, you should inform your landlord in case having something installed without their permission is a breach of contract.
The good news is that smart meters are free and you won't need to pay for installation. Though there may be are reasons why you might not be able to have a smart meter fitted at all, so it's worth making sure you can have one before you book an installation.
Can I switch energy providers with a smart meter?
You may have heard that having one means you can't switch energy suppliers. However, that's not completely true.
The first iteration of smart meters, known as SMETS1 meters, first appeared in 2015. They did stop sending data if you switched suppliers, so it was up to you to provide meter readings to your new energy provider. However, this isn't the case for the newer SMETS2 meters, introduced in 2018. Energy providers have been required by Ofgem to install SMETS2 models for some time now. So, if you opt to have a new device installed, this is the version you should get.
For those that already have a SMETS1 smart meter installed, a software update is rolling out. The revise will add the same features and functions as SMETS2 models – including the ability to continue sending meter readings if you switch suppliers.
FAQs
Is it better to have a smart meter or not?
Having a smart meter installed ultimately comes down to personal choice. If you're looking to save energy, the meter's display shows the cost of the energy you're using, as well as how much, which can help you identify where the bulk of your bills are coming from.
One of the selling points of smart meters is that they do the hard work for you and send precise readings of your energy usage to your supplier. If you don't want to have a smart meter installed, it's recommended that you do send your meter readings to your provider monthly, otherwise they'll bill you based on estimation, which means you could be overcharged.
'Smart meters are already helping to put people in greater control of their energy use, which is especially important at the moment, with so many households concerned about high energy costs', says Victoria from Smart Energy GB.
Will it become compulsory to have a smart meter fitted?
There are currently no plans to make having a smart meter fitted compulsory. 'You don't have to accept a smart meter if you don't want one', clarifies Andy from BOXT.
Since January 2022, the Government has been rolling out its smart energy plan to enable a market-wide smart metering system after 2025. The Government have sent annual installation targets, hence why you've most likely already been offered a smart meter by your provider, and why they're able to come and install the meter at no extra cost.
This doesn't mean you have to accept a smart meter. The Government is encouraging all households to have one, but it's still you choice; if you're happy with your traditional gas and electric meter, you can stick with that.
Get the Ideal Home Newsletter
Sign up to our newsletter for style and decor inspiration, house makeovers, project advice and more.