Enjoy dramatic design at home by decorating with darker colours
Using darker shades of paint, wallpaper and accessories may feel like a risky move, but a few tricks will help you confidently decorate with dark colours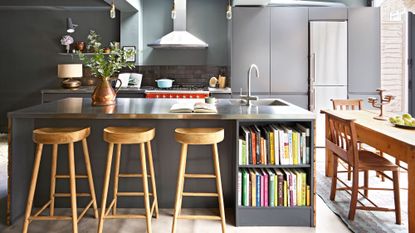 (Image credit: Future PLC/Darren Chung)
Ideal Home Newsletter
The Home Of Great Ideas For More Than 100 Years
Thank you for signing up to . You will receive a verification email shortly.
There was a problem. Please refresh the page and try again.
When it comes to wall colours, we might automatically reach for the light neutral paints and wallpapers in the DIY shop because we imagine that they are more versatile as a base for decorating. However, when it comes to updating your home, there's really no reason to be afraid of the dark. In fact deep, moody and dramatic hues can create beautifully sophisticated and luxurious living rooms, bedrooms and even kitchens areas, and should never be dismissed out of hand. Although instinctively we might think that midnight blues, gunmetal greys, forest greens or opulent purples are colder and make spaces feel smaller, that is not actually the case; if used on all four walls, darker colours actually perform a visual trick and make a room feel bigger. Done well, they also have a cosy, cocooning feel that makes a space feel more welcoming and comfortable than cooler colours might.
Whether it's plain paintwork or patterned wallpaper and fabrics, dark decorating can make a strong base for brighter coloured accessories, light furniture and metallic accents - the contrast between colourways really makes the lighter shades pop to become a feature or focal point of a room. Additionally, layering dark coloured textures, from the carpet or glossy flooring upwards, provides even more depth, and this type of tactile scheme makes for a really rich luxe look. Don't just take our word for it - see for yourself! These schemes should convert even the most ardent minimalists out there...
1/13 Go dark with paint
Boutique-hotel style is only a paint pot away. So why not take your bedroom from ordinary to amazing with a dark-grey wall colour? Wall-mounted lights, the black and white artwork and stylish round bedside tables all add to the luxurious, well-planned feel. With comfort like this at home, who needs an expensive getaway?
Similar paint
Farrow & Ball (opens in new tab)
Similar cushions
K Living (opens in new tab)
2/13 Use tiles from floor to ceiling
Monochrome schemes can be really powerful. When you break it down, this room is quite simply decorated, but the overall look is anything but. The floor-to-ceiling tiles are the key, as they create a great backdrop to the fabulous bath. The fact that they have been mounted in a diamond shape, rather than as squares also adds to the effect. A hit of red is the perfect finishing touch.
Bath
Victorian Plumbing (opens in new tab)
Similar tiles
Topps Tiles (opens in new tab)
3/13 Tone your blues
Coordinate your wall paint with your furniture to create a beautiful scheme that's rich in colour. Choose opulent pieces upholstered in velvet for an indulgent space you'll want to rush to in those delicious moments of downtime. Here, the wall colour is the darkest shade of all, which lets the furniture stand out. A small splash of pattern stops everything from blurring together, and offers a beautiful contrast.
Armchair
Sofa.com (opens in new tab)
Cushion fabric
Emily Burningham (opens in new tab)
4/13 Pick an earthy palette
Let nature provide all the inspiration you need for decorating with darker colours. Wood cladding on the wall marks a departure from paint, and the variation in tones provides a less one-dimensional appearance than block colour. The pièce de resistance is the headboard, which adds a dose of pattern to the space, while picking out all the earthy colours of the bedding.
Bespoke headboard
The Dormy House (opens in new tab)
Headboard fabric
Commune for Christopher Farr Cloth (opens in new tab)
5/13 Sit in sophistication
Create a characterful space with standout furniture. This supersized teal sofa is unlikely to go unnoticed, especially when teamed with shiny brass accessories and furnishings in eye-catching modern designs. Darker colours go beautifully with metallic finishes, and the warm tones of brass look great here. Black shutters add another striking element to the scheme.
Similar sofa
Barker & Stonehouse (opens in new tab)
Similar rug
Ikea (opens in new tab)
6/13 Luxuriate in print
Bring some jungle fever into your bedroom with a daring print in bold blue. The design evokes the twilight hours, when everything is beginning to go calm at the end of the day, making it very appropriate for the bedroom. Dark colours on the headboard and bedding keep the look grounded, while silky bedding adds to the luxurious feel.
Wallpaper
Casamance at Wallpapers of Distinction (opens in new tab)
7/13 Bathroom
Dramatic looks can be subtle. If this sounds like a contradiction in terms, just check out this beautiful bathroom scheme, which oozes character, while remaining deliberately neutral. A big black bathtub is all this space really needs to add interest, but the stunning black lines of the marble flooring take the look to another level. We like the dark finish of the taps, too.
Similar bath
CP Hart (opens in new tab)
Similar marble flooring
Mandarin Stone (opens in new tab)
8/13 Cosy up with purple
Decorating with darker colours is not all about architectural modern looks - country schemes can get in on the action, too. In this pretty hallway, intense purple creates a cosy, welcoming atmosphere. A blue leaf-print curtain livens things up, giving the space an injection of brightness and pattern. Blue and purple are close neighbours on the colour wheel, which gives this scheme a harmonious feel.
Similar paint
Farrow & Ball (opens in new tab)
Similar log basket
Amazon (opens in new tab)
9/13 Shine on with metallics
Dark colours make a big statement, especially in places where you don't expect to see them, such as the kitchen. Burnished brass finishes add a brightening and lightening effect, especially on the stylish mirror-like panel. In contrast to the polished look of the metallics, the wooden flooring has been left unvarnished, which stops the scheme from looking 'overdone'.
Similar paint
Little Greene (opens in new tab)
Similar tray
Skultuna (opens in new tab)
10/13 Hang a striking wallpaper
Use pattern if you want to decorate with darker colours, but don't want the 'solid' appearance of a block hue. Prints with a tiny amount of neutral shading on them are a great way to introduce a bit of lightness. Nature-inspired designs are ideal for creating a relaxing environment - place a chaise longue in front of your paper or mural and you'll never want to leave!
Mural
Anthropologie (opens in new tab)
11/13 Choose gunmetal tones
Neutral colours hold a lot of appeal in kitchen schemes right now, and grey shades are no exception. And while white will show up every dirty finger print, gunmetal greys are a lot more forgiving - which is a bonus for those who don't want to be attached to their cleaning cloths. Handleless units add a modern feel, along with the sizeable island, exposed-bulb pendants and stainless-steel surfaces.
Similar kitchen units
DIY Kitchens (opens in new tab)
Similar worktops
GEC Anderson (opens in new tab)
12/13 Add bold accents
Use dark grey as a smart backdrop to brightly coloured accents. In this room, vibrant reds have been precisely matched, which creates a cohesive-looking scheme. Spindleback chairs provide the largest proportion of the colour hit, but the picture-frame borders and table lamp spread the red shade further afield. White paint around the windows maximises the daylight flowing through.
Similar table lamp
Homebase (opens in new tab)
13/13 Keep it simple
Unsure of using dark colours all over your room? Then go for a slightly less daunting approach to decorating with dark hues by painting your kitchen units black and keeping the rest of the scheme white. White worktops create a brightening effect, while gently veined marble tiles add richness to the walls. This scheme just goes to show that you don't have to use dark colours all over to achieve a stylish look.
Similar marble
Mandarin stone (opens in new tab)