15 things you should NEVER do when choosing a bathroom
Avoid these mistakes to save time, money and stress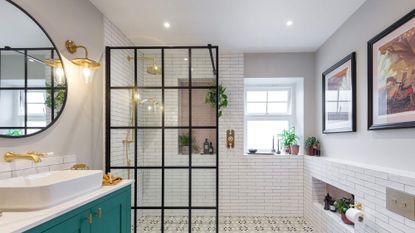 (Image credit: BC Designs)
Ideal Home Newsletter
The Home Of Great Ideas For More Than 100 Years
Thank you for signing up to . You will receive a verification email shortly.
There was a problem. Please refresh the page and try again.
Planning any room of the home can be a daunting experience – and certainly not something you want to get wrong. Make designing your new bathroom a breeze by knowing in advance what things you should never do when choosing a bathroom.
There are so many bathroom ideas which need considering. Since getting them wrong can lead to costs (and stress levels!) spiralling, it's key to know what to look out for right from the beginning.
Things you should never do when choosing your bathroom
'Whether you're updating or completely renovating your bathroom it's important to plan it out perfectly and get the design right to make the most of your space,' says Victoria Plum (opens in new tab) content manager, Adam Chard. 'Plumbing, ventilation, storage, lighting, and colour are all things to consider when designing your bathroom to ensure it is as functional as it is beautiful once it's finished.'
We've rounded up the experts and got them to open up about their top bathroom planning tips. Plus what you should most definitely avoid when it comes to planning, design choices, fittings and installation.
'Our bathrooms are now one of the most important spaces in our homes so when planning a new bathroom it's important to get it right,' says Graeme Borchard, MD, UK Bathrooms (opens in new tab). 'There are a few vital questions to ask before even starting to look at bathroom products. Shower/bath or both? If you don't have the space for both then choose which is most important to all of the people using the room.'
'How much space do you have? How much do you want to spend? And don't forget the often forgotten items such as bathroom accessories, blinds and flooring.'
1. Rush the layout – or make do with the old one
'One of the most important things to consider in a bathroom is the layout,' says Barrie Cutchie, Design Director at BC Designs (opens in new tab). 'Getting it right from the start will mean that you have a bathroom that works for the whole family. Don't think about how you use your bathroom currently, but how you'd like to use it in the future and use that as a starting point.'
'When it comes to deciding where you're going to position your bathroom fittings, the best tip is to think about how they're used and in what order,' advises Phil Etherden, MD, The Albion Bath Co (opens in new tab). 'With this in mind, we would often recommend that the sink or basin is placed closest to the door, as it is often the last stop in most bathroom routines. The toilet and other fittings can be further into the room. This not only provides more privacy but saves you from walking through puddles left behind by people stepping out of the bath of shower.'
Asses your existing layout
If you are adapting an existing layout, there are some smaller changes you can make. 'If your layout isn't quite right, think about the ways you might be able to make small but effective changes,' suggests Barrie. 'It might be that you add in a folding shower screen or wet room to provide a larger area to move around in.'
Clearly, an effective layout that makes good use of the space available is the most important aspect of a bathroom. Yet it can be all too easy to pick something off the shelf without consideration for your space or stick with a current layout which really doesn't work well. Really think about how to plan a bathroom carefully. 'The cost of a layout redesign is elevated due to changes in plumbing and electrics, however, it is needed in some cases,' says Joe Debono, sales director at Ashton & Bentley (opens in new tab). 'Most traditional bathrooms were badly planned. Storage was never considered, radiators were too big and not energy-efficient, basins were often placed under windows so that mirrors couldn't be hung and the WC was in a separate room.'
Layouts for small bathrooms
Layout planning is key whatever shape or style of bathroom you have, but never more so than when you're dealing with a more petite space. By choosing the right layout, you can maximise the space - both making the room feel larger and work more efficiently.
'With a smaller bathroom, the trick is to maximise the visible area of the floor, so use a free-standing bath on feet or a plinth,' advises Phil. 'High Level Toilets will create more visible space as the cistern is above eye level and wall mounted basins won't take valuable floor area. If possible, position your bath so it's the first piece seen when you open the door. Bath tubs are now considered decorative as well as functional, so use the bath as a feature piece. Conversely, position the toilet in a discreet area but give thought to the soil pipe routing.'
'Above all else, don't be tempted into cramming large items into a small room. The effect will be to lose all aesthetic value while making the room look small and cluttered,' adds Phil.
2. Assume drainage will work with a new layout
When choosing a new bathroom, the focus is often on the aesthetics. However, the less-sexy side of bathroom planning is one of the most important.
'There are always key considerations such as dimensions, layout, ventilation, electricity supply and building regulations,' says Ann Boardman, Head of Marketing and Product Development at Saniflo (opens in new tab). 'Equally importantly, however, is the location of any existing soil pipes, drainage and waste pipework. If it's a simple update of an existing bathroom then direct replacement using new sanitaryware is a reasonably straightforward job. However, if it is an installation in a new space then the most important elements to plan will be the plumbing solutions.'
'The toilet has stricter limitations than moving pipework due to the fall of the waste,' adds Yousef Mansuri, CP Hart (opens in new tab)'s head of retail design. 'Once you know where this is positioned you can start to decide where the basin, bath and shower will go. Pipework tends to be more flexible when it comes to repositioning. Once you have your layout, and therefore know how big you can have everything, the exciting part starts. Then you can begin to put together your mood boards and choose your product.'
'Top tip?,' continues Yousef. 'Make sure you don't forget about towel rails/heating when considering all of this. One big mistake we often see is once having left the shower, people have to walk across the bathroom to reach a towel.'
3. Install everything in the wrong order
With any bathroom installation, forward planning is key. Choose an experienced designer that can manage the whole process and ensure they provide dimensional drawings to help you visualise the space.
Ashton & Bentley's Joe Debono's top tips?
Plan the room so that all pipe work is in place and wall coverings need minimal cutting.
Ensure supports are in their correct positions, taking into consideration the size of the wall coverings.
Position underfloor heating so that no fixings can damage it during the installation process.
Choose products that incorporate two-part installation, like our eco waste that is fitted before the bath.
If you opt for a freestanding bath, make sure it is the last thing to be fitted, as it reduces the risk of damage.
4. Not consider the practicality of your flooring
Flooring is important in any room of the home, but in a bathroom finding the right floor is key. You'll often be walking around, barefoot and risk slipping. 'Our recommendation is to choose tiles. They are an ideal combination of hard-wearing, practical but can also be a way of injecting some personality and fun into the space with bold colours and patterns,' says Barrie from BC Designs.
There are tiles aplenty on the market, but for bathrooms porcelain tiles are especially beneficial. 'Good quality porcelain tiles are perfect for use in bathrooms and wet rooms, and look to remain the most popular surface for many years to come,' says Jo Oliver, Director, The Stone & Ceramic Warehouse (opens in new tab).
'Porcelain tiles are extremely hard wearing and stain proof, making them an ideal solution for everyday use. They also won't be damaged by detergents or any of the other chemicals we frequently use in our bathrooms.' Plus, they can now be manufactured in a whole range of realistic finishes including marble, limestone, concrete, wood and metallics.
'With any bathroom project it is also worth considering the slip resistance of the tiles,' adds Isabel Fernandez, Director, Quron Stone (opens in new tab). 'In most instances a natural finish is sufficient for bathrooms. However in wet rooms we would always recommend using a porcelain tile in a grip or R11 finish, designed to offer more traction in wet conditions.'
5. Buy a shower without knowing your water pressure
When choosing a shower, it's not just what fits in your space and looks good that counts. Your water pressure has a lot to answer for.
'Before purchasing a shower and taps, it is recommended that you know what the water pressure is and that depends on where your home is in relation to the nearest supply,' advises Nicholas Cunild, Managing Director at Matki (opens in new tab). 'For example, if you live in a valley, then it's likely that the pressure will be high. But if you're on a hill, the pressure naturally will be weaker.'
Water pressure is measured in bars, with 1 bar equal to the force needed to push water up to the height of 10 metres. In general, you will find the pressure in your home is one of three types:
Low Pressure (Gravity) Cold water tank in the loft and a hot water cylinder upstairs. 'You can find a good selection of quality taps with good flow rates that will handle a minimum pressure requirement of under 1 Bar,' says Nicholas. 'If you have extremely low pressure, it's best to choose a mixer tap with a minimum pressure of less than 0.5 Bar.'
High pressure (Combi-boiler system) Boiler unit in kitchen with no hot water cylinder. 'If you have the benefit of a high-pressure system, then there is a wide range of taps and showers for you to choose from, with the right flow rate of around 5 litres per minute,' says Nicholas.
High pressure (Pumped system) Hot water cylinder with an expansion vessel, normally placed in an airing
cupboard. No cold water tank.
6. Put everything on one lighting circuit
'The lighting solutions for bathrooms are often fairly low down the list of priorities in comparison to other rooms in the house. But with the increasing focus on luxury, larger-than-life bathrooms, a well-thought through lighting solution is integral to the space,' says Marketa Rypacek, MD, Industville Ltd (opens in new tab).
'Consider installing the lighting in layers, creating pockets of light to create a relaxing, inviting atmosphere,' continues Marketa. 'This may require rewiring to a different parts of the room, so it's essential to think about the lighting right at the beginning of the project.'
'Bathroom lighting ideas are as important as positioning the sanitary ware,' agrees CP Hart's Yousef Mansuri. 'The overall mood and atmosphere of the bathroom is dictated by this and this should be decided prior to signing off any designs. Try using two lighting circuits, one for the downlights and another which includes more inventive feature lighting. Such as recess lights, under basin lights, wall lights and marker lights fitted to the floor to up light the bath.'
7. Only install one light
'One of the most common mistakes when it comes to bathroom lighting is not providing enough of it,' says Marketa from Industville. 'That said, people will often counter this issue with a plethora of fixtures on the ceiling, which can look busy and overcrowded. Consider combining decorative lighting with LED lighting strips that provide functional light. This will create a design that's spot on in terms of both the look and the functionality.'
'Those who often use a bathroom for applying makeup or carrying out personal grooming tasks should avoid lighting positioned directly overhead. Instead it should be fitted over the walkway, so you are illuminated from behind when looking in the mirror,' continues Marketa. 'If opting for wall lights, they should be symmetrical and placed either side of your mirror to avoid an uneven glow.
'Task lighting needs to be considered around mirrors,' agrees Chris Jordan, MD, Christopher Wray (opens in new tab). 'You should always choose lights that will illuminate without causing shadows. For example, a single strip above the mirror or wall lights situated either side of the mirror.'
8. Forget about IP ratings
When choosing your lighting, you need to consider the IP rating, which is used to define levels of sealing effectiveness of electrical enclosures against intrusion from foreign bodies like moisture.
'Waterproof lighting is now available in more on-trend styles than ever before, so you no longer need to sacrifice style for safety,' notes Industville's Marketa.
'Always check that the fitting has an IP rating that is suitable for the intended zones,' says Chris Jordan, managing director at Christopher Wray.
There are three main bathroom zones to be aware of for bathroom lighting.
Zone 0: inside the shower or inside the bath. 'Any light fitting in these areas must be a minimum rating of IP67 (which is completely immersion proof) and must be low voltage,' says Christopher.
Zone 1: directly above the bath or shower. 'Fittings here must be a minimum rating of IP65. This means that they are dust-tight and are protected from low pressure jets and that no water can seep into the fitting itself.'
Zone 2: either side of the bath or shower or a radius of 60cm from the sink. 'Lighting here must be a minimum rating of at least IP44 which will protect from splashes of water.'
9. Buy the wrong shower tray
When choosing showers it's natural to focus on the shower head, the tiling and the screen, but the shower tray is one of the most important elements.
For small or awkward spaces, it might be useful to cut in place. 'Installing a shower in an unusual space is quite easily accommodated by cuttable trays,' says Ann Boardman, Head of Marketing and Product Development, Kinedo (opens in new tab). 'The trays can be cut on site, to the exact shape and dimensions of the available space.'
A current trend with shower trays is to go for a flush option to create a sleek and minimalistic look. They both look neater than traditional designs and don't require a step up. 'They are particularly suited to those with mobility issues but they require the waste pipework to be installed under the floor to carry away the waste water from the shower to the soil pipe,' advises Nicholas Cunild, Managing Director at Matki. 'It is therefore important to check there isn't anything that would stop you from running the pipe work under the floor.'
The issues which would stop you running the pipework underfloor include:
Concrete flooring.
Pipework obstruction. 'Sometimes the void under the floorboards beneath the shower tray is too full of pipework to run a waste pipe or to fit a shower trap,' says Nicholas.
Joist obstruction. 'In some instances the trap may fall onto a critical joist and therefore fitting it in a specific location would require excessive notching which can weaken the floor structure.
Drainage considerations. 'water has to flow away from the tray downhill, under gravity. All waste pipework needs to fall away to ensure good drainage and limit blocking. It might be necessary for the shower tray to be lifted off the floor to ensure that the waste water runs away downhill to the nearest drainage point.'
10. Choose the wrong size of bath
'We all aspire to the sumptuous free-standing bath in the middle of a large room with a massive chandelier hanging over the top,' says Phil from The Albion Bath Co. 'However, consider that most bathrooms, even in large houses, are no more than 12 square metres. So, with this amount of floor space, plan carefully and you can still create a stunning result.'
There are many smaller footprint freestanding baths on the market, around the same size of a standard sized shower, so by choosing the right size for your space you can still bathe in style. 'These smaller footprint baths average around 1500mm in length, while models can get up to 1800mm,' says Barrie from BC Designs. 'If you do have the space, consider placing the bath in the centre of the room as a standalone piece but if space is limited, consider a short roll-top or slipper bath, or a back-to-the wall design.'
Don't forget to factor in weight
Something people also forget to take into account is the weight of their chosen bath. 'Don't forget to also take into account how heavy it will be when it is full of water and you are in it, as well as the empty weight,' says Barrie. 'If you're in doubt about the structure of your house and the strength of your floor, do check with a builder or structural engineer before you decide to install a freestanding bath. The last thing you want is for it to fall through the ceiling.'
It's not just about space in the bathroom either. 'You'll also need to make sure there's room to bring it into your home through doorways, around corners and up the stairs,' advises Barrie. 'We have known people have to take windows out and higher a crane to get it into the bathroom!'
11. Add too many separate elements
Tim Richards, category manager for bathrooms at Wickes (opens in new tab) says: 'While family bathroom ideas should be practical and versatile enough to cater for everyone's needs it doesn't have to impact on style.'
'Simple additions to the suite can make it more functional without the need for separate installations which is something we consider as part of the design process.'
'For example, adding a bath screen to a standard straight bath provides a fully functional shower bath, utilising the space in a practical, yet unobtrusive way.'
12. Skimp on brassware
'The brassware is the most important part of any bathroom renovation,' says Yousef from CP Hart. 'As these are the working parts they have continuous water flowing through them and because of this are used the most and have the highest potential to break.' Save your budget bathroom ideas for other, more decorative elements, of the space.
'Most often, people's fear of renovating their bathroom is stemmed from leaks and really this comes down to investing in a high quality brassware fitting that stand the test of time without breaking,' continues Yousef. 'Another reason to invest in top-quality is that the brassware is often fitted into the wall, meaning there is no direct access to fix them; because of this, you need to ensure that what is in the wall is of a high quality or face a bigger job later on.'
Choose your style of brassware carefully, too. 'It is important to invest in quality brassware as it can be hard to match brass tapware with brass accessories or brass plug and wastes,' notes Nicholas Cunild, Managing Director at Swadling Brassware (opens in new tab). 'When choosing brass tapware, a quality supplier should offer matching accessories. This can take the guesswork out of matching taps to accessories. It can look odd with different finishes in the bathroom.
'To complement the shower design and emulate a wellness sanctuary, consider an alternative to chrome when it comes to specifying brassware,' suggests Paul Bailey, Category Specialist, GROHE UK (opens in new tab). 'Metallic finishes such as brass and copper are a great way of adding colour in a subtle way and will add warmth and grandeur to the space, which is important when creating a luxurious bathroom. If working to a more industrial or monochromatic colour scheme, explore options of graphite or nickel for something a little more understated.'
13. Not include a heated towel rail
'Having a warm bathroom is one of life's little luxuries; there's nothing worse than having a shower and stepping out into a freezing cold room,' says Nick Duggan, Director, The Radiator Centre (opens in new tab). 'One way to make the bathroom that little bit warmer and more inviting is to install a good quality, heated towel rail.'
'A towel rail radiator can warm your room – although, if size permits, we would also recommend an actual radiator in your bathroom in addition to a towel rail – and will make sure that your towels are nice and snug.'
'When selecting a towel rail or bathroom radiator, we would always advise customers to avoid chrome radiators, as they do not emit heat as efficiently as coloured or matt finishes,' continues Nick. 'In fact, chrome plated radiators can give out up to 20% less heat than painted options.'
'Finally, we would always recommend looking at a dual fuel option when it comes to bathroom heating. Many towel radiators are also now available with an optional electric heating element, which will ensure you have warm and dry towels even when your central heating is turned off in the summer.'
14. Overcrowd the floor area
'To avoid clutter, create a neat and tidy space by choosing wall mounted bathroom storage ideas and accessories around your basin to keep all your bits and bobs to hand,' says Tom Parker, category manager for bathrooms at B&Q (opens in new tab). 'When adding furniture, lift items off the floor where you can. For example, opt for a wall-mounted towel rail and installing a vanity unit under your basin streamlines furniture by utilising otherwise dead space.'
Also remember to factor in breathing room around each element so the space doesn't start to feel busy and tight. 'Position your bathroom wisely,' says Tom. 'For toilets, make sure you keep 40cm of clear space in front and 20cm either side. For showers, allow 80cm of floor space, keep towels this distance for easy reaching too.'
15. Not futureproofing your bathroom
Choosing a bathroom is a big investment, and not something you'll want to be doing again any time soon. To make sure the bathroom design you're opting for is right for you, really consider what changes are likely to happen in the future.
'Think about how your bathroom use might change over time,' advises Barrie from BC Designs. 'Just because you don't need a bath or shower right now, doesn't mean you won't in the future so think carefully about what you might require to future proof your bathroom.'
'Homeowners can consider the future and incorporate a futureproof design into their bathrooms in many ways,' says Paul from GROHE UK. 'Shower fittings with additional safety features as well as technology which ensures the outer surface of the mixer stays cool to the touch are also a great way to ensure that the entire family can shower safely and independently. With step free access, wet rooms are often a great alternative to baths and shower enclosures and work particularly well in family bathrooms, ensuring everyone can use the shower independently.'
How can you make your bathroom more eco-friendly?
It's not just practicalities of family bathroom ideas that affect future-proofing bathrooms. The environment must be thought about, too, both to do your bit for the planet and for resale value.
'One area where bathroom design has changed recently is over the drive to save more water,' notes Barrie. 'Two-thirds of water used in the home is used in bathrooms and there has been a rise in demand for products that help to cut this down. There aren't many bathrooms that don't feature a bath, but what we are seeing is a rise in people choosing baths with no pre-drilled overflow. It means that people can opt for this positioning much lower, which makes sure less water is used during bath time.'
What should you not do when designing a bathroom?
Planning and designing a bathroom is a huge undertaking and can seem quite overwhelming. By learning what not to do when planning a bathroom, the whole process becomes much simpler. The key is to find a layout which works for your space and your needs.
Don't just put up with an existing layout - really think about what you need the bathroom to do, and what you want to fit in there. There's no point in spending time and money on a refurb or build to not get the product you want.
The other thing is to plan everything - don't just assume you can add things in at the last minute or leave decisions until the end. A good, clear plan will help immensely and save you money in the long run.
Thea Babington-Stitt is the Assistant Editor for Ideal Home. Thea has been working across some of the UK's leading interiors titles for nearly 10 years.
She started working on these magazines and websites after graduating from City University London with a Masters in Magazine Journalism. Before moving to Ideal Home, Thea was News and Features Editor at Homes & Gardens, LivingEtc and Country Homes & Interiors.