Budget bathroom ideas – 18 ways to update your washroom
Clever tricks and mini decor projects to make your bathroom more beautiful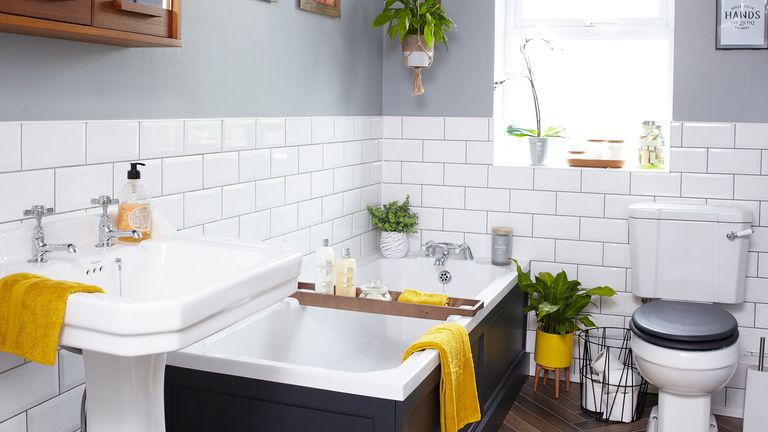 (Image credit: Future PLC/ Lizzie Orme)
Bathrooms are one of the most used rooms within our homes, so naturally they need refreshing from time to time. Our budget bathroom ideas will help you give yours a brand new look, without turning into a full redo.
Whether it's giving the en suite a refresh, updating the downstairs loo, or turning the family bathroom from drab to fab, we've got plenty of bathroom ideas to set you on your way.
But giving your bathroom a new look, doesn't have to cost a fortune or take weeks to complete, our ideas (plus tips from the experts) are all simple tweaks, tricks and clever ideas that won't break the bank.
Budget bathroom ideas bathroom ideas
1. Make a shelf display
Treat your bathroom just like you would any other room in the house and don't forget the plants and accessories. Pop a wooden shelf up on the wall for a place to not only keep your prettier toiletries and smellies, but also for a place to display framed prints, collected treasures and of course a house plant or two.
2. Bring in accents of on-trend matt black
Whilst brass hardware continues to be a huge trend, we're seeing more and more home owners choose black as their accent colour and we are all for it! As most bathrooms tend to be a serene and simple white, adding in touches of black is an easy way to really pack a punch as it will pop against the background. Swap out tired taps and rusty radiators and replace with smart, matt black options instead.
3. Opt for an oversized mirror
The more natural light you can achieve in your bathroom, the better, making it much easier to apply your make-up and giving the whole space a more open and inviting feel. So if windows are small (or even if they're not!) choosing the biggest mirror you can fit on your wall, will then allow it to bounce the natural light coming in, to more spots around the room, all the while making the space feel bigger. Choosing a window-style mirror like this one breaks up the wall a bit too.
4. Add a splash of bright colour
You might find that your bathroom suite is perfectly ok and actually its the just the accessories that need lifting, in which case, you're in luck- this is the fun bit! Adding in pops of colour with accessories is easy and super affordable too. A shade like sunny yellow is going to work really well in a monochrome bathroom so choose towels, bath mats, plant pots and even shampoo bottles in this happy shade and let your room be transformed before your eyes. Yellow not your colour? Try a teal, pale pink or even lilac!
5. Save space in the loo with a caddy
Cloakrooms often lack space for toiletries. This handy caddy attaches to the wall and has a rail for a towel too, so the basin remains uncluttered, hoorah! Attaching a slim shelf to the wall above will also provide you with space for your prettier trinkets too.
6. Double up on bathroom storage
Add tall cabinets either side of a vanity unit in a bathroom. Not only will they frame the unit nicely, but they'll provide lots of extra storage. These cabinets started life as simple Ikea bookcases but have been given a smart lick of paint and fluted glass film, too.
7. Add a bit of bling
Yes the bathroom is a very practical room where washing is the main event, but that doesn't mean it doesn't deserve a bit of sparkle in there too! Decant the hand soap into a smart glass dispenser, pop the family's toothbrush collection into a matching tumbler and dig out that bar of real soap you were gifted last Christmas and pop it on a pretty glass plate, and ta-dah! A posh spa-hotel bathroom CAN be yours!
8. Try a table in the bathroom
Finding the right vanity unit for a bathroom can be tricky, but actually almost any piece of furniture can be upcycled to house your basin. Here an old school desk has had a hole cut in it to make space for the plumbing and pipes.
9. Change your grout
Dirty old grout getting you down? Then update it. Instead of a plain white grout, pick a colour that contrasts with your wall tiles – so if you have a white metro tile, try a black or a grey grout. Not only does it seriously up the style stakes, it's also much easier to keep looking clean. Happy days!
10. Hang an on-trend mirror
If space in your bathroom is tight (or even if it's not!) a mirror will make a room seem larger and boost natural light. Ideally place it opposite the window. Go for a black frame or Crittall-style window effect for a contemporary look, and accentuate with monochrome accessories.
11. Paper the walls
Far cheaper than tiling, bathroom wallpaper can add stunning pops of colour and take familiar coloured tiles to a whole new level, as seen here. Our biggest tip is not to paper walls that are directly behind the bath or basin, as any splashes might cause damage. You'll also need to seal the paper with decorator's varnish once you've hung it.
12. Jazz up a plain window with film
The perfect solution to ensure privacy in your bathroom without having to forgo natural light, window film is cheaper and easier to install than shutters. Plus it allows you to have way more fun with pattern. Simply cut to size and apply to the glass in seconds.
Buy now: Chevron white print on frost, £66 per sq m, The Window Film Company (opens in new tab)
13. Switch old taps for shiny new ones
For a super-glamorous bathroom refresh, update hardware such as taps, shower heads and light fittings from tired chrome to beautiful brass or gold.
Paul Bailey, UK Leader and Category Specialist for Grohe (opens in new tab) at LIXIL EMENA says, 'If looking to create a spa-like aesthetic, brassware in rich metallic finishes can help add warmth to a room and create a luxurious and comforting environment. Coloured brassware finishes are growing in the market and becoming available at all price points so this can be a cost-effective way of creating a spa-like design.'
Or give your existing ones a good going-over using a limescale remover.
14. Treat yourself to colourful towels
Towels function just as cushions and throws do in a living room. So if you're looking for a quick way to add colour or pattern, they're your go-to. If you decide to mix and match pattern, stick to the same colour palette for cohesion.
Whilst we're on the topic, you might want to pair these towels with an on-trend towel rail or rack, to display them in style, whether wet or dry.
15. Create a tropical oasis
Adding a cluster of house plants to a bathroom is an easy way to freshen up a scheme. Many will thrive in the humid atmosphere and they'll help clean toxins from the air, too. Try low-maintenance plants such as aloe vera or ferns.
You could also add a few faux plants for variety. Or for full tropical jungle oasis, pull together as much green as you can muster – botanical leaf-print tiles, textured green glass accessories and emerald green tiles will all take a bathroom from drab to fab.
16. Upcycle a vanity unit
Create a focal piece that will impress the neighbours by upcycling a vanity unit from an old table or cabinet into a cool washstand. It's surprisingly easy and you'll be producing something truly unique that expresses your style. Use it to hide away bathroom clutter.
17. Tile a pretty splashback
Statement tiles behind a basin will provide an eye-catching splashback that won't break the bank or take very long to create. If your bathroom is fairly plain, choose a patterned option to add extra interest. We're fans of this mix-and-match patchwork approach.
18. Lay a vinyl floor
If you're blessed with a plain white bathroom, but you're getting a bit bored, you could consider looking at bathroom flooring ideas. Vinyl is super affordable (you can easily find designs for less than £10 per m) and simple to fit yourself. You can even lay it over existing tiles, provided the grout lines aren't too deep.
How can I improve my bathroom on a budget?
'A bathroom should be a place of tranquillity, providing a moment where you can truly relax and unwind. A simple bathroom improvement that doesn't need to break the bank, includes a fresh lick of grey paint – creating a calming ambience', says Will Thompson, Head of Product Marketing at Valspar Paint (opens in new tab)
If the ideas above haven't yet sparked your imagination and you want to go further with your refresh, think about where the money your spend could go furthest.
Helen Dennett, UK Marketing Communications Manager at Mermaid Panels (opens in new tab) says, 'Sometimes, bathrooms require a little more than a lick of paint to refresh the space, but this can become costly. However, there's a simple way to breathe new life into the bathroom on a budget. Bathroom panels like Mermaid's Elite range are a cost-effective way to achieve this - they are 100% waterproof and can be used seamlessly, wall-to-wall to really transform your bathroom, or simply within splash zones such as within your shower enclosure.'
How do you update an outdated bathroom?
'Some simple things you can do to update an outdated bathroom is create a monochromatic effect by painting the walls the same colour as the floors – using a colour you love, like a rich 'Long Water' teal,' says Will. ' You can also spruce up your accessories by painting loo roll holders, ageing towel bars or old bathroom radiators. Do your research to ensure you're using the right paint – Valspar's V500 Kitchen and Bathroom paint is specifically made to deal with mould, so ideal for bathrooms'.
As well as thinking about how your bathroom looks, you might be thinking about how your bathroom operates too. With new smart technologies appearing in the bathroom market regularly, it might be that your shower experience needs updating too.
Paul Bailey, UK Leader and Category Specialist for Grohe at LIXIL EMENA explains, 'Shower heads that offer a selection of different sprays can be purchased and retrofit onto your existing shower system as an affordable way to enhance your shower experience. Gentle rain sprays that mimic the sensation of showering under a waterfall and even pulsating massage sprays are available to help deliver a more relaxing and indulgent shower, with very little cost or installation effort needed.'
How much should I spend on a bathroom renovation?
'When planning your bathroom renovation, it's always advisable to decide at the outset where you'd like to spend more budget on where you'd like to save- as it could be a false economy to cut corners,' advises Sally Hough, Marketing Manager, Bathrooms to Love (opens in new tab)
'Investing in some key pieces that are likely to have a lot of use, such as a spacious quality showering area which will have some heavy use in a large household, is a sensible option. Or perhaps you love a long luxurious bath, so investing in a quality freestanding bath makes sense'
Sally goes to to say, 'Plumbing considerations are obviously key, and can absorb a lot of budget, so if you current bathroom layout of water and waste pipes works well, then stick to this existing layout to save on costs.'
How can I make a small bathroom feel bigger?
'To increase the size of your bathroom, try avoid white ceilings and opt for different tones to break up the monotony of the space. To do this, you can use different shades of the same colour on the bathroom ceiling – like Moon Shadow, or Grey Morn, which will also make the room feel airy, fresh and sophisticated,' advises Will.
Sally advises, 'During the planning stages, really analyse whether or not you need a bigger bathroom space. Often simply reconfiguring the space or using clever design tricks can make a big difference. For example, consider moving doors or re-hanging them to provide better flow of the space- or perhaps even look at installing a pocket door so that it's totally out of the way
Holly Walsh has been Content Editor at Ideal Home since 2021, but joined the brand back in 2015. With a background of studies in Interior Design, her career in interior journalism was a no-brainer and her passion for decorating homes is still as strong as it ever was. While Holly has written for most of the home titles at Future, including Livingetc, Country Homes & Interiors, Homes and Gardens and Style at Home, Ideal Home has always been her ideal home, and she can be found sharing her expertise and advice across both the printed magazine and the website too.