30 chic shower ideas to revamp your bathroom with style
Give your bathroom the attention it deserves with a sleek new shower room to suit both your wants and needs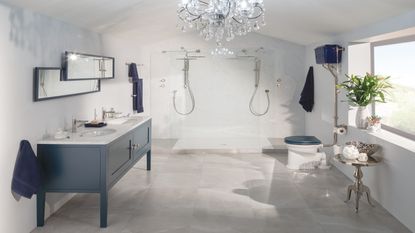 (Image credit: Thomas Crapper)
There's one thing few bathrooms can get away without (other than a loo, of course!) - and those are shower ideas.
Whether a simple shower, or a shower room, there's the perfect option to suite every type of bathroom around. So to begin, consider how you're going to use it. Will it be the family bathroom space or a luxury ensuite? If you're talking a shower room, so you want it to be in an enclosed cubicle or a wet room style?
'The functionality and convenience of the bathroom shower ideas is crucial to the overall design of the space,' says Mike Gahir managing director at Lakes Showering Spaces.
'Ensuring the space outside the shower provides enough room without feeling too restricting, whilst also considering the space inside the shower and making sure there is enough space to shower safely and comfortably is key. With this in mind, it is still possible to enjoy a stylish and luxurious shower enclosure, without compromising on quality or sacrificing valuable floor space.'
Shower ideas
'Whilst design experts may disagree on colour schemes, accessories and flooring options, there's one thing everyone can agree on; there has been an unmistakable shift in recent years in the role of the bathroom as a practical room to an additional living area,' points outs Marketa Rypacek, MD, Industville Ltd.
'Soft furnishings, chic lighting fixtures creating an ambient atmosphere, complex mirror arrangements and indulgent rainfall shower ideas with all-over body water jets are just some of the features found in many modern bathrooms. Gone are the days where bathrooms were a 2-minute shower and a scrub of your teeth before dashing out the door – unless you're really late!'
So make sure your bathroom shower ideas are delivering exactly what you're looking for to ensure to get the everyday luxury experience you desire.
1. Add an area for seating
Your shower ideas are not only a space for getting ready, but can be a room to relax and unwind after a long day. A form of seating encourages you to slow down and spend more time in the space. If you have the space, a built-in storage shower bench gives the area a luxurious spa-like feel, especially if you're lucky enough to have any ensuite ideas, but even a stool would be a great place to perch and can be moved around the room.
Moisture resistant materials like teak, bamboo, plastic, and resin are the best options. If your bathroom shower ideas are near a window, go for a window seat so you can sit and enjoy the natural light and views. For a smaller space a floating seat prevents a cluttered design and looks sleek and minimalist.
2. Install a wet room
Wet rooms are an ideal option for shower ideas if you have a small space because they take away the need for a bulky shower enclosure and open up the room. Wet room ideas are easy to clean and with such a minimalist design you can reflect your personality onto the space and choose more bold patterns and colours.
Barrie Cutchie, design director at BC Designs says, 'Wet rooms are particularly effective in small or awkward spaces where head height is limited or there are strange layouts.'
'Wet room installations are not for novice builders as it is critical that you make the space waterproof. Hidden tray systems, which fit under the floor tiles and take care of drainage gradients are the most popular choice. However, even after being tanked, there will need to be a gentle gradient in the main shower area so that water flows easily into the waste.'
Colm Lalor, commercial director at The Roxor Group adds, 'Multigenerational and inclusive bathrooms are designed to cater to all family members whether it's young children, parents or grandparents. Wet rooms can help make a property much more accessible by removing 'obstacles' traditionally found in a bathroom, for example, stepping into a bath or avoiding the lip of a shower tray when entering the enclosure,'
3. Go for porcelain tiles
For your shower room ideas, you want materials that are going to be hard wearing because this will be a high traffic space. Porcelain is known for its durability and longevity, and is usually nano-sealed during manufacturing which means the surface is protected for longer and is easy to clean.
'Good quality porcelain tiles are perfect for use in wet rooms and walk-in showers,' says Jo Oliver, director at The Stone & Ceramic Warehouse. 'Firstly, they are impervious to water, making them an ideal solution for everyday use. They also won't be damaged by detergents or any of the other chemicals we frequently expose our shower surfaces to.
'Porcelain tiles are now manufactured in a whole range of realistic finishes, including marble, wood, natural limestone, and concrete making it possible to achieve the look you want without the challenges and maintenance issues the real materials can bring. They can also be supplied in large sizes, which reduces the potential for leaks. Large format tiles have fewer grout lines meaning less grout to clean and keep fresh while creating a high-end, uninterrupted look.'
4. Incorporate wooden elements
You may think wood and bathrooms don't mix, the steam, the water, it sounds like a recipe for disaster. But now wood can be treated to be water resistant and certain woods naturally work better in bathrooms and your walk in shower ideas. Use dense, oily, water-resistant woods like teak, or just use a few accents around the bathroom and make sure the space is well ventilated. Tung oil is a great option to protect wood from splashes due to its water resistant finish.
Lee Reed, head of design at Easy Bathrooms says, '2023 is all about bringing warmth to our home and bathrooms are no different. Warming textures are a great way to achieve this, and wood is playing a central role. Whether it is wooden floors - imitated through tiles or the real deal - or through wood panelling, vanity units or even teak baths, there is a lot to be gained from using this material.
'It also makes a great contrast against the cold beauty of marble, both of which provide plenty of texture and interest. One way to create maximum impact in your bathroom, and in particular shower area is to create focal walls or pick out recessed shelves and contrast marble tiles with wooden panelling. You can further highlight the beauty of the wood with LED strip lighting to really draw your eye in.
'If you are wanting to add an edgy vibe to the look of your shower ideas, use black for shower screens and brassware, for an industrial and masculine vibe.'
5. Consider the size and colour of your tiles
The size and colour of your tiles can impact how big your shower room feels and small bathroom tile ideas may not work with larger spaces. Mike Head, director at Atlas Ceramics advises, 'Choosing tiles that are light in colour is one way of making your bathroom look more spacious in size. This is because softer colours reflect more light around a room allowing the bathroom to feel more open and airy. Darker coloured tiles can have an unfavourable effect on smaller bathroom, only adding to the confined nature of the space.'
Large tiles work best in spaces without complex layouts because they may need to be cut up to fit around furniture or tight corners and nooks.
Mike Head from Atlas Ceramics says, 'If large tiles can be laid in your bathroom in their original size then this would help to open the room up and make it feel bigger. In more compact spaces, a smaller tile may be the more suitable choice for enhancing the space.'
Another trick to keep the space flowing is to use grout that is a similar colour to the tiles.
6. Use thoughtful lighting
Lighting can make or break your shower ideas and can have a big impact on how the space feels. Make sure the electrical components are protected from steam and any splashes that may occur. There are lots of bathroom lighting ideas from spotlights, to wall lights, pendant lights, to mirror lights. Make sure you have enough task lighting so you have brighter areas for things such as shaving, brushing your teeth, or doing makeup.
'Creating a gorgeous bathroom that is well lit and highly functional will serve your home for many years to come' says Lee Lovett, founder of Soho Lighting. 'Function and safety should always come first when lighting a bathroom, but aesthetics really do matter. A bathroom is one of the most versatile and used rooms in a home, having to constantly adapt its purpose from tasks such as applying makeup, to relaxing evenings in the bath. This requires control, flexibility and exquisite lighting.
'Where functionality and aesthetics collide, you can still make a grand statement in your bathroom with wall lights. The perfect lighting choice for small, and large bathroom spaces. A bathroom is considered a special location for electrical installation, but wall lights can be used in a bathroom. You just need to ensure they meet the IP regulations required, wall lights should carry a minimum rating of IP44, but generally it's better to go higher to IP65.
7. Opt for a walk-in
'A walk-in shower increases the sense of space in a small room, but it does take some planning,' says Jo Aynsley, design director at Jeffreys Interiors.
'We're often asked if clients should ditch the bath for a larger showering space. It's entirely down to personal preference- a bath can be integrated beautifully into a wet room and epitomises luxury; however there's something fabulous about an expansive walk-in shower!'
8. Make a statement with tiles
Express your personality through the use of your wall tiles and bathroom floor tiles ideas, and don't be afraid to go bold.
Although statement tiles can soon add up, if you choose to use them in just a small section of your shower, like the back section, and then pair with less expensive metro tiles, you'll still get a stand-out look, but won't be spending a fortune.
'We're seeing lots of warmer shades,' says Kamila Chalfin, brand and marketing manager at Tile Giant, 'including gold marble effect with matching mosiacs. Large-format tiles (90x90cm) are really on trend for shower ideas, with customers using them on walls and floors for a seamless transition.'
9. Remember to build a handy nook
We all know that bathroom storage is a must-have in your bathroom and having a spot to keep your shampoo bottles is something that shouldn't be forgotten. If you can, built a handy nook or shelf in your shower so you don't have to keep toiletries on the floor, which not only looks messy, but can cause slipping too.
'I love to see a niche in a shower; somewhere to pop things you need is a must,' says Jo from Jeffreys Interiors.
10. Choose tiles you love
'We're seeing lots of warmer shades,' says Kamila from Tile Giant, 'including gold marble effect with matching mosiacs. Large-format tiles (90x90cm) are really on trend, with customers using them on walls and floors for a seamless transition.'
'Marble tiles- real or porcelain- are timeless choices,' Richard Fox, senior designer at Ripples adds, 'and we've noticed green gaining popularity, with spaces allowed to plants too.'
11. Make savvy design choices
'In a small area, contain the water with a folding screen,' says Richard Fox from Ripples. A wall hung loo is also a great option to create the illusion of more space. Building a false half-height wall is another clever trick to hide soil pipes and cisterns, all will also create a slim shelf to display accessories.
Think about pairing neutral tiles in shower ideas with something more statement, like the floor tiles seen here. 'White and neutral tiles, step aside: colour, pattern and detail are on their way back,' notes Jo from Jeffreys Interiors.
12. Forgo traditional chrome hardware
While chrome taps, showers and radiators were once en vogue, the biggest trend in bathrooms right now is to choose black hardware instead. And why stop there? Go the whole hog and opt for black bathroom furniture, sinks, mirrors and accessories to tie the whole room together. If you're feeling really brave consider some black bathroom ideas.
These clever black matt shower doors, £399.99, Bathroom Mountain not only look the part but slide open to save on space.
13. Ditch the bath
For easy access, swap the tub for a huge walk-in shower with folding doors. If you're lucky enough to have more than one bathroom in your home, opt to remove the bath in one of them in favour of a large shower instead.
While baths are good for very little ones, as soon as kids get older, walk-in bathroom shower ideas are a great option, suitable for elderly family members too.
14. Don't let an attic constrict your design
A loft conversion can be utilised to make extra space for ensuite shower ideas, but make sure to avoid common ensuite planning mistakes. Look to have plumbing put in place to accommodate a shower, sink and toilet to eliminate having to navigate stairs every time you require the bathroom. The sloping ceiling layout lends itself perfectly for a small shower room, all you need is the full height at one end – unlike a bath where you require a full width measurement.
To ensure your wet room idea is water tight the floor needs to have proper measurements put in place, always be sure to seek advice from a professional bathroom fitter.
15. Maximise shower space
Not only shower rooms are a result of limited space, sometimes homeowners might just prefer to dedicate the space for a bigger shower. This room has more than enough space for a bathtub. But if you have a bath elsewhere in the house, sometimes you just want a shower room that's stylish, practical and pretty. And this one definitely ticks all of those boxes.
Using the full width of the room means there's plenty of space to walk into the shower without the need to move any doors or screens.
16. Tile the walls in full
Make a narrow shower room feel more streamlined by choosing to tile the walls from floor to ceiling. This idea is particularly practical in small and narrow shower rooms, with limited ventilation or a lack of bathroom extractor fan, to reduce the chance of humidity damage to painted walls. Tiled walls in a shower room allow for easier all-over cleaning too. Choose contrasting patterned tiles for the floor to create decorative interest.
Go a step further and take your tiles down to the floor to give the illusion of even more space. 'Another tactic for making a bathroom appear bigger is using the same tiles for both the walls and floor of the bathroom. Having the same tiles and colour throughout the bathroom creates a capacious effect, with the walls and flooring flowing into one another,' says Mike from Atlas Ceramics.
17. Think outside the box
Tailor your shower room idea to suit your space. With a wet room floor in place you can break the mould by choosing a shower screen with a unique design, opting for an interesting shape to utilise a corner – rather than conforming to a standard cubed design. This is a great option to get showers into rooms that have awkward or odd angles.
18. Add another classic colour
We all know how popular white metro tiles are, but for those of you who want something a little warmer, grey could be the colour for you and there some great grey bathroom ideas. Grey looks great with wood and also lends itself well to colourful accents, such as the yellow here.
In terms of the shower, the key to its success is its position. It's a relatively narrow enclosure, but clever planning means there's a roomy feel to the shower area and therefore also the entire room.
19. Reconfigure the layout
To completely dedicate your shower room to the shower, you almost don't want to be aware of the other elements within the bathroom setting. Reconfiguring your layout by turning conventional design on its head gives you the freedom to place the loo and sink almost completely separate to the shower unit. Introduce a purpose built wall, one that can accommodate waste pipes, to create a zone dedicated entirely to the shower.
Build corner shelves for a smart bathroom storage idea to keep the compact space neat and tidy.
20. Open up the design
Attic bathroom ideas can be notoriously tricky to fit a shower into because of sloping ceilings and head heights. But there are ways to make it work. Just check out this stunning shower room with wood-effect tiling.
The shower has been mounted as high as possible, and the beam is a feature rather than a hindrance. A sleek screen keeps the space feeling as open as possible.
21. Recreate a spa interior with marble
The natural veining of marble makes for a stunning backdrop to a walk-in shower. Go for a large-scale tile for the best effect and choose varying colours to create a beautiful patchwork.
Using the same tiles from floor to ceiling makes the shower look almost seamless. Here, a small step has been added to accommodate practical drainage, but in fact it only adds to the luxurious feel.
22. Pick a patterned floor
This room shows just how significant an impact your flooring and bathroom tile ideas can have. The pattern adds loads of character to this space and helps to define the shower area, with its plain white shower tray.
Marble wall tiles pick out the grey tones of the flooring, too, and add a luxury feel to the scheme. A full-length mirror at one end is great for reflecting light and making the room feel larger than it is.
23. Sink storage into the walls for ease
Keep your shower room clutter-free with the help of recessed shelves built within the tiled walls. Using this smart storage solution means no need for unsightly storage racks or bottles left on the shower tray to attract a build up of mould. Building shelving under the shower head allows easy access to the products when you need them, without having to step away from the warming downpour.
Within these recessed shelves you can also install the shower controls on the wall opposite the shower head you can make sure the water temperature is just right before you step under it.
24. Incorporate room to dry
The wooden stand in this enclosure provides a convenient space to dry off before stepping out of the shower and the curved glass panel keeps the water in the shower tray. This shower design is an ideal solution for small bathrooms, to ensure you don't make the limited floor area any more slippery than needed.
25. Opt for country classics
Shower rooms are often seen as more modern than country. But this beautiful scheme manages to achieve a country-chic look without compromising on contemporary comforts.
Limestone tiling is a great shower tiling idea, plus plenty of wood finishes bring elements of the outdoors inside and create a relaxing space that has nature at its heart.
26. Indulge your senses
If you like a steam room, you'll love this gorgeous shower room idea. The built-in marble bench offers the perfect spot to sit and enjoy the benefits of all the steam accumulated after a long wash.
A combination of a rainwater head and handheld fittings mean you have all the showering options you need, plus it makes it easy to keep a large enclosure like this clean.
27. Create a stylish shower ensuite
This en suite benefits from a generously proportioned shower. But that's not a given in a compact space like this. With the door opening near to the enclosure, many people might assume it's impossible to have a spacious shower.
So this is a great example of what you can do with a relatively small corner. If it won't work facing one way, try pointing your shower in another direction until you get the spacious design you crave.
28. Go for dramatic black
Choose striking black tiles for the ultimate contrast to white bathroom fittings. Pick an assortment of sizes and styles, from high gloss to slate effect.
The shower area has been marked out with small rectangular tiles and these have been broken up with larger-format neutral tiles to lighten the space and avoid it looking too 'heavy'.
29. Mix light and dark
Choose a combination of light and dark tiles for a balanced look in your bathroom. Using black marble tiles on the walls looks fantastic but also offers a happily practical benefit: water stains and limescale will be almost invisible.
If you want to cover a large space, marble-effect tiles made out of porcelain offer a budget-friendly option that looks really realistic.
30. Add a little bling to your shower room
Turn an all-white shower room and your white bathroom ideas in to something special with glamorous gold tiles and shower fittings. White is great in a compact room as it makes everything light and spacious, while gold adds an instant warming effect.
As you can see, shower rooms have the potential to be stylish and glamorous spaces. But we have one last piece of wisdom to share - buyers do like there to be at least one bath in a home. Making a shower room best for second bathrooms or en suites.
What can I do with a small shower room?
Figuring out your bathroom layout ideas can be tricky if you're working with a small space.
'If space is limited, choose a shower enclosure,' says Kerry Hale from Mira Showers . 'Corner shower enclosures are the ideal space-saving solution for ensuites. Alternatively, square, and rectangular shower enclosures can fit neatly between two walls or other bathroom fixtures. Consider which way the shower door will open, measuring the space to ensure you have enough room to get in and out.
'If you're short on space, look for compact bathroom furniture to make the room appear larger. Wall-hung cabinets give the illusion of space beneath the sink and offer plenty of storage. Alternatively, choose a mirrored design to hang above the sink and streamline your bathroom accessories. Floating shelves are ideal in small ensuites, since they don't require floor space like ladder shelving or freestanding units.'
How should you decorate a walk in shower?
Paul Bailey, Leader, product management at LIXIL EMENA and GROHE UK advises, 'Adding a stylish element is easily achieved by incorporating brassware in modern finishes, such as copper, golds or graphites which add warmth and personality to the room. Other homely accessories such as plants, trinkets and wall art is also another way of ensuring the room feels inviting and in keeping with the rest of the home.
'Utilising wall space for storage purposes in the shower allows for the floor space to remain clutter free and also provides a sleek design, along with having all products within easy reach. Design choices such as opting for deep wall niches or multiple corner shelves are great ways to use dead space for something practical that can also double up as a décor element.'
Additional words: Jennifer Morgan and Holly Walsh
Get the Ideal Home Newsletter
Sign up to our newsletter for style and decor inspiration, house makeovers, project advice and more.
Jennifer is the Deputy Editor (Digital) for Homes & Gardens online. Prior to her current position, she completed various short courses a KLC Design School, and wrote across sister brands Ideal Home, LivingEtc, 25 Beautiful Homes, Country Homes & Interiors, and Style at Home.