What's the highest thread count for sheets? Here's what you need to know
Experts clarify what thread count you should be looking for when shopping for new bedlinens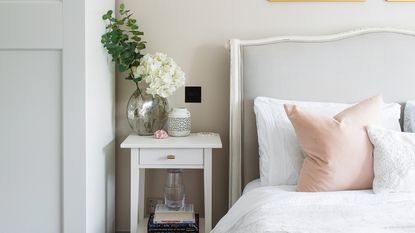 (Image credit: Future PLC/Douglas Gibb)
The feeling of getting into bed after a long day is always ten times better with high-quality, luxe bedding. Knowing about the best thread count for sheets is a sure way to elevate this feeling even further and ensure you have a relaxed night's sleep.
Like when shopping for the best duvet covers, shopping for new bedsheets will be easier if you know what you're looking for, and one thing to definitely keep an eye on is the thread count. The best thread count for sheets will help your bed become the ultimate space to relax and rest, perfect if you've been wondering how to sleep better.
'Thread count is a measure of the number of threads woven into a single square inch of fabric,' says Kim Vause, Bedding Buyer, La Redoute. 'These can range vastly from 180 to over 1,800, so figuring out which is the best for you can be difficult.'
We've asked the experts to clarify the what thread count means, and what you should be looking for when buying new bedsheets.
Best thread count for sheets
Our guide will tell you everything you need to know about the best thread count for sheets, so that you can make a purchasing decision that elevates your sleep to a whole new level.
What is the thread count in bedsheets?
If you're wondering what thread count actually means, you're not on your own. It's a term we often hear, but one we might not be able to pinpoint an exact definition to. Thread count essentially refers to the number of threads in the fabric of the sheet.
'Thread count is the vertical and horizontal number of threads per square inch of fabric - so the higher the thread count, the more threads there are within the fabric,' explains Danielle Mason, Head of Product Development, The Fine Bedding Company.
A common misconception is that a higher thread count means a better quality of sheet, but this isn't necessarily the case.
What's the highest thread count for sheets?
'The maximum number of threads you can feasibly fit in a square inch of fabric to end up with a soft and breathable fabric is around 300-400,' says Daniela Boleto, Creative Director for bedding brand Camomile London. 'This creates a single ply thread and a breathable, soft and durable cotton sheet.'
Bedsheets can be created with a much higher thread count, with the maximum being a thread count of 2000. A thread count higher than 1000 is going to be heavier, so won't be a good choice if you're looking for ways to keep your bedroom cool.
'Some manufacturers inflate their thread counts beyond 400 by wrapping individual cotton yarns around the single ply to create a plait-like thread,' notes Daniela. 'This leads to a multi ply yarn, which may be higher in thread count but will feel coarse and dense and hot to sleep under.'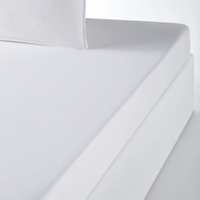 Plain 100% Organic Cotton Percale 200 Thread Count Fitted Sheet, from £28 at La Redoute
This 100% organic cotton bedsheet from La Redoute comes in a choice of 13 colours, so you can match whatever bedroom colour scheme you want. It has a thread count of 200, which experts recommend for a lightweight and breathable fabric.
What's the best thread count for sheets?
The best thread count for sheets ultimately comes down to personal preference. Remember, a higher thread count doesn't always equal greater comfort or quality, even though sheets with higher thread counts can be more expensive.
'When it comes to bed sheets that feel luxurious, you'll be surprised to know that a natural fabric thread count of 200 will be enough to create a beautiful lightweight and breathable fabric', says Daniela. 'Anything higher then 400 will likely involve multi ply rather than single ply, and could create an uncomfortable sleeping experience.'
'A 1500 thread count sheet would provide a similar feel to heavier, hotel bed linens - so if that's what you love to sleep in, it's worth the investment,' says Kay Wallett, Head of Fabric Sales at fabric company Terrys. 'Typically we'd recommend a 200-400 thread count as the perfect balance of luxury and breathable - neither is better than the other, it just depends on personal preference.'
Just like there are things to look for when buying a mattress topper, there factors other than thread count to consider when buying a new bedsheet - weave and fibre should be taken into account too. 'For instance, 100% cotton might tend to be softer on skin than a blended fabric, even if the blend has a higher thread count,' explains Kay.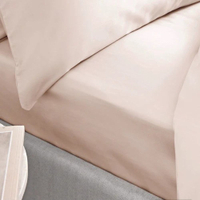 Bianca Cotton 400 Thread Count Fitted Sheet Oyster, was £80 now £28.99 at Terrys (King size)
This fitted sheet is woven from a high thread count (400) soft touch pure cotton which is especially comfortable and naturally breathable. Choose from oyster, blush, grey or white to suit your bedding's colour scheme.
FAQs
Is 1000 thread count good?
A thread count of 1000 means the bedsheet will be heavier, but this isn't in itself either good or bad. Some people prefer to sleep with higher thread count sheets during the winter, as they generally mean your bed will be more toasty than if you were using a bedsheet with a lower thread count.
Experts do warn that sheets with a 1000 thread count doesn't necessarily equal the best quality. 'An extremely high thread count can sometimes suggest that the quality of thread material is poor,' says Kay from Terrys. 'This is due to some manufacturers using thin thread and trying to squeeze the most from it they can!'
Is 600 thread count good in sheets?
A 600 thread count lies in the middle of the thread count range, but it's still quite a high count. Experts generally recommend a thread count range of 200 to 400, but you may wish to go up to a count of 600 if you prefer thicker, heavier sheets.
'Keeping in mind that a higher thread count will mean a heavier finish, it's a safe option to choose a 400 or 600 thread count sheet for spring and summer, and a slightly heavier 800 or 1000 option for winter,' advises Laura Burnett, Buyer at bedroom furniture company Feather & Black. 'I personally like to sleep with an 800 thread count as I find it feels incredible but offers a lighter option than say a 1000 thread count.'
So the best thread count for sheets really does come down to personal preference - maybe you could treat yourself to a couple of options and see which you prefer?
Get the Ideal Home Newsletter
Sign up to our newsletter for style and decor inspiration, house makeovers, project advice and more.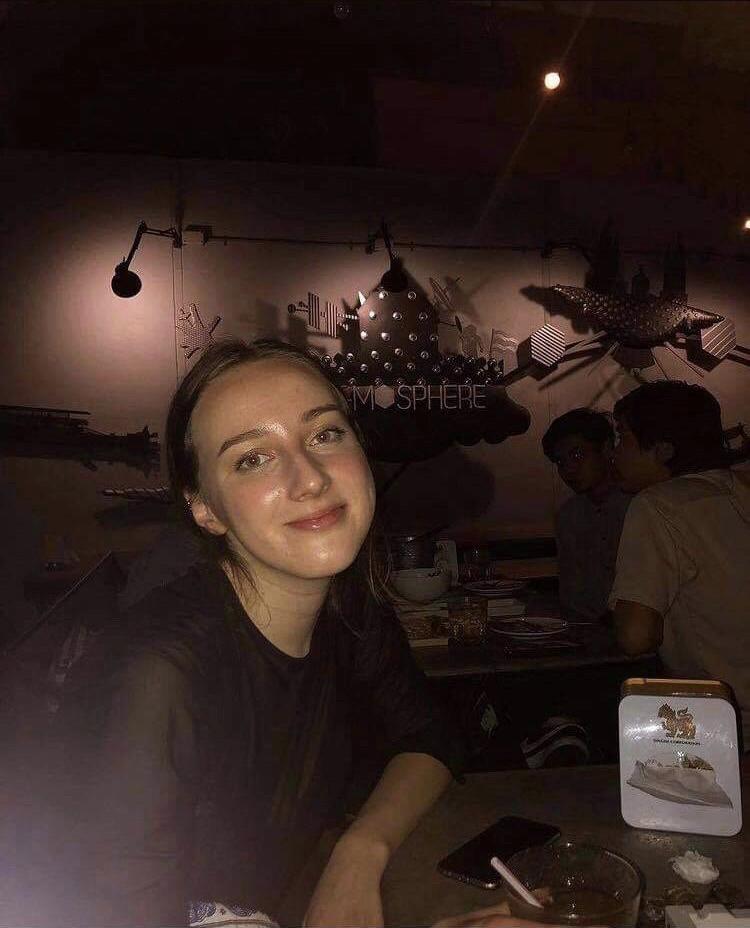 Katie Sims has been writing for Ideal Homes since spring 2022. She qualified from her Master's in Media and Journalism in 2021 and has been writing freelance since. She has worked on Ideal Home's ecommerce team where she researched the best home products on the market, and on the news team, researching the latest trends for feature pieces.