Soak & Sleep discount codes for November 2023
Shop mattresses, duvets, bedding, pillows and towels for less with our 15 active Soak & Sleep discount codes - don't miss out!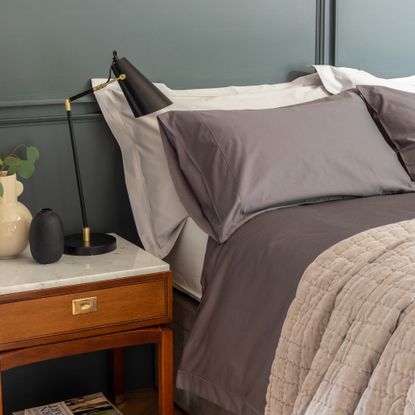 (Image credit: Soak&Sleep)
FAQs
Does Soak & Sleep have a discount code for new customers?
Yes indeed, and it's a great offer! When you sign up for the newsletter, you can enjoy £35 off your first order over £150 or £20 off your order over £100. To join the mailing list, head to the Soak & Sleep website, scroll to the bottom of the homepage and enter your email address in the box under the heading 'Join Our Newsletter'. Once you've added your email address, your unique discount code will be emailed to you.
Will there be a Soak & Sleep Black Friday sale?
The Black Friday Event has arrived on the Soak & Sleep website, offering customers up to 20% off orders over £100! To get the discount code, you can redeem it from our offers list above.
Does Soak & Sleep do student discount?
Soak & Sleep doesn't offer a student discount at the moment, however, it is pretty easy to save at the retailer. Soak & Sleep runs sales throughout the year, promotes discount codes pretty regularly and offers a discount for new customers, so buying some cheap university essentials isn't going to be a problem!
Is Soak & Sleep delivery free?
Mattresses and furniture deliveries are free of charge. It is also free for orders for over £60 if you opt for standard three to five-day delivery. Next day delivery costs start from £7.95. For orders under £60, standard delivery starts from £4.95.
What is the Soak & Sleep returns policy?
If you change your mind about your product, or you no longer need it before you get a chance to use it, you can send it back at any time, even if you bought it nearly a year before. That's right, there is a 365-day returns policy, just as long as it's unused, unwashed and in its original packaging.
How do I contact Soak & Sleep?
There are a variety of ways to get in touch with the Soak & Sleep customer service team if you need help or advice about bed or bath products or to hear about pop-up store openings. You can call 01483 616 616, email info@soakandsleep.com, or, if you prefer an instant response, live chat is available from Monday to Friday, 9am-5pm
Does Soak & Sleep have a physical store or catalogue?
It is mostly an online store, without permanent shops – so it can offer products at a fair price, rather than having to pay the overheads for a brick-and-mortar store. It does, however, have regular pop-up shops. Details of where and when these temporary outlets are open will be on the website or featured in the Soak & Sleep newsletters.
---
Hints and tips
Join the mailing list: Do you want £35 off, and be the first to know about special offers at Soak & Sleep? If the answer's yes, then sign up to receive the regular email newsletter. As a thank you, you'll get £35 on your first order over £150, or £20 off when you spend £100. It can only be applied to full-price products, so use it to save on the latest duvets, duvet covers, bed linens, or even beach towels and bath mats.
Shop the clearance: Soak & Sleep runs a clearance sale all throughout the year where you can find a fabulous selection of duvets, bed linen, nightwear, cushions and more. Clearance products are normally up to 50% off, so you'll be saving heaps while still enjoying the highest quality products.
Browse when there are seasonal sales: You'll find seasonal sales across the year, including summer sales and Black Friday sales. To find out when they're live, it's worth joining the mailing list (we'd also recommend checking our page for any discount codes so you can save even more!)
Use the price match promise: If you want to be sure you've got the best price for your new bedding or towels, Soak & Sleep offers a price promise, scouring other high street and online retailers to make sure you won't find them cheaper elsewhere. And if you do find a lower price for an equivalent product within a month of purchase, Soak & Sleep will refund the difference.
Charity work: Soak & Sleep supports a number of good causes. It is partnered with The Sleep Charity, which is all about empowering the nation to sleep better. The charity's Charter for Sleep Equality addresses the issue of sleep deprivation and fatigue in the workplace. Soak & Sleep donates nearly new mattresses and quality bedding for sale in British Heart Foundation stores. And it also gave £26,000 of duvets, pillows and toppers to those displaced by the crisis in Ukraine.
---
How to use your Soak & Sleep promo code
Find the Soak and Sleep voucher code you want to use on this page. Click the 'Get Code' button and copy the code once prompted.
Head to the Soak & Sleep website and do your shopping
Check the T&Cs and add eligible products to your basket.
Enter the code on the shopping basket, checkout or payment page, click 'apply' and pay online.
If it doesn't work, make sure you've entered the code correctly without any spaces – copy and pasting can be the easiest way to do this.
Make sure the code is still in date, valid for what you are purchasing, and that it's reached the minimum spend if there is one.
You can also click on live chat Monday to Friday between 9am-5pm if there is still an issue.
---
What to buy from Soak & Sleep
The steps to a good night's sleep include creating the right setting for comfort. Once you've picked the mattress that offers the perfect amount of support for your favourite sleeping position, then it's all about what you layer on it.
A topper can add a cushiony extra layer of feather and down, wool, memory foam or microfibre, and they come in your preferred level of firmness, from soft to firm. A single 'soft as down' microfibre mattress costs £48.
When it comes to summer and (hopefully) warmer nights, it is time to strip off the winter duvet in favour of a lighter tog count. Summer duvets typically have a tog count of 3 or 4.5, compared with 13.5, 15 or even 18 for winter. To make the change as easy as turning the clocks forward or back, try an all-season duvet. This is a pair of low and medium tog duvets buttoned together to make a weightier bed cover in the cold weather. As it gets warmer, separate them and use the medium tog in spring or autumn, and the lighter tog as things really heat up. Prices start at £65 for a single all seasons duck feather & down duvet. If you want luxury from a sustainable source, consider investing in a duvet made with recycled down and feathers. The contents of the all seasons 80% recycled down duvet (from £190) have all been sorted, washed and carefully dried to revive it, for an indulgent feel that is also better for the environment.
And when it comes to bed covers for summer, try hemp bed linen. Hemp is a sustainable fibre that creates a soft material with a texture similar to linen. It is also naturally antibacterial and hypoallergenic, and temperature-regulating, helping you to stay cool and comfortable. Chalk pure hemp bed sets start from £161.50 for a single-sized duvet cover, fitted sheet and two Oxford-style pillowcases.
---
How do we source promo codes and deals?
We have an Offers team that sources codes and deals from affiliate networks and from researching the web. The codes are tested to see if they work and then added to the retailer pages, alongside sales, multi-buy deals, friend referral discounts and newsletter sign-up deals. The codes and offers are checked regularly to ensure they're still live and working, and new deals are added multiple times a week, keeping the offer list fresh.
Alongside this, we have a Commercial team that works with the brands to secure exclusive discount codes. An exclusive code is an offer agreed upon by the brand that is the best in the market, it's normally a limited-time-only offer so it's worth snapping up when you see it.
We also have a Copywriting team who update the FAQs, Hints & Tips and Buyers Guides sections with additional information on how you can save money at each retailer, alongside answering other queries you may have.
---
What if my voucher code doesn't work?
Although we have eyes on the pages checking the codes and offers are working, sometimes they expire early or the details change suddenly. If you do find a code that doesn't work or an offer has expired, please feel free to get in contact and let us know at vouchers.idealhome@futurenet.com.
---
How do we make money?
When you click one of our offer links, a unique identifier is added that lets the retailer know that you've come from our Ideal Home discount code page. If you then buy something, we get a commission from the purchase. A commission is a small percentage of the money that you've spent on your item(s).
Rate Soak & Sleep Discounts
4 ratings with the average rating of 5 out of 5 stars.
Soak & Sleep is the UK's leading bedding and bath online brand. It was founded in 2008 by Charles Hunt, who started the business specialising in duvets, bedlinen, mattresses, towels and nightwear from a laptop in his spare room. Soak & Sleep wants 'the UK to wake up to a better night's sleep' by offering bespoke bedding solutions at an affordable price. That includes mattresses for beds of all sizes, from singles to the 6ft 6" x 6ft 6" Emperor size – and toppers filled with everything from feather and down to New Zealand wool or memory foam to add to the layers of comfort. There are sheets in linen, cotton, silk and eco-friendly materials, as well as duvets, pillows, bedspreads, PJs and eye masks. And the soak is not forgotten, as the online site also features an abundance of towels for the basin, the bath or the beach, as well as bathrobes and bath mats – all the essentials for a relaxing nighttime bath or refreshing post-sleep shower.