How to transform your walls with panelling
Give your walls a traditional-style makeover without having to replaster with our guide to wood panelling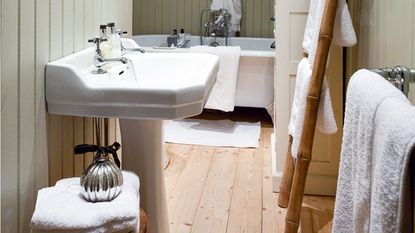 (Image credit: TBC)
Ideal Home Newsletter
The Home Of Great Ideas For More Than 100 Years
Thank you for signing up to . You will receive a verification email shortly.
There was a problem. Please refresh the page and try again.
Fancy a period or country look in your home? Panelling is a great way to create a feature and to cover up uneven, patchy walls. First, make sure the plaster you're covering isn't blown (coming away from the walls) - if it is, you'll need to replaster.
Another no-no is damp walls - panelling fixed to these will eventually rot, so find the cause of the damp and treat it. Otherwise, wood panelling can be used in any room in your home (waterproof it properly if you plan to put it in the bathroom).
For more decorating inspiration, craft ideas and cleaning hacks don't miss our dedicated DIY guide.
1. Get the tools for the jobs
Here's a list of what' you'll need:
Tape measure and ruler
Wooden battens
Drill
Masonry and wood bits
Cable and pipe detector
Spirit level
Rawlplugs and screws to fix the battens
Metal clips or panel pins
Pin hammer
Fine pin punch
Wood filler
Craft knife
Handsaw or jigsaw
Grip-and-grab adhesive
Nails
Wooden beading
Skirting board
2. Measure up and prepare your panels
For a classic vertical tongue-and-groove look, decide how far up the wall you want your panelling to go. Instead of fixing the panels directly to the wall, screw them into wooden battens attached horizontally to the wall spaced about 60cm apart.
Drill pilot holes in the battens before fixing them in case you split them. And don't drill into the wall until you've checked that it's safe - use an electric cable and pipe detector first.
Use the spirit level to check that the battens (and later the panels) are straight as you fix them. Countersink the batten screws so they don't make fixing the panels tricky.
3. Choose how you want to fix your panels to the wall
One method of fixing tongue and groove is metal clips. These fit into the groove and leave a small tongue, through which you bang a pin into one of the battens on the wall. Another method is 'secret' nailing, which involves driving panel pins through the tongue at an angle.
To prevent the tongue from splitting, you need to pre-drill the holes for the pins. Bang the pins in using a pin hammer and then a fine pin punch for the final 5mm or so. Fill the pin holes afterwards with wood filler.
To cut a piece of tongue and groove, first score it with a craft knife and metal ruler, then cut with a handsaw (or a jigsaw with a very fine blade).
4. Disguise the ends
When you've fixed all your panels, glue and nail a piece of wooden beading along the top to disguise the cut ends. Finish off by fixing a new skirting board to the bottom. Now you're ready to paint your wood panelling!