35 wall panelling ideas to update any space in your home
Add character, cover uneven walls or insulate your room with these smart and savvy ideas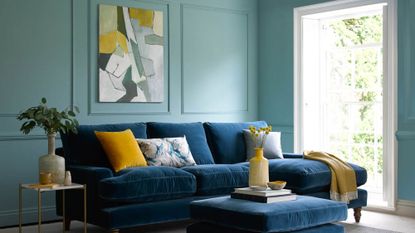 (Image credit: Sofa.com)
If you're looking for ways to update your home, without taking on any mammoth renovation work, then wall panelling ideas are a great place to start.
Whether you're after a rustic country house look, or hoping to give a space more traditional charm, wall panelling, cladding and moulding, are all great ways to lift a space retrospectively.
A simple way to bring architectural shape to featureless rooms, adding wall panelling is also a practical choice, as it can add protection to walls, avoiding general wear and tear, from family life (or cover up signs of previous accidents). Plus it can add a level of insulation too.
In recent months the trend for wall panelling has gone stratospheric, with homeowners becoming bolder with their DIY and decorating projects.
Wall panelling ideas
Panelling can take many different guises and works in pretty much any room. From bedrooms to bathrooms, living rooms to kitchens, if you have a wall you want covering, a material you want to cover it with and spare afternoon in your pocket, these are the wall panelling ideas you'll want to check out, to inspire your next project.
1. Extend your panelling along the ceiling
How's this for a statement look in a bedroom? Using rustic planks of wood attached to the wall behind her bed, this homeowner then continued the panels onto and along the ceiling too, for a cosy, canopy style feature.
This daring technique would work well in a room lacking any architectural features, and for a bed without a headboard. If using heavier wood panels, like scaffolding boards, be sure to consult a professional about safely attaching them to the ceiling above the bed.
2. Use panelling to frame artwork
Adding wooden moulding to your walls will create the look of panelling, and is quick and easy to do. Simply measure out rectangles at even distances along your wall and then cut lengths of moulding to stick on to the drawn out shapes. Make sure you cut your moulding at a 45 degree angle so the corners slot nicely together, and paint the same colour as your wall. Hang a canvas or piece of artwork in the centre of one of the rectangles and it will create a frame for it to sit within.
3. Go back to black
'Charcoal Black is the perfect addition to any interior, the colour is bold yet elegant, complimenting all styling trends ranging from minimalist scandi to boho chic,' says ays Olivia Crosher, Interior Designer at NatureWall.
'The tones and textures found in the wood slats provide an added layer of texture and create depth, making it easy to use design techniques that interior designers focus heavily on. There is also the opportunity to pair this product with any colour or material palette within any room – it is so versatile!'
Buy now: Charcoal Black SlatWall, from £159.99, NatureWall
4. Layer panels on panels
If you've chosen to go for a wood panelling back drop to your bedroom, don't think you can't double up with a wood panel headboard too. Here while the wall panels are slim lengths of wood attached in a vertical formation and painted a deep, navy blue, the headboard features a pattern of panels arranged in a herringbone design and left untreated for a natural finish. The two designs layered on top of each other add interest and depth to this modern-country bedroom.
5. Cover a chimney breast with rustic panels
Just a few years ago, it was all the rage to cover a chimney breast in a statement wallpaper, but if yours is looking a bit dated, how about a quick fix by covering it in wood panels instead? The rustic boards used in this eclectic living room give the appearance of being slightly weathered and worn, which can be created by giving bare boards a 'wash' of paint, rather than a covering. You could even use an extra length to make a rustic mantelpiece to match.
6. Combine textures for a cosy setting
Wall panelling doesn't just have to be used in rooms with no architectural features or interest, even if a space DOES have these things, you can still embrace it, as it will only add to the overall look. Pairing a wall covered in raw wood panels of different widths and lengths, with a bare brick wall, creates a cool, industrial feel, reminiscent of a loft apartment. The two textures combined also create a cosy, warm feel, perfect for a bedroom.
7. Give a box room a feature focus
Here a plain, white box room was given a new lease of life, by adding a simple strip wood panel. Using lengths of MDF and attaching to the wall with a strong adhesive, the homeowner then used the offcuts to create an abstract pattern to the wall beside it too.
8. Choose ribbed panelling that's decadently detailed
Mixing ornate ribbed and portrait panels makes the walls stand out. Perfect for spaces where you literally want to feel as if they're closing in on you, for a cosy cocooning feel. Paint it dark grey, emerald green or navy – all on trend right now.
9. Consider panelling as an alternative to tiles
Panelling is a great way to make a statement in a bathroom instead of tiles, and you can top it with a narrow shelf to provide storage for toiletries or candles that will make bath times all the more relaxing.
But surely wood panelling will warp in a steamy bathroom? Not if you get a suitable material. 'Panelling with a half-round bead profile can be made on moisture-resistant MDF sheeting,' says Joan Madeley, co-founder of The English Panelling Company. 'It looks like the real thing after painting, and is perfect for boxing in pipeworks.'
10. Create a French cane room divider
For a breezy, boho luxe look, back panelling with cane webbing. It works as a room divider to conceal an open wardrobe or it'll create a statement feature in place of a headboard. A clear oil or varnish on a light wood panel complements the rattan finishes and white linens, but for a different decorative effect, they could be given a dark stain or painted black.
Before stapling the webbing, make sure it is soaked in water first to make it pliable. If the panel can be seen from both sides, repeat the panel frame on the back for a neat finish
11. Cheat with a wood panel wallpaper
When you want wood panelling without the cost or work involved, you can fake it altogether with a clever printed wallpaper. Slim slatted wall panels instantly conjure up a minimalist, luxe look but the pre-made panels come with a hefty price tag. Modern designs like this Contemporary Wood Slat in Light Oak, £22 per roll, I Love Wallpaper enable you to get the look without having to do the DIY involved, meaning walls are in immaculate condition – aside from a coat of wallpaper paste.
The versatile wallpaper can be used to create a stand-out feature wall, as a central wall panel to frame furniture or a fireplace, or as a half-height wall in living rooms and bedrooms.
12. Incorporate open shelving into panelling
If you'd rather not have kitchen cabinets on the wall but you still need the storage, panelling will echo the traditional detailing of a Shaker kitchen without closing up the space with a cupboard. Painting the wall and shelving in the same colour as the bottom cabinets will create a seamless finish, also allowing the shelves and peg rails to almost disappear. An earthy green base will showcase colourful mugs and bowls.
13. Immerse the room in one colour
If you're going wall to wall in one colour, the addition of panelling will create an instant lift by creating light and shade on what would have been a flat wall. By painting all of the woodwork in the same colour, from skirting to architrave and the shutters in the same colour, it means come the night time, it will create a completely cocooning immersive atmosphere with this deliciously warm colour.
14. Tap into rustic beauty
Embrace the soothing properties of this natural material. Whether you choose to clad your walls with reclaimed timber or new wood, panelled walls are a great way to boost a flat space. A shiplap wall behind the bed is a striking alternative to a statement headboard. The natural patina and silvered tones of antiqued or reclaimed boards creates a characterful, rough luxe finish.
15. Use panelling in place of a headboard
Looking for an upgrade for a divan bed? Take a twist on the traditional wooden headboard with a striking panelled section. Make it a super-sized statement by taking the panelled piece right up to the ceiling. Painting the wood in a deep charcoal not only helps envelop the sleeping space, it gives a smart finish worthy of a boutique hotel.
Pile up the back of the bed with cushions for a comfortable place to rest your head when it comes to the Sunday lie-in.
16. Create a serene dining space
Image credit: Habitat, Mickey Rattan pair of dining chairs, £140; Elmley shade, £60, Zela New Century Round Dining Table, £180
A space of contrasts, the soft pink colour on the wall instantly gives this minimalist dining space more warmth. Using a shade that's a level up from neutral creates a cosy counter point to the sleek flooring and cool grey wall opposite.
The smart panelling, sleek Scandi dining table and black framed legs bring a chic element to the room whilst the blush tones work perfectly with the natural materials of the rattan dining chairs, pendant shades and organic finishes of the wobbly ceramics.
17. Marry old with new
Add timeless touches to create a vintage look with your wall panelling. Wall-to-wall white is the base note for this bathroom, but it's the half-painted chalky blue panelling that gives it its edge. Juxtapose shabby chic features with black modern accessories. A gold baroque-style mirror adds a hint of vintage charm.
18. Keep it simple with Shaker
Ideal for small rooms, this classic, unfussy design will subtly smarten up any space. It's great for making white rooms look less bland and won't steal the limelight away from any statement furniture.
These strips of 4 inch MDF have been butted up to make rectangles, and pinned to the wall before painting. You could also build out to create a display ledge or bookshelf.
19. Add grandeur with a Jacobean-style grid
This large-scale grid adds impact when used over the full height of a wall. It's a historic style, but simple enough for modern spaces, too. Paint it in a flat eggshell, continued onto the skirting, and match it to your floor for an immersive effect.
Adding beading onto the edge of the panelling creates an elegant feel. Here, we've used 6 x 1inch panel framing with inset quadrants of around 40 x 40cm.
20. Panel over a structural feature
Clad an unused chimney breast by building out a frame, and covering it in two styles of panelling. Dividing the panels at dado height will provide a small ledge for a display.
Here, we've used panels measuring around 50 x 50cm, created by attaching strips of 2 x 1in timber. The dado shelf is in 2 x 1in timber with a small moulding attached. Below the dado, we've added 2 x 1inch timber with 2 inch gaps.
21. Panel up to a picture rail to add height
Use wall panelling on one feature wall to create a ledge for display bedroom knick knacks. Taking the height up to an existing picture rail helps to seamlessly transition the design into the decor, whether there's a natural break. Enhance the look with a splash of colour, in this green bedroom idea the use of a statement hue helps to highlight the wall panelling.
22. Protect walls with panels at dado height
This style is practical in hallways, where walls can get knocked in passing, and in dining rooms, where pushed-back chairs hit the wall. Plus, as it only covers the lower third of the wall, it won't dominate.
Create the perfect backdrop by painting the walls, shutters, panelling and architrave in the same colour. Consider a striking dining room colour scheme to add life and extra personality.
23. Recreate cabin cladding
Swap a headboard for the Scandi-style simplicity of paint-washed pine planks, fixed vertically behind the bed. They'll look great paired with a modern platform bed and linen bedding. Sand any rough knots in the wood, and protect with matt varnish. Here, raw pine 6 x 1in tongue-and-groove panels are nailed to wall batons.
24. Incorporate a peg rail
The style of panelling in this study is the easiest to achieve. All it involves are attaching a few strips of wood to the walls to create box shapes and painting everything the same shade.
A horizontal piece of wood provides a perfect opportunity to incorporate a peg rail as the wall has been reinforced. It's a great way to sneak in a little extra storage for hanging coats or other bits and pieces.
25. Cheat wall panelling with a headboard
If you live in rented accommodation or aren't ready to commit to wood panelling in your room, you can always fake it with a headboard like in this simple white bedroom idea. This bleached rustic design is far wider than the bed and adds an extra layer of texture and colour to this room.
However, what is even handier is you can easily attach accessories to it, without permanent damage to your walls.
26. Add wood-effect tiles instead
At first glance, this modern panelling looks like wood – but it is, in fact, porcelain. Advanced manufacturing techniques make it possible to create super-realistic tiles with the fine detail and texture of wood, and without the concerns about warping in a bathroom.
Running them horizontally and matching them to the floor tricks the eye into thinking the room is wider than it is. However, it can sometimes make a ceiling feel lower, so be careful about using it in a small room.
27. Add character to a room devoid of features
Here, Jacobean-style panelling adds some period drama to a dining room. It's full of character and a little more formal than tongue and groove. Run the panels only a third of the way up the wall to make a ceiling seem higher.
'Panelling looks at its best if it is one-third or two-thirds of the way up the wall, or full height,' says Jon Madeley, co-founder of The English Panelling Company. 'If panelling runs only half-way up the wall it can run the risk of making the ceiling look lower than it is.'
28. Use wide floor-to-ceiling wall panelling for a contemporary look
Panelling is a great way to add character to a modern kitchen. The wide tongue and groove panels give this room a polished contemporary look.
Full wall panelling is great if you are looking to cover up uneven walls. It also works a treat here in disguising the pantry door.
29. Use white tongue-and-groove panels for a coastal look
Whitewashed panels like this summon images of seaside beach huts. The thin panels crisscrossing over the walls and ceiling give the room a rustic appeal which can be easily maintained with just a lick of paint. It also works wonders at bouncing the light around a room.
30. Paint half-wall panelling a light colour
As we've mentioned, panelling half a wall can run the risk of making a ceiling look smaller than it is. Avoid this by painting the panels in a pale shade such as this grey, but keep it slightly darker than the wall.
Make any radiators or pipe work blend in by painting in the same shade as the panelling, to avoid detracting from the panelling itself.
31. Make a feature wall out of reclaimed wood
Reclaimed wood can be a gorgeously eco-friendly way to create a feature wall in a kitchen. It can be a little more expensive than other forms of tongue-and-groove panelling, if you purchase it from a specialist.
However, if you are willing to do a bit of rummaging at a salvage yard and put in a little elbow grease with a saw and sand paper, it could be a great way to score serious style points on a budget.
32. Paint panelling in blush pink for a modern twist
Tongue-and-groove wall panels are perfect for painting in a whole range of colours. The sky is the limit on your colour choice, but on-trend options include pale pink and dark charcoal grey.
If you're considering panelling as a DIY project, these boards are very easy to put up. As the name suggests the boards are designed to slot together and are 'secret nailed' to supporting patterns.
The newer lookalike versions consist of sheets of MDF with the v-joint profile already routed. They're stable and can even be fitted to a wall that's not perfectly flat.
33. Frame a large window with panels
A large window shouldn't get in the way of adding wall panelling in your bathroom. Jacobean style panels do a great job of mimicking the shape of the window and framing it.
Faking the panel look is easier than it looks – simply use thin strips of MDF to create a grid. Space the strips out as close together or far apart to achieve the size of panel you're going for and paint in one colour to achieve the look.
34. Mix it up
Add further character to walls by mixing up wood panel finishes, from top to bottom. This charming country living room captivates with a fusion of fixed vertically planks on the lower potion of the wall, with a wider set Jacobean-style grid above. The decide adds interest and height to the lower level ceiling, perfect as for a small living room idea in a country cottage.
35. Incorporate the bath
Looking for a stylish bath panel idea? Consider this smart way of seamlessly incorporating the bath into the surrounding wood panelling. The dado-height wood panelling (seen reflected in the stylish round mirror) is echoed by the bath panel which helps to unify and define all surfaces, the panelling is even channelled on the cupboard doors for further effect.
Is wall panelling expensive?
It doesn't have to be, no! If you're doing it yourself, firstly that means you'll be saving the cost of labour, which in most cases is the highest pay-out you'll have to make. And then even the materials can be as cheap as chips! A simple pallet board can be taken apart and its panels used on the wall.
MDF is in expensive and easy to use. Or even have a trawl of secondhand sites such as Gumtree, Ebay or Freecycle to see what boards, or woods people are throwing out. A quick sand and a lick of paint will transform it in minutes.
Does wall panelling make a room look smaller?
It's not a hard and fast rule no, but it can be used to make a room feel cosier and more intimate. That said, if you're adding vertical planks of wood to a wall, it could help the space seem larger as they'll draw your eye upwards towards the ceiling. If you're worried about a small space feeling smaller, opt to use a light colour such as grey or white to help reflect the light.
What are the benefits of panelling?
Besides looking fabulous, panelling is a quick-fix solution for older walls in less-than-perfect condition. As long as the plaster isn't blown, and you've dealt with any damp, panelling can be popped right over existing walls for an instant neat finish. In the bathroom it makes a warmer alternative to tiles.
Does wall panelling have to be made from MDF?
Wood is the traditional material used for wall panels but if you're going for a more modern painted finish, MDF is much better value and is actually a very stable board. In high-moisture environments, like bathrooms, it's essential to use Moisture Resistant (MR) MDF.
Proficiently painted with an eggshell finish, it will cope admirably with splashes, but not total immersion, so don't use it in the shower.
Can I install wall panelling myself?
It depends on ability but there are plenty of panelling kits designed specifically for DIYers. These tend to be MDF-based (solid timber requires professional skills/ tools) and can be simply glued onto the walls using a 'No Nails' type adhesive.
Things can get complicated if there are tricky alcoves and windows to work around, so it may be worth hiring a local carpenter or handyman to ensure smart results – use Rated People to find local trades.
What height should wall panelling be?
The top of the panelling should sit either a third or two-thirds of the way up the wall. Dividing the wall in half can make the ceilings fell lower. do work with existing architectural features - running panelling up to a picture rail is very effective - and think about the height of windows and sanitary ware. Don't forget to include access panels to any isolation valves or cisterns for plumbing maintenance.
How do I make DIY wall panelling look professional?
Most panelling specialists supply matching dado rails, which can be used to hide a multitude of levelling sins, leaving a crisp connection between panelling and wall. Installing skirting over the top of panelling will do the same at floor level.
How do I paint wall panelling?
Depending on the style of panelling, it is usually best to paint it all in one colour, especially if you have used MDF pieces, to make the whole wall look like one piece of panelling.
Get the Ideal Home Newsletter
Sign up to our newsletter for style and decor inspiration, house makeovers, project advice and more.