DIY coffee table ideas - budget-friendly ways to create a living room centrepiece
Save a fortune on a new coffee table with these clever cost-saving tricks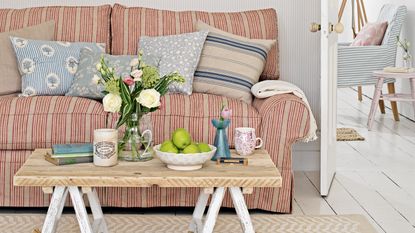 (Image credit: Future PLC )
Whether you're handy with a saw and spirit level, or just a can of spray paint and a clever idea, DIY coffee table ideas are a plenty.
From repurposing vintage pieces and upcycling second hand junk to making a coffee table from scratch, there are a multitude of ways to furnish your home on a budget.
Social media is awash with savvy home hacks that can save you a fortune on this key pieces of living room furniture. The cost of living crisis has forced many of us to think more carefully about stretching our money further and the things we invest in. To help you brainstorm easy DIY projects to perk up your home we've picked a few of our favourite DIY coffee table ideas.
DIY Coffee table ideas
1. Improvise with a vintage trunk
It's fun to make or invest in upcycled furniture ideas, but sometimes a good clean and a fresh perspective is all that's needed.
If you have an old trunk filled with junk in the loft, give it a new purpose as a coffee table. It makes a great place to hide games consoles and other electronics you don't want on display too.
Alternatively, scour junk shops, car boot fairs or salvage yards. It's pretty easy to pick up trunks like this when buying secondhand furniture.
'If you do repurpose a suitcase or trunk as a coffee table, you could decorate it with wallpaper or paint or attach some old furniture legs too' says Chantell Mapp-pope, co-founder of No 21 Bespoke Interiors.
2. Take inspiration from designer style
This clever creation by Hannah @mywirralvictorian is a DIY version of a designer piece. Hannah says she took inspiration from fellow instagrammers @house.48 and @lukearthurwells who made a similar desk and side table.
Hannah asked her joiner to make a basic round coffee table but you could buy a cheap one on Gumtree or find one on Freecycle. She then ordered some corrugated card and cut it to size to fit around the base of the table.
After glueing it in place with No Nails and letting it dry, Hannah then turned it upside down and coated the base and underside with self-priming black paint, and finally the surface. Voila, it's a pretty impressive result.
'The hardest part was painting it,' says Hannah. 'But that's just because I'm so impatient!'
3. Pimp a plain table with paint and dowling rods
Fluted surfaces are a huge home decor trend, but rather than spend £££s on a piece that could date quickly, have fun by fluting the surface on something you can pick up cheaply or for free, like influencer Kelli @myhouseof8 did.
Having acquired a free laminate coffee table, Kelli created a fluted surface at each end with dowling rods from a DIY store. Having cut the rods to size with a saw, she set about sticking them on the panels with liquid glue. Finally, she added a plywood edge at the top of each table end to cover the rods.
'Liquid nails was better than the wood glue we tried,' says Kelli 'As the rods slipped about less when I was sticking them on.'
With the rods stuck on, Kelli clamped a piece of timber over them to keep them in place while they dried overnight. She then filled any cracks with wood putty and painted the table black.
4. Build from scratch with inexpensive timber
Up-cycling second-hand or free pieces is a popular pastime but this gorgeous DIY coffee table was designed and built from scratch by Jacqui @home_of_harris and her husband. Her handy hubby bought a couple of pieces of inexpensive timber and three chunky dowels for the legs from B&Q.
He glued the two pieces of timber together then cut it into this slinky shape, sunk the dowels into the underside and sanded it before finishing it with three coats of matt black paint. It's gorgeous and a bargain to boot!
5. Paint an unloved piece
If you don't have the space, the skills or the inclination to go to town on a total transformation for a DIY coffee table, choose a simpler update.
Old-fashioned, 'brown' furniture can be given a new lease of life with a lick of white chalk paint. All you need is a tester pot, a paint brush and some newspaper to lay on the floor while you paint the coffee table in a couple of coats.
6. Keep it simple but stylish with a wire bin
Turning a sturdy wire bin upside down is a genius way to create a base for a DIY coffee table. You can pick up a wire bin in a range of different shapes, colours and sizes on Amazon or on the high street.
By securing a circular piece of marble, timber or surface of your choice to the base of the bin you can create a simple but slick coffee table. If you're inspired to do the this, ensure that the surface is securely fixed to the base, so it doesn't tip over. You don't want hot drinks, or anything else, to go flying.
Alternatively, to create extra storage, instead of turning the bin upside down cut a removable lid out of wood you can lift on and off.
7. Upcycle a couple of old pallets
Pallet ideas for the garden are classic, but they can also be used to make a simple but pretty DIY coffee table inside too. Choose a pallet that is the right size for your living room ideas. Depending on how high you want your table to be you can use multiple palettes.
Give the palette a good clean and sand down any rough areas, before staining them and stacking them into your desired shape. As a final touch as add castor wheels to allow you to move it around the space easily.
8. Go for a two-tone style
A lick of paint on a second hand piece is the simplest and cheapest way to a gorgeous DIY coffee table. But you can switch things up with a cool colour combo.
Rustoleum's senior product manager, Emily Irving gave this charity shop find a fresh look with painted orange legs and a lime green top.
'It was a total bargain at £4,' says Emily. 'We wanted to give it a modern-retro vibe so picked statement shades of green and orange. So don't be afraid to use strong contrasting colours to create an eclectic look.'
Is it hard to make a coffee table?
It depends what you want to make. Some such as the coffee table made out of the upturned bin and glued on surface are super-easy. Others shown above, require sawing timber, applying plaster and drilling in screws, so you'll need to have the relevant tools and space to use them.
All of the projects were completed in a weekend and saved the makers money on the designer styles they were inspired by. However, upcycling a secondhand piece is generally a simpler and quicker task than making a coffee table from scratch.
'A few great ways to make a diy coffee table are, by using a wooden pallet and adding some large castor wheels for an industrial style coffee table,' says Chantell Mapp-pope of No 21 Bespoke Interiors.
'You could also create a coffee table from scaffold boards and hair pin legs or some old table legs. For both of these projects you would need the pallets or scaffold boards, a good saw to cut them to size, some screws to attach legs with, the legs, drill and screwdriver, then some furniture oil to seal the top.'
Get the Ideal Home Newsletter
Sign up to our newsletter for style and decor inspiration, house makeovers, project advice and more.
Jacky Parker is a freelance interiors & lifestyle journalist, specialising in modern interiors, design and eco living. She has written for Future's interior magazines and websites including Livingetc, Homes & Gardens, Country Homes & Interiors and Ideal Home for over fifteen years, both as a freelance contributor and inhouse, with stints as Acting Digital Editor, Livingetc and Acting Style Content Editor, Country Homes & Interiors. Her work also features in national and international publications including Sunday Times Style, Telegraph Stella, The Guardian, Grand Designs, House Beautiful and more. With years of experience in the industry Jacky is privy to the insider view and the go-to places for interior inspiration and design-savvy décor.