Home decor trends to watch out for in 2022
These are the new looks that we'll be updating our homes with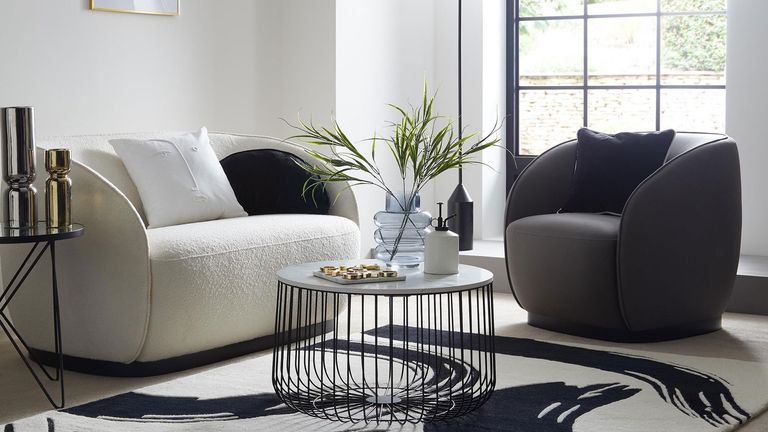 (Image credit: Dunelm)
It's always exciting when a new season arrives and it's time to update your home decor trends. A new year begins and just like you'd refresh your wardrobe, with new accessories, maybe some new shoes or a coat, our interiors can also benefit from a bit of a refresh.
Our homes are a constantly evolving mix of all the things we love – as they should be. So as with new season fashion trends, it's the new emerging home decor trends that tempt us to update our homes – rather than change them entirely.
Home Decor Trends 2022
Unsurprisingly, the predicted trends to watch for in 2022 are all about embracing our new found freedom and re-engaging with the world around us. Colours are bolder, braver and more exciting. Patterns are reflecting more natural shapes and forms.
There's no escaping trends. Whether you live by them or feel totally unaffected, from popular paint shades to furniture choices, everything designed for our homes is influenced by a wider trend.
Of course you could tap into more specific trends for the room or space you want to update. Take a look at living room trends, wallpaper trends and paint trends. This will ensure you're ahea1d of the curve in all aspects of design. If you want a good overall understanding of what to look out for in 2022, here are our top eight to keep an eye on...
Trend 1. Lilac
It's already huge in the fashion world, so it wasn't going to be long until this light shade of purple hit the interiors world too. For some, it may feel a little too reminiscent of the nineties era, but fear not, it has had a grown-up makeover. Now it works beautifully with metallic finishes, smart mirrored furniture and plush velvets, to create a glamorous yet pretty, chic style.
The idea of purple living rooms might seem a little too 'Changing Rooms' to some, it's actually been the natural move on from the ever popular millennial pink trend, and is set to be big for Spring 2022. Colour forecasters Pantone have just announced their Colour of the Year for 2022 as Very Peri, a more vibrant shade of purple. If this still feels a little too daring, then lilac is the stepping stone shade you need to inject some new, playful colour into your home for Spring.
Trend 2. Flowing shapes
Celebrating the natural curves of the human body, this trend explores the fluid lines and spherical shapes often seen in nature. Lending itself to furniture, lighting and prints in artwork and on rugs too, although naturally calming, it can still feature some show-stopping pieces.
If you're a fan of a monochrome palette, this trend is for you, as contrasting black and white creates a glamorous feel to this contemporary look. Bouclé love seats, statement rugs and simple, yet striking lighting will all give your home the wow factor.
'Dunelm's new Curves range reflects the trend for a softening of items for the home, to provide a more welcoming and cosseting feel. With hard lines becoming more fluid and curvaceous to give a feeling of movement within a room, our new curvier sofas and chairs, will envelope you with a soft, textural and sensual experience. This trend will be echoed across other home accessories and textiles to provide an elegant yet welcoming feel to your home,' says Debbie Drake, Head Designer at Dunelm (opens in new tab).
Trend 3. Scalloped shapes
A trend inspired by the sea continues to feature most years and 2022 is no different. Scalloped edges and shapes is a style we're particularly loving, for its whimsical feel and curvy lines, plus it's ode to the humble seashell. Think beautiful piped edges to bedding, lacquered trays with scalloped edges, furniture with curved edge trim, rugs will scallop detailing. Basically anything that can benefit from an undulating edge, does!
It's also becoming a big trend in decorating as a scallop feature wall will bring a sense of fun and frivolity to a scheme.
Buy now: Scallop pillowcases in Midnight Blue, from £70, Rebecca Udall (opens in new tab)
Trend 4. Seventies style
As ever with trends, we see the same ones come back round again, causing endless comments from parents and grandparents about how they remember it 'the first time around' (cue eye rolls). For 2022, the nostalgic designs of the Seventies will be a big look, featuring geometric prints, curvaceous furniture and luxe accents of velvet, brushed brass and glass.
We'll even see the previously mentioned scalloped shapes making an appearance here, in headboards and tub chairs.
And tinted glass, another nod to bygone eras, will be creeping back into our homes. Andrew Tanner, Design Manager at Habitat (opens in new tab) explains, 'The coloured glassware trend continues to grow. What started out as a niche tableware style has blossomed into home accessories.'
'Retro, sepia shade pieces play into the popular Seventies look, typically seen in lighting designs as they create an inviting, subdued glow. We've introduced tinted glass designs throughout lighting, home accessories and tableware to keep up with heightened demand, experimenting with layered transparencies and two-tone styles to keep it fresh and new.'
Trend 5. Houseplants
As our connection with nature and the outside world intensified over the last year or so, it's no wonder we want to bring more of the outside in, and house plants will continue to dominate our decorating schemes next year. So much so that Dulux have launched an entire palette of colours called Greenhouse, to reflect the boom of houseplant lovers that has emerged across the nation.
But creating a tropical oasis inside our homes is all very well for the green-fingered, but what about the brown-fingered, less knowledgable plant parents among us? Well it's thanks to the many great 'faux' options available up and down the high street and online, that allow us all to benefit from this leafy look. This trick is to mix the two, so your easier-to-care for house plants such as palms and succulents could be real, whilst the harder and more expensive options, could be artificial, but visitors to your home will never know. Just make sure you do so you don't end up watering the fakes and dismissing the real ones!
Trend 6. Colour blocking
We're not just getting more adventurous with colour in living rooms and bedrooms for 2022 – bathrooms and kitchens are getting a bolder treatment too. A big new trend for all these spaces is to drench the entire wall in one colour, by painting and tiling it the same shade, creating a seamless and immersive cocoon.
Think walls, radiators, ceiling roses, picture rails and skirting boards, all in the same shade, and even furniture and accessories if you're really committed. While previously the fashion would be to keep ceilings and wood work in fresh, bright white, now we're seeing more and more homes embrace the colour block and be much braver in their colour choices too.
Try this in a small room to start with, such as a downstairs loo, to create a cave of colour that reflects your personality.
Trend 7. Gingham
'Gingham is back with a bang for SS22. This nostalgic trend works within both a modern or traditional décor and is a really fun and playful pattern to introduce into any colour scheme. This season we're seeing it in pastel hues for the bathroom – perfect for adults or children alike – but also in other areas of the home too,' explains Katy Traill, Senior Design Manager, George Home (opens in new tab)
Yup thats right, Gingham is set to get a whole lot more stylish. Another trend of the past that see's its popularity come around again (best find that old-school summer uniform and get upcycling) gingham will be seen in rugs, cushions, curtains, tableware, upholstery and beyond! A simple two-tone pattern, the quaint chequerboard effect makes it's mark on the interiors world just in time for Spring. Our top tip? Get to your local charity shop and see what 'original' gems can be found in their textile hampers.
Trend 8. Cottagecore cosiness
Cottagecore is a trend that first emerged back in 2020, but continues to sweep social media and is still set to be big in 2022. Search #cottagecore on Instagram and Pinterest to see an influx of inspirational images championing this look. This homely look is perfect for places with character, whether it's a period property or a country cottage. The style is enhanced by traditional touches, such as parquet flooring, exposed beams and bare brick. Style with a mix of vintage and new home buys to add charm.
'This trend reflects a common need for comfort and cosiness with a touch of elegance and British quirkiness,' says Jules Upton of Oval Interiors, for North Sands Developments. 'Think quaint patterns, leafy, nature-inspired prints, gold accessories and cute ornaments to add a splash of personality to your home.'
What is the key decorating trend for 2022?
The key decorating trend is definitely to be more expressive and emotional than ever before, as we re-connect with a world that felt closed to us last year. Make bolder colour choices, embrace more pattern, mix your styles if it makes you happy, and find joy in the unexpected. As sustainability continues to be in the forefront of peoples minds for 2022, make more informed choices when updating your home and don't be afraid to re-use, recycle and re-imagine items that might seem 'out of date'.
As the interior industry continues to experience shipment and stock struggles, try to shop local and remember most trends have been here before, so perhaps you have the perfect item to refresh your home, hidden away in a cupboard. If not, it's the perfect excuse to visit the family and raid theirs instead!
Holly Walsh has been Content Editor at Ideal Home since 2021, but joined the brand back in 2015. With a background of studies in Interior Design, her career in interior journalism was a no-brainer and her passion for decorating homes is still as strong as it ever was. While Holly has written for most of the home titles at Future, including Livingetc, Country Homes & Interiors, Homes and Gardens and Style at Home, Ideal Home has always been her ideal home, and she can be found sharing her expertise and advice across both the printed magazine and the website too.