Get the Bridgerton look: Aldi is selling Wisteria plants and they're a steal for under £20
Growing this beautiful climber in your own home has never been more accessible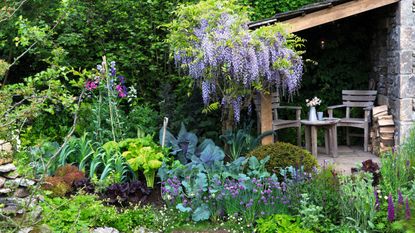 (Image credit: Future PLC/Leigh Clapp)
Aldi is selling potted Wisteria for less than £20 – and given that we're head over heels for this beautiful climbing plant, if we can get our hands on some for a purse-friendly price point, best believe we're all ears.
Knowing how to grow Wisteria in pots has been a well-sought-after garden trend recently, for long-time gardeners and beginners alike, and for good reason.
Making many a cameo in Netflix's Bridgerton and Queen Charlotte: A Bridgerton Story, even the least green-fingered among us (guilty) are interested in adding this to our list of front garden ideas – and Aldi has potentially made this feat even more accessible than ever.
Aldi Wisteria Amethyst Falls
Wisteria Amethyst Falls are available to buy in-store at your local Aldi right now for only £16.99. Sourced from the town of Wisbech in the UK, the flowering climber is ideal for growing in containers as a stylish patio idea or balcony garden idea.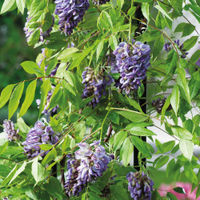 Wisteria Amethyst Falls | £16.99 in-store at Aldi
Add colour and vibrancy to your garden with this 4L Wisteria plant on 90cm growers trellis.
Soften bare walls, fences, and open spaces with this beautiful garden idea that we guarantee will make you fare well with the graces of any guests you have around, or to make the moment last longer, snap a picture to add to the stunning compilation of Instagram's popular #wisteriahysteria hashtag.
What to look for when buying potted plants at the supermarket
Of course, we aim to always keep you clued up with expert-led garden advice, so while buying Wisteria and other plants at your local supermarket is super convenient, there are some things to always keep in mind before picking up any old plant from the shelf.
1. Check the stems and its sturdiness
Chris O'Donoghue, gardening expert at Gardens Revived cautions, 'Always look at the stems when you're buying a supermarket, and check to see if there are any new shoots anywhere. If you see any signs of pest or disease or lots of older leaves and no new growth, it's not the bargain it claims to be!'
'I have had a lot of luck with house plants from IKEA in the past, as they tend to be very hardy – although I always stick them in the bath for a long drink as soon as we get home.'
'It's the same with any supermarket plant – you don't know how long they've been sat out, so give them a good drink and a feed as soon as you can, and give them a little extra TLC for the first week or so,' explains Chris.
2. Check the root system
Zach Morgan, gardening expert at Fantastic Gardeners says, 'When examining the plant, gently lift it from its pot to check the root system. Healthy roots should be well-developed, firm, and light-coloured.'
'Avoid plants with mushy or rotting roots, because that's usually a sign of overwatering or poor drainage. Additionally, stay away from plants that have an unpleasant smell because that's usually a sign of root rot.'
3. Check if its in budding or blooming stage
When purchasing potted Wisteria, in particular, Zach Morgan at Fantastic Gardeners recommends to 'look for a plant that's either budding or already blooming, because this typically indicates it's mature enough to produce flowers in the near future, allowing you to appreciate its beauty right away.'
4. Proper labelling and information
'Make sure that the potted Wisteria plant is correctly labelled, providing information, such as the specific Wisteria variety, care instructions, and any specific requirements it may have,' explains Zach Morgan.
'Wisterias come in different varieties, so knowing the exact type you're purchasing can help you research and understand its growth habits and care needs.'
While supermarkets may offer convenience, gardening experts would still generally recommend purchasing Wisteria plants from specialised garden centres or nurseries that focus on providing healthy and well-cared-for plants.
However, given that you keep the above tips in mind, it likely doesn't hurt to pick one up from Aldi (or other supermarkets) and see how well it fares – that's what I'll be doing this weekend. Wish me luck.
Get the Ideal Home Newsletter
Sign up to our newsletter for style and decor inspiration, house makeovers, project advice and more.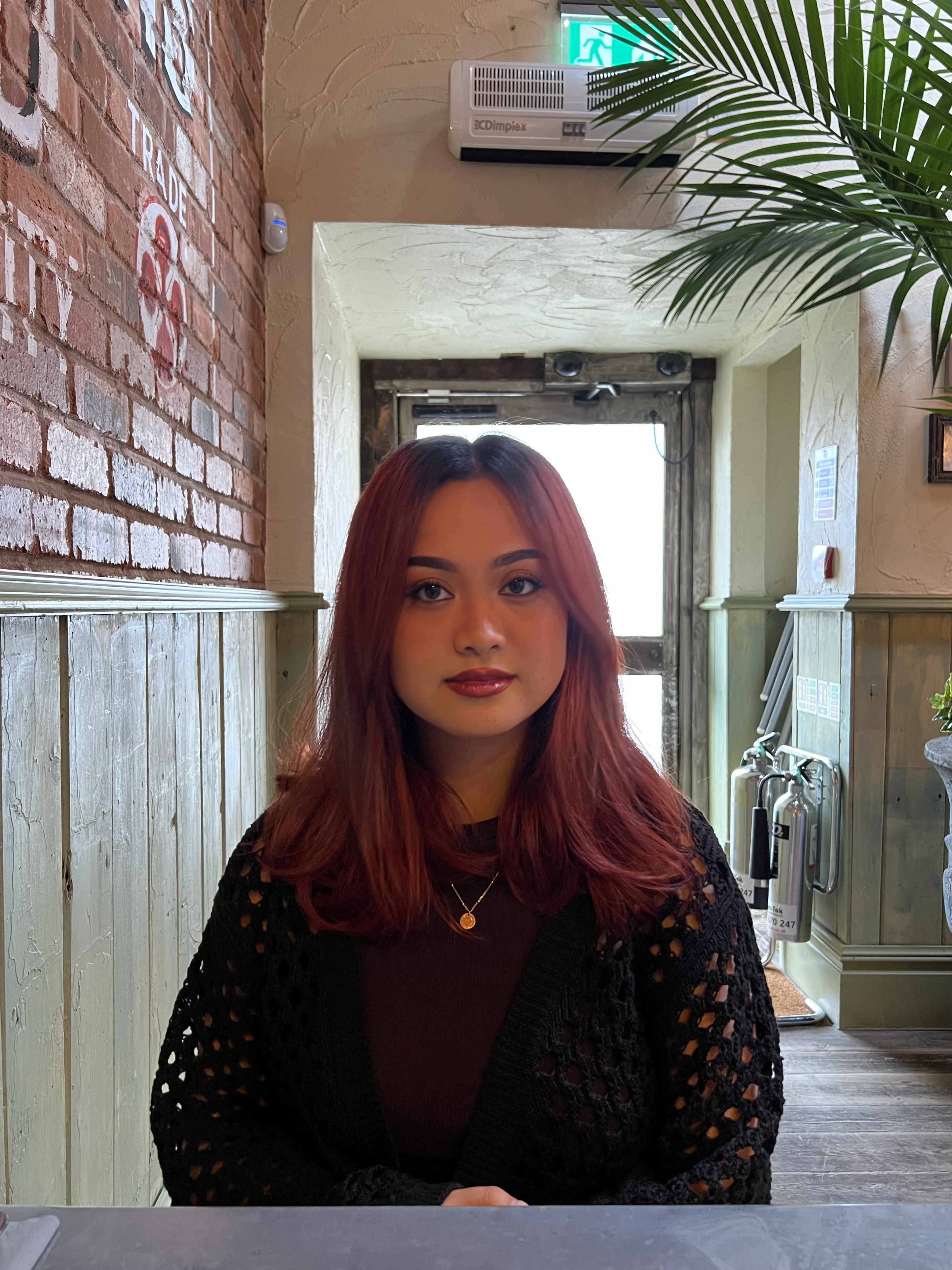 Jullia Joson is Ideal Home's Junior Writer. She's always loved all things homes and interiors, graduating with a bachelor's degree in Architectural Studies from the University of Nottingham in 2022. Previously, she was an Intern Editor for ArchDaily. Now focused on news stories, Jullia can be found down the TikTok and Pinterest rabbit hole scrolling through any new and upcoming trends, hacks, and home inspiration.