Deck railing ideas - 16 designs to give your decking a stylish and functional surround
Finish off your decking or patio with these deck railing ideas for a polished and safe boundary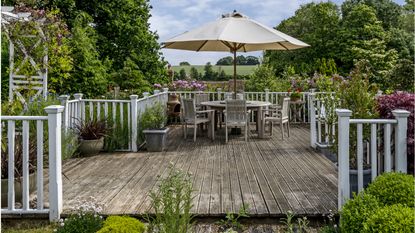 (Image credit: Future PLC/POLLY ELTES )
As the weather starts to take a turn for the better, we will be spending more time outside in our garden which makes organising your deck railing ideas even more important. Deck railing not only looks good and gives a polished look to your space, but it is also important for safety too. First, consider what deck ideas you want to add to your garden and then how your deck railing ideas will merge with that.
'A railing is ideal for raised decking as it prevents any hazard of falling off the edge of the decking which is dangerous and can lead to injury. As there are so many materials and styles available on the market, you don't have to compromise on appearance for functionality,' says Allan Jeffrey, CEO at Ultra Decking.
Deck railing ideas
When considering your deck railing ideas think about how you use your garden. Will you have young children running about, does your decking have any steps, do you have any pets, or do you want to zone your garden? These factors will affect the type and height of the deck railing you use.
'A deck is an ideal addition to any garden, providing a space to relax and entertain. However, ensuring your deck is safe and secure is critical, especially if you have young children or pets. Deck railing is an essential safety feature for any deck, but that doesn't mean it has to be boring,' says Harry Bodell, gardening expert at Price Your Job.
No matter if your garden ideas are big or small, or if your style is contemporary or traditional there are deck railing ideas that you will love.
1. Go for classic wood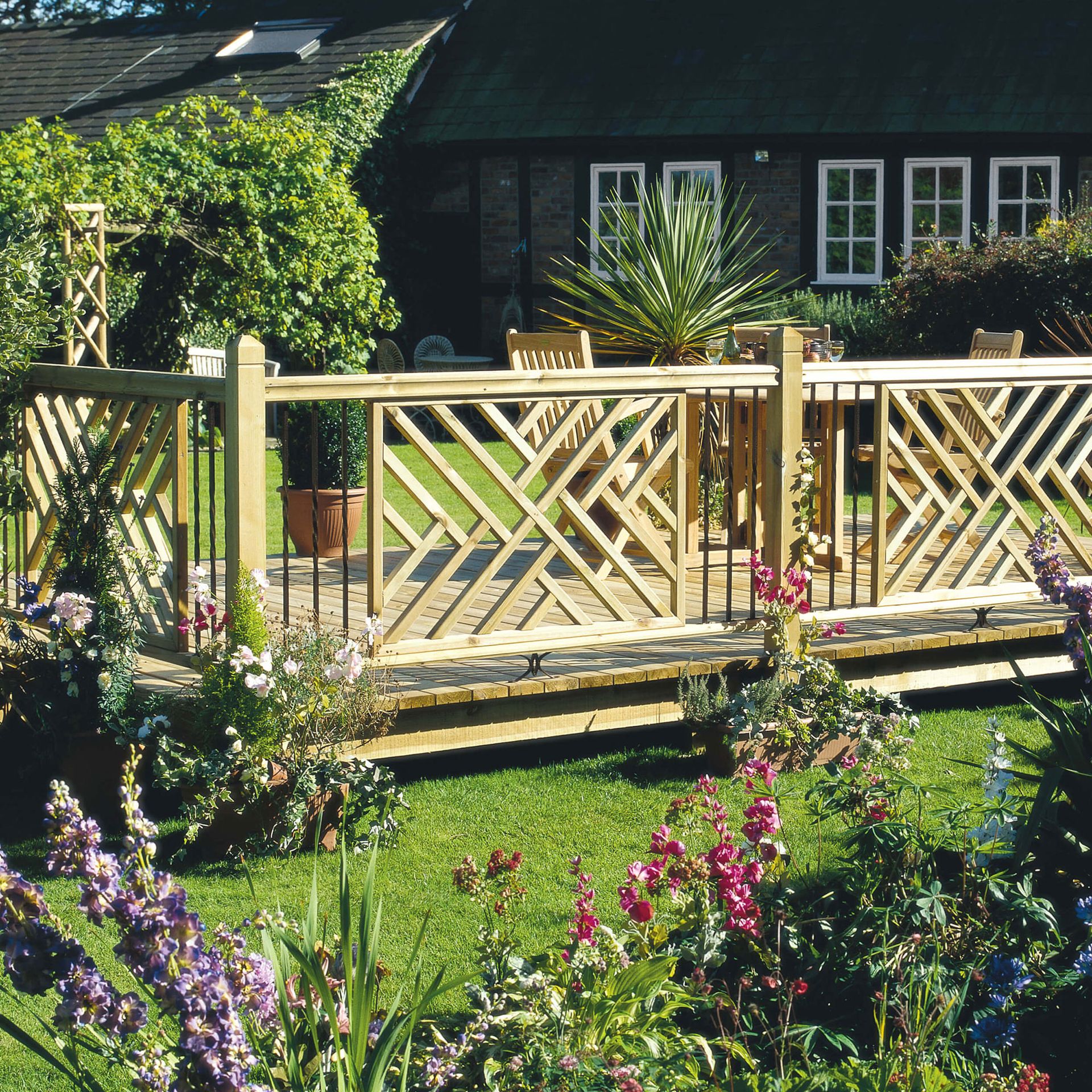 In choosing a wooden deck railing you get the opportunity to choose the paint or stain of your railing that will match your other garden furniture ideas. Using wood will add warmth to your garden and allow the natural grain to shine which will work beautifully against the rest of the garden.
'Wood is one of the most popular deck railing materials due to its inexpensiveness. Wooden railings can create a natural look and are available in various finishes and styles. However, wood requires frequent maintenance to prevent rot and insect infestation. Nevertheless, a wooden deck railing can be a practical choice if you're willing to work,' says Harry Bodell from Price Your Job.
2. Match the railings to garden furniture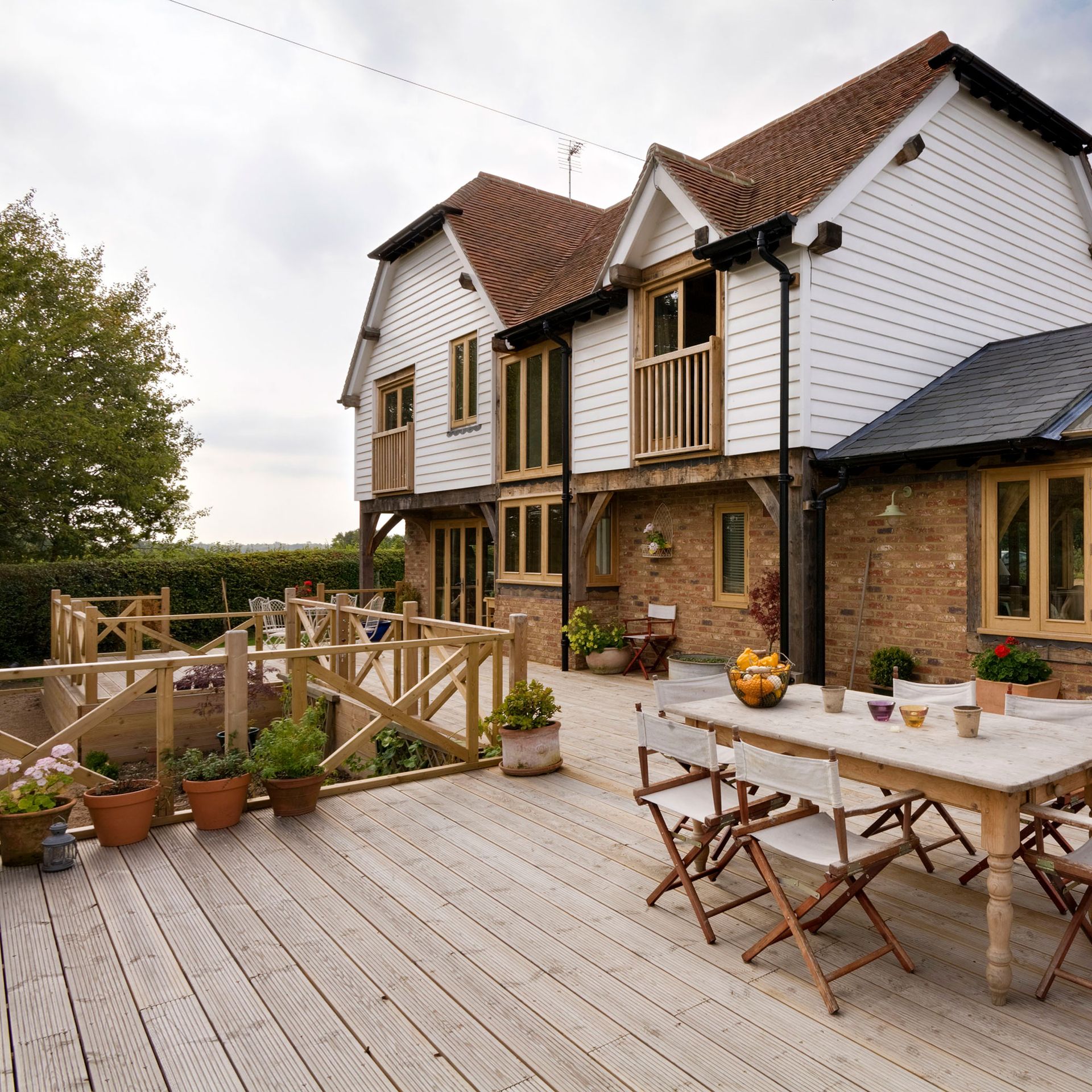 For a cohesive space that matches your other patio décor ideas, choose deck railing ideas that work in cohesion. Assess if your garden style is rustic and traditional or more contemporary and modern and match your railings to that style. If your garden is full of clean, simple lines with neutral colours, glass or metal deck railings would work best.
Compared to a garden with lots of natural materials such as rattan and wood where wooden or composite railings would be better suited. Matching your deck railing with your shed paint ideas is an easy way to keep a similar and complimentary colour scheme throughout your garden.
3. Include a white picket fence
For a classic all-American look, a white picket fence is a way to create the perfect country garden. The white is perfect for brightening up a garden and allowing light to bounce around the space. The white also acts as a neutral backdrop for the deep green of planting and coloured flowers. Picket fencing isn't just limited to wooden materials but can also be made out of vinyl, PVC and metal.
This style of railing is great for a back garden because it provides your decking with enough privacy to become a separate zone for dining or entertaining without being completely cut off from the rest of the garden.
4. Go for a metal design
Harry Bodell from Price Your Job says, 'Metal railings are durable, low-maintenance, and can add a modern or industrial look to your deck. Steel, aluminium, and wrought iron are popular metal railing materials. Some metal railings can be expensive, but they are generally more durable than wooden ones.'
If you want to bring more light to your north-facing garden ideas and are wary that deck railing ideas will prevent that fear not. Metal railings come in many designs and wire railings will keep your space feeling open and will provide a non-solid barrier that light can shine through. This would also allow foliage to grow through and make it feel more connected to the rest of the garden.
5. Choose a two-tone look
To give your decking an updated look, give your decking a two-tone look with railings and spindles in one colour and the decking in another. This works perfectly with wooden decking with a transparent or semi-transparent deck stain and railings in a harmonious colour.
Two-tone decking can allow you to get involved in garden DIY and discover how to paint decking for a finish that will last years. Choose a colour for your deck railing that will compliment both the shades in your garden and the interiors of your home.
6. Use composite railings
If you want to match your decking to your railing, then composite railing is a perfect choice. These railings can come in lots of different colours and surface finishes to complement your existing decking and especially your composite decking ideas. Composite is a long-lasting material which is resistant to the elements and looks good no matter the weather.
'If you're looking for a traditional style of railing that is very durable and easy to maintain, there is no better choice than a composite railing,' says Fiona Jenkins, gardening expert at My Job Quote.
'Composite railings resemble wood in their appearance but don't require the same levels of maintenance as real wood. Plus, composite railings won't splinter, warp, or rot over time. You also don't need to worry about re-painting, re-staining, or treating composite railings.'
7. Include lights on your railings
Garden lighting ideas combined with your deck railing will allow you to use the area both day and night and highlight the edge of your decking to keep you safe. Lighting can be installed on top or the sides of railing posts, making your decking the perfect space for alfresco dining ideas.
'One of the best ways to ensure you can use your deck as much as possible is by adding lights to the deck railing. Solar-powered string lights are the perfect option for this. These lights can be wrapped or trailed around the railings, lighting up the space so you can continue to use your deck after the sun goes down,' recommends Fiona Jenkins from My Job Quote.
8. Choose a traditional style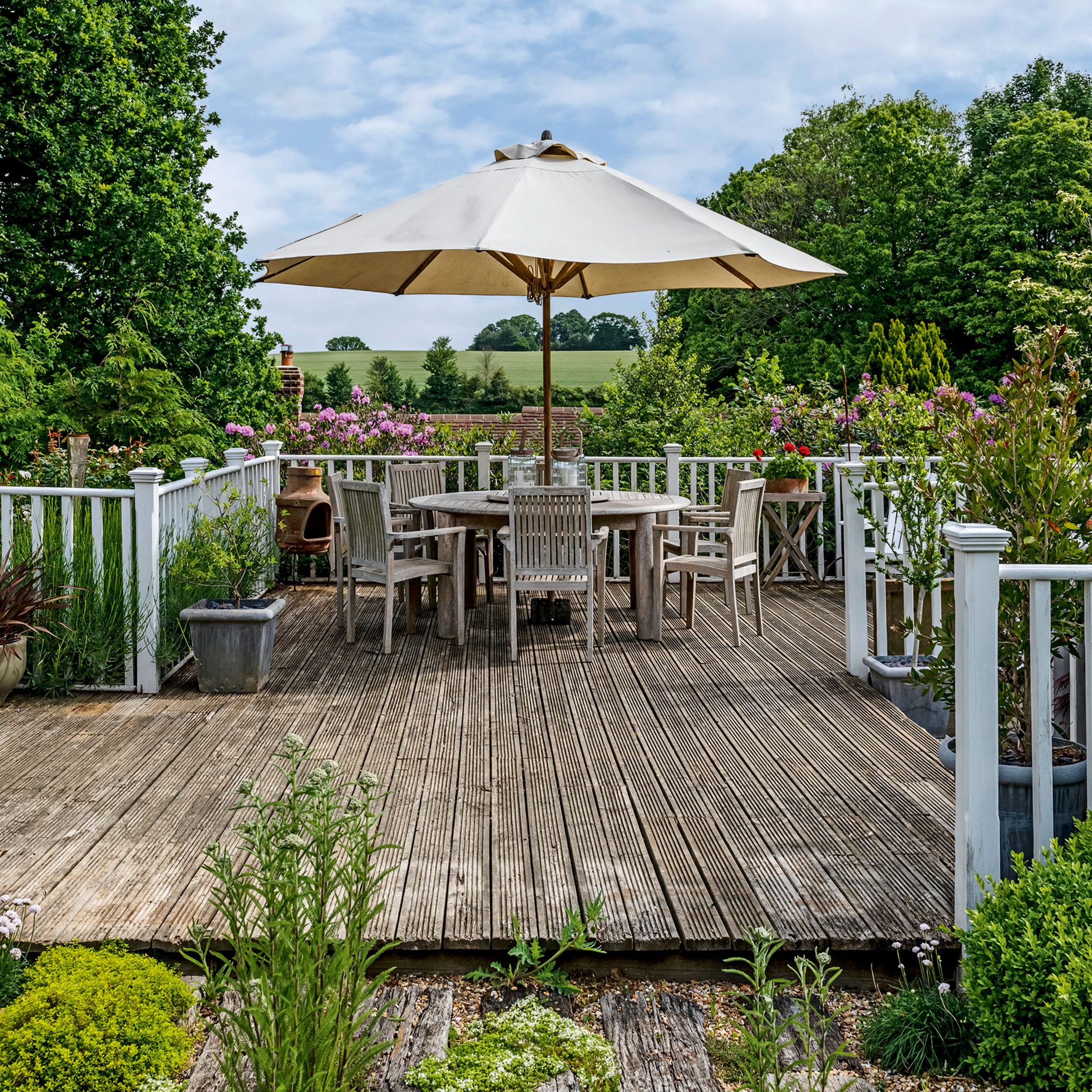 Traditional balustrade railing is a popular choice for many decking areas and works particularly well in country-cottage-style gardens. With square-edged, upright spindles, positioned at equal intervals and topped with a smooth wooden handrail, it's sturdy and strong but isn't a completely solid structure.
The gaps between each spindle allow for natural light, as well as plants to come through. But they will still keep pets, children and visiting family and friends safe. Opt to paint your balustrade railings in white or a very pale blue or grey, for a smart and classic look in your garden.
9. Keep it super simple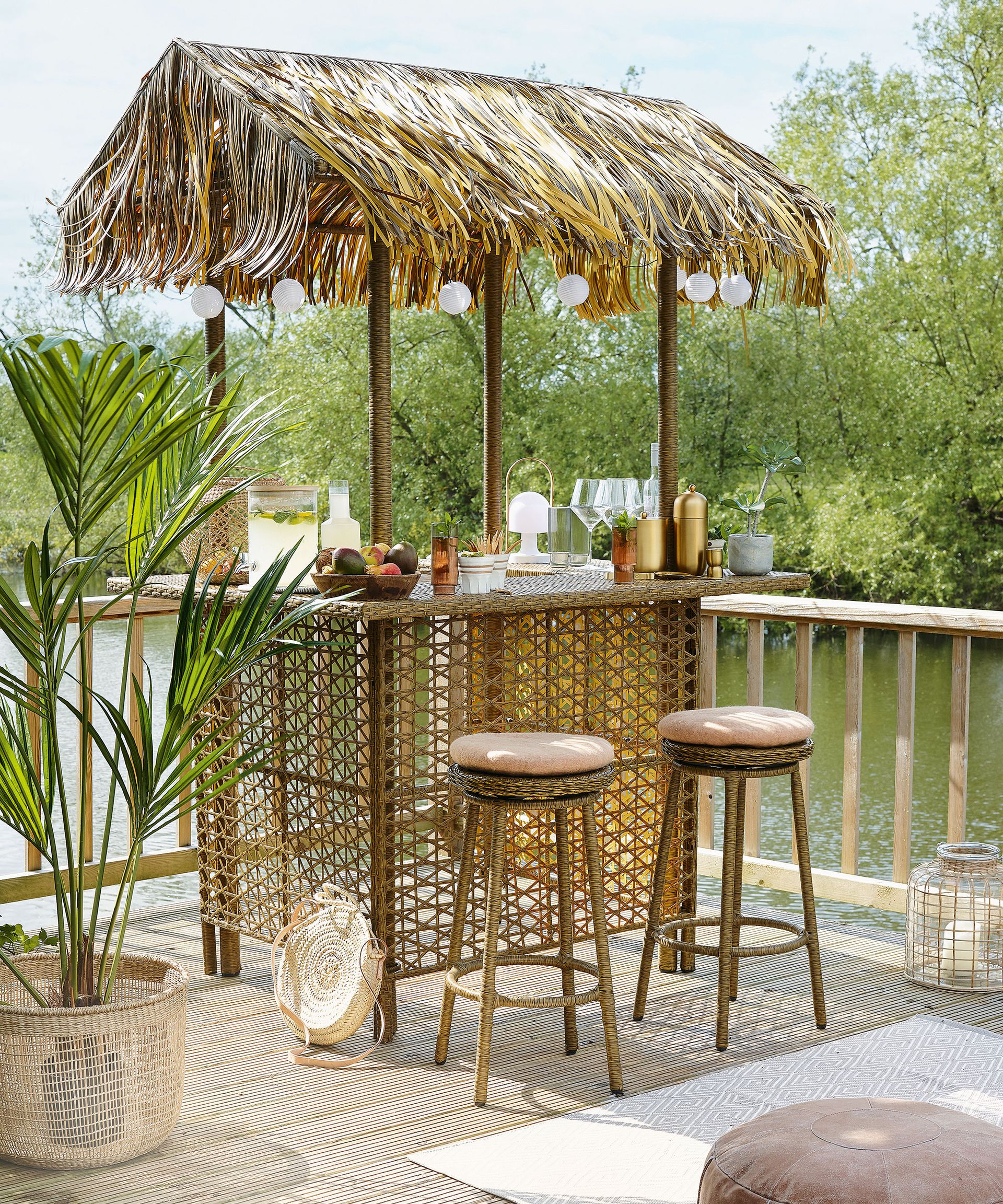 Make simple wooden railings to surround your decking, with rustic lengths of wood bought from a timber merchant. As well as sturdy corner posts, you'll need a length of wood to run along the bottom, slimmer lengths of wood cut into shorter planks for the railings and a chunkier, slightly rounded length of wood to act as the handrail.
Here the simple railing doesn't distract from the stunning water-side view, or try to compete with the fabulous garden bar idea either. Leave the wood bare for a more natural look, which will weather over time and soften into the background.
10. Or make it more complex
While a simple style certainly has its place, opt to elevate your deck railings style, by going for something a bit more exciting. Think geometric wooden panels interspersed with twisted, iron rods makes for a perfect way to finish a paired-back decking platform.
Making a feature of your deck railing is a great idea in a larger garden and with easy climbing plant ideas such as roses to grow up the posts, allows it to become part of the overall space, rather than a jarring fixture.
11. Reflect the style of your surroundings
Wood deck railing is also a great choice if the home it sits beside has wooden features too. The wooden window frames, supporting beams and balcony balustrades are reflected in the wood decking rails that complete the wooden deck. Larger spaces have been left between the fairly simple wooden railings, so wood doesn't overwhelm the space too much.
12. Opt for contemporary glass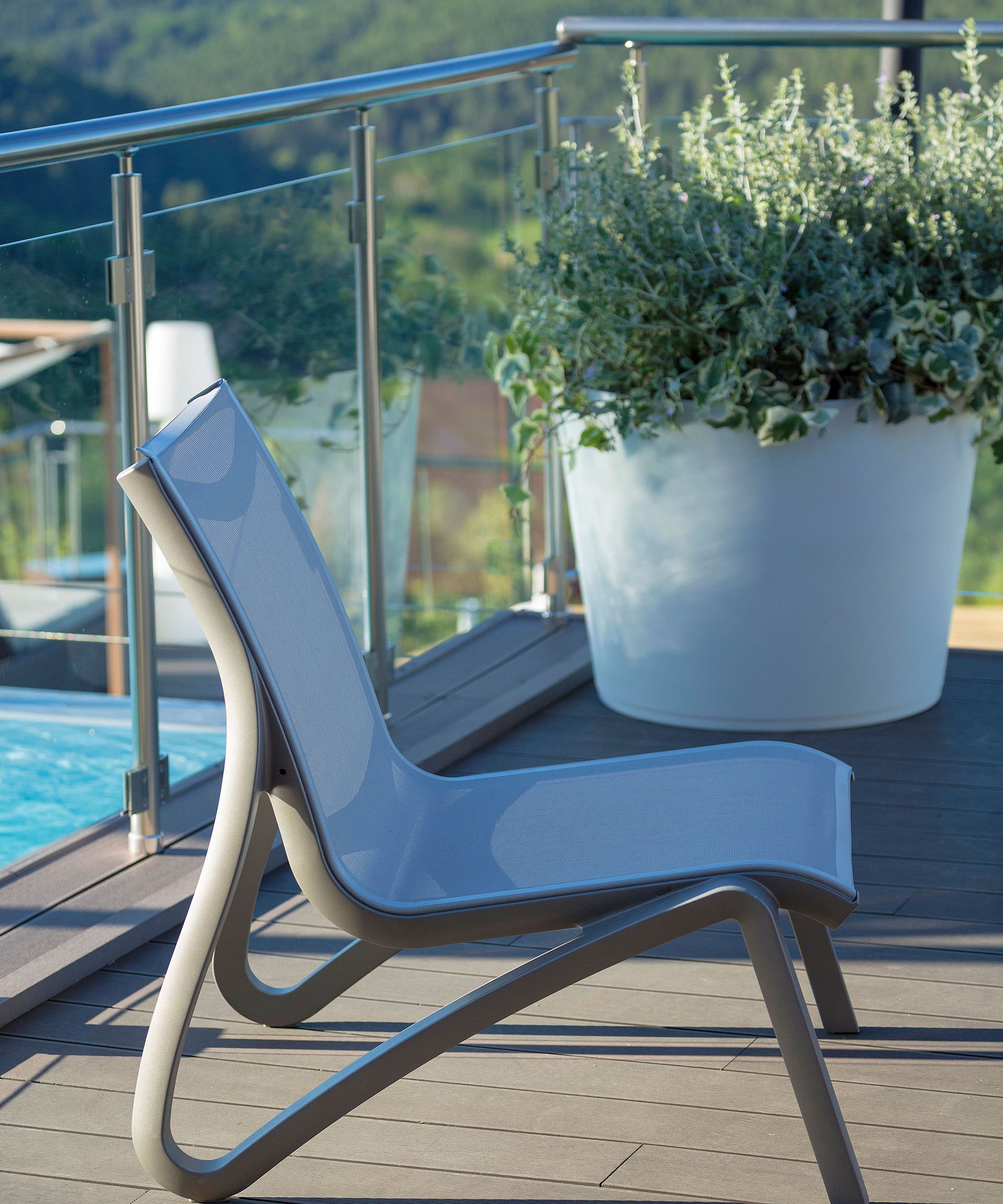 While wood is certainly the most popular choice for deck railing, glass is a close contender and suits more modern garden ideas. If you're lucky enough to have a stunning view from your deck that you don't want to spoil, choosing glass panels between metal uprights could be the way to go.
The combination of metal and glass is also a winning formula if you have an outdoor pool. Again, it won't restrict the views around it, and is super safe for keeping little people away from the edge of open water.
13. Mix wood and glass together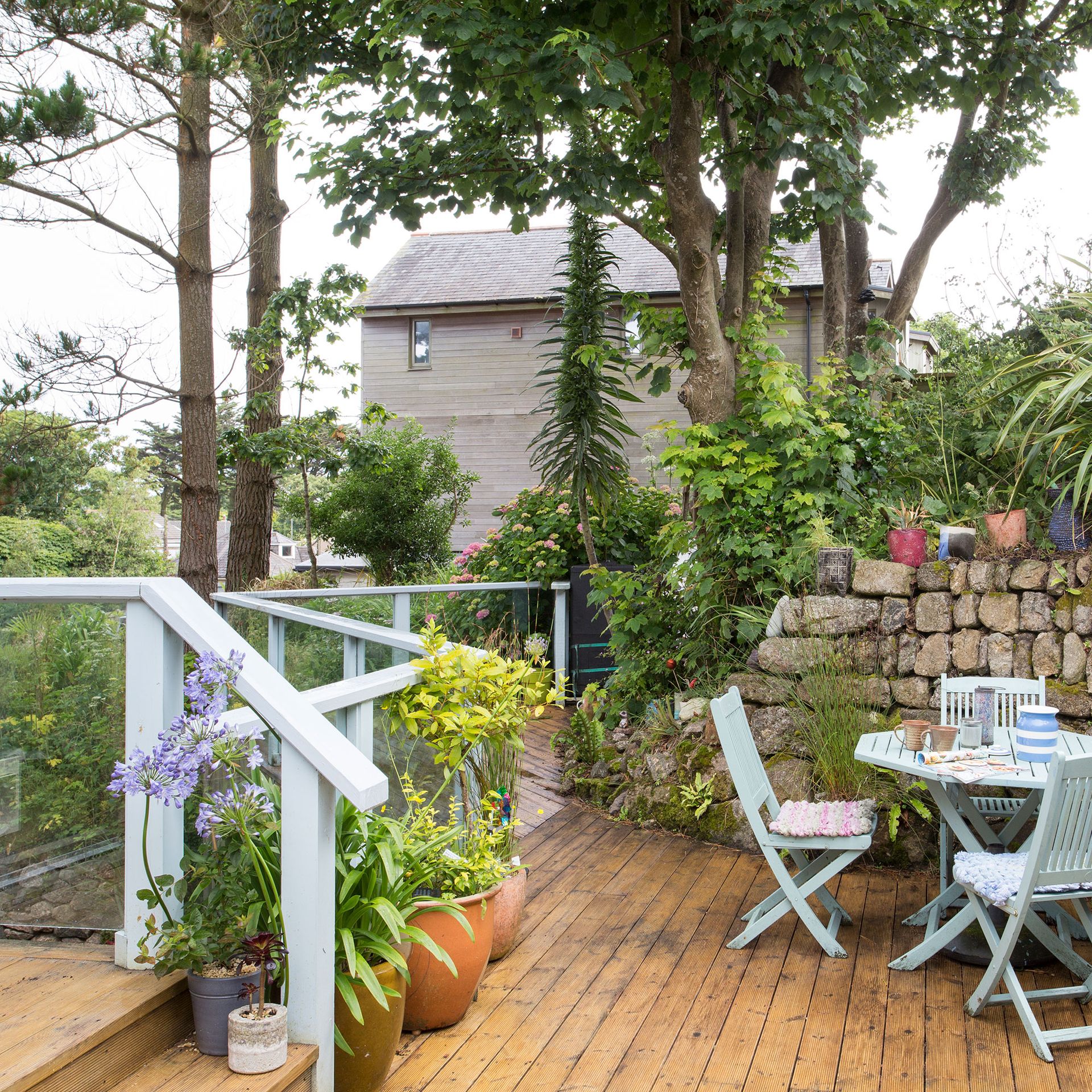 Have the best of both and combine wood and glass together to edge your decking area. Metal might seem a little too cool and contemporary for your space, but if you still want to benefit from the transparent qualities of glass, then opting for wooden posts to support large glass panels is a great idea. Topping the panels with a wide, wooden handrail will create a juxtaposition between the two materials and finish your railings perfectly.
14. Take it back to black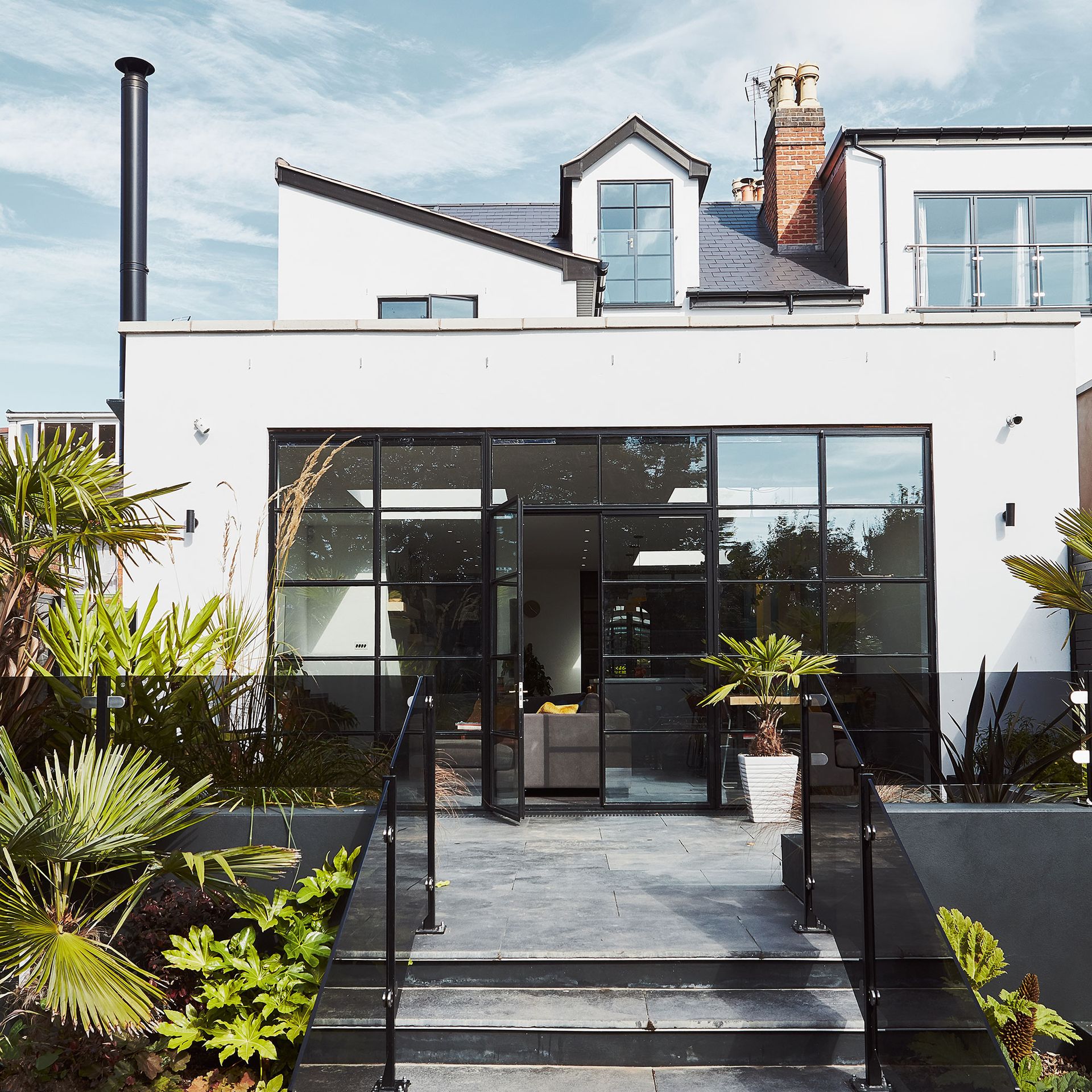 While glass is a popular choice for deck railing ideas, tinted black glass is a slightly more original option. And where it reflects the style and materials of the house it's installed next to, it creates a perfect partnership.
The black glass will obviously not be as transparent as clear glass, but it will still allow light to travel through it and acts more to zone the spaces between patio and planting. A half-height wall along the patio too, creates a more solid boundary, with the glass acting as a softer edge.
15. Make it horizontal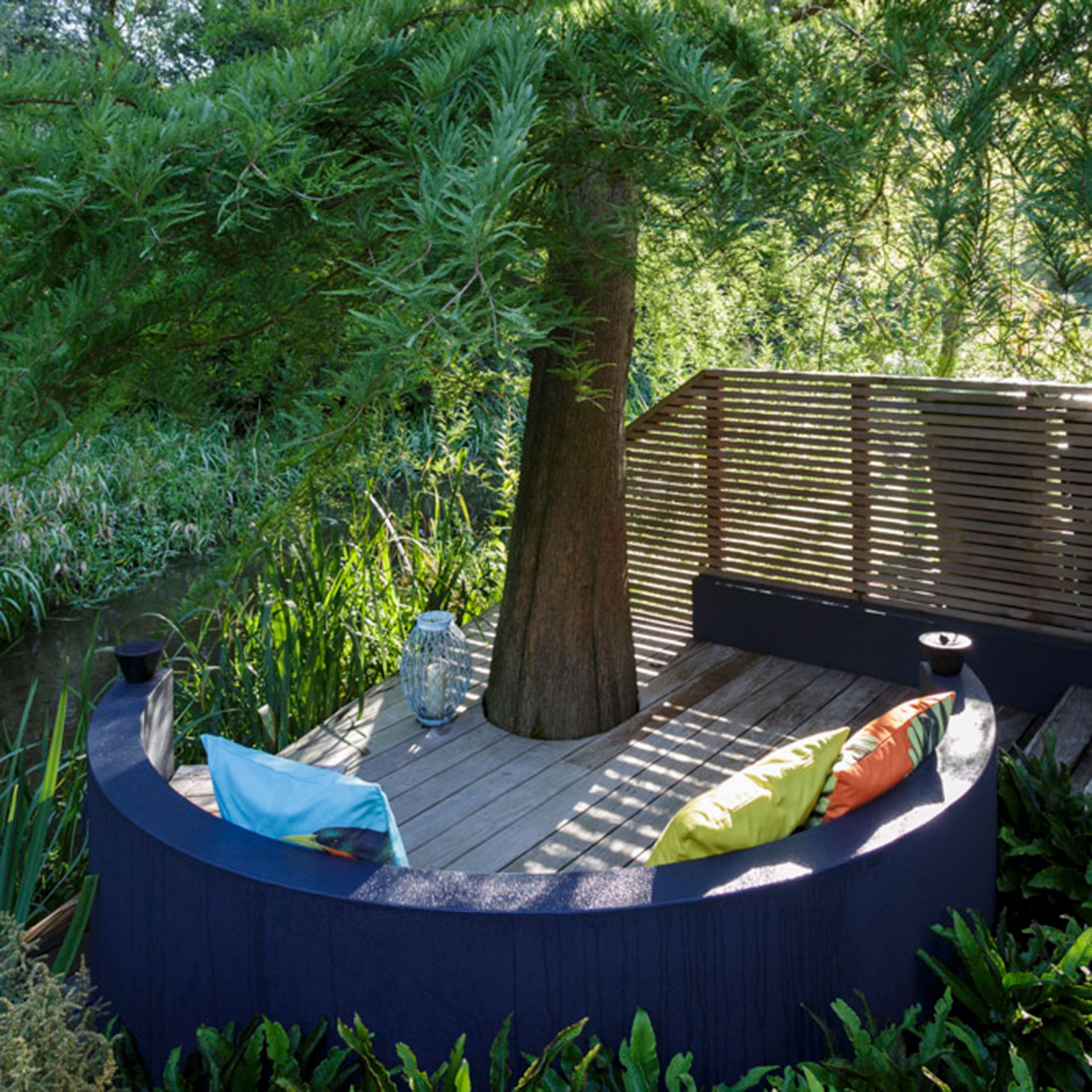 Deck railings don't have to be vertical, as this homeowner has shown with their choice. Using wooden slats in a horizontal formation creates a more solid edging to decking, but in turn creates some amazing shadows as sunlight is dispersed. Extending the railing to a higher height, will also give you privacy and create a clear boundary.
16. Go for something more ornate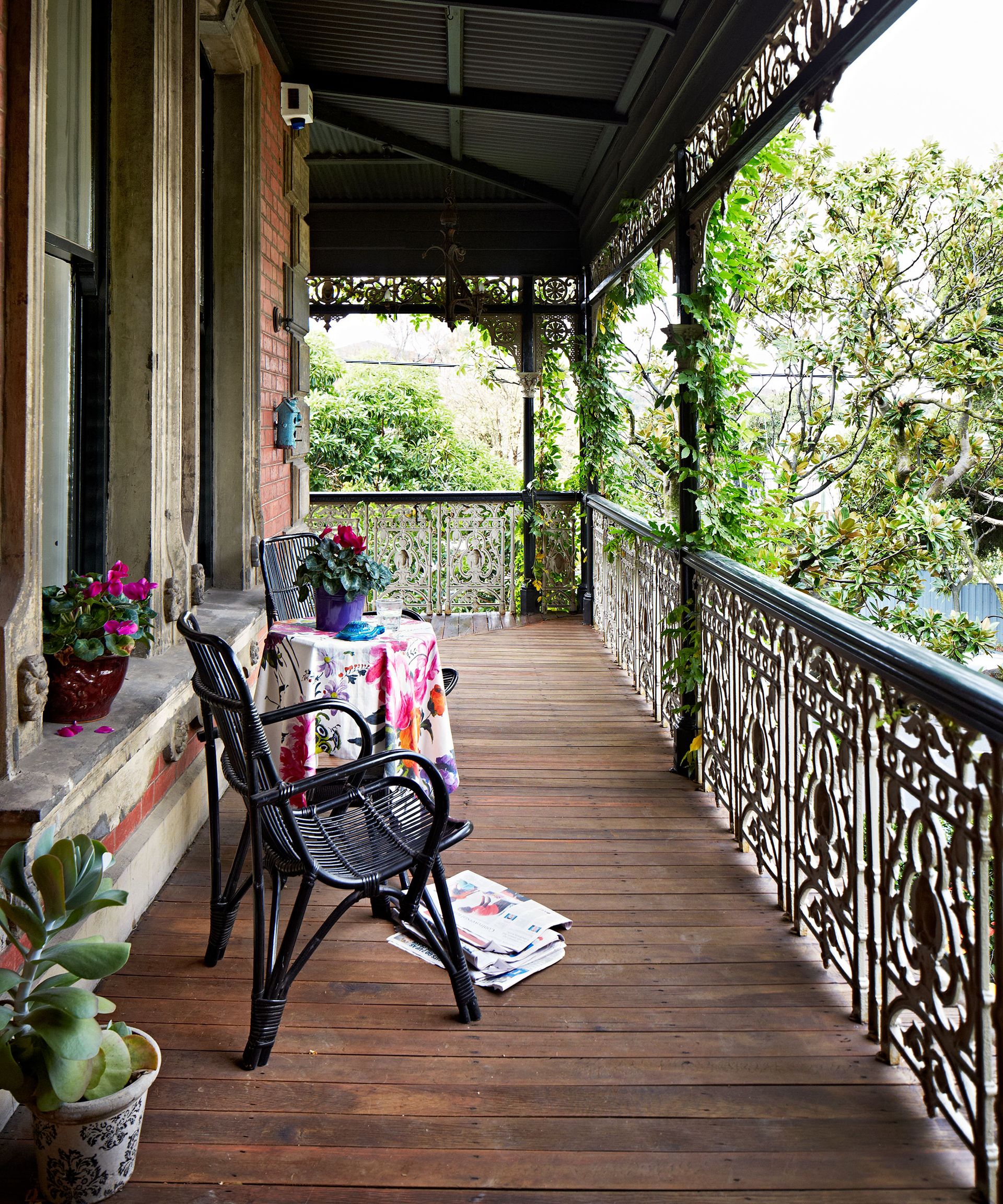 Wrought iron railings in a decorative design could be just what your decking or patio space needs to finish it off. It will create more of a barrier to weathers and wildlife and will certainly be seen as more of a feature in your outdoor space. If the design you choose is very busy, opt to paint the railing white to try and balance the business and encourage climbing plants to grow among it for a magical, whimsical feel.
What is the most inexpensive deck railing?
Updating your decking with railing can be part of your budget garden ideas if you use the right materials.
'When it comes to the cost of deck railings, the most inexpensive option is usually wood railings. However, the overall cost will depend on the type of wood used and the design of the railing. For example, pressure-treated lumber is a more affordable option than hardwoods like cedar or redwood,' says Henry Bravo, founder and editor-in-chief of Smart Garden Home.
Don't cut costs and make sure to use deck railings manufactured from high-quality timber that has been pressure treated to protect the wood from rot and insect attacks. Railings are there to give you extra protection so should be made to last and be able to perform their function to a high standard.
What can I use instead of traditional deck railing?
'If you are looking for alternative deck railings, you could consider using planters or built-in benches as a barrier. Another option is to create a natural barrier using shrubs, hedges, or trellises,' says Henry Bravo from Smart Garden Home.
'However, ensuring that these alternatives meet safety requirements and local building regulations is essential. It is always best to consult with a professional to ensure that you are making the right choice for your outdoor living space.'
Get the Ideal Home Newsletter
Sign up to our newsletter for style and decor inspiration, house makeovers, project advice and more.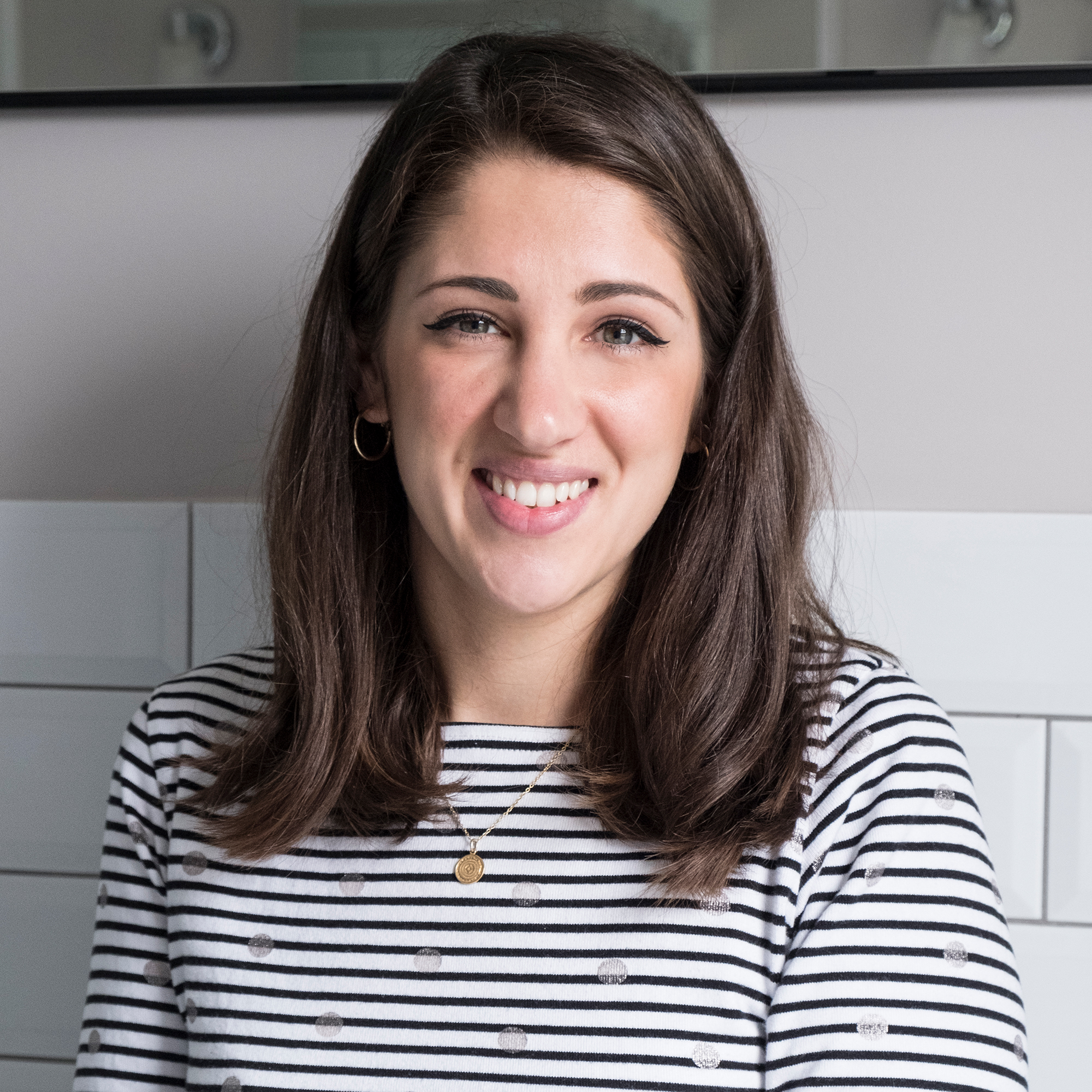 Holly Walsh has been Content Editor at Ideal Home since 2021, but joined the brand back in 2015. With a background of studies in Interior Design, her career in interior journalism was a no-brainer and her passion for decorating homes is still as strong as it ever was. While Holly has written for most of the home titles at Future, including Livingetc, Country Homes & Interiors, Homes and Gardens and Style at Home, Ideal Home has always been her ideal home, and she can be found sharing her expertise and advice across both the printed magazine and the website too.