Garden lighting ideas – 24 ways to illuminate your outdoor space
Enjoy your garden well after the sun has gone down with these inspiring lighting ideas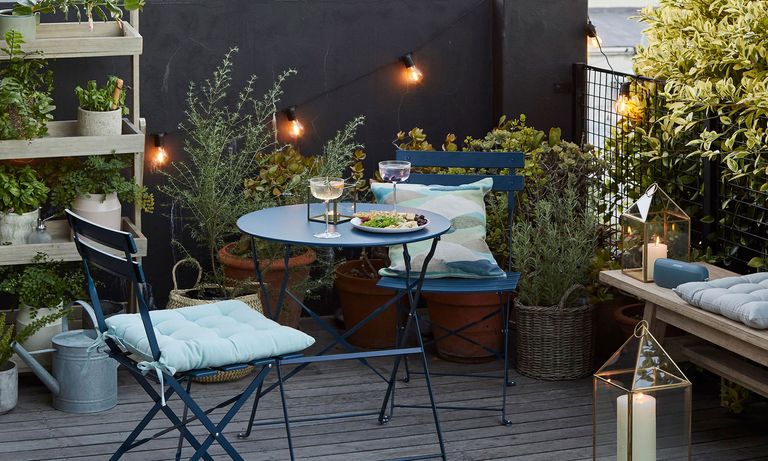 (Image credit: John Lewis & Partners)
With spring finally here and summer knocking at our doors, focus moves to spending more time outside and these garden lighting ideas will ensure you can enjoy your outside space well into the night. From fairy lights and festoons, to solar lamps and lanterns, we've got plenty of ideas to solve any garden lighting dilemas.
It might be a little while until we get those long, light evenings so until then, having some garden lighting ideas handy, will ensure you don't need to retreat inside as soon as the sun sets. Simple ideas like lighting candles in lanterns are a great place to start, but if you need something a little more robust, we've got that covered too.
Garden lighting ideas
Garden lighting can help create a magical space that can be enjoyed even when the sun's gone down. Make the most of long summer evenings and transform your garden into a glowing living space you can use after dark, with our stunning garden lighting ideas to illuminate outdoor spaces.
Have you researched garden ideas (opens in new tab) and are now landscaping your garden? Don't forget to work integrated garden lighting into your design as these final details will really set off your scheme and create a stunning effect in the garden by night. Go for smart spotlights in walls and pathways to light your way and up-lighters to accentuate beautiful architecture, water features and sculptural planting. Light a pathway to give your garden design structure.
Wireless solar-powered lights are an easy and eco-friendly alternative to plumbed in lighting and come in all shapes and sizes. Embed them deep within your borders or line them up along the path and watch them illuminate your garden at twilight, with a warm glow.
1. Create a simple centrepiece
Fill terracotta pots with sand and push in some dinner candles, to make a simple centrepiece to place on your table outside. Odd numbers of candles feel visually balanced, so use three standard-size candles or try seven or nine skinny tapers. Use citronella candles to deter pesky mosquitoes when dining alfresco and place all around the patio to create a cosy glow while eating.
2. Make a (water) feature of lighting
Buy now: Filigree light up water feature, £375, Cox & Cox (opens in new tab)
How's this for a nifty garden lighting idea? A beautiful water feature that also lights up! The delicate filagree cut of design of this steel water feature has been inspired by the riads of Morocco and will bring an exotic feel to your garden. The LED lights bring the piece alive and will cast stunning shadows on the surrounding ground, perfect for enjoying late night tipples alfresco.
3. Opt for a traditional lighting style
An elegant option for garden lighting ideas is to choose a lamp post style design. Ideal for the both the front and back garden, many designs rely on solar power to light them, so won't need to be attached to the mains in order to light up your garden. Here the home owner has hidden the base inside a pot filled with flowers to create a park feel. Lamp post lights work wonderfully in symmetry so opt for one either side of a patio or one either side of a front gate.
4. Don't forget your balcony
Buy now: EMU Arc En Ciel steel garden bistro table and chairs set in blue, £269, John Lewis & Partners (opens in new tab)
A balcony may be small, but it's perfectly formed and would still benefit hugely from some garden lighting ideas. Festoon lighting works wonderfully hung along a wall or railings and can be plugged in inside, then looped around your outside space. Candles in glass lanterns will help to create pockets of soft, flickering light in darker corners and on table tops.
5. Mix and match styles
Don't feel like you have to choose just one style of lighting for your garden, opt for several at different levels to create an ambient glow. A string of mini paper lanterns will look lovely strung along a garden fence above seating, while lanterns of different shapes and sizes work perfectly doted around the floor. Festoon lights will work well drapped over and around trees and branches, or could even by gathered into a pool and sat in a shallow pot.
6. Light up an outdoor reading spot
Buy now: Stem outdoor garden light, £250, Lighting Lover (opens in new tab)
Just like you would in your living room, place a floor lamp by a bench outside to create a cosy reading spot to relax. This rechargeable outdoor lamp is great for placing in spots of your gardens that don't reach electricity and will cast a flattering down light that doesn't dazzle. Pop a couple of these around a patio or decking area to enjoy a relaxing reading sesh, well after the sun has gone down.
7. Dress a pergola to set the scene
Use the timber frame of a garden pergola as a canvas to perfectly place a string of outdoor lights. This sturdy wooden structure is ideal to provide a framework for hanging lights with ease. It's the perfect place as it will commonly be placed above a social area of the garden that benefits most from illumination after dark.
8. Use uplighters to highlight zones
Clever lighting is the key ingredient for bringing wow-factor to your garden at night. Don't be afraid to mix and match styles, using uplighters to enhance planting, walls and hanging pendants in covered areas to create cosiness. The use of uplighters draws the eye up, creating depth to a garden landscape. This can help to clearly define each zone of the garden, from a vegetable plot to a dining spot.
9. Wall-mount lighting
Use the exterior walls to put in place permanent lights on a patio area. Specialist lighting enables you to use the space all year round, whatever the weather. Choosing stylish wall lighting also helps to add a decorative touch, making the outdoor space feel like an extension of the indoor at the flick of a switch. Fixed lighting on the patio is also helpful for security and checking on the backyard, making it well-lit.
10. Shine a spotlight on thoughtful planting
Spotlights dotted around the garden helps to highlight key areas within the space, placing directional light wherever your garden layout needs it most. You can use a spotlight to shine a light on a favoured tree or a beautiful summerhouse, the choice is yours. Highlighting key ares will help to add a sense of ambience to any garden, large or small.
11. Line the decking with spotlights
Sink spotlights into a decking area to highlight the edging and cast a warm glow to ensure all levels and steps are clear to make out when walking around the space. Choose low light emitting bulbs to ensure the lights don't shine too bright, so not to shine directly into the eyes.
12. Mix and match lanterns
Decorative metal lanterns are going from strength to strength as the must-have modern room accessory. From living rooms with a Scandi feel to the centrepiece on an industrial-chic dining table, these adaptable place-anywhere mood setters are at home in any scheme. Remember their origins as the earliest way of lighting up Victorian streets and herald them as the perfect indoor/outdoor accessory.
The sheer joy of these contemporary beauties comes from the colour choices and shapes - there is one to suit every garden and every design personality.
13. Make a bold statement with bollards
A sleek bollard light beautifully creates pools of light on a patio area to ensure a clear path of sight after dark. 'In the daytime, sunlight creates a play of shadow and light in the geometry of the bollard. At night, when natural light fades, the artificial lighting displays the exact same geometry in a new way ' explains Kasper Hammer, Architectural & Outdoor director at Louis Poulsen (opens in new tab).
The Flindt Garden bollard (opens in new tab) emits a wide downward, glare-free light. The light source rests at the top inside the asymmetric cut-out on the side of the bollard, where the gradient serves as a reflector that softens the light and forms an attractive organic shape on the ground below.
14. Stake out a path of solar light
Solar-powered stake lights are one of the most affordable and effortless means of lighting for a garden. You simply peg the stake into the lawn, along a garden path (opens in new tab) or in flower bed borders to secure the design in place. they are moveable and therefore allow a layout to be changed, or even take them with you should you move.
15. Choose low level lighting to illuminate from the ground up
Ensure your garden, roof terrace or courtyard is a safe space to navigate after dark by placing low level lights. Place lighting a short distance off the ground, directly on the surrounding walls or borders to shine a light at ground level. Avoid making the bulbs too bright, you don't want this to be the main lighting – merely there for creating awareness and ambience.
16. Hang fairy lights for a magical touch
Add some sparkle to your home, inside and out, with a set of unique fairy light designs. Fairy light ideas (opens in new tab) bring a magical quality to any garden: this simple strip of fairy lights interwoven inside a parasol are the perfect touch for an ambient social spot. A little light goes a long way at night. Use lighting selectively and remember that darkness can be used to conceal areas.
17. Connect zones with string lights
While the trend for creating garden zones is hugely popular for dedicating area to a garden layout, you can use lighting to unify the spaces from above. Hang lengths of fashionable festoon lights to create a seamless flow of lighting throughout the different areas.
18. Add ambience to alfresco dining
Use a generous amount of outdoor lights suspended above an outdoor dining spot to create a magical atmosphere for parties and social gatherings. Perfect for marking a special occasion, outdoor bulb lights add a decorative and atmospheric touch to gardens. The bulbs in these designs offer a warmer colour that is much more inviting than the typical blue-hued glow, creating a magical, twinkling effect ideal for lighting up an outdoor space made for entertaining.
19. Make pretty DIY paper lanterns
Nothing makes a bigger garden lighting impact than the repetition of lights on a darkened path - for both striking simplicity and after-dark safety. With a garden party in mind, these steps are smartly lit with decorative paper bags, which can be bought with a pretty punched design or create it yourself with a hole-punch and a few minutes of your time.
Try our simple homemade lanterns for your next garden party, made with a paper bag weighted down with gravel, a hole punch and an LED tealight. Placed either side of garden steps, they'll light your guests' way and look totally charming.
20. Add playful touches to dark corners
The humble paper lantern takes position as party-perfect centrepiece when clustered in an array of colours. In a mix of sizes and hung at various heights, they transform this covered garden nook from plain to playful and balance out the darker, heavy garden furniture and the intensity of a fireplace. Truly a light and bright way to have fun with garden lighting.
21. Go for colour-coordinating lanterns
If you are fortunate enough to have a garden in full bloom, light up your flora and fauna with lanterns. Especially now, with LED battery-powered candles at their most efficient and cost-effective, you can avoid any risks involved with real candles while still providing a striking glow. The gentle pinks and red of these silk and paper lanterns are just perfect for enhancing the natural palette of the rhododendrons. Just beautiful.
22. Cast an inviting glow
When dining outdoors in the garden, the natural glow of candlelight as an ambient garden lighting option cannot be surpassed. As it is in the controlled setting of your alfresco table, go for real candles, but secure them against wind by opting for a sturdy yet elegant vessel. These heavy ribbed glass holders are the perfect balance of smart and safe. Avoid the temptation to keep mosquitoes at bay by using citronella candles - the scent can put diners off. Save them for after dinner.
23. Add texture with woven materials
Sculptural electrical lights make an attractive garden lighting alternative as they can be brought outside onto a deck or patio when weather permits. Or, positioned near the door, will illuminate the are from inside. The woven material on these bottle-shaped designs creates attractive shadows.
Above all, let safety be your watchword. Select fittings designed for exterior use, with an IP rating for water resistance that suits the area they are to be used in, usually IP44, or higher. Employ a qualified electrician to install them safely.
24. Cast a light over a dark corner in a courtyard
If you have a small courtyard that you can use for entertaining, choosing a permanent wall light is a great solution. Firstly because it's wall-mounted it means the light is floating in the area – meaning it's not taking up valuable space. It's also a great way to illuminate the small area to make it feel like more valuable, so it can be used to extend your living space all year round.
How do you illuminate a garden?
'Outdoor living has become more relevant than ever; people are moving outdoors and using outdoor spaces almost as an extension of their interiors' explains Kasper Hammer at Louis Poulsen. 'Going outdoors, having dimmed lighting in the evening and prolonging the day with friends and family outdoors for leisure activities or dining.'
Garden lighting brings out accents in the garden, in landscaping or on terraces, allowing you to explore and feel comfortable in outdoor spaces at night. If you want to create a cosy dining area for eating out on warm nights, zone off a secluded spot on the patio using elegant garden wall lights to cast a romantic glow over your garden dining table. Set the mood with ambient tabletop candles placed in pretty wind-resistant vessels - perfect for intimate dinner parties and candlelit meals.
How can I light my garden without electricity?
Whether it's the eco-friendly aspect, the freedom that comes from being wireless or the sleek, industrial look, a solar-powered light is the simplest option for hassle-free garden lighting. As the technology advances, so do the choices for creating a number of looks in your outdoor space - from putting them deep within the foliage for an internal glow to lining them up loud and proud along a path.
Solar power is great, but if you're worried the lack of sun might hinder the charging process, opt for garden lights that are rechargeable. These options can be plugged in and charging during the day, then unplugged and enjoy anywhere in your garden come sunset.
Battery-powered lights are a good option too if you don't have electricity access in your garden. Make sure the batteries are well protected to the outdoor elements and if unsure, keep the battery pack dry and wrapped in something water-proof.
Candles are great for creating ambience but won't last long in a breeze, so pop into lanterns or empty glass jars to shelter them from the wind.
What type of lighting is best for outdoors?
The best type of lighting for outdoors is one that is weather-proof and will create an ambient glow! While it might sometimes seem tempting to bring a lamp from your living room outside, the plugs and internal workings won't be suitable for low temperatures or moisture in the air, so it's always best to purchase specific outdoor lighting. Candles are great as they are cheap and will also generate a little heat, but aren't a great idea around children or pets. Solar-powered or battery-powered lighting is ideal as you won't have any cables or leads to trip over and they are eco-friendly choices too.
Where should garden lights be placed?
Where garden light should be placed is all dependant on your garden layout. If you're looking to illuminate a patio for summer entertaining it's best to use a mix of lighting solutions, with wall-mounted lights paired with lights of bulb lighting to illuminate the seating area directly. Use directional spotlights as uplighters to highlight border planting and trees within the garden scheme. Bollard lights are best used to illuminate a pathway or to set the perimeter of the patio area at waist height.
Spotlights integrated within a decking area or used in the surrounding walls of a patio area are a great way to ensure the floor is well lit, to avoid any accidents of tripping up in the darkness – because commonly a garden is made up of different levels and surfaces.
Additional words: Holly Walsh
Tamara was Ideal Home's Digital Editor before joining the Woman & Home team in 2022. She has spent the last 15 years working with the style teams at Country Homes & Interiors and Ideal Home, both now at Future PLC. It's with these award wining interiors teams that she's honed her skills and passion for shopping, styling and writing. Tamara is always ahead of the curve when it comes to interiors trends – and is great at seeking out designer dupes on the high street.