35 garden lighting ideas to illuminate your outdoor space
Ensure your outdoor space remains warm and welcoming even after the sun has set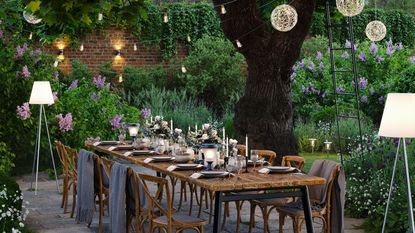 (Image credit: The Solar Centre)
As the days begin to get shorter and the nights get longer, the right type of garden lighting ideas can help you extend the amount of time that you spend out in your outdoor space.
Whether you're looking to recreate cosy garden ideas that will carry you into the winter months, or add a romantic ambience to your patio ideas, some of our favourite garden design ideas features include beautiful gardening lighting ideas. But beyond looking beautiful, some of the best lighting ideas will also offer extra security to your garden during the winter months.
We've spoken to the experts to round up some of the most beautiful garden lighting ideas that will inspire you to continue to use your garden right up until Christmas.
Garden lighting ideas
In a similar vein to lighting your living room, in most cases, you'll want to strike a good balance between practical lighting – which provides illumination – and decorative lighting. But obviously, you will want to select lighting which has been specifically designed for use outdoors to ensure that they are durable enough to withstand many different weather conditions.
'When it comes to outdoor lighting ideas such as patio lighting, you want to create a layered lighting scheme with different sources at various heights just as you would in your interiors, to help ensure there is good lighting and you can change the mood and feel of the space,' advises Reilly Gray, founder of garden furniture brand SUNS Lifestyle.
'By planning your garden lighting ideas and ensuring you have multiple sources, you will be able to create ambience whilst ensuring there's ample lighting for however you're using the space.'
So, here are some of the best ways to use lighting in your outdoor space.
1. Think about durability
Permanent garden lighting ideas need to be able to withstand whatever challenges the weather can throw at them.
'Carefully consider the placement of your lighting as this will determine the design as well as the IP rating you will require,' explains Jo Plant, head of design at lighting brand Pooky.
'To simply explain IP ratings: use IP44 damp-rated fixtures, for sheltered spaces – such as under pergolas – while for the more exposed areas where there could be direct or indirect contact with rain, you will need IP65 wet-rated fixtures.'
'Apart from functionality, also opt for materials that are not only eye-catching but robust. Brass and chrome always age well outside and on a bright day, they beautifully catch the sun.'
2. Go smart with your garden lighting
You may already use smart lighting inside your home, so why not use it in the garden as well? Like with internal smart lighting, you can control your outdoor smart lights from your smartphone.
'Smart garden lights can be scheduled to turn on/off at set times or adjust throughout the evening,' reveals Kate Baker, lighting advisor at 4Lite. 'As well as daily schedules, you can control garden smart lights directly from your smartphone or voice-activated devices such as Alexa and Google Home. That means if you're busy barbecuing or entertaining, you can switch the lights on without leaving the garden or if you've gone to bed and have forgotten to turn the lights off, there's no need to get up. Just press the off button on your app or tell Alexa to switch the garden lights off,' Kate adds.
For those looking to brighten up their pergola ideas, 'these lights can be perfectly weaved through the gaps to create an artificial starry sky right overhead as you enjoy an evening with family and friends,' Andrea Tellatin, CEO of Twinkly.
Their smart Festoon lights can be customised and controlled from an accompanying app, which even lets you change the patterns and colours of each LED at the tap of a button. Alternatively, you can hang the lights from trees, bushes and plants to truly enhance some of your favourite areas.
3. Illuminate steps and paths for safety
Steps are one of the most dangerous parts of a garden's landscape – especially after dark. Thankfully, there are lots of garden lighting ideas for illuminating steps. Strip lighting can be installed under each riser which lights up the step below.
Alternatively, hooded spots as seen in this space designed by Light House Designs, can be inlaid into the walls of the steps. These should be hooded and directed to point downwards to prevent them from dazzling.
4. Install a fire pit to create a cosy ambience
One lighting idea that you may not have considered until now is installing a fire pit. 'Not only are fire pits a great light source for your garden, they're also warm and create an inviting atmosphere for your garden,' outlines Tiger's garden building expert Sam Jenkinson.
Whether you only have a small amount of outdoor space to play with or a much larger, sprawling garden, fire pit ideas come in a variety of different sizes and designs. Just make sure to keep a good amount of distance away from any plants or flowers, overhanging trees or fences and install it on a flat natural surface such as concrete, gravel, stone, slate or brick or on a fire-resistant composite. And always follow the safety precautions when you do go to use it.
5. Incorporate architectural lights into your borders
Your garden is a carefully curated space and therefore must look beautiful during the day as well as at night. By day, these Stone Globe Lights are disguised as solid stone spheres that bring texture and structure to your garden border ideas.
However, by night they are illuminated, creating striking orbs that provide a beautiful focal point. Available in low and medium voltage as well as solar powered to suit all types of gardens.
6. Add height to your garden by illuminating trees
During the day, trees provide architectural structure in the garden, however, your garden's definition gets lost once the sun sets. To add height to your garden at night, simply entwine the trunks and larger branches with solar-powered outdoor string lighting ideas to add depth to the space and create an atmospheric glow.
When opting for solar-powered lights it is important that you place the panel in a spot where it will receive maximum sunlight otherwise you'll find yourself plunged into darkness come nightfall.
These warm white solar fairy lights, £29.99, Lights4Fun, also have a rechargeable USB battery which enables you to enjoy the twinkly lights even on days with less sunlight.
7. Use mirrors to maximise your garden illumination
We all know the mirror's power to reflect light around a dark room. However, this also applies to the garden. During the day garden mirror ideas will encourage light into dark spots or will create the illusion of portals to spaces beyond.
However, with some strategically positioned festoon lights, a mirror can also increase the power of nighttime illumination too, throwing light back into the space.
These mains-powered indoor/outdoor Gold Lustre LED Festoon Lights, £39, Ella James are themselves reflective and will instantly transform a dark corner in a pretty and bright spot.
8. Dress a table with portable lighting
Portable garden lighting ideas are a great way to add layers to alfresco dining areas. An elegant lantern, such as the Browning Lantern, from £28, Neptune, allows you to enjoy the beauty of candlelight while protecting the delicate flame from the wind.
Alternatively, pair it with an LED candle for an authentic look that will last throughout the night.
9. Layer lighting around a garden table
Festoon lights are an essential part of garden lighting ideas – whether draped over pergolas, between trees or used to dress a patio they provide both ambient and practical lighting.
For the perfect outdoor dining experience, pair with solar-powered candles and lanterns on the table and surround with floor lamps to create a laidback ambience.
10. Don't underestimate wall lights
Outdoor wall lighting is a great starting point for garden lighting ideas. Not only will they provide a layer of security, but they'll add an extra layer of style.
'Outdoor lighting can also be highly effective at creating something from nothing. A wall that you might not think twice about during the day can become a dramatic feature at night with clever lighting,' explains Piero de Marchis, Director, Detail Lighting.
'By aiming a wide beam of light from below or above, a wall can be washed with light and bring its warm tones to life. Alternatively, positioning the beam closer to the wall can catch and accentuate the natural texture of the wall itself using light and shadow.'
'However, if you have a modern home with a "perfect" finish, any slight imperfections and undulations would be exposed by positioning the light close to the wall. So consider the position of your exterior lighting carefully – possibly even experiment at night using a wide-beamed torch to see how light affects the surface.'
11. Line your driveway with lights
An easy way to elevate the look of your home is by lining your driveway with lights. Using solar lights in this instance will not only save you money on your energy bill but the lights will automatically come on when it starts to get dark. Not only does this make your driveway look much more aesthetically pleasing but it also guides you and guests to your front door when it does get particularly dark.
Just remember, if the position of your driveway doesn't get a lot of natural light, you may have to opt for wired lights instead, since solar lights rely on the sun to shine once it gets dark. Whether you select staked lights or bollards, both add interest to otherwise plain driveways.
12. Illuminate a small space
Thoughtful lighting is important when working with small garden ideas. In a cosy courtyard or petite patio, add subtle and small spotlights. Raised up high, you won't be losing any of the footprints for dining or planting.
Choosing a style and tone that blends in also means they won't act as a visual distraction when not in use.
13. Add atmosphere to al fresco dining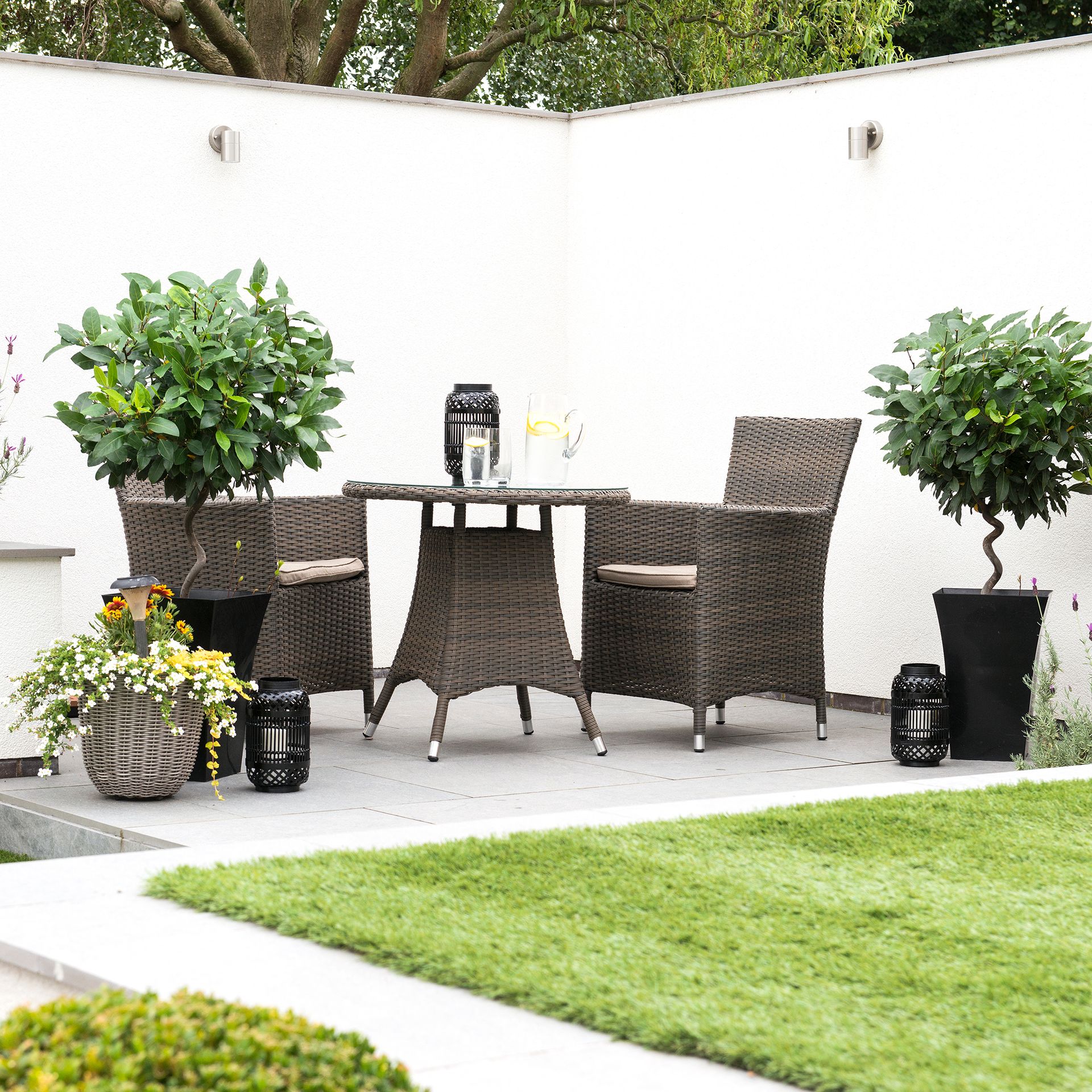 Mix and match garden lighting ideas to add depth and atmosphere to dining spaces. Start by using wall lights to zone the space and add hurricane lamps, lanterns and candles to finish the look to perfection.
'Entertaining outdoors has become increasingly popular and with that, more attention is being paid to the ambience of our external living spaces such as patios, dining and cooking areas,' says Piero from Detail Lighting.
'Lighting in outdoor entertaining areas should be subtle and intimate lighting that relaxes guests and encourages conversation. Consider soft indirect lighting and use surfaces to absorb and diffuse light.'
'Strategically situated dimmable LED linear lighting and inground lighting can create a feeling of floating whilst thoughtful pendant lights and ceiling lighting can illuminate faces and table settings.'
14. Highlight thoughtful planting
When adding garden lighting ideas to your scheme, start by studying your garden throughout the day and into the evening.
'It's important to study how light falls on your outdoor spaces and understand what it looks like as daylight fades,' advises Piero from Detail Lighting.
'Then you can decide what needs garden lighting ideas and how. Also, you may have trees or shrubs that would add drama with carefully placed lighting.'
15. Take it to the trees
To really make a statement, use artificial illuminated trees to light your pathways. Alternatively, you could wrap around fairy lights. Since these will be at and above the eye line, take the time to choose the tight warmth of light.
'For external lighting, it can be too hard on the eyes which is why we always recommend using warm white LED lighting for outdoor spaces – something with a colour temperature in the region of 2700K -3000K,' advises Piero from Detail Lighting. 'This bathes the area in a wonderful golden light that feels cosy and comforting.'
16. Be inspired by your interiors
Take your interior style into your garden lighting ideas for true indoor-outdoor living. 'Gone are the days when the choices for garden lighting were limited to plain, uninteresting white security type lighting; today's modern designs are just as stylish and varied as those you would find inside the home,' notes Marketa Rypacek, Managing Director, Industville Ltd.
'We have seen an emerging shift to take the industrial, rustic, and stylish look from inside the home, out into garden spaces. Add atmospheric lightings such as stylish metallic walls and pendant lights, to set the ultimate ambience for your friends and family to enjoy.'
17. Hang solar powered bulbs
Effective outdoor lighting ideas don't always have to shout about their presence. Light bulbs strung from trees and shrubs are nearly unnoticeable during the day, but add a pretty glow come evening.
Oft for Solar Festoon Lights from Amazon so you can hang them up en masse and not worry about charging.
18. Add interest to a trellis
Combine your garden trellis ideas with your lighting for a two-in-one win. Empty tin cans, painted and will holes punched through become the perfect setting for candles to sit, casting pretty shadows when lit and looking pretty during the day.
Do stick to battery powered tealights, from £7.99, Amazon, to stop any dry wood or foliage from catching a spark.
19. Add a touch of fun by clustering orb lights
We mentioned orb lights being used to create a focal point in a garden border. But you can create even more visual interest and add a fun touch by clustering this style of light.
'Orbs, with their curved organic shape, add a softness to any space which has long been popular among designers,' outlines Marlena Kaminska, designer at ValueLights. 'Inspired by the trend of bringing the indoors out, this style has been particularly popular this year due to its versatility. Lightweight and battery powered, these lights look great in the comfort of your home but are also perfect for bringing a soft glow to your outdoor soirees.'
'To elevate the sophistication of your garden, use multiple orb lights as a pair or three together to create a visually interesting sculptural element,' Marlena concludes. You can also add a luxe look by opting for a soft off-white or glowing hue. Or go bolder and have more fun by switching up the colours.
20. Get flexible with a rechargeable lamp
Make your outdoor lighting ideas flexible so you can illuminate where and when you need to. The latest trend is for rechargeable lamps. 'They are ideal for taking outdoors when the occasion calls,' says Jo from Pooky.
'A little piece of lighting that will bring a warm twinkle to your patio and pergola areas once restrained by lack of power outlets or cord lengths. They can be taken anywhere, particularly helpful as evenings draw in or to your garden to bring the party outside.'
21. Create a simple centrepiece
Fill terracotta pots with sand and push in some dinner candles, to make a simple centrepiece to place on your table outside. Odd numbers of candles feel visually balanced, so use three standard-size candles or try seven or nine skinny tapers.
Use citronella candles to deter pesky mosquitoes and midges from nibbling on your guests when hosting garden parties and and place all around the patio to create a cosy glow while eating.
22. Opt for a mini lamp post
An elegant option for outdoor lighting ideas is to choose a lamp post style design. Ideal for the both the front and back garden, many designs rely on solar power to light them, so won't need to be attached to the mains in order to light up your garden.
Lamp post lights work wonderfully in symmetry so opt for one either side of a patio or one either side of a front gate.
23. Light up your balcony
A balcony may be small, but it's perfectly formed and would still benefit hugely from some garden lighting ideas. Festoon lighting works wonderfully hung along a wall or railings and can be plugged in inside, then looped around your outside space.
Candles in glass lanterns will help to create pockets of soft, flickering light in darker corners and on table tops.
24. Mix and match styles
Don't feel like you have to choose just one style of lighting for your garden, opt for several at different levels to create an ambient glow. A string of mini paper lanterns will look lovely strung along a garden fence above seating, while lanterns of different shapes and sizes work perfectly doted around the floor.
Festoon lights will work well draped over and around trees and branches, or could even by gathered into a pool and sat in a shallow pot.
25. Dress a pergola to set the scene
Use the timber frame of a garden pergola as a canvas to perfectly place a string of outdoor lights.
This sturdy wooden structure is ideal to provide a framework for hanging lights with ease. It's the perfect place as it will commonly be placed above a social area of the garden that benefits most from illumination after dark.
26. Use uplighters to highlight zones
Clever lighting is the key ingredient for bringing wow-factor to your garden at night. Don't be afraid to mix and match styles, using uplighters to enhance planting, walls and hanging pendants in covered areas to create cosiness.
The use of uplighters draws the eye up, creating depth to a garden landscape. This can help to clearly define each zone of your garden layout ideas, from a vegetable plot to a dining spot.
27. Wall mount lighting
Use the exterior walls to put in place permanent lights on a patio area. Specialist lighting enables you to use the space all year round, whatever the weather. Choosing stylish wall lighting also helps to add a decorative touch, making the outdoor space feel like an extension of the indoor at the flick of a switch.
Fixed lighting on the patio is also helpful for security and checking on the backyard, making it well-lit.
28. Line the decking with spotlights
Sink spotlights into a decking area to highlight the edging and cast a warm glow to ensure all levels and steps are clear to make out when walking around the space.
Choose low light emitting bulbs for your deck lighting ideas to ensure they don't shine too bright, so not to shine directly into the eyes.
29. Mix and match lanterns
Decorative metal lanterns are going from strength to strength as the must-have modern room accessory. From living rooms with a Scandi feel to the centrepiece on an industrial-chic dining table, these adaptable place-anywhere mood setters are at home in any scheme. Remember their origins as the earliest way of lighting up Victorian streets and herald them as the perfect indoor/outdoor accessory.
The sheer joy of these contemporary beauties comes from the colour choices and shapes - there is one to suit every garden and every design personality.
30. Stake out a path of solar light
Solar-powered stake lights are one of the most affordable and effortless means of lighting for a garden. You simply peg the stake into the lawn, along a garden path or in flower bed borders to secure the design in place. they are moveable and therefore allow a layout to be changed, or even take them with you should you move.
31. Utilise low level lighting
Ensure your garden, roof terrace or courtyard is a safe space to navigate after dark by placing low level lights. Place lighting a short distance off the ground, directly on the surrounding walls or garden borders to shine a light at ground level.
Avoid making the bulbs too bright, you don't want this to be the main lighting – merely there for creating awareness and ambience.
32. Hang fairy lights for a magical touch
Add some sparkle to your home, inside and out, with a set of unique fairy light designs. Fairy light ideas bring a magical quality to any garden: this simple strip of fairy lights interwoven inside a parasol are the perfect touch for an ambient social spot.
A little light goes a long way at night. Use lighting selectively and remember that darkness can be used to conceal areas.
33. Connect zones with festoon lighting
While the trend for creating garden zones is hugely popular for dedicating area to a garden layout, you can use lighting to unify the spaces from above.
Hang lengths of fashionable festoon lights to create a seamless flow of lighting throughout the different areas.
34. Make pretty DIY paper lanterns