Cool and achievable garden bar ideas to bring the party to your outdoor space
Enjoy the warmer seasons alongside friends and family with your very own alfresco bar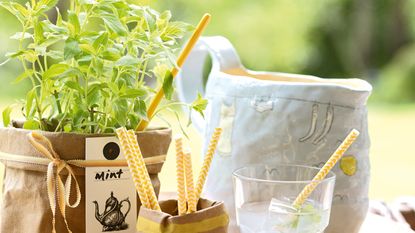 (Image credit: Future PLC)
There's nothing quite like an alfresco drink in the sunshine, which is why garden bar ideas are top of our dream wishlist.
If you're considering setting up a new social space in your garden, take this as your sign to give it a go. 'What better way to entertain guests and make the most of the long summer evenings than with your own home bar?,' says Anne Haimes, Founder, Anne Haimes Interiors.
'Whether you choose to convert an unused garden shed or build your own structure, home bars don't need to be expensive. From repurposing a potting bench to installing a custom wall-mounted bar with a fold-down table, home bars can be created in the smallest of outdoor spaces.'
Garden bar ideas
Whatever form of garden bar ideas you decide to recreate at home, you benefit from the opportunity to gain more than just a new way of using your outdoor area. After all, as well as bringing a new dimension to your garden they futureproof your space for any 'unprecedented' events.
1. DIY with pallets
If you're looking for a new project, then turning to humble pallet ideas to create your very own bespoke bar tables and stools could be just the ticket.
As well as allowing you to design pieces to perfectly fit your space, these type of garden bar ideas are incredibly budget friendly. Once you start asking friends and local businesses, you'll be surprised at just how many people have perfectly good pallets they're happy to get rid of.
2. Lean into boho style
Just because you're outdoors is no reason to abandon your interior style. 'Get creative with decorating your bar and don't be afraid to transfer items from your kitchen or dining room to make it feel more authentic and inviting,' advises Anne Haimes.
A simple paint job will do wonders for adding style to a simple bar structure. If you're opting for an on-trend boho garden look, then touches like hanging planters, plants (both faux and real) and imaginative seating will allow your personality to shine in your garden bar ideas as much as it does inside your house.
3. Take over a corner
You need a lot less space than you think to get your garden bar ideas going. In fact, the location is more important than the size.
'Like with outdoor kitchen ideas, make sure you find a nice spot in your outdoor space which is not going to be fully exposed to sunlight, and if possible find the least windy area,' advises Hege Lundh, Marketing Director, Lundhs Real Stone.
Corners are therefore a great spot and they also tend to work really well for temporary setups that you can move in or out as the seasons dictate.
4. Keep herbs to hand
However big or small, tailored or rustic your garden bar ideas, there are ways of elevating the experience for anyone using the space.
One of the easiest ways to do this is by situating your bar close to your herb garden. This way, as well as having tempting aromas wafting around the space, it's quick and easy to add fresh garnishes to your cocktails and creations.
If you don't have a herb garden then keep a few essentials (mint, basil and rosemary) in pots so you can move them around as needed.
5. Set up a DIY station
Sometimes garden bar ideas are as simple as presenting your delicious offerings in a tempting and stylish manner. A neat DIY station is perfect for an easy job that ends up feeling well considered.
Depending on the event you may have a few bottles of bubbles alongside cordials, berries and flavoured ice cubes or a Bloody Mary station with all the ingredients set out so everyone can make their libation to their taste.
6. Go for sleek and sophisticated
For the more serious mixologists among us it might be worth adding built in garden bar ideas with all of the trappings. If you are investing your hard earned cash and time into this, then make sure you think about its longevity.
'The key to durability outside is something that can withstand UV,' says Oliver Webb, Director, Cullifords. 'Generally a covered or partially covered space is a good idea, especially in the UK. This will protect your materials and general space from the harsher elements. If the area is covered you shouldn't have much of a problem with most materials.'
7. Go for a customisable option
Shed bars are all the rage but if your shed is already stacked full of bikes, the lawn mower and plant pots, fear not. Garden centres are onto it and many offer garden bar ideas that you can easily construct yourself in a weekend.
The only difference from a normal garden shed is these come complete with bi-fold shutters - for that all-important serving space, side access and a padbolt, so your spirits can stay secure when it's closing time.
Most are plain timber so you can customise them with paint, and accessorise with optics, bunting, signage and anything else that suits.
If you're upgrading an existing shed then break out the garden tools and cut in both a serving hatch and create a bar top to welcome guests to perch on bar stools while serving drinks from the other side.
8. Fit an extra deep window ledge
Have a deep ledge fitted onto a window sill that overlooks a terrace or patio and you'll have an instant outdoor bar area, where you can pull up a stool and sip your favourite sundowner. Choose a window leading off your kitchen so you have easy access to the sink and any ingredients you need.
Make sure the window can open fully and be secured, so it doesn't blow shut with an unexpected gust.
9. Choose wall-mounted for small spaces
Even the smallest garden ideas can accommodate a bar when you think vertically. A simple bar drop down bar suspended from the wall is a great way to fashion a compact outdoor bar.
When all you need is a wall to mount a bar on, it's possible to have a garden bar in any outdoor space - even balconies and constricting courtyards. DIY outdoor furniture ideas will open you up to a world of possibilities.
10. Choose a freestanding design
Perfect for rental properties, or just to add flexibility, it's great to consider freestanding garden bar ideas. As they're not built-in, you can move positions in the garden, and take it with you when you move.
These styles are also great to creating a distinct drinks zone alongside dining or garden seating ideas. Just add lanterns and container plants to make it an intimate zone.
11. Coordinate with your seating area
If you prefer a permanent structure for your garden bar, coordinate it with your seating for a stylish outdoor room.
Coating both the bar counter and the lounge area in grey exterior paint creates a visual connection between the two spaces that looks smart and encourages people to flow between them.
12. Fix a floating shelf
Your garden bar ideas can be as elaborate or as easy as you like. If a Tiki theme isn't your style or you don't have room to store a large piece that (realistically) you may only use for a couple of months, simply fit a floating shelf or two next to your pizza oven or barbecue counter area.
This provides an extra surface where you can leave glasses or bottles of spirits for guests to help themselves. Everything else can stay nice and cold in the fridge indoors.
13. Repurpose a potting bench
Fashion a statement garden bar idea on a budget by repurposing a potting bench. Thanks to the plentiful storage the design doubles up perfectly to cater for all your drink station essentials. Instead of sorting, seedlings use the bench to prepare the perfect G&T.
14. Blend it with the foliage
Transform a garden bench into an outdoor bar with a gorgeous green wood stain. This will not only protect it from the elements, but it will also ensure your garden bar blends easily with the trees and foliage that surrounds it.
Pair it with a pergola idea coloured in the same tone for an elegant and inviting drinks station to gather round on balmy evenings.
15. Create a pizza and Prosecco station
Pizza and Prosecco - name a better combo. Ensure you've got everything you need to throw parties all summer long by integrating your bar with a cooking space. The best pizza ovens are having something of a moment, so if you're including one in your outdoor space, think about your bar. Include shelving and drawers alongside the oven to store your cocktail essentials.
Perhaps even include a built-in ice bucket on the worktop. Finally, bar stools are essential to transform this into a space where people will naturally congregate.
16. Dedicate a decking area
These homeowners had decking built at the back and front of the garden so that they could have a separate bar area, saying 'I spotted a picture of a small tiki bar in a magazine, and I just knew I had to have one.'
Keeping the bar at the far end of a garden can help to keep the noise away from the house and neighbours, depending on how big the garden is of course.
17. Upcycle an old chest of drawers
Give that old chest of drawers a new lease of life by upcycling it into an outdoor bar. The drawers are perfect for storing glasses, napkins, straws and all the equipment you might need for entertaining your guests.
Whenever you make your own DIY garden bar make sure you coat the wood in a weatherproof and protective wood stain to ensure it stays in tip-top condition. It's also worth replacing metal handles and any hinges with outdoor-specific versions to avoid any rusting.
18. Entertain at an outdoor cocktail bar
Entertain at home in style by creating a cocktail-bar lounge vibe. 'I would recommend a garden bar to make greater use of outside space,' says Rhiannon Williams, landscape architect and project manager at Landform Consultants. 'A bar takes up a lot less space than a dining area.'
Select key fittings, such as an outdoor wine fridge or sink, then build the bar around these. 'Choose materials that can withstand year-round exposure. I would recommend a well-sealed natural stone top and treated wood cladding,' Rhiannon adds.
19. Invest in a year-round outdoor room
The best way to guarantee a good seat at all major sporting fixtures is to invest in your own garden bar - complete with a wide screen and beer fridge.
Garden room ideas have been a popular addition to gardens in recent years for obvious reasons. So if you no longer need yours for a home office, turn it into your own Sports Bar. Or if it's been on your mind, have one installed.
As well as providing extra space for friends, an outdoor room can be enjoyed all year round, and front-row seats are guaranteed.
20. Truss up a tray
Garden bar ideas don't have to cost a fortune or take lots of work. For budget garden ideas, veer away from this grander solutions. A simple tray is a classic for a reason. Focus on your accessories and you can make this way of serving drinks seem rather special.
Use your prettiest glassware, offer fresh garnishes and add fragrant flowers. For extra kudos, use edible flowers so guests can use them to top their cocktails for an Insta-ready finish.
21. Add stylistic signage
This is just as much about fun as it is function. Add a blackboard - or paint of section of wall in blackboard paint - to your garden bar ideas. This could be used to list the cocktails and drinks you have on offer, the schedule for the evening if you're hosting with garden party ideas, or simply as a way to keep the small ones amused.
Co-ordinate the colourful chalks with brightly coloured accessories, straws and glassware.
22. Wheel the drinks trolley outside
When all your really need is a moveable solution, save the faff and expensive of making an outdoor bar – simply wheel out your stylish indoor bar cart. A drinks trolley with wheels is easy to manoeuvre from indoor to out and if you don't have space for a large bar table, a drinks trolley on wheels is just the thing to deliver cold drinks to thirsty guests.
Of course remove all the glass items before wheeling it anywhere. A good idea is to swap out any glassware in favour of melamine, to ensure drinks outdoors are more resilient to the elements – the last thing you want is a slight gust of wind to topple and smash your favourite gin glass.
23. Keep it simple with an outdoor side table bar
No one wants to keep rushing inside on a hot summer's day to get more ice and a plastic bin filled with cold water just doesn't quite cut it. Luckily, you can buy a stylish multitasker that doubles as a table and ice bucket.
You can get one of these garden furniture designs with a handy removable tray for storing all your bar essentials and another with handles that makes an excellent ice bucket, ready to fill up with cold drinks.
How do I build a small garden bar?
One of the easiest ways to build garden bar ideas into your home is to create a folding down option attached to a wall. Learning how to make your own DIY pallet bar is simpler than you think.
For the simplest version, all you really need is some basic DIY skills, a couple of pallets and a length of chain. Alternatively, use pallets to create a full size bar you can stand at and socialise around.
What should I put in my garden bar?
Whatever type of garden bar ideas you're opting for, there a few things you should always try and incorporate. Melamine or plastic glasses and bowls for smash-proof food and drink vessels. Napkins are always useful, as you'll want to mop up any spills which might happen on your composite decking ideas.
We always like adding outdoor lighting, ether permanent solutions or pretty and atmospheric festoon lights. For comfort, cushions and blankets are great to have on hand for when the sun goes down.
Get the Ideal Home Newsletter
Sign up to our newsletter for style and decor inspiration, house makeovers, project advice and more.
Tamara was Ideal Home's Digital Editor before joining the Woman & Home team in 2022. She has spent the last 15 years working with the style teams at Country Homes & Interiors and Ideal Home, both now at Future PLC. It's with these award wining interiors teams that she's honed her skills and passion for shopping, styling and writing. Tamara is always ahead of the curve when it comes to interiors trends – and is great at seeking out designer dupes on the high street.