Jobs to do in the garden in August – Pruning, planning and planting seasonal vegetables
Here's how to make the most of summer flowers and get ahead for bountiful Autumn harvest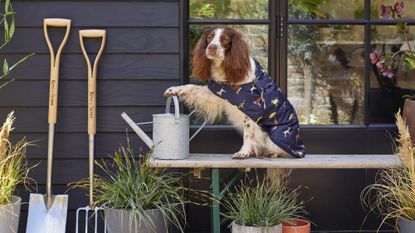 (Image credit: Dobbies)
The garden in August is full of beautiful blooms and fresh greenery. It's no wonder the UK's gardeners are hoping for the opportunity to make the most of the weather to spend time outdoors, but they should also be looking to the seasons ahead and begin preparing their garden ideas for the colder months. There are plenty of jobs to keep you busy in the garden in August – it's the perfect time of year to start cutting back and deadheading flowers to encourage continual healthy growth and planting winter vegetables.
Jobs to do in the garden in August
'From cutting back tired-looking herbs to encourage new growth, to getting prepped for spring 2022, there's plenty to inspire you to get outside' says Dobbie's resident gardening expert, Horticultural Director Marcus Eyles.
'Watering is key this month, particularly container-grown plants and border plantings not yet established. Whether it's a quick 30 minutes on your lunchbreak or a slow Sunday pottering whilst listening to your favourite podcast, regular feeding and dead-heading will keep the garden looking its best until autumn.'
Marcus shares his gardening jobs of the month, helping you to get one step closer to your dream back garden this summer and beyond.
1. Keep the plants hydrated
As the temperatures go up the moisture levels in the soil dries out, so watering plays an even more important role for gardening throughout August. Marcus shares his top tips for watering well, 'Water during the coolest part of the day – this stops water evaporating before the plant can absorb it'
'Direct water straight to the roots of plants – this is where moisture is needed,'Marcus explains. Adding 'Don't sprinkle the leaves of plants – this does little as no water gets to the roots.'
'Water new plantings, giving a thorough soak every few days. This encourages roots to grow down into the soil rather than towards the surface. Add a thick layer of mulch to help retain moisture.' Better than using a hose, use a water butter to preserve water for a more sustainable garden and eco-friendly idea.
2. Look after the lawn in all weather
As the temperatures rise the chances of lawns drying out can increase greatly. Marcus warns, 'In warm weather the lawn can dry out and turn brown; it will recover once rain returns.' So the summer downpours could be a blessing at times, but be sure to keep an eye on the lawn during really hot spells.
'For a formal lawn then regular mowing is best, reducing the cutting height in hot weather to help prevent drying out' advises Marcus. 'Keeping the blades slightly higher helps the grass resist the extra summer wear.'
3. Plan ahead for gardening leave
It is important not to leave your plants neglected while you are on holiday. 'If you're going away, move containers into the shade to help reduce drying out, or for longer holiday breaks consider installing an automatic irrigation system' suggests Marcus.
Another great way to make sure your plants are being watered without asking the neighbours to cover is to invest in a growbag waterer to time when you garden is watered. Once set up, you can control the amount and frequency of water needed for your plants, leaving them perfectly hydrated without becoming waterlogged.
Other great way to ensure your potted plant don't dry out is to fill water trays so the roots can feed as and when they need. Should it rain, they also help to collect and reuse the water. 'Save excess water by standing containers in saucers and putting buckets under hanging baskets' suggests Marcus.
4. Tend to roses to encourage a late summer bloom
The much-loved rose, a popular cottage garden idea, requires a little maintenance this month to ensure it blooms again before the season is out. 'Many Roses will put on another display of fresh blooms, particularly many of the Dobbies varieties which have been selected for their fragrance and long season of flower colour' says Marcus. 'Dead head spent blooms and boost with rose fertiliser to encourage healthy growth and a late summer display.'
'Tie in whippy growths on rambling Roses to bear next year's trusses of flower, positioning each stem as near to horizontal as possible. Training new growth in this way helps to encourage a prolific flower display along their length.'
5. Safeguard your tomato plants
'Continue to water Tomato plants consistently and regularly, adding a high potash tomato feed for healthy growth and fruiting' advises Marcus. Remove the lower level leaves from your tomato plant to help reduce its risk of disease and keep it thriving for longer.
When a tomato plant's growth is dense or when the leaves lie too close to the ground this can mean that the leaves are permanently in the shade. By removing the lower level leaves from the plant the remaining leaves have more space and access to sunlight so are more likely to stay drier and free from soil containing pathogens, thus they are more protected from disease.
6. Deadheading beds and borders
Deadheading ensures that plants maintain a healthy continual bloom and August is the ideal month to trim back potted petunias and dahlias. Plants such as dahlias have tough and stringy stems so opt for secateurs, scissors or knives when removing the flower heads. 'Dead head regularly to extend the flowering season well into autumn, particularly Dahlias, Roses and cottage garden perennials' adds Marcus.
'Prune spring and early summer flowering shrubs, such as Deutzia, Weigela and Philadelphus' he advises. 'Remove spent branches with secateurs or loppers to allow new growth to mature that will carry next year's display'. Use celebrity gardener David Domoney's gardening tip using a 1p coin to check if the branches are alive or not. 'Give Azaleas, Rhododendrons and Camellias a good drink of water and ericaceous feed now to ensure they set plenty of buds for spring' adds Marcus.
7. Plant new bulbs
Fill in the gaps with fresh new planting. 'As gaps appear in beds and borders, early autumn is the ideal time to plant bulbs, including Alliums, Crocus, Daffodils, Narcissi and Snowdrops' suggest Marcus.
8. Prune your perennial herbs
Whether you're looking to flavour your meat or garnish your cocktails, herbs are the plant of the moment and a fantastic addition to gardens of all sizes. 'Cut back herbs, such as Chives, Mint and Parsley, that are looking tired. This will encourage fresh new growth for a continued supply of leaves for summer dining' Marcus explains.

Oregano and thyme are perennial herbs which mean they grow back each year without needing to be replanted. To promote their growth each year, trim them in August before the winter months hit to ensure they withstand the frost.
9. Nurture container plants
You should still be liquid-feeding any container plants, and watering, particularly if you are going on holiday, but once they finish flowering and begin to enter their dormant autumn-winter state, stop. You could also give your lawn, if it is a mono-culture, a liquid feed; if you like to let it grow long and more organically, so that wild flowers develop, then a light cut is all you need to do.
'Regularly water container plants, daily in very warm weather, adding a liquid fertiliser, like tomato feed, every other week to encourage strong, healthy, growth and continual flowering through to the autumn. Remove spent flowers to encourage more to grow' Marcus advises.
10. Harvest and care for fruit trees
Cherries, plums, peaches, nectarines and apricots should all be ripe now and ready to harvest. Prune any fruit trees that are trained, and prop up any branches that have borne a heavy crop of fruit so that they can regain their strength. You should also cut raspberry canes that have fruited back to the ground, and prune blackcurrants back by one third.
11. Plan your winter vegetable patch
Use this month to plant your hardy vegetables such as broccoli, cabbage and Brussel sprouts, so they are ready to be harvested throughout the winter months. Make sure you plant in an open site with free-draining soil and cultivate before planting to ensure these vegetables have the best chance of growing.
'Make sowings of beetroot, radishes, spinach, lettuce and salad crops, all fast growing for an extended season of fresh vegetables' Marcs advises. 'Keep picking Courgettes when they are young and tender to encourage more to follow. Continue to water squash and pumpkins well as they ripen under the summer sun. '
12. Pay attention to hedging
Hedges can be given a final trim now before they stop growing. By the end of this month, garden birds should have left their breeding nests so you can start to prune your yew hedging and clip any topiary. Also, once they have flowered, you can prune late summer-flowering shrubs and wisteria.
13. Keep bird baths topped up
Bird baths will quickly evaporate in extreme heat or become full of algae growth which can stagnate the water. Remember to clean water vessels out regularly. Top them up with fresh, cold water to help our birds during the midday heat. Such simple wildlife garden ideas can help to turn any outdoor space into a haven for wildlife.
'Provide garden birds with access to fresh clean water by installing a water feeding station, which will also be used by other smaller wildlife, helping them to stay hydrated in the heat' says Marcus. 'Birds require water to drink but also to bathe in to help keep them cool, so a bird bath is another great addition to your outdoor area.' Adding, ' There are a number of bird table designs that feature roofs, meaning some extra shade from sunny rays.'
14. Collect valuable rain water
Water plants thoroughly when needed instead of every day. Thorough watering supports plants for up 14 days, while merely wetting the surface wastes water, encourages weeds and can lead to surface rooting. All of which make the plants more vulnerable. Make the most of summer showers and keep your plants looking lush by installing a water butt in your garden.
15. Lop back fragrant lavender
As with many blooms, it's important to cut back lavender after its flowering period to promote new growth. Make sure you do so lightly to help maintain the plant's well-rounded shape. You should be pruning around one third of the plant using a sharp, clean set of pruning shears. Put cuttings in moist, well-drained potting compost (one part grit to one part compost) and place in a cold frame.
16. Harvest to make preserves
Start to harvest and enjoy the fruits of your labour, quite literally. Gooseberries, onions, tomatoes, plums, damsons and greengages: these are just some of the crops that not only taste wonderful when eaten fresh but which can be used to make glorious pickles, jams and jellies that can be enjoyed over the coming months.
Take your time to potter around the garden, even think about sitting down and just enjoying being in it. Make the most of it while the sunshine is still around.
Get the Ideal Home Newsletter
Sign up to our newsletter for style and decor inspiration, house makeovers, project advice and more.
Tamara was Ideal Home's Digital Editor before joining the Woman & Home team in 2022. She has spent the last 15 years working with the style teams at Country Homes & Interiors and Ideal Home, both now at Future PLC. It's with these award wining interiors teams that she's honed her skills and passion for shopping, styling and writing. Tamara is always ahead of the curve when it comes to interiors trends – and is great at seeking out designer dupes on the high street.