Composite vs wood decking – Which is the best material for your garden decking?
If you're struggling to decide between the cost and look of composite vs wood decking, we've weighed up all the pros and cos for you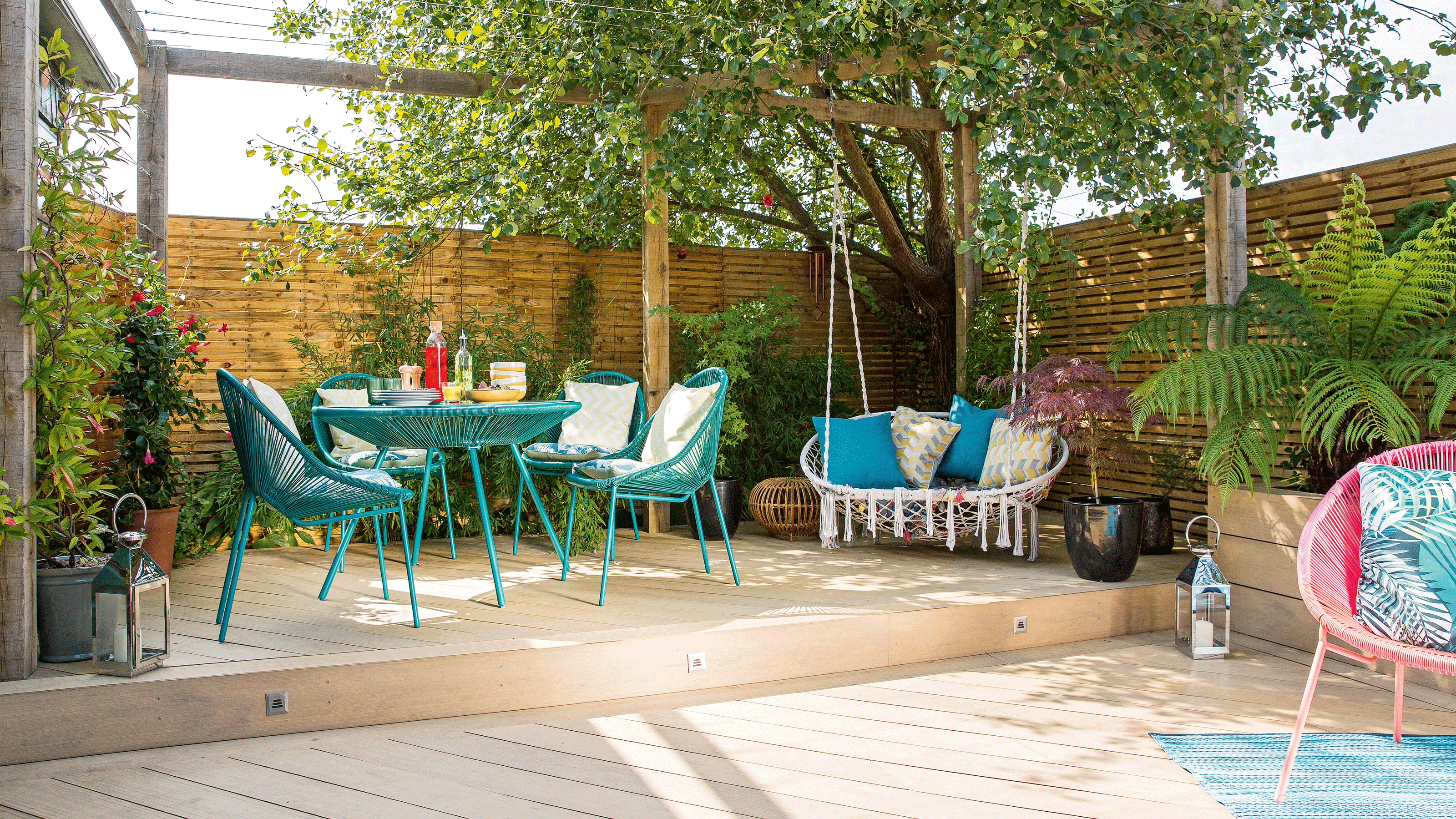 (Image credit: Future PLC )
Adding a deck to your garden is one of the most popular home improvements in the UK, because it immediately creates extra living space outdoors. But the big question is, what's best for decking, wood or composite?
When it comes to composite vs wood decking, both materials offer benefits and drawbacks. If you're looking for garden decking ideas and you're unsure whether to choose composite or wood, think about these key points first: your budget, how much time and effort you want to spend on maintenance, the look you are trying to create and how long you would like your new deck to last.
As a rule, composite decking costs more than wood decking, but hardwood decking (rather than cheaper softwood) can be around the same price. Composite decking is easier to maintain than wood decking and will last longer. But many professional landscapers prefer the natural look you only get with wood decking.
If you're planning to lay your own decking this weekend or call in the professional but are still stuck, read on to explore all your options in the composite vs wood decking debate.
Wood Decking vs Composite - what to consider first
1. Wood decking is cheaper
The cheapest softwood timber decking will cost a fraction of the price of composite decking. So if you're looking for a quick fix, wood decking would be your best bet, but always check it's from a sustainable source.
2. Composite decking is eco-friendly
If you choose composite decking, you'll be making a statement about your eco-credentials. "Composite decking is usually eco-friendly, and made of reclaimed plastic, reducing the need for new resources or cutting down trees," says Nathan Gamba. "However, you should check how the decking was manufactured as not all [companies] are as environmentally friendly as you may be led to believe."
Remember, you will have waste from composite boards and this can't be used elsewhere or burnt in a firepit as easily as timber decking off-cuts. "Think carefully about how you will recycle off-cuts or extra boards," says Nathan.
3. Composite vs wood – what's popular locally?
This might seem an odd consideration, but if you're planning to move house in the near future, think what buyers would prefer. Property experts say a well-planned deck can add up to 10 per cent on the value of a UK home, but choose carefully. If you're in a traditional village for instance, a natural wood deck might be the popular choice. On a new-build development, with modern low-maintenance gardens, composite decking is likely to be favourite.
Wood Decking: The Pros
1. It's cheaper
Wood decking costs less than composite, so if you decide to re-landscape your garden you won't feel as guilty ripping it up and starting again. It's easier to lay too, says Leigh Barnes, retail sales manager at Jacksons Fencing, so will cost less in time and money to fit: 'Cuts can be made easily and smoothed to make perfect edges, which means you are able to fit the deck to the garden and be more flexible with the installation, and any hurdles it may bring.'
2. Looks natural
'Wood decking tends to offer a more natural look as it offers the warmth which composite decking potentially lacks,' says Nick Whiley, project director at decking company Trekker Global 'Wood decking can also be sanded and stained in a variety of colours and finishes.'
3. Can be easily repaired
If damage occurs to wood decking, it's easily to repair a patch, or replace a board. Scratches on composite decking, in comparison, are difficult to deal with as you can't sand down a composite deck to deal with superficial damage.
4. Keeps cool
Wood decking feels comfortable even on the hottest days, whilst composite decking can become too warm to walk on comfortably, for humans and pets. So if your outdoor space is south facing, and you experience intense summer temperatures, wood decking might be the sensible choice.
Wood decking - The Cons
1. Long-term maintenance
This is the main drawback with wood decking. Although it's a cheaper initial outlay, the cost of preservative treatments can add up. Not to mention the time and ability it requires to keep wood decking looking good, If you're not a natural DIYer and want to spent time enjoying your outdoor space rather than maintaining it, perhaps wood decking isn't the first choice for you.
2. Will rot if damp
You'll be fighting a losing battle if you lay timber decking under large trees or in damp areas of the garden, because moss will take hold. Moss makes wood decking slippery and dangerous, and will also contribute to rot.
3. Not that cheap
Whilst softwood decking is the best low-cost choice if you're on a tight budget, high-quality hardwood decking from a sustainable source can cost around the same as composite decking.
4. Shorter lifespan
Even with regular care, wood decking will only, on average last for between 10 and 15 years, according to experts. Composite decking will last at least a decade longer, manufacturers say.
Composite Decking: The Pros
1. Low-maintenance
Composite decking doesn't need the regular cleaning and oiling that timber does, so it can be enjoyed without the added costs of up-keep, says Nathan Gamba, director, Protea Gardens.
2. Will come with a guarantee
Reputable composite decking companies will typically offer a guarantee against warping and fading, of between 10 and 25 years, so you'll have peace of mind if anything goes wrong.
3. Strong design statement
If you want to create a strong design statement in your garden, composite decking is a good choice, because it's possible to create neat edges, sweeping curves and contrasting colour features, and bring in matching complementary touches such as deck railing ideas.
4. Safe and splinter-free
Composite decking has a non-slip surface, so will be safer to walk on in wet weather. Plus, it's splinter-free, so a safe choice if you have children.
Composite Decking - The Cons
1. Is more expensive
The initial upfront cost for composite decking can be a lot higher than timber. However, because it's relatively low maintenance, you might feel that the initial outlay is offset by the long-term savings.
2. Less-natural look
This depends on personal taste and the style of your garden, but some people, including Gareth Gazey, owner of Gazey Architects and expert from the Homebuilding & Renovating Show says composite decking looks too 'fake' and prefer a good-quality, well-maintained hardwood deck instead.
3. Lack of flexibility
Timber decking can be stained in different shades, so if you get bored or re-think your garden design, it's easy to update. However, once you've chosen your composite colour, that's it for life.
4. Heavier than wood
Composite boards weigh significantly more than wood. This means your deck's sub-frame (base) will need extra joists placed close together to support it, so this will impact on installation costs. It's also more difficult to handle composite boards because they are heavier.
Which is more durable? Composite vs wood
Composite is more durable than wood in the composite vs wood face-off, because its surface is more hard-wearing. Most composite decks should last for around 20 years without significant deterioration.
However, whether you opt for composite or wood, you should take care with decking around BBQs and other sources of outdoor heat such as firepits and chimineas.
Whilst it's unlikely that composite decking would melt, or timber decking would catch fire, be careful of flying sparks as they can mark the surface of both composite and wood decking.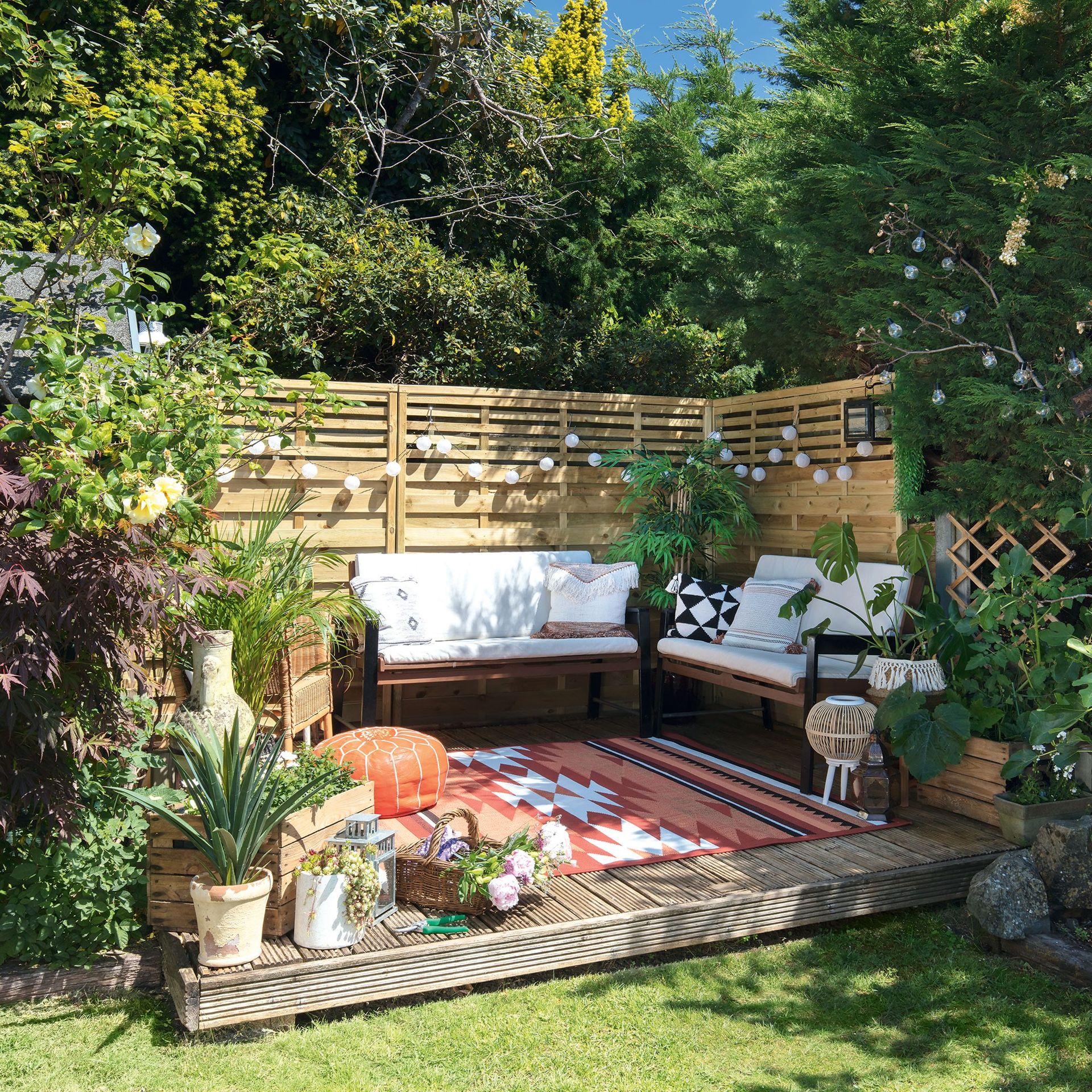 Which is easier to maintain? Composite vs Wood
If you're wondering how to clean decking composite wins the 'easier to maintain' prize hands down. All you have to do is scrub with a soft bristle sweeping brush (or a pressure washer on a gentle setting) and warm soapy water several times a year.
Wood decking also needs scrubbing too, but also demands regular maintenance. It's advisable to apply a fresh coast of preservative-based stain or decking oil at least every couple of years to ensure your wood deck is protected from rot.
Is composite decking better than wood decking?
Yes, says Allan Jeffery, managing director at Ultra Decking, a composite decking company: 'Composite decking is a low-maintenance and eco-friendly alternative to timber. And it is resistant to rot, decay, and insect damage, and it does not require sanding, sealing, or staining.'
No, says Gareth Gazey: 'I would be surprised if there was a significant difference between the durability of a good quality hardwood that's had a good-quality preservative applied every two years, versus the durability of a composite decking product.'
Is composite decking really worth it?
Composite decking can be almost four times more expensive than wood decking. So you have to think long-term about whether you consider the investment worthwhile. If you're planning to move house within the next couple of years, wood decking is probably the one to go for, because it will take you longer to recoup your outlay on fitting composite decking.
Landscaper Simon Thomas, owner of Simon Thomas Deck and Design, and a Trex Pro, says the Trex Enhance naturals range starts from £86 per sqm including fixings, whereas the cheapest pine wood decking at B&Q is currently £26.31 per sqm. However, you should also factor in long-term maintenance costs.
Is there something better than composite decking?
Aluminium decking is gaining popularity. It is already used in the high-rise construction industry because it's non-combustible, so meets strict new fire regulations. Aidan Bell, co-founder of landscaping suppliers EnviroBuild, says aluminium decking looks modern and can be installed flush alongside built-in drainage, providing a sleek and continuous finish.
Get the Ideal Home Newsletter
Sign up to our newsletter for style and decor inspiration, house makeovers, project advice and more.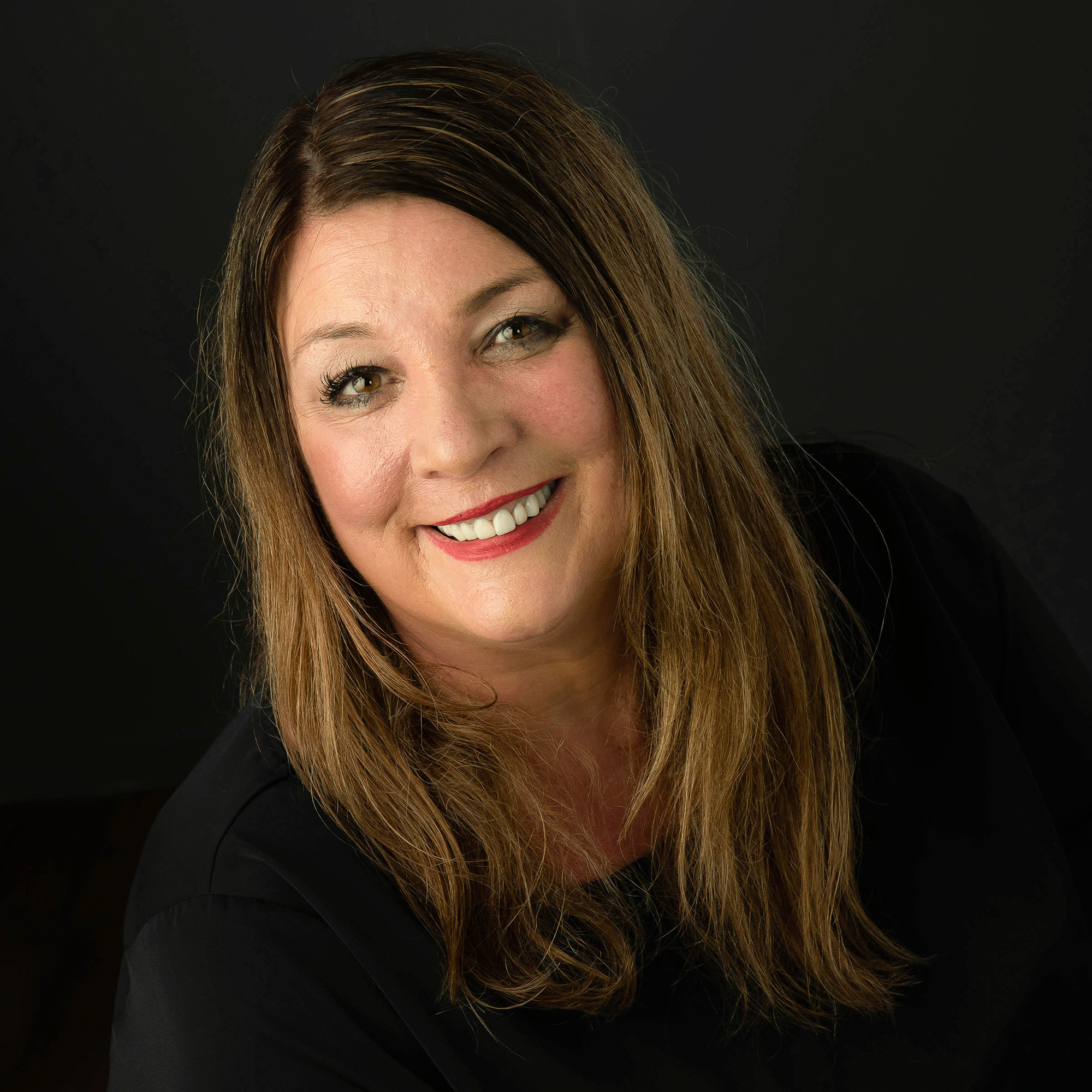 Jayne Dowle is an award-winning freelance gardening, homes and property writer who writes about everything from swimming ponds to skyscraper apartments, for publications including Sunday Times Home, Times Bricks & Mortar, Grand Designs, House Beautiful and The Spectator. Awarded the Garden Journalist of the Year accolade at the Property Press Awards in 2021, she has a degree in English Language and Literature from the University of Oxford and a lifelong love of homes, interiors and gardens.