How does a stove fan work and should I get one? Everything you need to know
Find out how a stove fan works and if they really can maximise the heat given off by your wood burning stove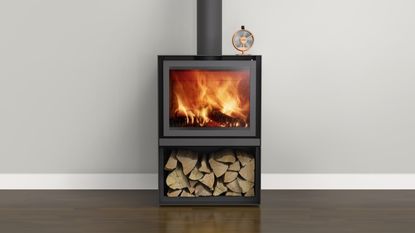 (Image credit: Skaats)
Ideal Home Newsletter
The Home Of Great Ideas For More Than 100 Years
Thank you for signing up to . You will receive a verification email shortly.
There was a problem. Please refresh the page and try again.
In addition to providing heat, a wood burning stove can add character, style and a focal point in a room. However, while they work well at warming up the area directly in front or around them, they tend to be less effective at projecting heat further into the room. This can cause areas in the space that they are installed to be either too cold or too hot. This is where a stove fan comes in - but how does a stove fan work, and are they worth the investment?
A stove fan prevent a wood burning stove from creating hot and cold spots in the room. The most common type – a freestanding fan – sits on top of the stove and works by circulating the warm air, distributing it evenly around the space.
What's great about a stove fan is that not only will it improve the reach of the room, but also your stove's efficiency, too. 'A stove fan is used to encourage the flow of warm air that would normally be sat stagnate around the wood burner. Moving this warmer air from the stove reduces the need to burn more fuel to generate more heat,' explains Matt Ellam, director at Skaats (opens in new tab).
How does a stove fan work and should I get one?
Read on to find out how a stove fan works, how much they cost and what to consider before you buy.
What is a stove fan?
Heat generated by the burning process in a log burner heats up the stove and the air around it. 'To get any real benefit from the heat generated by your stove you would need to be sitting in close proximity,' says Matt Ellam. 'This is because the heat generated lingers around the wood burner and can't be distributed into a wider area without having to add more fuel to the stove.'
A freestanding fan sits on top of the stove body and uses the transference of heat between the surface of the stove body and the base of the fan to power the motor and blades. It's designed to circulate the warm air from your stove evenly around the room it is installed in, directing warm air away from the fireplace and flue.
'The idea is that it helps improve the circulation of the radiated heat from a stove. In effect it turns radiated heat into convected heat,' says Marc Barlow, technical director at Bon Fire (opens in new tab).
How does a stove fan work?
'A stove fan is a self-powered energy-saving appliance that uses the heat generated by the wood burning stove to power a small electric motor and fan blade,' explains Matt Ellam.
Heat travels up from the base of the fan to heat a Peltier device installed underneath the fan's blades. When the device is heated, it causes thermoelectric energy which works to turn the blades and circulate the warm air around the room.
How do you install a stove fan?
Generally speaking, a freestanding stove fan is easy to get up and running. 'Freestanding fans generally need to be placed towards the back of the stove to the side of the flume. It is important to ensure fans have clearance from walls and the flume so that air can flow more freely,' says Matt Ellam. 'Make sure it's sat on a flat surface.'
Always follow the manufacturers' instructions specific to the brand and model that you purchase.
What types of stove fans are there?
Free-standing This is the most common type of stove fan, and sits on the top of the stove.
Flume-mounted This is ideal for stoves which don't lend themselves to having a fan sitting on top of them. They can be attached to the flue directly and work in the same way as a freestanding fan. Valiant manufactures this variety and it is made with magnetic wings that can attach directly to all flue pipes which have magnetic attraction.
What are the advantages of stove fans?
Heat generated from your woodburner is distributed more evenly and more quickly around the room that it is installed in when used in conjunction with a stove fan.
Because the heat is distributed more evenly, you'll need less fuel to keep your stove running. This means it's cheaper to run and you reduce the amount of CO2 into the surrounding environment. For example, the Eviotor 4-blade auto sensing heat powered stove fan is proven to save 28% on fuel costs when used correctly.
What are the disadvantages of stove fans?
They only work on stoves that reach a certain minimum temperature – so they won't work on every stove.
If it gets too hot, they can overheat which can cause damage to the motor, as well as be dangerous to touch. To prevent this from happening, get yourself a stove thermometer so you can keep a check on the stove's temperature and know when it is getting too hot for your fan. The maximum temperature for a stove fan would be approximately 350 degrees C.
Some brands have exposed metal blades which, when touched at full speed, can be extremely dangerous. Look out for brands, such as Skaats, whose eco fan has a unique and revolutionary design. 'Our blades are designed to be internal and are made from a high temperature resistant silicone. If accidentally touched no harm will be caused as they are soft,' says Matt Ellam.
Stove fans come in all shapes and size, as do the surface area of different wood burners. 'Always check the available space on the wood burner, and then check the product dimensions before you buy to ensure it fits,' adds Matt Ellam.
How much does a stove fan cost and is it worth it?
What's great about stove fans is that they are powered completely by the heat generated from the wood burner or multi-fuel stove. They don't require any electricity to run, so you don't need to spend money on batteries or worry about a bigger electricity bill. The only outlay is the initial cost of the fan, which can vary between around £25 and £100. Much cheaper than the initial cost of installing a wood burning stove (opens in new tab).
Is a stove fan worth it?
If you want to increase the efficiency of your stove as well as have more comfortable heat throughout your home, avoiding hot and cold spots, then a stove fan is a must. It's a fantastic innovation and a great wood burning idea (opens in new tab) that can really improve the comfort of your home.
It's definitely an investment worth considering.
Sophie Vening is a freelance journalist and editor with more than 16 years' experience writing about homes and properties. She's worked for some of the UK's leading interiors, self-build and property titles including, Grand Designs, Ideal Home, House Beautiful, Build It, The Metro Homes & Property and The Evening Standard Homes & Property.
She enjoys writing about complex issues in an easy-to-understand way.