Look inside this oak-framed family home in Buckinghamshire
This new-build, oak-framed house is set in beautiful gardens, complete with a stable block, makes the most of its stunning surroundings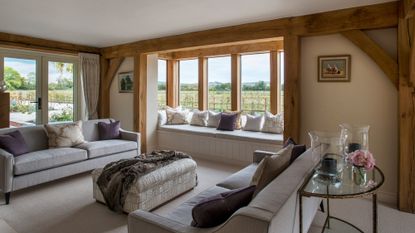 (Image credit: Future PLC/Poly Eltes)
Ideal Home Newsletter
The Home Of Great Ideas For More Than 100 Years
Thank you for signing up to . You will receive a verification email shortly.
There was a problem. Please refresh the page and try again.
The owner of this oak-framed new-build wanted a more rural life and to be in a quiet area for herself and her husband, three children, two dogs as well as their three horses. Their search for five acres of land that was within the catchment area of good schools took them to Buckinghamshire, where they found a house that ticked many of the boxes on their wish list. 'The house itself was not what we wanted – it was topsy turvy and only had three bedrooms,' says the owner. 'However, it was in a fantastic location, and it had land and a stable block. The house already had consent to extend and so we knew the planning department were not against something bigger. Our idea was to buy, knock down and build something that was right for us.' The family lived in the house for four years before putting their vision into practice.
Exterior
The owner, who are Property Developers, looked at plans for a new-build with an architect. Once planning permission was in place, they knew they were able to go ahead. As they had always wanted an oak-framed house, the couple got in touch with specialist building company Oakwright. 'At their suggestion we went for more brickwork than we were going to, the architect's story is that the two-storey part is the farmhouse and the kitchen is the subservient barn.' The farmhouse is built from handmade bricks from a local company, while the kitchen is clad in oak.
The original house was positioned quite close to the road so they were keen to build theirs further back. They also changed the position of the house so that it made the mostof the view of the Chiltern Hills. 'It was very much about the view when we were designing the house. Large windows were installed with as few panes as possible because we wanted to see the view, and we opted for big sliding windows rather than bifolds in the kitchen to keep things open.'
Kitchen
For the owner, the kitchen was the priority. 'When we got planning permission, the first thing I did was put a deposit on a Cotteswood kitchen. I am so pleased with the result – the design works so well. It's an easy kitchen to live in and I also have a walk-in larder that's oak-framed, too.' Pale paint colours enhance the warm tones of the oak frame. Cabinetry, island and stools,
Get the look
Buy now: cabinetry island and stools, Price upon request, Cotteswood (opens in new tab)
Buy now: Orla glass Pendant lights, from £156, Jim Lawrence (opens in new tab)
Buy now: walls, painted in Ammonite, £43.50 for 2.5L, Farrow & Ball (opens in new tab)
Kitchen diner
'This informal, open-plan room has become the heart of the home.'
Living room
When it came to the decor they turned to Henley-based interior designer Anne Haimes. 'Our brief was to create an informal house. I wanted relaxed family living – not too formal, but also quite grown up with calming colours. Anne came up with all the ideas for the colour palettes, paints and furniture.' A woodburner helps to create a stylish focal point, and an earthy palette creates a cosy feel.
Get the look
Buy now: sofa, cushions, occasional table, blind fabric, price upon request, Anne Haimes (opens in new tab)
Bedroom
Main bedroom A sumptuous feel is created with opulent fabrics and a faux-fur throw.
Get the look
Buy now: Cavendish Grey Cotton Bed, from £1545, The White Company (opens in new tab)
Buy now: Foster pendant light, £107.50, Jim Lawrence (opens in new tab)
Guest bedroom
Pale and mossy greens produce a fresh scheme.
Get the look:
Buy now: Savoy bedlinen collection, from £20, The White Company (opens in new tab)
Children's room
Bathroom
A sleek bath and glossy tiles lend a modern edge.
The owners are thrilled with their house now that everything is finished. 'I love the amazing views from our bedroom window, and 'I'd always wanted a window seat and now we've got one in the living room. The oak is the most beautiful feature and it gives the house character and warmth. We'll never tire of it.'
Image credits: Poly Eltes