Step inside this Victorian terraced London home with four floors of style
Remodelling this tall east London home has turned it from for typical to tremendous on every level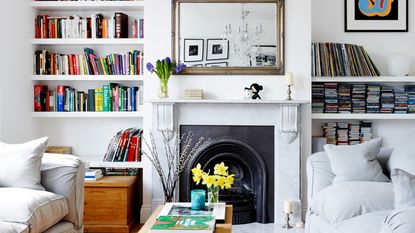 (Image credit: Rachael Smith/25 Beautiful Homes)
Ideal Home Newsletter
The Home Of Great Ideas For More Than 100 Years
Thank you for signing up to . You will receive a verification email shortly.
There was a problem. Please refresh the page and try again.
The long-term owner of this terraced house in London decided to remodel all four floors in order to future proof the space. A chance encounter with an owner of a build and design company gave her the confidence and manpower to transform the house into not one but two properties by creating a self-contained flat within. 'I was attracted to the idea of future-proofing' explains the owner 'so between us, we cooke up the idea of creating a self-contained flat -suitable for ageing parents or for my nine-year old daughter when she's older'.
Exterior
The remodelled apartment now compromises a first-floor sitting room, kitchen-diner and guest bedroom, while the top storey houses two bedrooms (one with en-suite) as well as a generous bathroom.
Living room
Keen to maintain a simpler, airier feel the owner decorated throughout in in a combination of greys and off-whites, punctuated by pops of of colour provided by her collection of art. 'Because the sight lines have altered quite drastically in the new layout, with each space flowing in the next, I wanted to introduce a sense of cohesion, says the owner. 'So a clean, soothing palette seemed like the right approach'.
Study Area
A sunny corner in the sitting room provides the perfect spot for domestic admin. Rich coloured furniture warms the space up while a dramatic canvas of colour jumps out of the stark wall. Above a decorative glass chandelier adds a feminine juxtaposition.
Kitchen
The large kitchen-diner is installed with calming grey shaker cabinetry which will stand the test of time. Upholstered dining chairs continue the rooms refined feel.
Hallway
Thanks to a glazed wall in the children's bedroom the stairwell, the hallway is flooded with light. 'It soon became clear that installing glass walls instead of timber panelling in the loft would allow light to flood in' says the owner.
Bedroom
'The windows in the bedroom are such a lovely architectural feature that I decided to leave them' explains the owner. Here, the light, bright palette continues with white walls and grey tones. The only hint of colour are some vibrant daffodils on the night stand.
Children's bedroom
The childrens' bedroom with skylight windows has been designed with the future in mind as this space can easily be adapted later for a teenager. For now it is made fun with bright colours and strong shapes.
Bathroom
the main bathroom has been designed around an eye-catching cast-iron bath with a burnished finish. The owner was so taken with its majestic proportions that she decided to alter the roof line of the new space to accommodate it. 'Our old bathroom was very tired, so it was important to create a space that felt like a sanctuary'. Says the owner.
Want to see more house tours? Step inside this cheerful seaside apartment, full of bright shades and coastal details
Although a long-time in the coming the renovation has paid dividends. 'Let's say it was a slow burner' explains the owner 'but committing to it was a great decision. We've opened up a brand-new chapter for this house.'.
Rachel Homer has been in the interiors publishing industry for over 15 years. Starting as a Style Assistant on Inspirations Magazine, she has since worked for some of the UK's leading interiors magazines and websites. After starting a family, she moved from being a content editor at Idealhome.co.uk to be a digital freelancer and hasn't looked back.