No time for cleaning? 10 kitchen hacks you need to know...
From genius appliances to expert tips, try these game-changers to keep your kitchen super clean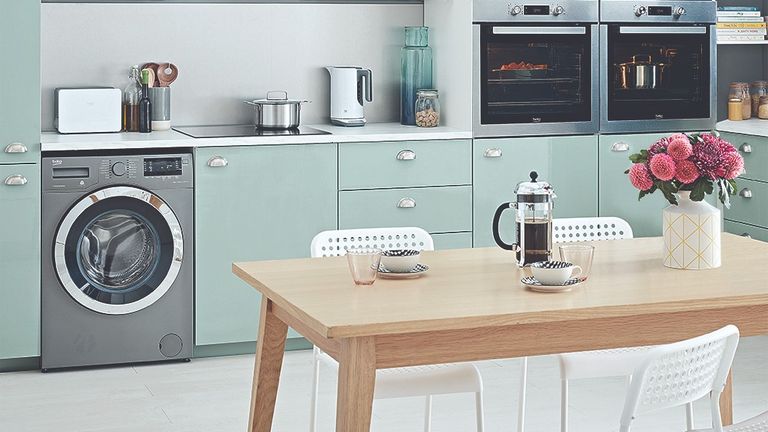 (Image credit: TBC)
Promotional Feature
We all have busy lives, so clever ways to save time and energy are always welcome. We've tracked down some ingenious and stylish kitchen appliances with clever easy-clean features, to make your everyday easier.
1. An oven that cleans itself!
Cleaning the oven has to be one of the worst jobs around the house.. that was, until we discovered the oven that cleans itself! Yes, really — Beko has launched a range of pyrolytic ovens (opens in new tab) that clean themselves at the touch of a button. They heat up to an intense 480°, turning grease, stains and burnt-on food to dust! All you have to do is wipe it clean with a damp cloth. It's a genius time-saving solution that offers hassle-free cleaning.
2. Give your washing machine a clean...
Every now and again it's a good idea to clean your washing machine, keeping it in great condition and smelling fresh. And, it's not actually as difficult and time-consuming as you might think. Simply remove the detergent drawer, soak in hot water and remove any residue. Need to clean the drum? Add a cup of white vinegar to it, set your machine to a hot cycle, then once finished open the door and let it dry. Finally, wipe around the rubber seal of the machine with a damp cloth. See — we said it was simple.
3. Deep clean your chopping board
Need to freshen up your wooden chopping board? Simply halve a lemon, pour a generous amount of salt on the board, and use the lemon as if it were a sponge to scrub off any old residue. Leave for ten minutes then rinse with water and leave to dry. Simple.
4. Invest in a easy-wipe induction hob
Sauce splashes can be a nightmare to get off a hob. In the past, cleaning involved lifting off the heavy metal pan supports and cleaning around the gas burners and temperature controls. But, invest in an induction hob and cleaning is made so much easier. Using electromagnetic waves to emit heat just to the pan surface, spillages won't stick to the hob surface and all you'll need is a damp cloth to wipe any stains away.
5. Put your hood up
Cooker hoods are a key appliance for your kitchen, and considerably cut down the amount of airborne grease, smoke and condensation. This stylish T-Shaped Hood (opens in new tab) has two grease filters, meaning your kitchen units and worktops will stay cleaner for longer.
6. Let your freezer do the hard work
We all dread the day the fridge or freezer starts frosting up, and it's only a matter of time before you'll need to go through the inconvenience of letting it defrost – while all your freezer food starts to spoil. Fortunately, Beko has a range of frost-free models so you'll never have to defrost the freezer again. The adjustable glass shelves are also easy to clean, while the antibacterial door-seal stops bacteria from entering the fridge.
7. Use lemons for limescale
To get rid of limescale in your kettle, simply fill it with water and lots of lemon juice. Let it soak for an hour, boil the kettle, empty and rinse.
8. Don't forget the bins
Bins can harbour odours long after you've changed the bag. To avoid this, wash and dry the bin, and sprinkle a few spoonfuls of baking powder in the bottom. It really works.
9. Leave the dishes... to the dishwasher
Cooking can be therapeutic, but it's not so much fun facing all those dirty dishes and pans after the meal. This is where dishwashers come into their own, but in a small kitchen you may not think there's room to fit one. Beko has tackled this problem and introduced slick slimline models (opens in new tab). The cutlery basket is removable and the plate supports and cup racks are foldable, so you can change the layout to suit your needs. And what's more, all of Beko's built-in dishwashers can tackle a full load in just 30 minutes.
Check out time-saving appliances at Beko.co.uk (opens in new tab). All Beko built-in appliances come with a two-year warranty as standard.
95% of customers recommend Beko appliances*
*according to Reevoo