Upstand vs splashback – what you need to know before designing your kitchen
We asked the experts for the pros and cons of getting an upstand vs splashback, so you can decide the best option for you and your kitchen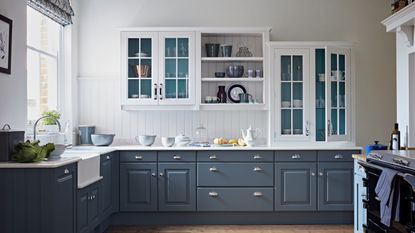 (Image credit: John Lewis of Hungerford)
Will you get the mini-saver version or supersize it? No, we're not talking takeout; we're debating getting an upstand vs splashback in your kitchen. While a large splashback that covers the wall behind the worksurface is a staple of kitchen tile ideas, more subtle upstands are making their presence felt.
This narrow strip – usually made from the same material as the worksurface – stands at the back of the counter against the wall. It doesn't give the same splatter protection as a splashback, but it does create a visual link between the floor cabinets and the upper half of the kitchen, which is great if you're looking for a more pared-back look.
We asked kitchen design experts to weigh in on the upstand vs splashback debate, and to discuss when it's best to go low with an upstand or to opt for the full-on coverage of a splashback. Spoiler alert: if you're a messy cook, an upstand is a hard no-go. If a mix of style and practicality is more your flavour, then read on.
What is an upstand?
'An upstand is a small portion of worktop material that continues up the wall, typically either 50mm or 100mm high,' says Melissa Klink, Creative Director of kitchen brand, Harvey Jones. An upstand will generally extend along the entire length of the worksurface and its main function is cosmetic – it creates a neat finish where the counter meets the wall.
Some kitchen designers will opt for a slightly deeper upstand – Claire Podesta, founder of kitchen furniture maker, Huckleberry, suggests 80mm to 150mm for an upstand. For her, position is important. 'An upstand runs around the rear of the worktop in a matching material,' she says. 'A splashback tends to refer to the area of wall directly behind the sink or the cooking area which can be wiped clean to remove stains and any foods from cooking.'
Melissa Anne Klink has an extensive design background, with graduate degrees in Interior Design (as well as one in Fine Art and Psychology), plus a Master's Degree in Interior Architecture. At Harvey Jones, Melissa steers clients through the design process to create beautifully personalised kitchens.
What is a splashback?
A splashback is much larger than an upstand and, as its name suggests, it's designed to be an easy-to-clean surface that protects the wall from cooking spills and splashes. But splashbacks today are far more than a practical addition – they can introduce colour, texture and graphic shapes to your kitchen design.
However they look, position is important – and definitely key when you're considering where and how to install a kitchen splashback.
'A splashback is a piece of material (something easy to clean) which covers the wall between the worktop and the underside of the wall units,' says Josie Medved, Design Project Manager at Symphony.
'It could also be a single panel that sits behind the hob, quite often between the worktop and the underside of an extractor. A splashback behind a sink is also a practical way to prevent damage and staining when washing up. Splashbacks can be a bespoke size to fit a particular space, or they come in standard sizes, usually 600mm wide x 750mm high or 900mm wide x 750m high.'
What is the difference between an upstand and a splashback?
'An upstand is a small piece of material (often matching the splashback but not necessarily) that sits at the back of the worktop and provides a nice, neat finish,' explains Josie from Symphony.
'An upstand is used in areas of the kitchen that do not create cooking splashes because it will not protect much of the wall behind,' she continues, saying that they are generally between 80mm and 150mm high and come in various lengths that should be cut to fit on site.
In contrast, splashbacks are significantly larger as their function is to protect the kitchen wall. 'Splashbacks can be a bespoke size to fit a particular space, or they come in standard sizes, usually 600mm wide x 750mm high or 900mm wide x 750m high.'
What material options are there for splashbacks and upstands?
Upstands tend to be made from the same material as kitchen worktops, while splashbacks may match the surface or else be an opportunity to add a different colour or material into your kitchen design mix. So when it comes to upstand vs splashback, the clue may be in whether you want a cohesive look or one full of contrast.
'There is an endless variety of material options for splashbacks and upstands,' explains Melissa from Harvey Jones. For upstands, the options are the same as for worktops, including granite, quartz, porcelain, timber, concrete and Corian. There are even more options for splashbacks, such as tile and marble (which we would not recommend on a work surface because of the porous nature of the material), glass and mirror.'
One important point to note: 'The splashback material must not be flammable if used behind a hob,' says Symphony's Josie Medved.
Which are more popular – upstands or splashbacks?
While upstands are growing in popularity, it's the tried-and-tested style and reliability of splashbacks that appear to be winning the upstand vs splashback battle. It's a tradeoff between cost (made from less material, upstands tend to be less expensive than splashbacks); style (do you want a minimal upstand or splashback that's more integrated into your design); and practicality (the mess factor).
'It depends on style and budget,' says Claire from Huckleberry. 'Contemporary kitchens tend to use matching worktops and splashbacks. We use wooden worktops quite a lot so often opt for a tall wooden upstand and then some tiles above in a contrasting colour.'
At Harvey Jones, it's all about the look. 'At the moment, we see more splashbacks on trend, with clients wanting to make bold statements with matching surfaces,' says Melissa. 'They use their worktop selections as a main colour palette within the room, allowing the veins of the stone going across the splashback to carry presence for the entire space. Marbles are still very popular and we love using them on splashbacks.'
Matt and Claire Podesta are the founders and creative team behind Huckleberry. Matt is an award-winning furniture and kitchen designer, while Claire is the company's Marketing Director and is also a graphic designer and abstract artist. They created Huckleberry to celebrate British design and sustainability.
What type of kitchens are upstands best suited too?
An upstand may be best suited to a kitchen with a simple, pared-back design, where a discreet upstand is preferred to the full-on feature that can be a splashback. Upstands also work well against a textured wall, such as exposed brick or stone, that you don't want to conceal with tile or a panel.
'We would tend to say more traditional kitchens suit an upstand best especially if no tiles are being used so as to create a clean and simple look. This is helped by the use of washable paint surfaces or wallpaper,' suggests Claire from Huckleberry.
What type of kitchens are splashbacks best suited too?
'Splashbacks are suited to any and all kitchens; it is the material selection that will influence whether the design is more contemporary or traditional in nature,' says Melissa from Harvey Jones. Whatever they are made from, you want to make sure splashbacks are 'contained' within the design.
'It will feel awkward if they appear to be cut off at the end and don't have an obvious finishing and stopping point,' Melissa explains. 'Placing splashbacks between cabinetry units or larders and below shelving or upper cabinetry helps the design feel balanced and polished. And be conscious of seam lines on the material and design them to be purposeful instead of looking like an afterthought.'
Josie from Symphony agrees that it's the materials that matter when considering upstand vs splashback and which works best for your kitchen. 'Plain and abstract glass splashbacks are suitable for modern kitchens and plain or classic patterns for traditional spaces,' she says. 'Clear glass splashbacks look great with kitchen wallpaper behind them, which could be modern or traditional. You can also change the wallpaper easily to get a different look.'
Do you need a splashback if you have a upstand?
Doubling up on an upstand and splashback is more common than you might think. 'You don't necessarily need both – painting the wall above an upstand with a modern washable paint will certainly help, as these can easily be wiped down,' says Claire from Huckleberry. 'However, if you are a messy cook or frantic scrubber at the sink, then a splashback might be a wise investment!'
Lookwise, it can work really well to have both. 'You can either have an upstand, splashback or both. For example, perhaps you have a continuation of thae quartz worktop for the upstand and then an antique mirror on the backsplash,' says Melissa from Harvey Jones.
'We always advise something behind heavily trafficked areas of the kitchen, like hobs and the splash zones behind sinks. Anywhere that oils and other liquids can get splattered, you want to have an easily cleaned material versus just paint or wallpaper that will wear quickly above an upstand.'
Get the Ideal Home Newsletter
Sign up to our newsletter for style and decor inspiration, house makeovers, project advice and more.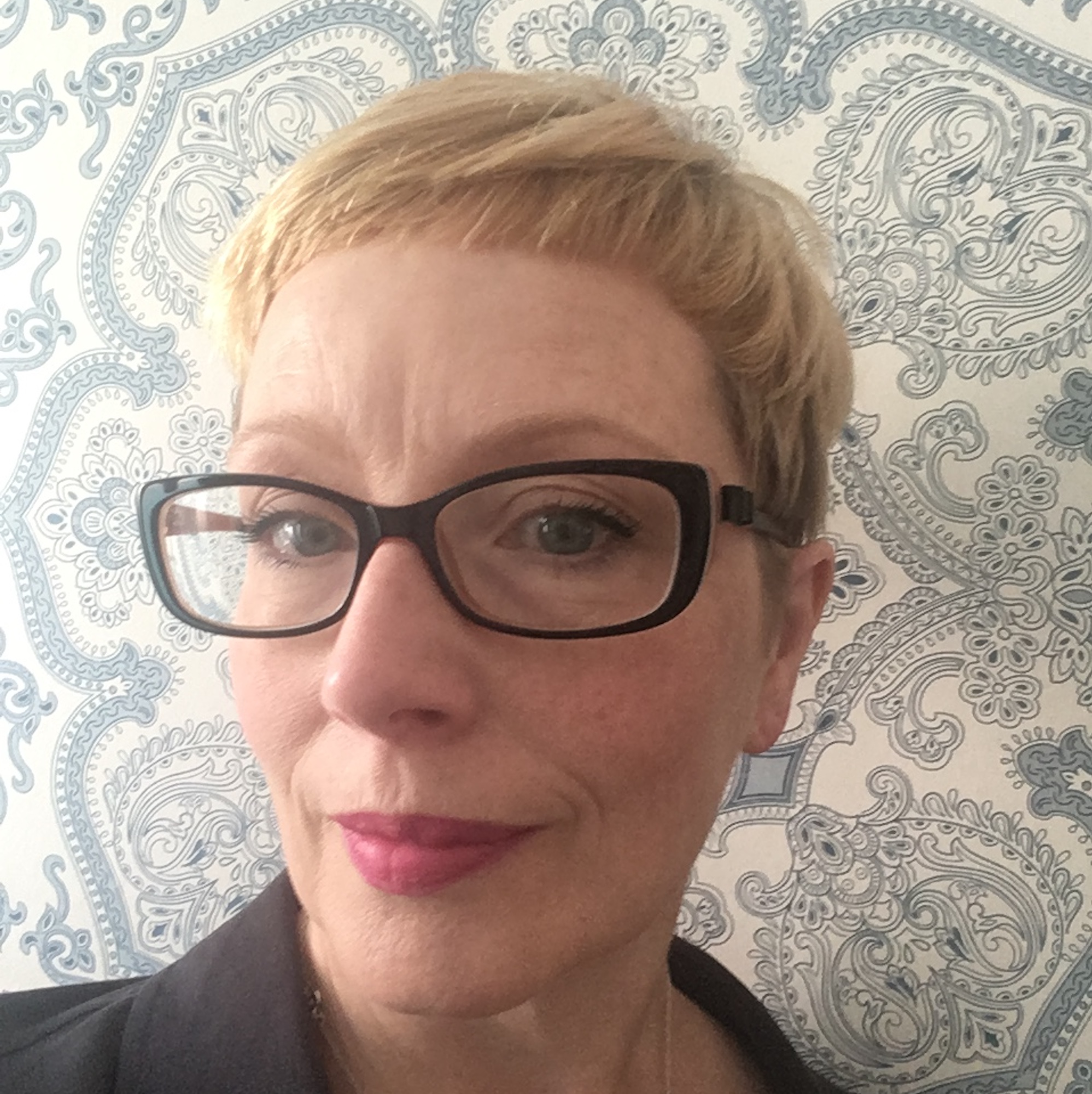 Andrea began her journalism career at Ideal Home and is currently Editor of our sister title, Country Homes & Interiors, which celebrates modern country style. Andrea is passionate about colour and how it can transform both our homes and our sense of wellbeing, and has completed The Power of Colour course with the prestigious KLC School of Design. Andrea's career spans interiors magazines, women's lifestyle titles and newspapers. After her first job at Ideal Home, she moved on to women's magazines, Options and Frank. From there it was on to the launch of Red magazine, where she stayed for 10 years and became Assistant Editor. She then shifted into freelancing, and spent 14 years writing for everyone from The Telegraph to The Sunday Times, Livingetc, Stylist and Woman & Home. She was then offered the job as Editor of Country Homes & Interiors, and now combines that role with writing for idealhome.co.uk.