20 kitchen wallpaper decor ideas to add a new dimension to your space
Give the heart of your home a refresh with unexpected colour and pattern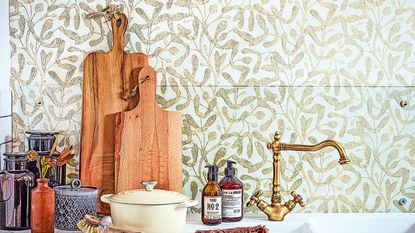 (Image credit: Future PLC)
It's easy to think the only way to decorate our kitchens are with paint and tiles, but that's not the case. Clever use of kitchen wallpaper decor ideas can refresh your space and add a splash of personality.
There are designs, patterns and colours to suit all kitchen ideas, even especially minimalist spaces. Plus, it's an easy way to update the heart of your home without having to call in the pros.
Kitchens are a wonderful space to embrace pattern,' says Ruth Mottershead, Creative Director, Little Greene. 'Whether it is a bold, large-scale design that creates a statement or a smaller scale pattern that can be used on all four walls, it is one of the quickest ways to change a space. Being simple to apply and therefore easily updated, it can radically change the feel of a room in just a few hours.'
Kitchen wallpaper decor ideas
'Wallpaper is a great way of adding another texture and dimension whilst retaining colour throughout the room scheme,' says Jamie Watkins, Co-Founder, Divine Savages.
'Bringing bold colour and pattern through kitchen wallpaper decor ideas can work wonders.'
1. Reinforce a colour scheme
Wallpaper can be used to add a contrasting colour - or to bring together kitchen colour schemes. In just about every space there are usually a couple of lead shades.
Choose a wallpaper which incorporates the two main colours you want to highlight to reinforce the scheme to perfection. Balance the tones by taking the less dominant colour in the room as the main one on the paper.
2. Add interest to open shelving
'We're seeing wallpaper used more to create focal points in kitchens, such as lining in glass cabinets and behind open shelving,' notes Jamie from Divine Savages. 'It is the perfect opportunity to have fun and embrace bold pattern and print, especially for those who like to be a little more subtle with their use of pattern and colour. And you'll find you probably only need a couple of rolls to make that big statement.'
As well as being an easy way to include pattern in your kitchen, papering the backs of shelves is a great solution for using wallpaper within small kitchen ideas.
3. Mix and match styles
Add personality and interest to modern kitchen ideas by having some fun with your wallpaper. Cover walls with two different types of paper for a sense of fun and individuality.
Go bold - try patten clashing for a statement look. Just make sure that both the designs have different scales. Two busy small repeats will look overwhelming when placed together.
4. Protect with glass
'Avoid using wallpaper in areas with high moisture, grease or smell such as above the stove or kitchen sink ideas, as this can damage the wallpaper over time,' says Ann Marie Cousins, Founder, AMC Design. 'Your decorator however can use ploy vine on the wallpaper to make it more robust if needed.'
If this isn't an option and you don't want to break up your walls with an area of paint or tiles, a panel of glass will turn your kitchen wallpaper decor ideas into a stylish splashback.
5. Create a feature wall
Feature walls needn't be confined to living rooms and bedrooms - they can be a lovely addition to a kitchen, too. Paint the majority of your space, and wallpaper the one least broken up by cabinetry or appliances.
As well as adding interest to your space, this is a perfect example of budget kitchen ideas as you need to buy considerably less paper than you would for the whole room.
6. Revamp an island
Who said wallpaper has to be confined to walls? Exactly. Get creative a paper unexpected surfaces. This will allow you to dip your toe into colour and patten, or try out a bold design.
Kitchen island ideas are a prime spot for this. Paper the sides of the island for a cool hit of pattern. Spillages can obviously still happen, so consider your material choice carefully. 'A vinyl wallpaper would be the obvious answer here as they are almost scrubbable,' advises Stephanie Dunning, Co-Founder, Dunning & Everard. 'However you will be restricted in your choice.'
'We suggest making decorators varnish your new best friend,' says Jamie from Divine Savages. 'It provides a highly durable, clear finish that protects against water, and stains. Simply apply it over the wallpaper using a brush or roller. Having this product in your decorating arsenal will ensure your wallpaper stays fresh and fabulous in perfect condition for years to come.'
7. Combine paint and paper
Whether you're concerned about the practicality of kitchen wallpaper ideas, or simply aren't a fan of a fully patterned space, combine your paper choice with complementary kitchen paint ideas.
Paper the upper portion of the room, so you're keeping it furthest from steam and spillages, and paint the lower section. Painting the walls in the same colour as your cabinetry will create a considered and stylish finish.
8. Choose a large-scale design
Large-scale floral kitchen wallpaper decor ideas create a serious wow-factor. Remember that large-scale patterns can be quite punchy, so consider using it only on half of the walls to ensure it doesn't become too overbearing.
For the rest of the kitchen wall ideas, stay on trend with bold colour blocking paints. 'Colourful kitchens have made a return,' notes Rebecca Drury, Co-Founder, MissPrint. 'Colour blocking will also come through as a bold way to inject some colour into a kitchen or combining a mix of patterns and prints.'
9. Pick a fresh floral
If your kitchen has high ceilings, you might need to be careful choosing a wallpaper design that doesn't make the room feel smaller. Opting instead for a bright, light and fresh-floral wallpaper, will add the pattern your kitchen needs, but still make the room feel spacious.
Pick a design that compliments your cabinets, or if you have a wallpaper in mind that doesn't, perhaps learning how to paint kitchen cabinets in a new shade is the answer instead.
10. Use wallpaper to zone your space
In open-plan kitchen ideas where the room serves several purposes, use wallpaper to zone the space into specific areas.
Using kitchen wallpaper ideas inline with your cabinets, but going no further, creates a clear zone where the kitchen ends, and the rest of the room begins.
11. Bring the outside in
Bring touches of nature from the outside, into your home through your kitchen wallpaper ideas. Natural textures like wood work particularly well in an otherwise featureless room, as they add depth, interest and a sense of texture.
The warm tones of wood also works well with neutrals such as white and grey, and will compliment a both contemporary and rustic kitchen ideas.
12. Make a feature of an alcove
Make a feature of a cosy corner or alcove in your kitchen with a wallpaper that reflects your style. You won't need more than one roll, so it's a cost effective way to add pattern, plus you might even be able to pick up a roll for a bargain on sites such as Gumtree, Ebay or Facebook Marketplace, making it a perfect example of easy DIY kitchen ideas that can be achieved in an afternoon.
13. Choose a design that will grow with your home
Although wallpaper is fairly easy to remove and replace, if you're going to invest in a design that you LOVE but makes your eyes water slightly at the price, you want to know it's going to stand the test of time.
Choose classic designs and ones you know you will love for years to come. While 'fashion' designs are great for some areas of your home, you want your kitchen to remain practical but beautiful so stripes, florals and designs that reflect nature are good places to start.
'Be as bold as you dare,' says Stephanie from Dunning & Everard. 'Wallpaper is definitely seeing a renaissance in its design, availability and usage. I can remember my mother choosing wallpaper for her kitchen 40 years ago and here we are back again using wallpaper in our kitchens and long may it last!'
14. Stick to a theme
Take inspiration from holiday cottages and days at the beach to create a fresh and relaxed look in your home. Set a nostalgic feel with vintage-inspired, watercolour-effect wallpaper and some simple white-painted wooden furniture.
Order a sample of the wallpaper before buying so you can test it out in your chosen room. Like paint, the colour of a wallpaper can vary greatly depending on the lighting and small kitchen paint colours may look different when used in a larger space, so make sure you look at it at different points during the day.
15. Contrast pattern with swathes of white
Break up a statement kitchen wallpaper decor ideas by surrounding it with plenty of white. This will highlight the design, so even if you've only used a small amount it'll have bug impact.
Pure white fittings keep the focus clearly on the print, while creating a modern scheme. Plus, they'll be sure to match just about any design, meaning you can refresh the paper without having to worry about the rest of the scheme.
16. Trick the eye
Wallpaper isn't all about pattern and colour – you can achieve some cool trompe-l'oeil-style effects with it instead.
Very fashionable at the moment, exposed bricks are great for adding an industrial edge to your space and kitchen wallpaper decor ideas are the easiest and most affordable way to get the look.
17. Paper a splashback
Kitchen wallpaper ideas can be used to striking effect in other ways. If you fall in love with a wallpaper design, you can use it as kitchen splashback ideas provided it is covered with a glass, acrylic or specially lacquered coating. And lining the back of bookshelves or a cupboard gives an enticing glimpse of colour and pattern.
Because it's only a small area, you can be quite bold without the danger of it becoming overpowering.
18. Make mine a mural
The kitchen is traditionally considered a 'high splash' zone, so vinyl or washable kitchen wallpaper ideas are advisable to ensure that walls look fresh and can be wiped down at ease.
If you love murals, take it to the kitchen to provide an interesting display as you sip your coffee. To provide a harmonious canvas, choose neutral tonal colours for your decorating scheme and mix with a number of different textures and finishes.
19. Look to mid-century designs
Choose a paper that echoes the original style of your home, such as a fun retro print in a mid-century house.
The busy environment of the home kitchen also allows for the choice of kitchen wallpaper decor ideas to be more bold, energetic and fun than in other areas of the home.
20. Lean into industrial style
A rustic brick effect gives the kitchen space a cool, contemporary feel. Take brick kitchen wallpaper decor ideas from floor to ceiling for an immersive affect.
To reinforce the industrial look, use metal details throughout the rest of the space.
What wallpaper is best for kitchens?
You can pretty much use any type of kitchen wallpaper decor ideas, just like you would in other room in your home. While there might be a worry about getting it wet if near the sink, or stained if near the cooker, you can avoid these areas or give them extra protection.
Firstly you could place a slim panel of glass over the top of the bottom third of your wall (where the paper meets the work surfaces), to create a bespoke splashback. You could choose to paper the top two thirds of your wall and leave the bottom third painted. Alternatively you could choose the paper the walls on the opposite side of your kitchen, rather than the ones where the washing up and cooking will be happening.
'Most wallpapers are now classed as either washable or spongeable and can be cleaned carefully with a cloth or sponge,' adds Rebecca from MissPrint. 'Wallpapering a kitchen is a great idea to inject a bit of character and quirk into a functional space.'
Is kitchen wallpaper a good idea?
'So many people ask whether you can use wallpaper in a kitchen,' says Jamie from Divine Savages. 'Will it be ok near the sink, and will it withstand the humidity and moisture from steam and the heat from cooking?'
'We are huge fans of kitchen wallpaper wallpaper decor ideas! A properly ventilated kitchen will happily accommodate wallpaper, and you can easily avoid the 'danger areas' by using tiling in areas prone to splashing.'
How do you hang wallpaper in a kitchen?
How to hang wallpaper in a kitchen is done just the same way as you would in any other room of your home. Be sure to give your walls a good clean with a damp cloth first, to remove any grease or dust and let it dry completely before beginning.
If you're papering a lot of half-height walls and find you have a few off cuts left over from your kitchen wallpaper decor ideas, use them to make artwork, line the back of cupboards or paper the inside of a dresser.
Get the Ideal Home Newsletter
Sign up to our newsletter for style and decor inspiration, house makeovers, project advice and more.
Jennifer is the Deputy Editor (Digital) for Homes & Gardens online. Prior to her current position, she completed various short courses a KLC Design School, and wrote across sister brands Ideal Home, LivingEtc, 25 Beautiful Homes, Country Homes & Interiors, and Style at Home.