Kitchen splashback ideas for beautiful wall protection that is packed with style
Add colour, pattern and texture to your kitchen walls with the perfect new splashback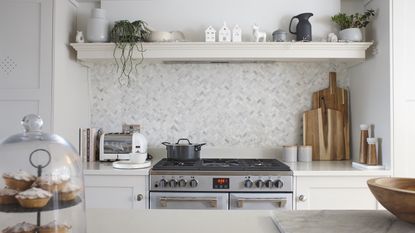 (Image credit: Future PLC)
It's the finishing touches which really make a room sing. And for the heart of the home, kitchen splashback ideas have the most to offer. They're no longer a purely practical element, instead offering beautiful form in addition to their protective function.
In terms of the design of kitchens, splashbacks don't get as much airtime as they should. An integral part of the look and feel of the kitchen, they can bring your vision to life. Equally, they're the perfect way to refresh your space without committing to a whole new scheme.
'A new splashback is a great way to add personality to your kitchen, and most people should be able to tile this small area with the right equipment,' says Mike Head, Director at Atlas Ceramics. 'You'll need adhesive, tile spacers, a cutter, spirit level, trowel and safety goggles. You'll also want to think about grout. If you're tiling above a hob, it might be better to choose dark grout, as it's easier to maintain when at risk of food splatters.'
'Splashbacks are not only practical to help protect your walls from any unruly cooking,' explains Darren Watts, Design Director at Wren Kitchens. 'But they also prevent steam and heat from damaging the wall behind. They're useful behind areas that are frequently used such as dining and seating zones and appliances such as microwaves, ovens and sinks.'
However, that doesn't mean you have to compromise on aesthetics. Splashbacks are a tailor made spot to dabble in playful patterns and new trends. 'The splashback is an ideal space to go bold, too, so don't be afraid to experiment with colour or shapes,' adds Mike.
Kitchen splashback ideas
Upgrade your space with relative ease with kitchen splashback ideas for every style and scheme.
1. Pair panelling with cabinet fronts
While a kitchen splashback is designed to protect the wall from water, grease and messy splashes, it can also add a decorative feature to your room design, introducing depth and interest to any space. James Arkoulis, creative director at Howark Design, chose a painted wood splashback for a recent project. 'The panelling is a contemporary take on traditional tongue-and-groove wall panelling,' he explains. 'It has a shallower groove for practicality in a kitchen, as it is easier to keep clean.'
The warm cream shade of paint for the splashback is paired with rich olive green kitchen furniture and timber worktops to create a natural harmony. Choose a paint finish suitable for wood and designed to resist moisture, staining and general wear and tear, and be easy to wipe clean, such as Little Greene's Intelligent Eggshell. As a painted timber splashback is not fire retardant, do not use close to the hob.
2. Reflect your style with mirror and metal
The reflective quality of mirror makes it a popular choice for splashbacks, as interior designer Melanie Williams explains. 'Mirror can be used to bounce light around the kitchen, maximising the open feel,' she says. 'Often we choose a mirror glass with a vintage finish to soften the crispness of the reflection and make it more forgiving of marks and splashes on a mirrored splashback.'
Melanie also suggests square pieces of glass can be used to introduce more character, while seamless sheets can be used to create a sleeker contemporary look. A mirror splashback also allows you to see what's going on behind you while you cook or wash up. Metals such as copper, brass or stainless steel can also be used for their reflective qualities, but remember that while stainless steel is easy to wipe clean, other metals may patinate over time, unless pre-treated.
3. Team an upstand with brick
Exposed brick lends instant character to a kitchen and teamed with a quartz surface upstand, as shown here, can be a practical solution. Jenny Thomas, sales designer at Tom Howley, advises, 'We would recommend a sealant for any exposed brick walls, partly because bricks are difficult to clean,' she says, noting that the hob in this design is on the island, so the brick is not subject to cooking splashes.
There is a lot of debate over upstands vs splashbacks, here, the upstand protects the wall from spilling water from the sink. 'This project has a 130mm upstand, which is slighter higher than our standard 100mm,' she explains. 'That said, the height of your upstand and splashback should be dictated by your appliances and architectural interest in the room. For example, if your upstand runs to a window sill that sits higher, then it looks aesthetically better to run the upstand to the same height as the sill all the way round to create a seamless match.'
4. Square up to porcelain tiles
'Tiled kitchen splashbacks are an easy way to create an interesting, hygienic and easy-to-clean surface,' says Louisa Morgan, director of Mandarin Stone. Available in a huge range of plain and patterned designs, colours and formats, you can choose a tile with as much impact as you wish – from a bold look to draw the eye and create a focal point of the hob area, or a gentle neutral to blend with your design scheme.
'Porcelain tiles have very low porosity, making them resistant to staining,' adds Louisa. 'Choose a tile with a smooth surface for easy maintenance practicality and beauty.' Select a tile suitable for wall application, as some tiles are too thick and heavy for wall use, and check whether your tile requires sealing to prevent staining, which may be the case with encaustic tiles, for example.
5. Make a statement with stone
'Using stone with bold and striking veining patterns creates a visually stunning focal point in your kitchen,' says Elizabeth Sherwin, creative director of Naked Kitchens. 'Neutral stone is a timeless and versatile option, allowing you to change the surrounding design elements without clashing with the splashback.'
Seamless slabs of stone also mean no grout to keep clean. Natural stones, such as marble, are available in beautiful patterns and colours with no two slabs identical, but they tend to be more porous and require more regular maintenance than engineered stones, such as easy-to-clean, stain-resistant quartz surface and porcelain, which have almost zero porosity.
'Ultimately, choose a design that resonates with your personal style and balances the overall aesthetic of your kitchen,' advises Elizabeth. 'Consider how this will complement or contrast with other materials in the space, such as cabinetry, countertops and flooring.'
6. Create a bold contrast
Design a new focal point in your space by choosing a bold and bright splashback. Mixing colour and pattern always makes a statement, but even a little bit of extra consideration can make it truly special.
Start with your cabinetry and choose a colour on the opposite end of the colour wheel for your kitchen tile ideas to achieve a striking and visually pleasing contrast.
7. Add shapely interest
Using an unusually shaped tile automatically adds interest and decorative pattern to your wall. Spice things up even further by not laying your tiles so they finish in a straight line. Instead, mix things up an echo the shape of the tile with how you place them.
Rounded shapes will offer an organic feel, but choose a strong, graphic option for a more contemporary feel.
8. Choose a glossy option
Glazed tiles are a great choice for kitchen splashback ideas. 'As well as being practical, their glossy finish adds a reflective sheen to bring depth and drama to a space,' says Lee Thornley, founder of Bert & May.
Glazed, rather than a mirrored sheen will add a relaxed brightness. Think extra light without any unwanted shininess.
9. Highlight your herringbone
Herringbone tiles are a beautiful and classic option for kitchen splashback ideas. Simple metro tiles are transformed into something much more graphic with this laying pattern.
Take things up a notch by taking your splashback tiling above, rather than below any shelving. This will make your room seem taller and brighter. For a final stylish finish. use this lack of shelf border as an opportunity to create a cool zig-zag edging pattern.
10. Match your tiles to your wall paint
These days it's possible to find exact matches to your tiles and paint so you can create perfectly co-ordinated kitchen colour schemes. Two of Bert & May's signature tiles are now available in eight of Little Green's classic paint shades so you can effectively paint - and tile! - by numbers!
Use these to achieve a colour drenched kitchen or to create a pattern which seamlessly transcends both splashback and wall.
11. Mix luxe materials
Create a cohesive blend of on-trend materials for a contemporary look. More than merely a practical solution creating a splashback using a different material can help to elevate the wider kitchen design.
A blend of luxe materials can help to add depth and interest. Marble, metallics and foxed glass can all add that high end touch and work as an indulgent way to get adding colour to a white kitchen.
12. Embrace exposed brickwork
Create a bespoke kitchen by creating a splashback using exposed brick. Whether you add half bricks to an existing wall to emulate the look or embrace the bricks that are already in place, you can create an industrial look finish that is cool and contemporary.
While bricks are a steadfast building material, they need to be properly sealed when used in the kitchen, to ensure they are not damaged by splashes behind the sink or cooking area. Painting the brickwork helps to tailor the look to suit a kitchen colour scheme.
13. Create an understated splashback
In a kitchen where you want alternative design elements to shine, you may not wish to draw attention to the smaller details such as the splashback.
The key to making your design feel almost invisible is to keep it simple. If the walls are white, use a simple white tile to fashion a practical splashback, avoiding pattern at all costs to make it camouflage into the wall. Keep the size small and restricted only to where it's needed most, behind sinks or hobs.
14. Make a statement with focal pattern
Whether you are using tiles or laminate, opt for a pattern to fill your kitchen with personality. Kitchen splashback ideas are the easiest place in the kitchen to play with colour and pattern because it will cost a lot less to change than your cabinets if you fall out of love with it.
Pick a pattern in a contrasting colour to the rest of the kitchen to add extra wow factor and eclectic style.
15. Add an accent colour
Create a colour scheme centred around your tile choice. Limit colour to that of the splashback to prevent the space from feeling overwhelmed with too many clashing colours.
16. Match a splashback to the work surface
For a high-end look match your splashback to your kitchen work surface. This works best with smooth materials such as marble or laminate.
Whether you go for the real thing or a marble-effect material, marble will add a modern touch to your kitchen. Contrast the contemporary marble with brightly coloured Shaker kitchen ideas for a dreamy finish.
17. Embrace Metro tiles for a traditional look
In a colourful kitchen scheme it's best to keep the splashback simple, to avoid overwhelming the space. Tiles are a traditional choice for an easy to clean kitchen splashback. Metro tiles add a stylish design element to a practical solution.
However, a splashback doesn't need to stop at the cooker and sink. Wrap the tiles around the whole kitchen for a look that is stylish and practical.
18. Neaten up a tile splashback with floating shelves
If you have a neutral kitchen, patterned tiles will add a splash of colour and personality. That said, a lot of patterned tiles can create a vintage effect, which is lovely, but doesn't suit all spaces.
If you just can't resist, but want a more modern finish, frame the top of the tiles with a floating shelf. This will highlight the splashback in a cool, crisp, contemporary way.
19. Add depth to a white colour scheme with hexagons
You don't need colour to make a statement with kitchen splashback ideas. Hexagon tiles are a great way to start with white kitchen ideas, creating a modern honeycomb effect behind the sink, adding a layer of interest to this kitchen without add colour.
20. Be playful with patterns
For a bold look use pattern to dominate a kitchen splashback. Make the pattern feel more playful by using different styles on opposing walls.
stick to one colour scheme across the two patterns to avoid things getting too hectic and overwhelming for the eye.
21. Create a luxurious look with gold
Don't worry this isn't real gold or even metal, it is called 'Tek Wall'. It's a modern alternative to tiling that is made out of an MDF material. It might look fit for a prince, but this gold finish is actually an affordable option.
'Not only is it easy and quick to fit compared to tiles, but it creates a much more impactful look at less expense!' says Darren Watts from Wren Kitchens. Pair a gold splashback with exposed brick walls for a unique twist on the industrial trend.
22. Don't be afraid to mismatch tiles
There is no rule to say you need to have the same splashback for behind the cooker and sink area. In fact not all materials will work for both areas, making it the perfect opportunity to play around with different designs.
If you don't want to give you whole wall a splashback, and simply want to cover the busiest areas, they choose two different tiles for added interest and to create distinct zones.
23. Reflect light around with glass
Glamorous and practical, a glass splashback can make a style statement in a kitchen all on its own. Not only is is sleek option that will blend seamlessly into your kitchen decor and prove very easy to clean, but it will also help to bounce light around the room.
'A bonus of reflective kitchen splashback ideas, like with glass, is their ability to bounce light around the room,' says Hayley from Magnet. 'Install under cupboard lighting on wall units to reflect light around the room, creating atmosphere and ambience for cosy evenings in the kitchen.'
24. Keep things modern with a matte finish
A velvety matte finish to your kitchen splashback ideas is the perfect way to achieve a modern designer feel on a budget in your kitchen. You can get the look with matte finish tiles, or for an ultra modern look opt for laminate or a similar material for a smooth surface.
If you decided to go for the full matte look in your kitchen, add in a few glass items and other glossy accessories to help bounce light around and stop the room looking too flat.
25. Let cabinetry take centre stage
Let your bright cabinets do the talking by choosing a muted tile shade. That said, this doesn't mean the splashback tiles go unnoticed. By choosing a neautral colour and simple shape, the tiles are able to completely cover the cooking area, including the cooker hood. It's a dramatic statement but doesn't take away the striking effect of the cabinetry.
26. Go for a mosaic splashback
The attention is all in the detail. Small tiles are ideal for adding texture and decorative interest to kitchen walls. You can choose from a variety of styles varying in shape, size and colour.
A mosaic tile design doesn't need to be over the top and fussy; for a more modern twist opt for small tiles in a simple colour scheme. When planning how to grout tiles, consider using darker coloured grouting like this for a sleek, easy to clean scheme.
27. Create a chef-worthy kitchen with stainless steel
A stainless steel splashback is a classic choice for a reason. It's easy to clean, stylish and will withstand any heat given off from the cooker. The material is incredibly versatile it can look traditional when paired with a wood cabinets, or modern when set alongside high gloss finishes.
What are the newest backsplash trends?
Splashbacks, or backsplashes, are one of the most common and popular ways to use tiles on kitchen walls. 'In kitchens, no matter what size, a kitchen splashback ideas can have a huge impact,' says Amanda from CTD Tiles. You can make a statement through colour or through pattern, either way you'll find that using your wall tiles creatively for a splashback is a really simple way to add interest.'
'When it comes to trends, we've noticed that bold colour combinations is a firm favourite,' continues Amanda. 'Rich greens, bold blues and pastel hues are top ranking colours and all work brilliantly as a backsplash. Another popular look is three dimensional texture, it's a look that adds unexpected depth to a room and it's a completely new exploration for those wanting to touch on a refreshing update in their kitchen.'
Shapes of tiles for splashbacks are also trend-led. 'Metro tiles will always be the reliable format which homeowners look to use year after year,' says Kamila Chalfin, Marketing Manager at Tile Giant. 'Play it safe with a classic stack bond, or style it out with a contemporary herringbone or basket weave layout to turn your splashback into a feature wall of its own.'
What can I use instead of tiles in a kitchen?
There are a whole host of materials that you can use as a splashback instead of tiles, including glass, stainless steel, laminate and corian. Some of the alternatives are actually easier to clean and more affordable than tiles. However, if you are looking for a good all rounder, Magnet's Hayley suggests opting for glass. 'A great all-round material for the purpose of a hob or sink splash back, glass is strong, low maintenance, durable and easy to clean.'
What is a budget friendly splashback option?
'If you're on a budget, consider a laminate splashback,' suggests Hayley. 'Don't underestimate the style and possibilities that can be achieve with laminate in the kitchen. Magnet offers a chic selection of laminates to create a designer feel on a budget, including stunning Terrazzo and Veined Slated styles.' However, do bear in mind that because of its plastic qualities laminate will not work behind a cooker.
Whatever finish you choose, play to the material's strength, adding a protective cover for less lardy finishes and backlighting or down lighting to make the most of texture and fine stone patterns.
What is the best kitchen splashback?
Tiles are the typical choice for kitchen splashbacks. Patterned tiles are perfect for a country-style kitchen, while hexagon shaped tiles can create a cool honey-comb effect in modern kitchens. But tiles aren't the only option when it comes to kitchen splashback ideas.
'You can create amazing designs with tiled splashbacks, but tiles are by no means the only option,' advises Hayley. 'Alternative materials include laminate, glass, Corian and even stainless steel. The best splashback is one that elevates your kitchen design and is suited to your needs and lifestyle. Two materials that I highly recommend are laminate and glass.'
'As with tiles, both laminate and glass splashbacks can be used to make a style statement. You can create a real contrast to your units by opting for a bold, striking colour, especially if set against a more neutral hued kitchen.'
However, while a laminates smooth surface makes it easy to clean, Hayley advises that it shouldn't be used behind a cooker. 'Laminates plastic qualities make it unsuitable for use as a gas hob splashback, as it should not be exposed to open flames,' she explains, suggesting to opt for glass instead.
'Always consider the positioning of a splashback, what works behind the sink might not be the best material to use behind the hob.'
What style has you plotting your new kitchen renovation?
Get the Ideal Home Newsletter
Sign up to our newsletter for style and decor inspiration, house makeovers, project advice and more.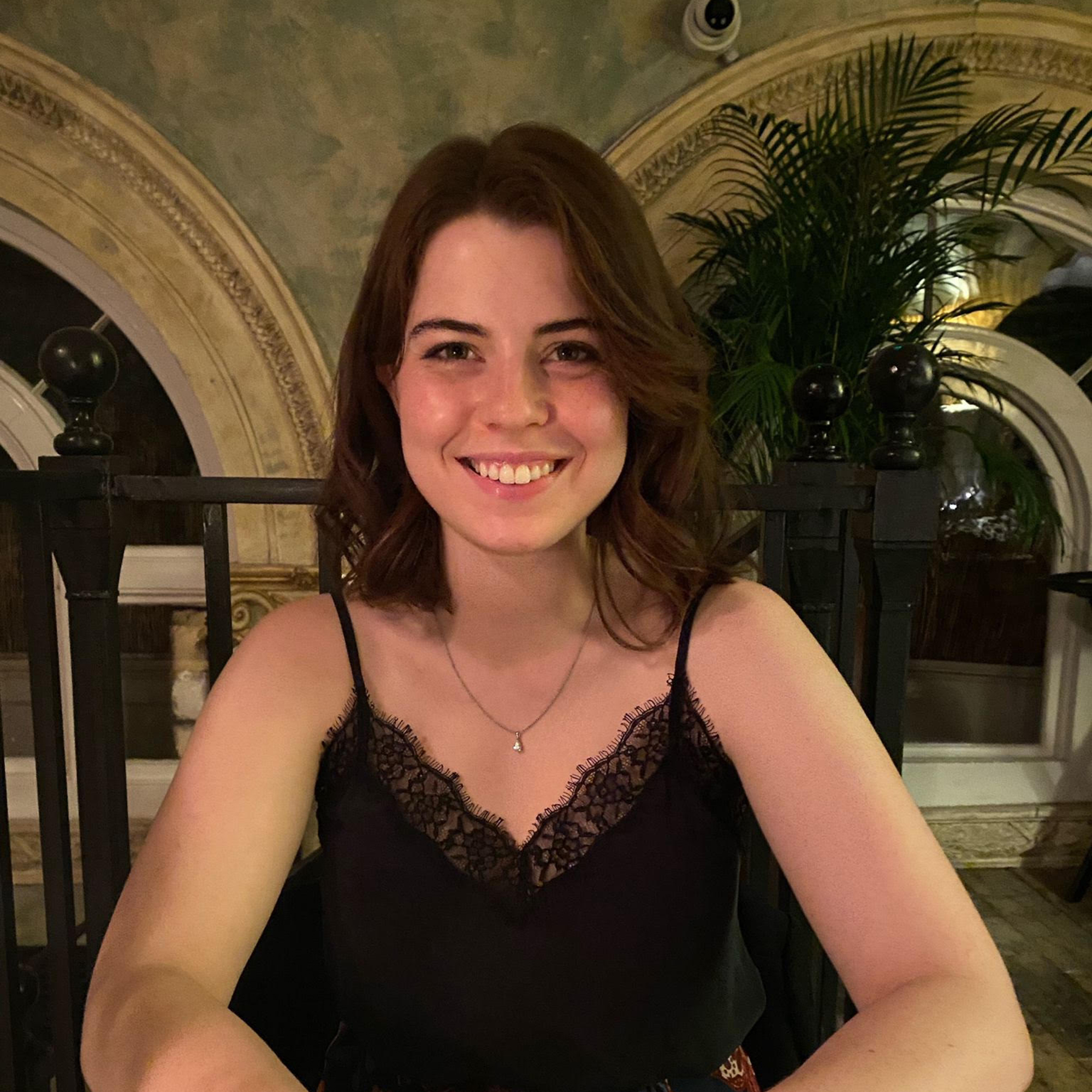 Rebecca Knight has been the Deputy Editor on the Ideal Home Website since 2022. She graduated with a Masters degree in magazine journalism from City, University of London in 2018, before starting her journalism career as a staff writer on women's weekly magazines. She fell into the world of homes and interiors after joining the Ideal Home website team in 2019 as a Digital Writer. In 2020 she moved into position of Homes News Editor working across Homes & Gardens, LivingEtc, Real Homes, Gardeningetc and Ideal Home covering everything from the latest viral cleaning hack to the next big interior trend.