Teal and grey living room ideas – how to work this winning combo
Cool yet calming, this smart on-trend colour pairing is ideal for a living space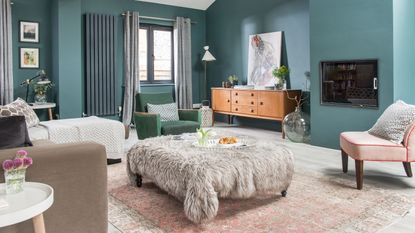 (Image credit: Future PLC/Colin Poole)
In the process of decorating your living room? We're going to guess it's a stylishly colourful yet calming scheme you're aiming for – it is a space designated for lounging after all – and when it comes to colour combinations that meet those requirements, teal and grey living room ideas are hard to beat.
Arguably the most versatile palette of them all, it's easy to see why grey living room ideas are as popular as ever. While neutrals are a timeless look, it's fun to bring some colour into a living room. With so many perfect pairings to choose from, deciding on an accent can be tricky, but if it's nature's soothing hues you're drawn towards, teal could be the shade for you.
''Teal is great for living rooms as it has all the effortlessly calming properties of blue combined with the interest of restful green tones, making it super versatile', says Sally Denyer, digital marketing manager at Shutterly Fabulous. Pairing it with complimentary grey allows the colour to truly stand out, creating a vibrant impact.'
Teal and grey living room ideas
Whatever living room ideas and looks you've settled on, from industrial to contemporary, retro to rural, we've put together inspirational ideas to demonstrate how you can combine teal and grey so they work together in perfect harmony, including tips on other colours that go with grey.
1. Create contrast with a stand-out teal sofa
Lower impact than painting all four walls, one of the easiest ways to integrate teal into a grey scheme is by adding a statement teal sofa. If you're wondering which grey is best for a living room, it's worth bearing in mind that colours change depending on what surface they're on. In this case, teal on fabric is softer – literally, as well as tonally – meaning you can afford to be a little more daring with your colour choices.
'When choosing a shade, think about the mood you'd like to create. Remember that muted shades complement a greater range of colours and create a more soothing mood. However, if you're pairing with a neutral like grey, you can afford to add drama and energy with deeper and rich hues', says Kelly Collins, interior designer and head of creative at Swyft Home.
2. Or ground a bold scheme with a grey sofa
While it may feel like you've plumped for the 'safe' option, opting for grey sofa living room ideas enables you to be truly 'out there' with other interior decisions. Useful, as teal has a 'chameleon-like' ability to combine wonderfully well with other jewel-like colours.
'If it's a bold look you're after, deep teal walls look great when paired with colour-clashing accessories. Try adding cushions and prints in glowing pinks, oranges, and greens for a cosier feel', says Lauren Harris, senior designer at DFS.
If you do tire of the scheme, or fancy changing it up, you can simply swap cushions and throws found at budget-friendly prices using home decor discounts instead of reupholstering the whole sofa – definitely a more cost-effective option!
3. Start off small
You like teal, but perhaps not to the point of committing to walls and upholstery… don't worry, we get it. It can be a costly mistake if you do change your mind. Luckily, you can still achieve all the positives of this stylish colour combo without mixing them in equal amounts.
Once you've which grey is best for a living room, we recommend introducing teal into a grey scheme through accessories instead – they can be easily updated if you do change your mind, which is always reassuring. Choose a statement piece, such as a piece of art or a cushion, then repeat the teal accent somewhere elsewhere in the room to create balance. It can be super subtle; a tiny detail in your wallpaper, for example.
Live with it for a bit and see how you feel – if you love it (which we're sure you will), you'll feel more relaxed about committing to the colour scheme in a more permanent way.
4. Build drama with a bold wallpaper
Eye-catching in itself, teal also offers the perfect backdrop to other exotic colours and patterns, as demonstrated perfectly with this cheetah wallpaper from Lime Lace. Muted pink, coral and mustard bring out the warmer undertone of teal for a tasteful take on the tropical trend. Tropical designs work really well with green and grey living room ideas, too, so consider this colour combo alongside teal.
5. Draw the eye with a teal 'feature wall'
Make teal the star of your scheme by dedicating an entire wall to it, then using grey throughout the rest of the room. Here, the designer has gone one step further by painting the skirting boards in teal, too, ensuring maximum impact. This technique has the same effect used across any architectural feature; fireplaces, alcoves, bookcases and so on – a contemporary take on a feature wall.
6. Make a statement with show-stopping shutters
As a natural focal point in the room, windows are a great place to emphasise the room's colour scheme. 'When teal is applied to a window dressing, such as painted shutters for example, the light from the window allows the colour to bounce onto grey floors and walls, lifting the mood of the room', says Sally Denyer.
7. Play with tones – and textures
Teal and grey both have cool undertones, which is great for a contemporary look, but can be a little 'chilly' for a living room – the same goes for blue and grey living room ideas, too. Luckily, there are easy ways of warming up the scheme – introducing textures in the form of wooden panelling, rustic furniture, woven baskets, cushions, rugs etc, for one. Ann Marie Cousins, AMC Design, also recommends playing around with tones to change up the space, depending on what you're trying to achieve.
'Teal is a combination of both blue and green, so layering it with different shades of both will add depth and dimension to your space. Green in particular will add warmth, while introducing natural materials such as wood, weaves and linens is a surefire way to soften the space', she says.
8. Pack a punch with fiery accents
Paler shades of teal and grey work in perfect harmony together. This is a stylish look on its own, but for some, a living room needs a little more oomph… and fiery red accents will certainly give it that. Bright, contrasting hits wake up cool blues and greys, adding warmth and interest to an otherwise neutral scheme.
For the look to work, it's important to get the right shade – we'd recommend Farrow & Ball's Charlotte's Locks (No.268), named after the flame red hair of the brand's Head of Creative!
9. Add a retro vibe with sunshine yellow
Colours found in nature often have a natural affinity with each other – sunny yellow and teal blue go hand-in-hand for this very reason. However, their likeness doesn't stop there; they both have a visual sharpness that if not countered by a softer, more neutral colour, can be totally overwhelming. Enter, grey.
'Grey is an incredibly versatile colour, forming an ideal base from which to expand your palette. Colours with a cool undertone, such as teal blue, will compliment grey well, particularly when paired with shades that have warmer undertones such as sunshine yellow, burgundy or terracotta – the contrast will bring a touch of cosiness to the space', says Kelly Collins, Swyft Home. So consider introducing teal to a yellow and grey living room idea.
This colour trio was really popular back in the 1970s, so keep those retro vibes coming with funky block colours and geometric prints.
10. Combine old and new
If you're lucky enough to have beautiful period features in your home, you'll likely want to keep them as authentic as possible – re-painting them anything other than neutral grey shades may feel like a travesty.
That doesn't mean you can't create a statement though. Choosing a rich shade of teal for the wall behind a traditional fireplace transforms it into a focal point fit for a modern interior, without detracting from its original beauty.
Do grey and teal go together?
Just as grey can vary hugely, so can teal – think rich peacock hues to softer, soothing shades. Wherever you decide to go on the teal spectrum, you can be sure there's a shade of grey to compliment your choice perfectly.
If it's a moody feel you're after, greys and teals in darker tones are a go-to choice as they create a deep backdrop that really allows your furniture and accessories to sing', says Emma Deterding, founder and creative director of Kelling Designs and KD Loves. 'If bold and dark isn't for you, combining light and airy hues also works effectively, creating an elegant and sophisticated look that's not too overwhelming'.
Does teal go with mustard and grey?
Yes, absolutely. A warm shade like mustard will counteract the coolness of teal and bring out its warmer side. 'It's especially effective when used sparingly as a pop to break up the scheme', says Sally Denyer.
Experts recommend sticking to a maximum of three main colours, and combining tints, tones and patterns in those shades. Allow grey and teal to take the lead in terms of percentage of colour, then incorporate little touches of mustard around the room – on cushions, lamps or a rug, arranged like points on a triangle to create a sense of visual balance.
Get the Ideal Home Newsletter
Sign up to our newsletter for style and decor inspiration, house makeovers, project advice and more.