Blue and grey living room ideas - how to pair these two shades to perfection
Create a calm and refreshing living room with these popular shades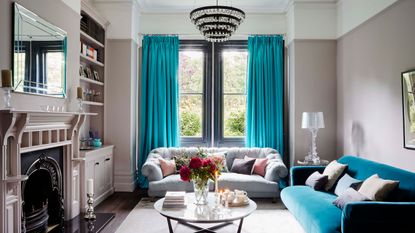 (Image credit: Future PLC/Brent Darby)
Lounges are somewhere we spend a lot of time - hopefully - relaxing in, so finding the perfect scheme can go a long way in creating the mood you're looking for. Blue and grey living room ideas are a wonderfully versatile way of working in interest and colour to this space.
Although the popularity of grey living room ideas is going nowhere, adding in blue to this perennial favourite will add warmth and personality. Plus, these two shades are perfect in just about any style of interiors - from ultra-modern to comfortingly traditional.
'Although it is on the cooler side of the colour wheel, painting walls and cabinetry in blue will bring a welcoming, calm energy to a space,' says Dominic Myland, MD, Mylands. 'Bolder shades work well when used as an accent colour, such as a wardrobe interior or a favourite piece of furniture. While pale or deep blues can be used almost as a neutral, quietly anchoring a room with colour.'
Blue and grey living room ideas
'Blue has an enduring appeal and is very versatile,' says Dominic from Mylands. 'Light blue can be very soothing whilst more saturated blues can be stimulating. Desaturated blues are a great choice for a quieter backdrop for other colours within a space and brighter tones can also be the star of the show.'
Finding the perfect way to combine blue and grey living room ideas can help create the atmosphere you're looking for in your space.
1. Make a blue wall the focal point
Make blue the star of your living room colour schemes by dedicating an entire wall to it, and painting the rest in a complementary tone of grey. Since you want the latter to take second rank, look to softer shades that won't compete.
For your blue wall, go further than just a feature wall. Paint any and all architectural features such as fireplaces and alcoves, in the same colour. You're looking to colour drench the one side of the room to give extra impact and a modern take on a feature wall.
Mix and match blue and grey furniture along with other neutrals to finish the look.
2. Flip your colour and neutral placement
Subvert expectations by playing with where your colours go. If working with blue and grey living room ideas then traditionally you might consider blue on the walls, and a pale grey on the ceiling.
'Instead, think about carrying the area of contrasting colour around corners and onto the ceiling,' suggests Justyna Korczynska, Senior Designer, Crown.
Living room paint ideas with a bold ceiling can then be contrasted even further by using your greys from the dado rail downwards, as well as on any window frames or architraves.
3. Use texture to create cohesion
Soften both your blue and grey living room ideas by linking the two with textured details. Think wall panelling ideas, living room wall decor, textured fabrics and a generous mix of material types across furniture and accessories.
As well as linking the colours through their depth, you're bringing in a new form of pattern.
'Substitute texture for pattern,' explains Ottalie Stride, Creative Director, Albion Nord. 'This is a way of bringing diversity to a scheme in a more considered, understated manner.'
4. Contrast with soft greys and bright blues
Many blue and grey living room ideas focus on creating cohesion and a sense of calm. If your space needs a little more enlivening then look to brighter, bolder contrasts.
A light toned grey wall is the perfect backdrop for creating impact. Contrast with the brightest forms of blue you have. Any bright blue could work, but a bold turquoise will really enhance this feeling of contrast. Use this tone across window treatments and larger pieces of furniture like an ottoman or sofa to ensure it feels like a considered design choice.
5. Focus on your window treatments
Window treatments are the perfect starting point for incorporating both blues and greys into your scheme.
There are a few ways you could do this - either you can choose a curtain or living room blind ideas (or both!) with a pattern mixing the two shades. Otherwise, you could have your curtains in blue and blinds in grey or vice versa.
Windows are a natural point for a room as the eye is automatically drawn to the light source and block of colour and/or pattern. Utilise this to immediately signal your colour scheme.
6. Keep it light and bright
'Working with bold colours should be all about balance,' advises Justyna from Crown. 'Always make sure you incorporate neutral living room ideas and pale features into the room, whether that's through furniture, accessories or other paint colours, that will light up the space.'
'If you're painting the walls in a bright, statement shade, make sure you paint the ceiling in a crisp white and opt for light wooden flooring or carpet. Keep the majority of the furniture neutral and add a few brighter pops with soft furnishings or decorative accessories.'
7. Create a tonal scheme
There are a lot of shades which you can argue whether they're actually blue or grey. Make the most of this overlap by creating a sophisticated tonal scheme.
For your main features use inly these more 'in-between' shades. Pick out deeper blues and lighter greys in other elements of the room to create a considered and fully tonal look which ranges throughout a wide range of that end of the colour spectrum.
8. Anchor with accessories
Accessories have a lot to answer for when it comes to creating a colour scheme.
'Rugs, cushions, mirrors and lampshades, all inject individuality into homes without overhauling the interior scheme,' notes Martin Waller, Founder, Andrew Martin.
'Cushions have a unique power of instantly injecting a new lease of life into a living room. Add depth to the room with a variety of patterns, colours and textures amongst your cushion selection.'
Mix and match blue and grey sofa cushion ideas - and those which have patterns incorporating both - onto your furniture. Enhance this with your choice of artwork, picking out these key tones.
9. Add colour with a wallpaper accent
Living room wallpaper ideas are a classic and easy way of instantly achieving a colour scheme. If you don't want to go all out with pattern, only use this in a small section of your living room - like to zone a home office.
Paint the rest of the room in one of the blue or grey tones found in the patterned wallpaper so there's not too much juxtaposition between the zones. Choosing the lighter of the colours will help the area stand out enough to feel delineated, however.
10. Blur your colour lines
If you love both blue and grey living room ideas independently but would rather stick to one main colour, then never fear. Simple living room ideas are here to help.
Pick one of these not quite blue, nor entirely grey tones and get painting those walls in a shade that's neither truly one or the other.
Does blue and grey go together in a living room?
'Blues work well on their own or can really come to life when combined with other shades within the palette for a harmonious interior,' says Dominic from Mylands. 'White living room ideas and greys are classic combinations.'
Both blue and grey are in the same section of the colour wheel, meaning there's actually a lot of overlap between the two. Since they can be, in essence, tonal, then blue and grey living room ideas absolutely work together.
What shades of blue goes with grey?
The best shade of blue for you depends just as much on which shade of grey you're looking at - it's chicken and egg.
'I always recommend looking at colour combinations found in nature for inspiration,' suggests Dominic from Mylands as a good jumping off point.
Play with trial and error - experiment with different blues and greys to find what works for you. Alsop consider if you're looking for a contrasting or complementary mix of shades. There's no wrong, just potentially wrong for what you're hoping to achieve.
Get the Ideal Home Newsletter
Sign up to our newsletter for style and decor inspiration, house makeovers, project advice and more.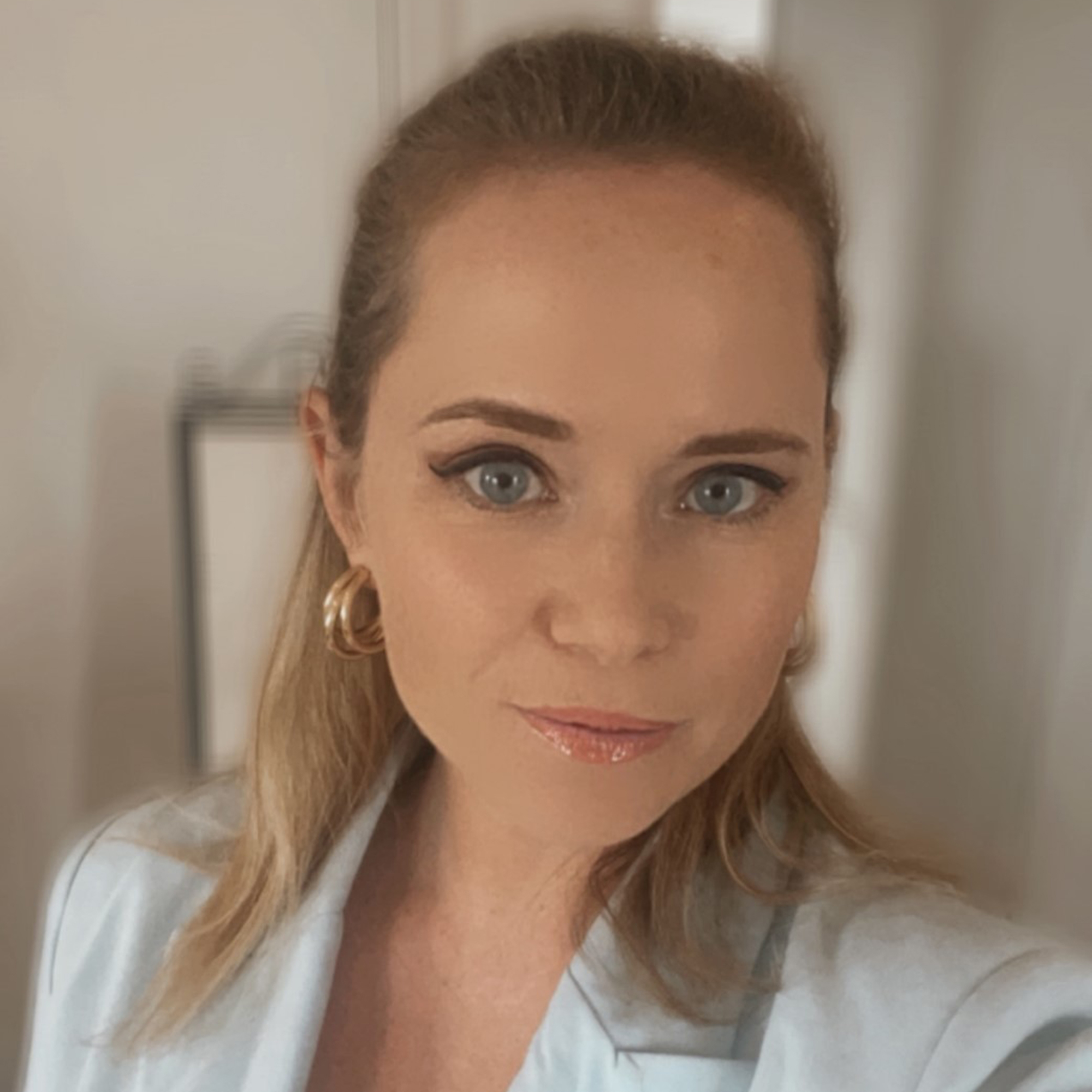 Thea Babington-Stitt is the Assistant Editor for Ideal Home. Thea has been working across some of the UK's leading interiors titles for nearly 10 years.
She started working on these magazines and websites after graduating from City University London with a Masters in Magazine Journalism. Before moving to Ideal Home, Thea was News and Features Editor at Homes & Gardens, LivingEtc and Country Homes & Interiors.