How to decorate with Gen Z yellow – the next big colour trend
Say hello to yellow, the hottest colour of the summer, by welcoming a splash of sunshine into your home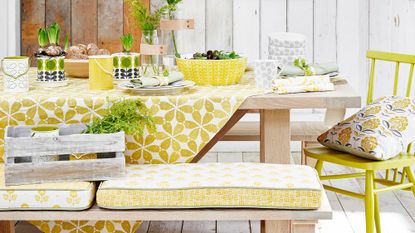 (Image credit: future PLC/Mark Scott)
Ideal Home Newsletter
The Home Of Great Ideas For More Than 100 Years
Thank you for signing up to . You will receive a verification email shortly.
There was a problem. Please refresh the page and try again.
With the Pantone Color Institute coining 'Gen Z yellow' the new 'Millennial pink', the cheery, bold and carefree colour looks set to stay.
Historically, yellow is a bit of a marmite colour that is conflicted by its meanings and associations. For some people it represents sunshine, happiness and optimism, but for others it symbolises danger, anxiety and deceit. So, it is no surprise that Gen Z yellow is becoming a defining generational colour.
Want more colour inspiration? READ: Green living room ideas – redecorate with the summer's most harmonious hues (opens in new tab)
What is Gen Z yellow?
The actual shade for Gen Z yellow is somewhere between marigold and French mustard on the scale, but as it gains popularity we are seeing items in every shade emerge from lemon to ochre. And in terms of metallics, brass and yellow gold are now taking over from the tired copper and rose gold finishes.
'Bright yellow is the divisive shade that is gradually becoming synonymous with Gen Z. Catwalks, installations & shop windows are awash with the shade, but we are seeing it become increasingly popular in interiors too. This bright yellow is a fantastic happy colour that represents all that is beautiful about summer. Lively and refreshingly bold, the yellow makes a statement wherever it is used. It has an underlying warmth which pairs well with cooler greys and clay tones, or alternatively against bolder shades when creating a statement colour clash,' explains Judy Smith, Crown Colour Consultant.
Why has yellow become a popular colour?
'It's no surprise that yellow is the new kid on the colour block for a generation that is embracing the future with a gutsy positivity. Trends towards colours on the warmer side of the spectrum are growing, with yellow and golden honeyed tones being right at the heart of the movement. Yellow is the colour of sunshine, energy, youth and optimism. Think baby chicks and daffodils in spring, hot sand and sunshine in summer, golden leaves in autumn and candlelight in winter. It's a colour that taps into the essence of what it is to be human and can be used to capture so many aspects of being a happy one,' informs Marianne Shillingford, Creative Director at Dulux (opens in new tab).
'Yellow is the colour that best represents hope, optimism and joy. It's the universal symbol of sunshine and warmth. All of these characteristics make it a symbolic representation of what we are looking for – a renewed hope for the future and the energy to engage in a purposeful way. Plus, it is guaranteed to turn heads,' says Laurie Pressman, Vice President of the Pantone Color Institute (opens in new tab).
Has Gen Z yellow overtaken Millennial Pink as the colour of choice?
'I don't know if I would say that Gen Z yellow has overtaken Millennial Pink as this is going to two different audiences who were/are turning to these particular colours for different reasons. Millennial Pink was very much of its time and with the shift towards a genderless, seasonless approach to colour, it made perfect sense for this colour/shades of colour to take centre stage. Today, we see this colour shifting into a more lilac or lavender pink shade. So pink is not going away, it is just evolving.
For me, Gen Z yellow is about our need for positivity in a world that has become increasingly challenging. Similarly to Millennial Pink, these bright and vibrant yellow shades are sticking around and we already see them emerging on the catwalks,' enthuses Laurie.
'A move on from millennial pink, Gen Z yellow is the uplifting hue of the season. This stylish yet sophisticated shade is adding a refreshing burst of colour to living spaces. At John Lewis we've seen sales rise across both fashion and home product. In textiles and home accessories it is now our second biggest highlight colour, with the product selection seeing growth from last year,' explains Philippa Prinsloo, Head of Design at John Lewis (opens in new tab).
'Gen Z yellow has stolen the spotlight over the past few years, overtaking millennial pink in the world of fashion, and I predict even bigger things to come for yellow in the interiors world. Millennial pink has young connotations, while yellow creates a much more sophisticated look, especially when contrasted with darker colours like deep blue or even olive green,' explains Lucy Ward, Trouva (opens in new tab).
It seems the topic has become a huge debate in the interiors industry, and one that we are all very intrigued by.
How to use Gen Z yellow in your home
'Gen Z yellow adds brightness and happiness. Bringing Gen Z yellow into your home could take many forms. Paint on a wall to bring attention opens up cramped and dark spaces. It is also ideal for the front door as it is eye-arresting and offers instantaneous warmth,' adds Laurie.
Gen Z yellow in the bathroom
'Gen Z yellow is the perfect colour scheme to consider for the bathroom. It is zesty, fresh and puts a spring in your step. Autumn is approaching, and with it we will see the resurgence of bright and rich jewel tones in home interiors. Gen Z yellow will complement them all! As with all bold colours, our advice would be to use it as an accent to enhance a room rather than wall to wall yellow. Not only does this create a focal point but it is unlikely to feel too tired too soon. The trend for Gen Z yellow encompasses a wide range of hues from pastels and mustard to neon. Find a tone that suits you and the mood you want to evoke in your bathroom,' explains Kate Griffiths, designer at Kohler UK.
Gen Z yellow in the kitchen/dining room
Vibrant shades of yellow have been around as a 'pop' colour for a good few seasons now and have made it into the kitchen with striking accent shades of curry and mustard. You don't have to use a lot – just a hit here and there, either in accessories, furniture or feature cupboards and shelving if you are looking to make it a bigger part of your kitchen scheme. It's a great way to add a bit of life to more neutral schemes and works beautifully with red-tinged and darker woods and well as being the perfect foil for the enduring shades of grey.
Gen Z yellow in the bedroom
The bedroom is the perfect place for the addition of a vibrant and welcoming yellow. Opt for a sunny shade that will make you instantly happy upon waking. Don't be afraid to use it on virtually everything! Yes – this is a colour to shout about.
Gen Z yellow in the home office
It is no surprise that people have started using yellow in their home office. Its bright, cheery aesthetic is the perfect environment for an optimistic, forward-thinking work space. Team it with another punchy colour to help break up the scheme. Look to the colour wheel for inspiration if in doubt.
Gen Z yellow in the living room
'Yellows don't always have to be bright to bring cheer into your room. Using saturated yellow hues can be a fantastic way to add a burst of colour to living spaces. Pairing these shades with contrasting charcoal grey and black furnishings provides a contemporary look', informs Argos
Need more colour advice? READ: Upgrade your space with these bold bathroom colour schemes (opens in new tab)
Will you be incorporating the Gen Z yellow trend in your home? We'd love to know how you work yellow into your decorating scheme!