Home office colour schemes - the best colour combinations for a productive space
Create the ideal working environment with decor that boosts productivity in your home office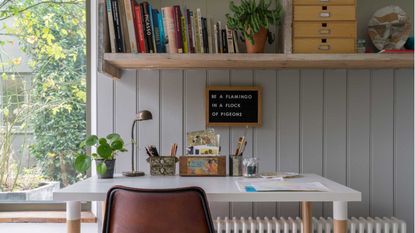 (Image credit: M L Paints)
Choosing the right home office colour scheme needs to offer an environment that boosts productivity, concentration and comfort.
During the last few years, many of us may have been lucky enough to work from home. And, more recently, the term 'hybrid working' seems to be a perk on every human resource manager's job advert that's published. Therefore, the need to convert a room into a home office idea or zone of a workstation in an open-plan area in order to work from home is more popular than ever before.
According to colour experts, there are some colours to never paint a home office for fear of distraction and disinterest. So, what are the best home office colours to choose in order to create a working environment that enhances concentration and creativity whatever your line of work?
'When it comes to designing a home office, you want it to be practical, functional, inspiring and a cosy space that's set for productivity.' Says Anna Hill, Brand Director and Colour Consultant at Fenwick & Tilbrook.
Home office colour schemes
Ancient cultures such as the Egyptians and Chinese practised colour therapy called colorology or chromotherapy. Today, colorology is still a significant part of holistic and alternative treatments.
'People can apply these same practices in their interiors by selecting a wall colour that stimulates the mood you want to create in your home,' says Emily Simmons, Creative Director at Ruggable.
Using the colorology practice, colour wheel theory and expert know-how these are the most inspiring and motivating home office colour schemes to choose from.
1. Go bold and yellow
Refreshing and light or warm and sunny, yellow will add a burst of colour to your home office walls whatever the tone.
'Yellow is the brightest shade on the visible spectrum, representing light and positivity. Opting for yellow walls can give a room a feeling of warmth and hope. In addition, yellow symbolises a sharp mind, intellect, and curiosity, which is why it is particularly well-suited for an office or reading room,' says Emily Simmon.
Anna Hill agrees. 'Yellow has a warm and cheerful nature and is ideal for use in a home office as it can bring in a sense of optimism and creativity. It evokes a feeling of vibrancy without overwhelming the space.'
Wondering what to team yellow in the home office? Natural wood can evoke a warming and autumnal feel. Or, blue can create a sophisticated contrast that adds depth and richness.
'For the best effect, place these colours strategically and be sure to choose the right shades of blue and yellow. Use muted shades of yellow and deeper tones of blue to create a space that is energising, easy on the eye and set for comfort,' says Anna Hill.
2. Be creative with coral
Uplifting and vibrant, coral offers a shot of dopamine to your working day and is a surefire way to give your home a mood-boosting makeover.
'Coral is a delightful blend of pink and orange tones that are warming and cosy. It's ideal for a small, informal office area or a space to have catch-ups with colleagues or clients,' explains Paint & Interiors Specialist, Sarah Lloyd, at Valspar Paint.
'Coral pairs well with other warm colours such as gold, yellow, and peach, as well as with cooler shades of white and pale grey.'
The pretty colour makes an ideal shade to gently but surely zone off a workspace in an open-plan area.
'Make your office a brighter space than the rest of the room. Picture a spotlight shining on your desk and paint a circle of colour that covers the floor around your chair and goes up the walls for a delightfully "zoned" area. Chalk Paint™ can paint anything so you can include your desk chair, your desk, your lamp, and even your bin in the zoning area,' suggests Annie Sloan CBE, Paint and Colour Expert.
3. Colour drenching
If bright hues are your life no matter what then colour drenching may be the ideal home office colour scheme for you. Choose one tone and use it on every surface to make a bold and beautiful workspace.
'I'd recommend picking one statement shade that you really love. That'll help make your home office a space you actually love to be in. This space needs to appeal to you on a purely aesthetic level so that you don't dread spending time there. It's actually a wonderful opportunity to be more creative and bold with your design choices,' explains, Annie Sloan.
'Let colour lead the way. Painting every aspect of the room from photo frames, radiators, plant pots, flooring, woodwork and furniture will give a totally holistic, intentional look that gives the impression that an interior designer has been involved in your study makeover,' continues Annie Sloan.
4. Play with blue
Of all the colours in the rainbow when it comes to home office colour schemes it has been proven that blue is the most successful for productivity in the home office.
'Blue is a calming and refreshing colour and has been found to improve focus and concentration. It is also associated with creativity and productivity so is a great colour for your home office,' explains Sam Jenkinson from garden office manufacturer, Tiger.
'Navy is an intelligent and elegant colour that would suit a larger home office or workspace. A popular colour for law firms, navy blue helps to create a sense of trust and authority. It is often used for furniture, wall paint, and even clothing, as navy suits are a staple in the legal profession,' adds Sarah Lloyd.
'Navy can pair well with many other colours, such as beige, white and gold, which can help create a professional and stylish look in your home office.'
5. Add luxury with damson
Most home office schemes that work are lighter and brighter shades that spark invigoration. But, as we head into autumn there is a paint trend that cannot be ignored. Warm and fruity, Damson has been named by John Lewis the colour of the season and they haven't left the home office out when it comes to their Damson room ideas.
'Inspired by the fruitful hedgerows of the British countryside, Damson is a warm and welcoming colour that's been chosen specifically for its cocooning feel which is perfect for Autumn when customers look to hunker down in their homes for winter,' says Charlotta Elgh, Partner & Director of Design, Home at John Lewis.
Teamed with gold accents and dark wood furniture, the rich maroon shade can evoke a sense of luxury and success.
6. Soften a scheme with pink
Thanks to the record-breaking Barbie movie, Barbiecore is dominating the colour scene right now in every room. From soothing petal pink to shocking fuchsia, pink will fire up your productivity in the home office whilst adding a personal touch.
'With many shades and tones to choose from, pink is a versatile colour and has many positive associations. From bubble-gum pink to dusty rose, a pop of pink adds personality to your home,' says Sarah Lloyd.
Alternatively, you can opt for a more vibrant pink colour scheme. Marianne Shillingford, Creative Director and Colour Expert at Dulux says, 'Hot pink works in rooms where you want to feel invigorated, confident, cheeky and joyful which makes it perfect for home offices and creative spaces.'
7. Bring the outside in with green
Green is another calming colour that is often associated with nature – so is perfect for bringing the outside in. Melissa Denham, Interior Design Expert from Hammonds Furniture says: 'Green is the colour of nature and growth, colours like soft olives or sage tones can be a perfect choice for a home office.
'Opting for a darker green can make the room feel cosy in the darker months when table lamps are on. When furnishing a green colour scheme you can match it with whites, creams, oranges and peaches which all complement it well.'
Graham & Brown Head Stylist and Trend Specialist, Paula Taylor agrees
'The herb sage is thought to have calming properties, and it is the same with a lick of sage paint.
'Transform your home office into a calming oasis with this fresh yet muted hue; partner with pastel shades to evoke playful energy. To add more warmth to north-facing rooms, combine with light yellow, gold and cream accessories.'
8. Brighten up grey
Grey is a neutral colour that can be both calming and stimulating so is a good choice for home office backdrops that need to be both productive and creative.
'Using a few different shades of grey in your home office is a modern trend that has been seen incredibly frequently in the past few years. Not only is grey an easy colour to work with, but it helps give a great overall sense of calmness and tranquillity, all while being classy and professional,' says James Mackie, office expert from BestBuy Office Chairs.
9. Ground with earthy shades
Warm and inviting, the new neutrals are a favourable choice when you want to hunker down in the home office and it's cold outside. A cocooning shade of brown will only make you all the more thankful that there is no commute involved in order to get to work.
Style psychologist, Dr Dion Terrelonge teamed up with House of Fraser to explain. 'These colours may help us to feel grounded thanks to their connection with nature and include terracotta, warm blues, greens, and gentle yellows. When combining colours, think complimentary, rather than contrasting tones'.
Founder and CEO of Studio Dean, Cathy Dean agrees. 'A brown interior colour scheme is surprisingly versatile and not at all as dramatic as it sounds, as there are so many tones that you can ease into. Opting for a neutral brown base allows you to have versatility in your home.'
10. Keep it crisp with scandi white
An all-white home office can sometimes seem sterile and is a colour to avoid in a north facing room.
However, with the right shade of brightening white a few pops of colour injected via accessories will instantly transform a stark home office into a source of inspiration full of character. You can pick up the office neccessities in these brighter shades using home decor discount codes so your budget gets stretched further.
This method of decorating is Scandinavian formula that never fails, as interiors expert at Contura, Catharina Björkman, explains. 'Scandi design uses neutral colours, which enhance feelings of calm and create a zen-like environment. But if you like bright colours add them as accents through accessories such as your chair cushion or pen pot. Inspirational art work is also a great way to add a pop of colour and personality to a workspace.'
FAQs
What's the most on trend colour to paint my home office?
Fashionable shades have moved away from the greys and whites (that we saw a lot of in the last few decades) to more warming tones that experts are calling 'new neutrals'.
'Earthy tones, work well in office spaces as they bring the feel of the outdoors into your home, creating a welcoming space to spend your day,' explains, Aaron Markwell, Lead Colour Curator at COAT Paints.
What's the best room for a home office?
According to a survey conducted by Groundworks, the guest room of a property is best suited to convert into a home office. However, as we are not all lucky enough to own extra rooms, the basement came in second. Zoning a space in the living was the third most practical space.
Get the Ideal Home Newsletter
Sign up to our newsletter for style and decor inspiration, house makeovers, project advice and more.
Rachel Homer has been in the interiors publishing industry for over 15 years. Starting as a Style Assistant on Inspirations Magazine, she has since worked for some of the UK's leading interiors magazines and websites. After starting a family, she moved from being a content editor at Idealhome.co.uk to be a digital freelancer and hasn't looked back.