How to create a dreamy reading corner and set the scene to dive into a good book
Whatever your age there is nothing better than curling up in a corner of your home with a good read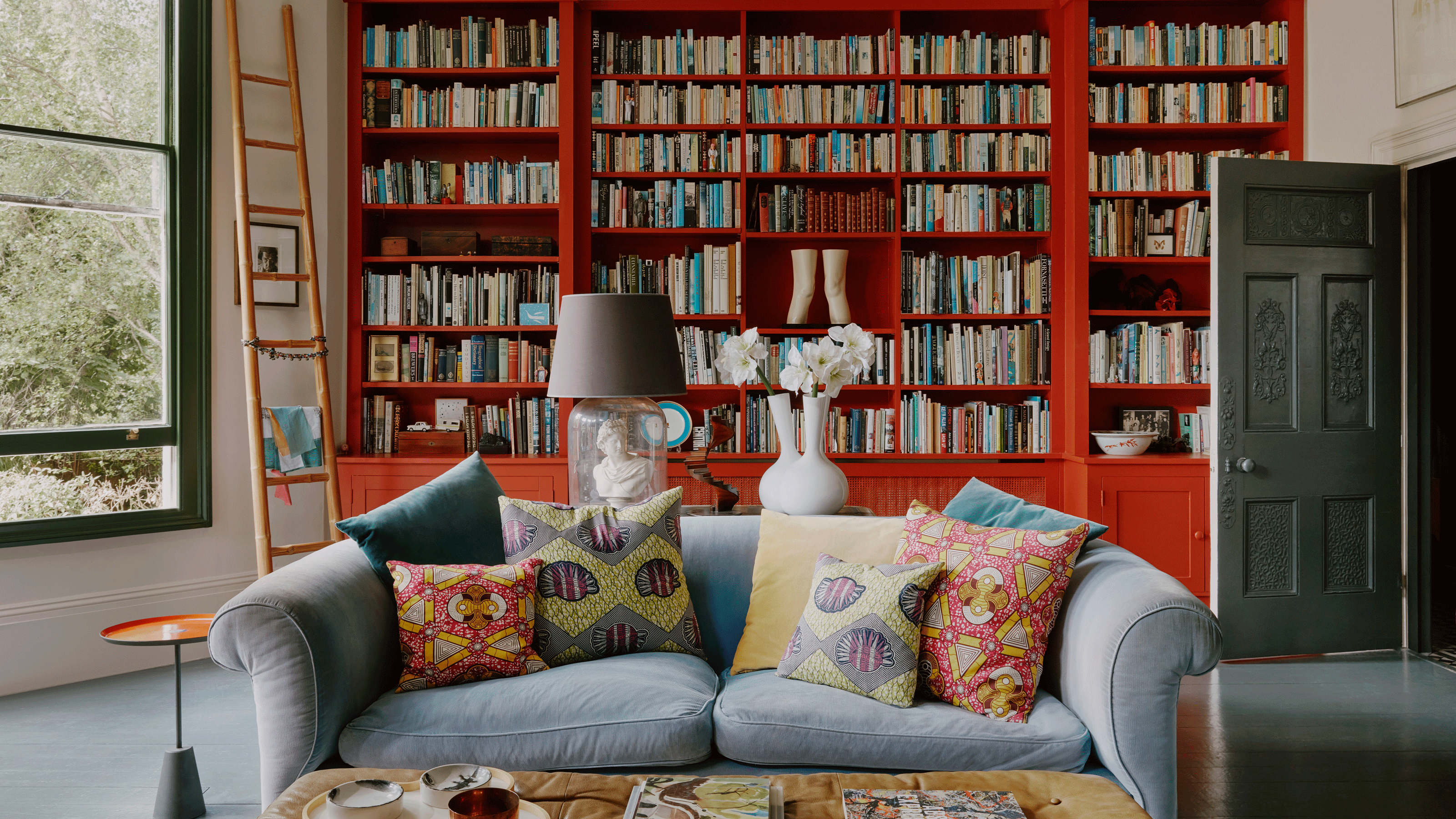 (Image credit: Farrow and Ball)
Nothing beats that feeling of disappearing into a new book. If you or your family are bookworms, investing in dedicated reading corner ideas is the ultimate act of self-care.
Any area of your home can be carved out into a retreat to set up camp with a book and a cup of tea. A spot under the stairs can be turned into a cosy haven or a window seat in the corner of your living room ideas. Whatever, spot you are working with a few cushions, some clever lighting and a side table can magic it into a spot to transport you into the latest bestseller.
We've rounded up a few of our favourite reading corner ideas ahead of World Book day to inspire you to carve out a lovely reading nook and join your favourite book characters for a few hours.
Reading corner ideas
If you're struggling to entice your kids into reading a reading corner is the ideal solution to encourage them to pick up a book. Similarly, if you're longing to make more time to flicker through a novel, cookbook or just the latest issue of Ideal Home, creating a dedicated reading space is the first step to manifesting your goal.
You don't need to splash out on a whole renovation project to create a reading nook. We've outlined some clever ideas for adults and kids to make the ideal reading space, from playful reading dens to unusual living room seating ideas.
1. Include storage for reading essentials
To help designate a spot as a reading corner for you and the kids add in a storage box. 'A pretty storage box is really useful so they can easily find their favourite books,' recommends homes magazine editor, Rachel Crow.
The storage box can include other reading essentials including a clip lamp, spare bookmarks and a blanket. To really set the mood consider adding in a few other treats such as a secret supply of biscuits and dedicated reading socks, John Lewis cashmere socks will help set the mood when diving into a new book.
2. Turn a bottom bunk into a reading den
If you're struggling to find space for a reading zone in your kids bedroom ideas, consider adding in a bunk or loft bed and turning the bottom bunk into a reading den.
'We bought the IKEA Kura bed for our son when he grew to big for his cot and when we eventually flipped it and he went into the top bunk, the space underneath became his reading den,' says Ideal Home Deputy Print Editor, Ginevra Benedetti.
'I hung some colourful festoon lights all around the top rim. His bed sits against a tall bookcase packed with books which he can access from above when he's in bed and below when he's in the den. There's a mattress in the den to make it cosy, along with loads of pillows around the sides all covered in brightly coloured pillowcases that I bought in a Habitat sale. He's rarely out of it!'
3. Have a side table on hand
Interior designer Abigail Ahern says that no chair should be without a nearby table to put a book and mug on, nowhere is this more important than in a reading corner.
'A good book and a cup of tea (or hot choc) are a match made in heaven, so always make sure you're got a little side table that's at just the right height for reaching without distracting you from the story,' recommends Ideal Home Content Editor Thea Babington-Stitt. 'Alternatively, a (well balanced!) sofa tray or one which slots over the arms of a chair will do the trick.'
4. Create a kid-friendly reading tent
To entice kids away from the TV and into a reading zone create a den under a small teepee or DIY your own with a sheet over some bookshelves or over a table.
'When my twins were little and I was in need of some quiet time and a reset, I used to create a den under the dining table. I'd pop a load of cushions under there, along with a stack of their favourite books then throw a big blanket over the table,' says Ideal Home Editor-in-Chief, Heather Young. 'They'd crawl in with their night lights and it would keep them occupied for a while!'
5. Set the scene with a view
Position your chosen chair by a window with a view to enliven all the senses – for the moments you take a break from your page too. Read along with a song to add further appeal. A soothing soundtrack can provide the perfect background noise to put you in the mood for some chilled time. Set the scene by popping a radio on a side table and layer up tactile textures to add comfort while you sit.
6. Take advantage of natural light
If you have a few choices of where to set up your reading corner, take into account the lighting. 'Getting the light right is key,' says home magazine editor Alison Jones. 'Position a comfy chair near picture windows for natural light, or even create a window seat with a bench and lots of cushions if you can.
'If your spot is in the corner of a room, a floor-standing reading lamp beside or behind the chair will help you get lost in a book.'
7. Embrace the power of plants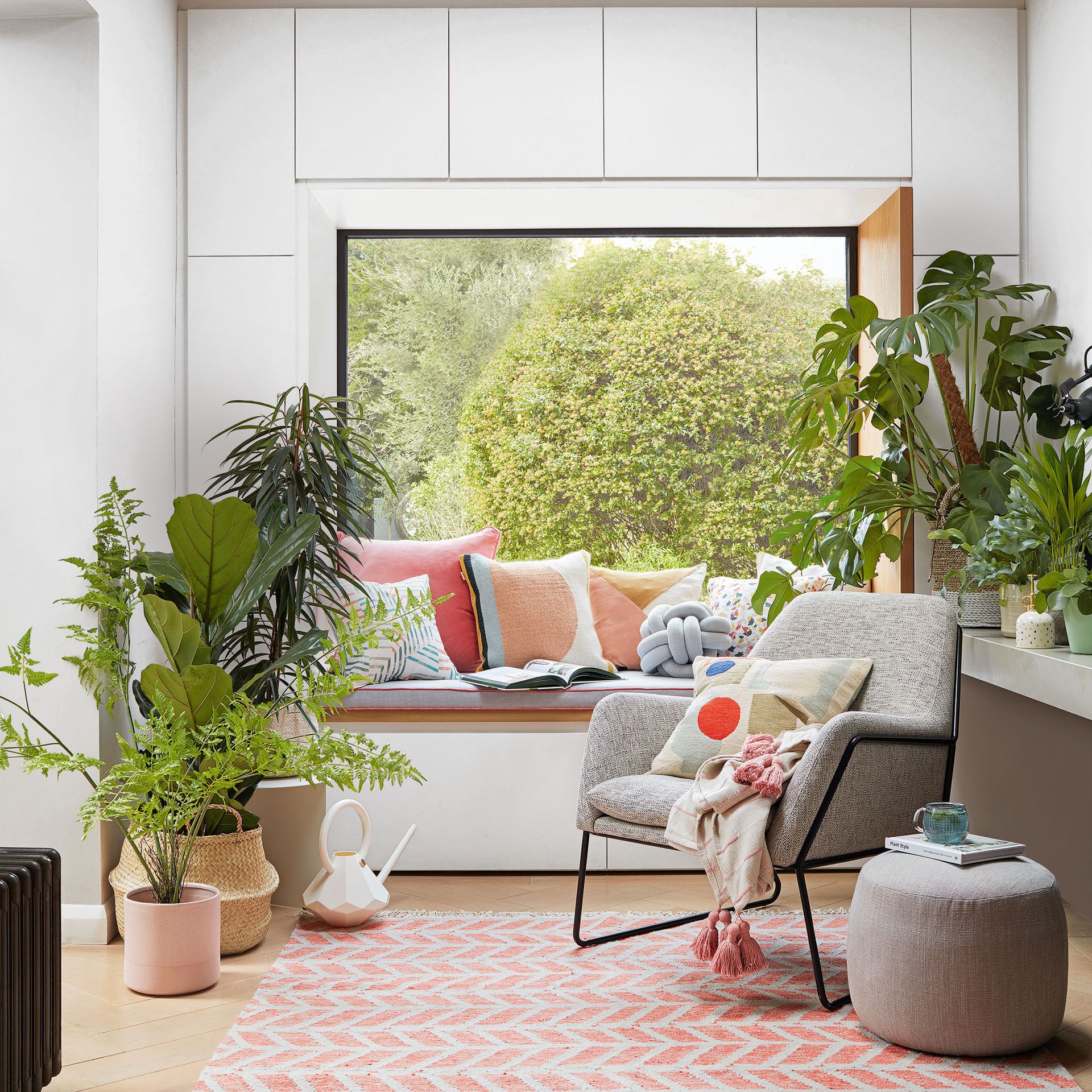 When you've chosen your corner in which to create your reading nook add a touch of nature. Decorating the space with house plant ideas is not only good for the look, it can also help to improve the space for a reading environment. Even better still if you can use a corner near a window, to embrace the nature outside also.
Houseplants are favoured for their power to welcome a sense of calm and wellness indoors.
8. Make use of every inch of space
When space is limited ensure you use it wisely. This built-in sofa has transformed a walk-through zone into a reading nook. To keep the space cosy stack up the cushions and blankets.
Sneak in extra storage where you can in bookshelves over the bench and hidden cabinets in the arms. You'll be spoilt for choice for where to pop your cup of tea and book.
9. Surround yourself with comforts
If you don't have the space or budget to build a nook, place a comfy chair in any corner, cover it with the softest blanket you can find and stack a pile of your favourite books within easy reach.
'Include lots of soft cushions and throws to make it as cosy and inviting as possible, especially to encourage younger children to read,' encourages interior design expert, Rachel Crow. make yourself a cuppa and you won't want to leave.
10. Create a secluded corner for quiet time
Nurseries are one room where reading becomes an everyday occurrence, rather than a luxury. Ensuring you have the perfect spot to read bedtime stories can be as simple as choosing a decluttered corner in which to place a traditional rocking chair and nightstand.
A lamp can provide enough light by which to read, but allows you to switch off the overhead lights to ensure optimum conditions to encourage sleep.
11. Make space to peruse cookbooks
The kitchen might not feel like the natural spot for a reading nook, but if you're a cookbook fan consider adding a bench or window seat alongside your cookbook storage. If you have the space, a built in seat that continues seemlessly into your cookbook shelves is a striking solution.
Alternatively, if you're short on space consider adding in bench seating with space below for storing books. You can build your own bench with storage, or cheat a bit with the IKEA Perjohan bench which is ideal for stashing tall books.
12. Work a window seat
A window area, particularly one with a pretty view, can easily be transformed into a dining nook. Built-in banquettes topped with seat pads offer a cosy, space-saving solution, but if you don't want to call in the builders, get the look with benches instead.
13. Create the ultimate cosy corner
Nothing says cosy, relaxing and warm than an open fireplace, faux fur rug and plenty of throws. This reading corner is the perfect place to snuggle into after a long day gathering wood for the woodburner. If this doesn't make you feel instantly blissful, then we don't know what will.
14. Zone off your space
Define your reading corner from the rest of your room by painting it in a different colour scheme. Open plan spaces often have a number of activities that take place within them, so it's important to identify an area for each one to avoid the space feeling confused and cluttered.
15. Don't discount the bedroom
The bedroom is the perfect place to create a cosy corner, and it is only a stones throw away from the bed, should you care to drift off after a hot cup of cocoa. Fill your corner with all the things you love. We recommend plenty of cushions for added comfort, and an abundance of greenery and natural plants to encourage the flow of oxygen.
16. Keep it simple with an occasional chair
You don't need to make your reading corner too obvious, if you so choose. Create a subtle space to escape with a good book by placing a chair in a calming spot when needed.
This rattan wing chair is an unobtrusive delight, and provides a lightweight alternative to bulkier armchairs that traditionally have their homes in reading nooks. Add a sleek side table in a suitably muted shade and you've got the perfect place to perch your cuppa and your latest novel.
Will you be using these reading corner ideas to create a sweet snug in your home?
Get the Ideal Home Newsletter
Sign up to our newsletter for style and decor inspiration, house makeovers, project advice and more.
Tamara was Ideal Home's Digital Editor before joining the Woman & Home team in 2022. She has spent the last 15 years working with the style teams at Country Homes & Interiors and Ideal Home, both now at Future PLC. It's with these award wining interiors teams that she's honed her skills and passion for shopping, styling and writing. Tamara is always ahead of the curve when it comes to interiors trends – and is great at seeking out designer dupes on the high street.