'I let him think it's his idea but he doesn't get a say' - Abbey Clancy's secret to solving interior design disputes at home
We spoke to relationship experts to find out how to navigate any interiors-related bickers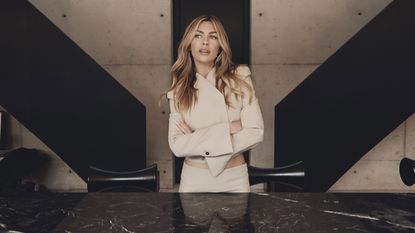 (Image credit: Salamanda Media / ITVBe)
For most people who live with their partner, Abbey Clancy's attitude to solving interior design-related quarrels might be a familiar tale. Maybe your taste is quiet luxury chic while your partner loves a statement living room colour scheme, or perhaps you disagree on how much you should spend on certain pieces of decor. Or maybe, just maybe, your partner doesn't have much of an opinion until suddenly they don't like your new purchase.
Whatever the specific issue might be, it's undeniable that home design can throw up some additional reasons for tension, that not even Abbey Clancy and Peter Crouch are bigger than.
So how do we solve these common bickers? According to Abbey, the answer is to 'let him think it's his idea but he doesn't get a say'. While this might keep arguments at bay for the pair, we've turned to the experts to determine the tangible steps to solving interior design disputes within your romantic relationship. Saving your love life and your interior style one step at a time.
'I've always loved homes and interiors, ever since I was a little girl I'd make things or be moving the furniture around,' says Abbey. 'I love making a house a home, for over ten years I lived a very transient life with Peter where we were living up and down the country in rental properties so I could never really put my own stamp on things but wherever I went, I always made sure wherever we were felt like home.'
'I love finding a bargain and I don't think you need to break the bank to make a beautiful home.'
Abbey's passion for interiors is clear and as a result, she claims that 'the house is my domain.' Her solution for navigating any differences in opinion is that Peter simply doesn't get involved. And while this might work for some, we've spoken to relationship experts on how else to work around differences of interior opinion...
How to solve different interior tastes in a relationship
'It's common for couples to clash on interior design, and it can be a particularly tricky subject to navigate in a relationship. Living spaces are highly personal and can have a major impact on how we feel on a daily basis,' advises Jessica Alderson, co-founder & relationship expert at So Syncd.
'Since we all have different styles, colour preferences, physical needs, and ideas about how we want our home to look, it isn't uncommon for couples to have differing opinions on interior design choices.'
But how do you fix it? In short, communication, compromise, and using it as an opportunity to embrace your differences.
Jessica Alderson is the co-founder and relationship expert at So Syncd, a dating app that matches compatible personality types. The company has been named 'the next big thing in dating' by Forbes. Jessica founded the company with her sister, Louella, and the pair are on a mission to help people find meaningful connections.
1. Find a compromise
We know, this is easier said than done. But sometimes you have to decide which battles to choose and maybe the pink living room of your dreams is something to push for later down the line.
'It's important to understand that compromise is essential in any relationship. This doesn't mean that you have to settle for something that you don't like, but rather that you need to find a way to incorporate both your ideas and opinions,' says Jessica. 'Unless one partner feels indifferent about design or your opinions are perfectly aligned, both you and your partner will have to make some compromises.'
Alternatively, play to each of your specific strengths. You might be great at thinking about practicality whereas your partner might embrace playful touches.
'The house is my domain, Pete gets involved if there is a fun element to it for example if it's a bar, a playroom, a swimming pool or an outside kitchen but anything else is all down to me,' says Abbey.
2. Create personal spaces
'Having personal spaces in a shared home is also crucial,' adds Phillippa Quigley, health and wellness coach and founder of Your Health and Soul.
'These nooks allow for individual expression and serve as small refuges, offering a balance between "me" and "us". And while personal spaces allow for individuality, shared spaces, like the bedroom, can benefit from neutrality. This neutrality fosters a sense of shared ownership and belonging, a constant reminder of the partnership.'
So whether it's a dedicated dressing room or a games room that gives you complete control over the design (and a few hours of alone time), finding your own space to decorate exactly as you please will alleviate any design-related tension in your relationship.
3. Use it as an opportunity to learn more about each other
It's important to look on the bright side when facing disagreements - ultimately if you find out your partner loves modern kitchens, for example, you've discovered something new about them.
'Remember, when navigating different tastes, it's also an opportunity to learn more about each other,' Phillippa advises. 'It's about discovering hidden facets of your partner's personality, understanding their history, and building a shared future. And if ever in doubt, there's always the option to experiment with secondhand furniture, offering a non-committal way to explore shared tastes.'
'At the end of the day, the goal is the same for both of you — to create a beautiful, comfortable home that you'll enjoy spending quality time in as individuals and as a couple,' adds Jessica. So whether you're aiming for a compromise or want to take charge of interior design decisions like Abbey, finding a rhythm that suits your relationship will make for a happy, stylish home.
New series Abbey Clancy: Celebrity Homes airs on ITVBe and ITVX on October 12th.
Get the Ideal Home Newsletter
Sign up to our newsletter for style and decor inspiration, house makeovers, project advice and more.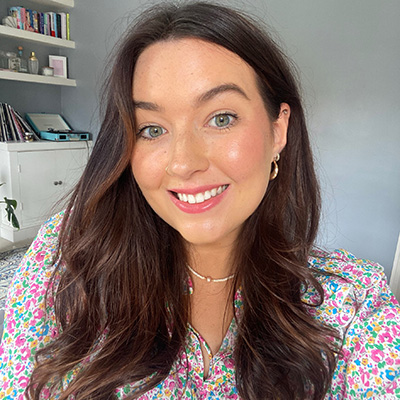 After starting out her journey at Future as a Features Editor on Top Ten Reviews, Holly is now a Content Editor at Ideal Home, writing about the best interior ideas and news. At Top Ten Reviews, she focussed on TikTok viral cleaning hacks as well as how to take care of investment purchases such as lawn mowers, washing machines and vacuum cleaners. Prior to this, Holly was apart of the editorial team at Howdens which sparked her interest in interior design, and more specifically, kitchens (Shaker is her favourite!).