The best 'quiet luxury' homeware brands – make a home look expensive without blowing the budget
These are the brands to shop to make your home look and feel expensive without breaking the bank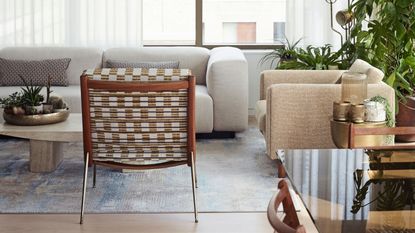 (Image credit: Future PLC/Mary Wadsworth)
Once reserved primarily for the world of fashion, 'quiet luxury' is the new home decor trend making its way into our homes – you can't go quite far without someone having mentioned this new trend taking social media by storm.
We grilled the Ideal Home team for their favourite homeware brands to browse to achieve quiet luxury in their own homes and contrary to its name, you'll be pleased to know you don't actually have to break the bank to make a living room look expensive – or any room for that matter.
Quick links
What is quiet luxury?
It's a little difficult to get on the nose with just words alone, but think minimal, timeless, and an understated premium feel. Quiet luxury isn't flashy or loud and branded in logos, nor is it simply an interior wave that comes and goes like the latest living room trends. It makes a space feel classy, expensive, and almost old-money-esque.
The key to achieving quiet luxury in your home is by investing in unassuming quality staples and furnishings for your living spaces. Whether that be purchasing the best sofa money can buy to opting for less flamboyant living room colour schemes and instead settling on a more neutral living room idea with a pop of jewel and darker tones.
7 of our favourite quiet luxury homeware brands
We know we tend to pride ourselves in affordable solutions for your home, but we'd be lying if we said we didn't like to splurge sometimes – but don't fret, because we'd never send you too far out of the typical Ideal Home budget pool.
Our editors reveal their insider secrets on where to shop to make a home feel more expensive while still shopping at relatively high-street prices.
1. Zara Home
Our Assistant Editor, Thea Babington-Stitt loves this high-street brand's home selection, and we've got to agree with her.
'Just as with its clothing and accessories, Zara Home has nailed luxe homeware for less. Perhaps due to their Spanish roots, they excel in showcasing the best of natural materials (woods, metals, linens…) and are my go-to when my space needs a new accent piece.'
'Remember to check out their Room and Fabric Sprays to get all the senses going – I especially love the Absolute Linen scent.'
Our star buy from Zara Home is this beige earthenware base lamp, for its simplicity and the way it plays with texture. Paired against some contrasting tones in your home, it's a lighting trend worth considering.
2. La Redoute
Our Editor in Chief, Heather Young, says: 'I love La Redoute for baskets – there's a huge range of shapes, colours and sizes and they're really high quality. They're the perfect thing to stash clutter out of sight when you're trying to nail that 'quiet luxury' minimalist vibe.'
Made from pretty woven jute, this Jutlo flexi basket is easily portable making it a versatile storage option for items, large and small. Not to mention, they also work as an elegant toy storage solution for a living room.
3. Layered Lounge
This pearl-edged tableware from Layered Lounge made a lasting impression on our Editor and country style expert, Andrea Childs. If you're after an easy way to make your dining room look expensive as an extension of your grand kitchen ideas, this tableware set takes the cake.
Andrea even suggests mixing it with your existing white dishes so opting for these wouldn't have to cost a fortune.
The Pearl tableware range from Layered Lounge is a beautiful high-quality range, ideal for taking you from everyday use to special occasions. Soft white in colour with an elegant beaded rim touched with a subtle hint of grey, stocking up on a couple of these pieces at the dinner table will give you the luxe boost you're seeking.
4. Denby
Our Content Director, Laura Crombie, swears by Denby for another expensive-looking tableware option. Stocked at your local John Lewis, Wayfair, and Dunelm, elevating your dining space further has never been easier.
Laura also mixes her Denby pieces with her basic tableware to help cut costs but keep the elegant feel. She notes that although 'they're an investment, you can feel the quality.'
5. Tartan Blanket Company
Our Deputy Digital Editor, Rebecca Knight, says: Nothing says quiet luxury to me more than a quality well-made blanket. I'm currently obsessed with the Tartan Blanket Company for their modern spin on traditional tartan rugs. Whether you are willing to spend less than £100 or a little more they have something.'
Undyed Alpaca Blanket in Neutral Check
This super soft blanket is woven from undyed fibres, meaning the gorgeous colour comes completely from the natural fleece of the alpaca.
'Alpaca blankets are always luxuriously soft, but if you're working with a budget like me, take a look at the recycled wool blankets.'
Recycled Wool Waffle Blanket in Sage
The soft and breathable waffle texture ensures temperature regulation, making it a lovely cloud-like layer for a restful night's sleep.
Recycled Wool Small Blanket in Mustard Herringbone
Cut to a smaller size, this small blanket is perfect for wrapping around shoulders, draping over knees or dressing furniture.
6. Neptune
'I love to explore the room settings at my nearest branch of Neptune for inspiration of how I'd like to live (but don't!). There are often baskets of accessories, like cushions, or lines of glassware on sale where I can pick up a little of the look,' says Alison Jones, editor of our sister magazine, Real Homes.