37 modern kitchen ideas – transform this key room into a contemporary space
We give you the lowdown on what's trending with our expert interior advice on modern kitchen ideas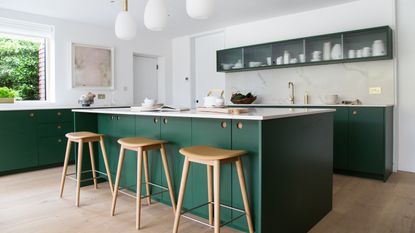 (Image credit: Naked Kitchens)
If you're looking to update and refresh your kitchen with a contemporary look, then researching the latest modern kitchen ideas is a good place to start. It's the heart of a home and somewhere we socialise, host, and dine - not just cook. With this in mind, it's worth getting your design wants and needs in order to help ease modern living.
With a whole host of kitchen ideas available out there, narrowing down exactly what direction you want to take yours can be tricky. So we've enlisted some of the top kitchen experts to help guide you through the top kitchen trends, styles and designs.
Modern kitchen ideas
Using modern kitchen ideas will help to bring contemporary vibes to your space, even if you're working with small kitchen ideas, while adding efficiency and personality, plus it's a great way to add value to your home too.
From the trending colours (deep, rich tones) to popular materials (natural and earthy) and significant features (no handles, high-gloss cabinets), read on for easy ways to give your space a stylish upgrade.
'Modern doesn't have to mean stripped back in terms of materials, says Felix Milns, founder of kitchen company HUX London. 'On the contrary, introducing a curated mix of interesting textures, such as brick, glass and stone will ensure plenty of depth and warmth.'
1. Tile your kitchen island
A great (reasonably quick) update is to tile your kitchen island – it could be with plain coloured tiles, patterned or textured that give the space a contemporary edge but without being too showy.
'Tiles can be used on a kitchen island to create an impactful and stylish scheme, whether you prefer to make a bold statement or a more subtle focal point,' says Ruth Webber, creative director, Bert & May.
'Tiles can be tessellated to create unique schemes, and tiling a kitchen island is a practical and easy way to introduce colour, texture, and pattern.'
2. Mix modern elements with classic detailing
If you're updating a kitchen in a period property you may well have beautiful architectural detailing that's too wonderful to remove. In that case, enhance it and make it part of your modern kitchen ideas.
'Consider taking inspiration from more traditional elements and interpret these in a new and contemporary way to introduce character and avoid a modern kitchen from feeling too stark and cold,' advises Felix from HUX London.
'This ceiling takes the rather classic concept of panelling and literally turns it on its head, by moving it from the walls to the ceiling. The result is an instant feeling of depth and architectural detail; an unexpected moment that's a real showstopper.'
3. Go for a sleek monochrome
A monochromatic scheme more often than not does feel contemporary purely because of the colour scheme. The beauty lies in the simplicity and if you team it with the sleek lines of a white worktop and matching kitchen island ideas you'll be halfway there.
Black cabinetry will give the space depth, use a mixture of open kitchen shelving ideas and floor-to-ceiling units and a vintage cabinet as long as it's painted black or white will fit in nicely. Keep your accessories simple, this look needs to be streamlined rather than cluttered.
4. Embrace symmetry
There's something particularly wonderful about symmetry – the order of it, the way it draws your eye to key pieces and let's face it, it makes everything look neat and tidy!
'Create symmetry with bold pendant lights, not only makes a great feature but also creates a relaxing sense of order and calm,' suggests Mara Rypacek Miller, managing director of lighting brand Industville.
'Try to align the lights with other features in the room such as seating or cabinetry doors to create pleasing visual lines.'
5. Incorporate neat storage ideas
One way to modernism is to keep as clutter-free as possible and to only have essentials on your surfaces. To achieve this you need good kitchen storage ideas so you can hide the every day away, utilise your kitchen island as much as possible.
'The popular Ladbroke style doors create a beautiful minimalistic design which showcases the beautiful oak beneath the striking shade – these create a perfect solution for displaying items that are too beautiful to hide,' says Elizabeth Sherwin, creative director, Naked Kitchens.
A single narrow row of wall units with glazed ribbed glass fronts is ideal for your tableware, keeping them white will prevent the eye from being drawn to them.
6. Double up on your lights
Sometimes it's the smaller details that make the most impact like your modern kitchen lighting ideas. Try pairing statement task lighting so it's both stylish and practical.
'A modern aesthetic can easily be achieved by injecting style appeal into functional assets or appliances,' says David Amos, founder, Amos Lighting. 'For example, consider pairing kitchen lighting for a fashionable touch, not only will this be more practical but it will create a symmetrical and refined look that most modern homes have.'
7. Add interest via flooring
If you want to add interest and pattern to a kitchen scheme while keeping it pared-back in terms of colour, then herringbone flooring is the way to go. It's one of the latest kitchen flooring trends and it shows no signs of slowing down, taking inspiration from parquet styles, so you won't need to worry about it going out of style.
'Adding a wood floor is a fantastic way to create character in a modern kitchen using a sustainable resource. At the moment, herringbone in a light cashmere colour, and mixed width planks are really popular for kitchens,' says Robert Walsh, founder of flooring experts Ted Todd.
'The lines of symmetry on these floors help give the illusion of a bigger space, which is great for smaller modern kitchens. We expect to see reclaimed wood and engineered wood flooring continue to grow in popularity for kitchens as modern design lends itself more and more to sustainability, and building spaces for long-term living.'
8. Create depth with black framed doors
If there's one feature of modern kitchens on top of our wishlists, it's Crittall-style doors. Luckily, there are many similar varieties to choose from so you don't have to break the bank in order to achieve the look.
The contemporary black frame instantly updates a cooking space, and they're especially useful for creating an open-plan living room where plenty of light floods through, but you can still close it off when privacy is required.
They also work particularly well along the back of a house, opening up into the garden, too. So it's worth considering adding them to a kitchen renovation to truly modernise your home.
9. Work in a waterfall worktop
Kitchen islands act as the hub of a kitchen space, creating a space for the whole family to gather to cook, chat, and eat. With this in mind, why not make it a design feature too?
A waterfall design creates a wrapped effect where the worktop material continues down onto the side of the island. Not only does this look super premium, but it also means that you get to enjoy the visual impact of the stone.
10. Mix in a trending colour
The fastest way to make a space look undeniably modern is by incorporating the latest kitchen trends. Colour is always a huge focus each year, with trending tones leading the forefront of design, so why not add one in?
Although the colour will be having a moment, there's no need for it to only last one season. It's a great opportunity to choose a scheme that you wouldn't usually opt for, but that could actually transform your space. Plus, if you don't want to commit to a whole new kitchen scheme, you can find on-trend accessories to add into the mix.
11. Go for nordic inspired design
For a minimalist approach to design look no further than scandi kitchen ideas. They're always full of inspiring ideas to use – no fuss cabinetry with no handles to bump yourself on, white worktops, open shelving and if you want to add a touch of colour, choose a barely-there green, a blush pink or a cool pale grey.
Accessories are always considered – opt for practicality and form in muted tones over bold and bright. Plants are the ideal finishing touch, they will add life and texture.
12. Add subtle curves
Looking for a contemporary, design-led kitchen? Adding curves to your cabinetry will create a high-end look that feels like a breath of fresh air.
Kitchen islands are a clever place of incorporating softer lines as you can use curved corner units to create the look. As it's the centre of the design, it will make an entire scheme look more relaxed. You can also achieve a similar look with a rounded dining table, which is a more affordable solution.
13. Use modern paint methods
There's been a new trend on the block for the last year – painting the ceiling, it's very effective and one we love, match it to your walls too.
'Painting your walls and ceiling the same colour is a great way of creating a cohesive space, delivering a seamless look that will make your kitchen appear more spacious,' says Ben Burbidge, MD, Kitchen Makers.
14. Mix wood and marble
Which modern kitchen ideas give you the best of both worlds? The contemporary coolness of marble combined with light oak cabinetry and Crittall doors. This mix of warmth and slightly industrial works really well if your looking to create a modern farmhouse-style kitchen.
'Combining a mix of organic materials such as timber, stone and steel in a kitchen can imbue a sense of warmth,' suggests Simon Temprell, interior design manager, Neptune.
'This is a classic combination – pair with the architectural simplicity of Crittall windows or doors for a transitional feel that keeps the space feeling open and light.'
15. Use the same stone
Matching up your worktop, sink and splashback idea is one way to achieve one of the best modern kitchen ideas. Easy on the eye and oh-so-contemporary, it's the minimalist approach that works every time.
Again, being clutter free is your best friend for this kind of design, choose a brass tap to add warmth and pop up a hanging rail for pans so they're to hand in the evenings.
16. Choose statement lighting
There's nothing like some stand-out kitchen lighting ideas to bring the wow-factor to your kitchen and give it a contemporary update.
'A design-led lighting scheme is an instant way to elevate and modernise your kitchen,' says Ian Cameron, creative director of lighting specialists Empty State. 'A contemporary kitchen needs a combination of brighter task lighting, alongside softer ambient lighting, paired with elegant finishes and textures.'
'Position a striking, sculptural pendant light above a kitchen island or dining table for example to help draw the eye up, and pair it with beautiful wall lamps or individual pendant lights above areas such as the sink, cooker or open shelving to highlight each zone. Opt for slim, elegant silhouettes and pair them with luxurious accents and materials such as brass and marble.'
17. Go handleless
To achieve a super-sleek and modern kitchen, think about whether you need the addition of handles and drawer pulls, which can sometimes make your space seem too busy.
'Modern kitchens should reflect modern life and as our lives are so multi-faceted so are our kitchens,' notes Emma Stuart Stephens, head of marketing at Mereway Kitchens. 'Perhaps as an anti-dote to life's chaos, the trend for minimalism continues and is the hallmark of a modern kitchen. Floor to ceiling cabinetry, handle-less doors and drawers and concealed storage are the key to this look.'
18. Gravitate towards grey
Grey kitchen ideas continue to be big business and opting for a darker shade of the colour will bring your space bang up to date.
With grey acting as the perfect neutral shade for the hub of your home, it allows you to pair it with nearly any other accent colour and works particularly well with brass finishes and lighting. Plus, it won't date.
Floor to ceiling cabinetry will accentuate the ceiling height of your space and patterned flooring adds texture and depth to the room too.
19. Dress windows with stylish shutters
When it comes to looking for window dressing ideas for your kitchen, you want to opt for the most simple and sleek option, to ensure a modern kitchen. Shutters are ideal for controlling privacy and light levels, as well as giving your space the perfect, contemporary finish.
'Whether a traditional family home or a modern city apartment, shutters are an essential addition to any interior,' says Sam Tamlyn, Managing Director of California Shutters. 'Whilst providing optimal privacy, managing light levels and helping to regulate the temperature of a room, shutters are a beautiful window treatment that provide a sophisticated and understated finish to a space.'
'Plus, the great thing about shutters is that they are extremely versatile and can be fitted to a variation of different window sizes and shapes.'
20. Try a two-tone paint job
Want to know just how to paint kitchen cabinets, to achieve a more fresh and contemporary look? Then go for a two tone style. We're not suggesting painting two colours on the same cabinet (although of course, you do you!) but instead opt to paint the base units, in a different shade to the wall hung units.
You could use different shades of the same colour, or use complimentary colours, but pairing light and dark will create a dramatic impact.
Not only does this break up the space, but if you choose to paint the wall hung units the same colour as your walls, it will actually make the space feel roomier and draw the eye up to the ceiling.
21. Opt for organic materials
To create a modern kitchen, it's not just about choosing the right colours or style, but also about choosing the right materials to use too. In an open-plan kitchen diner, wood can take centre stage, for a country kitchen vibe in a contemporary setting.
'The modern organic trend continues to be a hugely popular trend across kitchens, with consumers opting for natural materials with rustic qualities,' note Sally and Sarah Wilkie, founders of Home Barn. 'Reclaimed wood is a strong favourite, thanks to its rustic appeal and environmentally friendly natural.'
'They are also a great investment piece and pair harmoniously with contemporary colour palettes such as soft blue and cream, giving kitchens a unique and characterful aesthetic.'
22. Choose sleek storage
Minimalism and keeping things clutter-free is one of the most simple ways to work modern kitchen ideas into your home. Busy cabinetry and appliance-laden surfaces tend to look rather old-fashioned. Instead, use a streamlined cabinet design, utilising handless cupboards for an ultra-modern look.
Sleek cabinetry can also create the illusion of more space, making it perfect for smaller spaces, too. Conceal fridge-freezers and dishwashers behind for cohesion.
23. Look for unique materials
One of the most popular ways to look at modern kitchen ideas is to use it to express individuality. These days we're not as constrained with brands, suppliers and materials. Use your kitchen to display unique materials for a thoroughly contemporary feel.
Think about unusual materials you could work in. For example, instead of a stone island choose a metallic finish. Copper makes a great facade as its patina will age and change over time and doesn't overwhelm against the rest of the kitchen.
24. Be bold with colour
There are no rules for what colour you should be painting your kitchen anymore. That said, you can achieve a truly modern kitchen by choosing a colour which you love and using it liberally. Stand out from the mass of greys, whites and blues by having some fun with your kitchen colour scheme.
Colour doesn't have to go everywhere - limiting it to cabinetry means you're less likely to grow tired of your choice, as you can change smaller pieces or tiles for a refresh.
25. Make it masculine
Choose typically masculine colours for a sleek, contemporary feel. Soft blacks, charcoal greys and warm browns add a sophisticated tone.
Stop the look from feeling too harsh by choosing softer finishes, like mottled paints, aged leathers and textured materials.
26. Break up your cabinetry
While floor-to-ceiling cabinetry offers plenty of much-needed storage, it can sometimes feel a bit bland. break up the cabinets with an array of reeded glass frontages. As well as adding interest, this works in softening the overall look.
A quirky alternative is to use a sheet of chicken wire in place of the textured glass.
27. Layer materials
Seating nooks and kitchen banquettes are the perfect place to add individual personality and a bit of 'wow'. Steer away from traditional and into more modern kitchen ideas by upholstering the bench or seats in luxe fabrics.
Mix and match sumptuous materials for an elegance and interesting look. Keep the fabrics all within the same colour palette to keep the style feeling contemporary.
28. Add a breakfast bar
As open-plan kitchens are one of the more modern kitchen ideas, and we veer away from formal dining spaces, make sure you include a breakfast bar.
You can achieve this by using a nook, peninsula or window seat. However, adding onto an island is the most convivial and contemporary of breakfast bar ideas. Break up the linear, slimline surface with a chunky breakfast bar to add contrast and create a delineated dining area.
29. Add texture to your walls
While many think of modern kitchen wall ideas equalling only sleek, seam-free surfaces, texture can add a serious amount of contemporary cool.
Brick feature walls have a hint of industrial chic about them, and you don't even need an existing brick wall to make them happen. Instead, look to brick slips - lightweight brick 'tiles', around 20mm thick.
30. Have fun with your splashback
Kitchen splashback ideas aren't simply a practical element to a kitchen - they're an opportunity to add interest and style.
Stay away from traditional glass or basic tiled walls. Instead choose a look which adds impact. Perhaps an unusual shape, colour or material. Selecting one material in several varying, but similar, shades, creates a cohesive but stylish finish.
31. Show things off with open shelving
If you've ever needed convincing to expose what's in your cabinets, now is the time as statement shelving becomes ever more popular in modern kitchen ideas.
From open shelving to glazed doors with integrated lighting, experiment with stacking bowls and plates, as well as neat arrangements of ornaments and books for good measure.
32. Go bold as brass
Dark kitchens and brass accents go hand-in-hand when it comes to modern kitchen ideas and cool design.
You can off-set stormy shades with industrial lighting or use stylish taps on your kitchen sink ideas to give fixtures some depth.
33. Celebrate the concrete jungle
The raw earthiness of concrete is still a huge trend, and the look is perfect for anyone searching for modern kitchen ideas. You can get professionals to create a polished concrete kitchen for you, or opt for concrete-effect tiles.
Concrete, and concrete-style, accessories, is another way of adding this chic material into your scheme. You can pick up a variety using home decor discount codes to dip your toe into the trend if you're on the fence about bringing it into the space in a bigger way.
34. Work with wall-hung appliances
There's something that feels a little luxurious and forward-thinking about not having to put your back out every time you want to put something in or take something out of the oven. Opt for wall-hung appliances for a sleek and modern look that's also perfectly practical.
35. Indulge in a lit