This is the bathroom colour scheme that Vanessa Hudgens raves about – do you need it in your home?
Is a spa-like dark bathroom what you've been missing? Vanessa Hudgens certainly can't stop singing its praises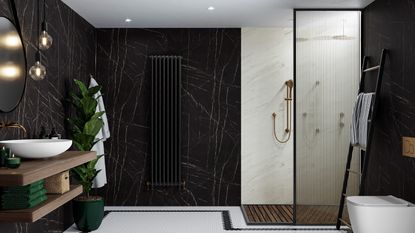 (Image credit: Multipanel)
We are used to thinking of bathrooms as white, bright and light-filled spaces. Perhaps sometimes almost clinical as it is a place where we cleanse ourselves. But who says that a dark bathroom is a no go? Turns out, it might actually be a better bathroom colour scheme than the traditional white. Actress Vanessa Hudgens certainly thinks so as she's revealed her dark and cave-like bathroom in her house tour for Architectural Digest.
The relaxation-inducing potential of a dark colour palette is certainly worth exploring, as is the elevated and luxe finish it creates. So should you paint your bathroom a dark colour? We consulted our experts to see what they have to say about this somewhat eccentric bathroom paint idea.
Dark bathroom
When Vanessa Hudgens opened the doors to her Los Angeles home to the internet last year, what caught our eye first and foremost was her striking dark bathroom. The actress, best known for High School Musical and The Princess Switch, said of the choice, 'I just really wanted it to be sexy and cave-like.'
And that it is. Dark brown limewash walls are paired with charcoal-hued tiles on the floor partly covered with a patterned rug. Vanessa treated her bathroom as any other room in the house, going with whatever choices were best suited to her taste and lifestyle. Which is something we can all learn from. So no, a bathroom doesn't have to be white.
'Bathrooms are no longer about being a purely functional space and instead, are as much about the aesthetics as other rooms in the home so there is no reason that you can inject personality into a bathroom by using dark colours,' says Barrie Cutchie, design director at luxury bathroom design company, BC Designs.
In her AD interview, Vanessa mentions that a lot of the design elements and materials in her home are quite earthy, led by the desire to be grounded. And that's exactly what a dark bathroom can help with, aiding in a spa-like, meditative experience.
'If you're the type of person that loves to use the dark meditation rooms that you often find in spas, this could be the perfect choice for you. A dark bathroom can help create a great space to shut off the day's stresses before heading to bed,' explains Warren Kinloch, bathroom interior expert at Bathroom Deal.
'Naturally, darkness is associated with nighttime and sleep, so it can support a healthy evening routine. Taking a bath or shower in a dark room, right before bed, can help prepare the body for a restful night's sleep. Throw in some lavender scented bath soak or shower gel, and you have the perfect place to wind down before bed.'
But a dark bathroom is not just great for your nighttime routine. You can benefit from it also in the morning as Warren outlines. 'If you work a stressful job, having a dark room to have a morning shower in could enable you to incorporate a deeper meditation into your morning shower routine, to support in getting you in a positive headspace for the day.'
Do dark colours make a bathroom look small?
One of the potential downsides of a dark bathroom is that it can make a space look smaller than it is. Which is not ideal if you're working with an already small space.
'Dark walls and ceilings can tend to make a space look smaller, so it's important to consider the amount of space you have and whether you can afford for it to feel a bit smaller, if you're already pushed for room as it is,' says Warren.
James Abrams, sales director at bathroom manufacturer nuie, agrees, 'We would recommend that smaller bathrooms should opt for brighter and lighter colours to create the illusion of space.'
But Lidia Cetrangolo, marketing manager at Multipanel, a brand of bathroom wall and floor coverings, offers an antidote to the shrinking effect so that you can still incorporate dark colours into your bathroom.
'For a dramatic contrast, opt for a dark or black feature wall in your bathroom. Although we tend to associate lighter colours with big spaces, dark colours can open up rooms if used strategically. The dark effect pushes the wall into the foreground, while the rest of the room becomes subdued. This, in turn, becomes a visual guideline for our eyes, creating the illusion of depth in the process,' she says.
What colours look best in a dark bathroom?
So what is the best colour to paint a bathroom? There are plenty of dark colours for you to choose from to enjoy the cocooning effect of a dark bathroom. Black is perhaps the most obvious.
'Black may be considered a dark and dingy colour but used correctly and it can create a strong sense of empowerment,' says Rikki Fothergill, bathroom style expert at Big Bathroom Shop. 'Black is often associated with sophistication, elegance, and even a sense of mystery. In interior design, it's commonly used to create a dramatic and luxurious ambiance.'
Sounds good to us. But keep in mind that 'while some people might find a black bathroom to be calming and cosy, others might find it too dark or sombre for their taste,' Rikki adds.
An unexpected option that didn't even occur to us before our experts brought it up is dark green. ' A dark colour that works especially well is dark green. It represents nature and the outdoors so all the associated benefits of what being outside brings is added to the relaxing vibe that choosing a dark colour brings,' explains Barrie of BC Designs.
Meanwhile, James of nuie makes a case for almost-black dark greys like charcoal and anthracite. 'Pairing anthracite, charcoal or deep blue colours with earthy tones, or natural lighting, can create that spa-like feel. This can enable your space to provide you with a sense of calm that is perfect for a relaxing bath or a peaceful shower experience.'
James makes a good point about natural lighting. As seen in Vanessa's bathroom, her dark colour palette is complemented by the natural light flooding in through her large windows which creates a perfect balance.
Get the Ideal Home Newsletter
Sign up to our newsletter for style and decor inspiration, house makeovers, project advice and more.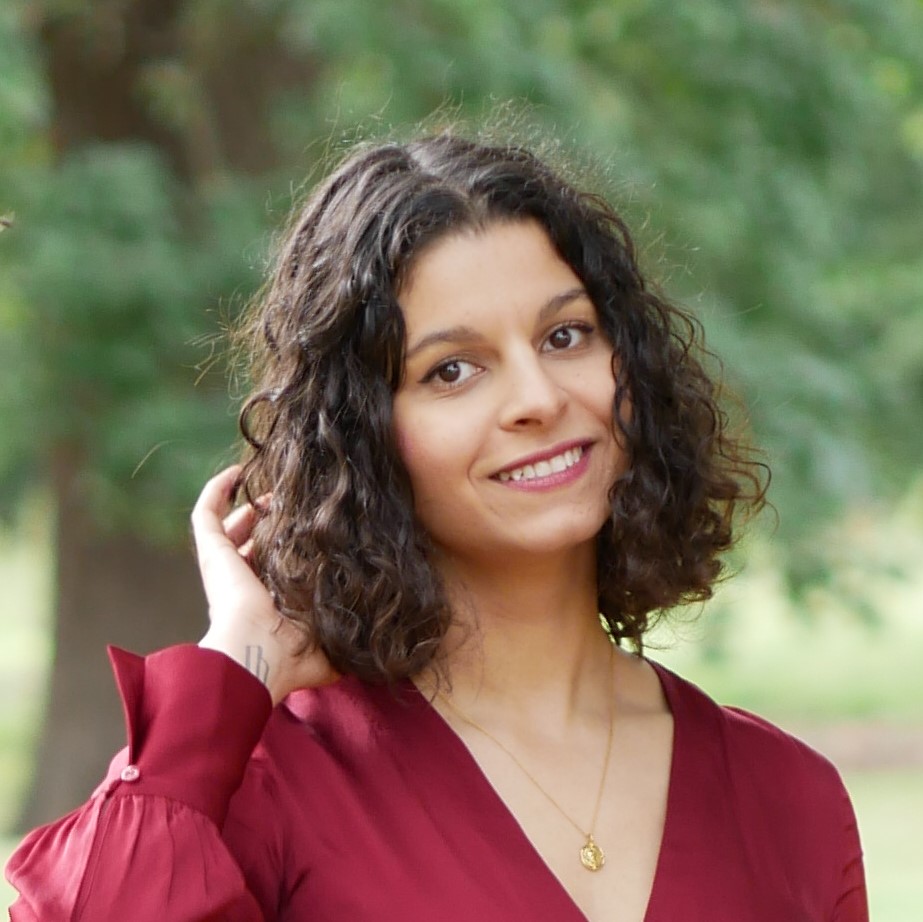 Sara Hesikova has been Ideal Home's News Writer since July 2023, bringing the Ideal Home's readership breaking news stories from the world of home and interiors. Graduating from London College of Fashion with a bachelor's degree in fashion journalism in 2016, she got her start in niche fashion and lifestyle magazines like Glass and Alvar as a writer and editor before making the leap into interiors. She feels the two are intrinsically connected - if someone puts an effort into what they wear, they most likely also care about what they surround themselves with.