Best plants for the bedroom - 7 soothing plants to help you sleep better
Air purifying and calming? We'll take them all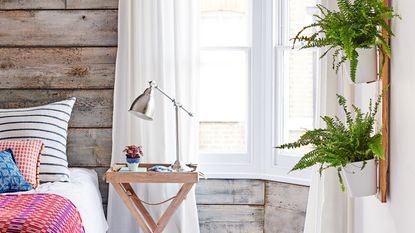 (Image credit: Future PLC/Catherine Gratwicke)
We all know the benefits of houseplants - but what are the best plants for the bedroom specifically? Different plants and flowers can bring different moods and qualities to a space, so when it comes to your boudoir it's time to turn to those which can help create a soothing and tranquil atmosphere.
The best house plants can uplift the interior of any room, injecting vibrancy with their bright green leaves and colourful flowers. But those the experts herald as perfect for a bedroom will help contribute to deep and restful slumber, thanks to their purifying and calming traits.
'Greenery-filled homes have been very on-trend of late but they can offer more than just their aesthetic appeal,' says Theresa Schnorbach, Sleep Scientist, Emma - The Sleep Company. 'The humble houseplant can have a significant impact on our sleep environment and contribute to our overall well-being.'
We've asked sleep and plant experts alike just which plants you should be including in your bedroom decor so that you can use these botanicals to gain a more restful night's slumber.
The seven best plants for the bedroom
The seven plants on our list are agreed by the experts as being helpful aids in promoting a cleansing, soothing atmosphere, which is ideal for helping you sleep better. Here are all the best plants for the bedroom, and what makes them so.
Theresa Schnorbach is a psychologist and sleep scientist, specialized in Clinical Psychology and Cognitive Neuropsychology. She has completed a post-graduate training in Cognitive Behavioural Therapy for Insomnia (CBT-I) with the German Sleep Society (Deutsche Gesellschaft für Schlafforschung und Schlafmedizin (DGSM)), endorsed by the European Research Society.
Things to consider when choosing plants for the bedroom
Before choosing one of the best plants for the bedroom, there are a few things to keep in mind. While it is completely safe to have plants near you while you sleep, you want to choose a species that will help you sleep better, without causing any disruption to your sleep cycle.
Sleep scientist Theresa Schnorbach has outlined the following points to keep in mind:
Research - Do your research and avoid plants with strong fragrances if you are sensitive to scents or suffer from allergies
Low Light - As your bedroom typically receives less sunlight compared to other areas of the home, it's recommended that you opt for plants that are known to thrive in low-light conditions
Drainage - Improper drainage of your potted plant can lead to root rot and potentially mould which may negatively affect your sleep
Dust - Regularly dust and clean the leaves of your plants to maintain their optimal air-purifying abilities
With these things in mind, you can take your pick from the best plants for the bedroom, as recommended by the experts.
1. Snake plant
Known for their long striped leaves, snake plants make a statement whatever room they are placed in, with some of them growing up to one metre in height.
While many of us use dedicated air purifiers in our bedrooms, you can also look to plants to help boost the air quality. These striking plants are best placed in the bedroom because they are natural purifiers, so they can help cleanse the atmosphere and promote better sleep.
'Snake Plants are regularly chosen for bedrooms as they emit oxygen during the night,' explains Theresa. 'This helps to improve indoor air quality and increase humidity levels which can help contribute to more restful sleep by maintaining optimal moisture balance in our respiratory systems.'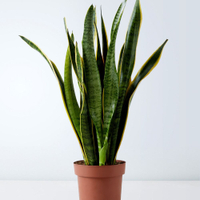 Large Sansevieria Plant, £30 at Marks and Spencer
This large Sansevieria plant - more commonly known as the Snake Plant - is 70cm in height, making it a standout feature for your bedside cabinet. It needs to be watered once every few weeks, making it a great low mantanence option.
2. Peace lily
One of the best plants for the bedroom is definitely the Japanese Peace Lily, which aside from pairing beautifully with boho bedroom ideas, is known for having air purifying qualities which will help to soothe the atmosphere in your bedroom.
'The peace lily is one of the top houseplants for removing harsh chemicals from the air, literally absorbing airborne toxins through their leaves, before sending them down the plant to the roots, where they are broken down and absorbed back into the soil,' says Kate Lindley, Product Manager, Baby Bio.
Peace lilies can also increase the level of moisture in a room by around 5%, making them a great choice for anyone with asthma. 'The peace lily's ability to remove toxins and increase the humidity of the air in your bedroom can ease dry throats or sinus problems, helping asthma sufferers sleep better,' says Carl Wash, Owner, Bed Guru.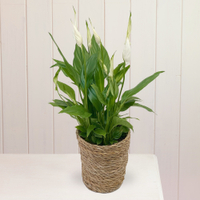 The Forest Fairy, £26.99 at Serenata Flowers
Coined 'Forest Fairy', it's easy to see where this peace lily gets its name from. Its lush emerald green leaves look lovely and whimsical, but it will also cleanse the air in your bedroom and help you breathe deeper.
3. Aloe vera
'Aloe Vera was listed by NASA as one of the most effective air-purifying plants,' says Hope Bastine, Resident Sleep Expert, Simba. 'As the sun goes down, the plant begins emitting oxygen - remember, the more oxygen in the air, the easier time you'll have drifting off.'
The tall, succulent leaves of aloe vera will not only make a striking centrepiece on a decluttered bedside table; they'll actually help you fall into a deeper, more relaxed sleep, thanks to their air cleansing properties. Just keep this plant away from pets, as it can be harmful if ingested.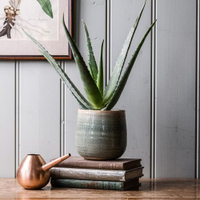 Aloe Vera, 30cm, £9.99 at Crocus
This aloe vera plant from Crocus is an evergreen succulent with fleshy, serreated-edged leaves, and with a height of 30cm, is the perfect size to go on top of bedroom surfaces. Place inside a textured clay pot for an ultra natural aesthetic.
4. Kentia plant
The luscious leaves of the kentia plant can help your bedroom feel like a calming oasis, and not just because of its tropical-like aesthetic. Like many of the other plants on our list, the kentia will release oxygen when the sun goes down, which the experts say is crucial for better sleep.
'The Kentia Plant conveniently stores oxygen away throughout the day and releases it during the night – purifying the air as you sleep and helping to improve the quality of sleep,' says Hannah Shore, Sleep Expert, Silentnight.
One of the great things about kentia plants is their ability to thrive in low-light conditions, so you can easily assimilate one into your bedroom without needing to eat into your windowsill space.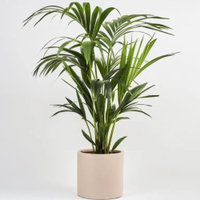 Beards & Daisies Kentia Palm, £59.99 at H&M
Measuring W21cm x H90cm-100cm, this Kentia Palm plant from Beards & Daisies would look great on the bedroom floor or on top of a surface. It's safe around your furry friends and little people too.
5. Jasmine
Characterised by charming white flowers, the jasmine plant is supposedly naturally mood-boosting, making it perfect for the bedroom. The soothing scent has been proved to be incredibly effective at reducing stress and anxiety, so this is an ideal choice if you find yourself struggling to relax at night.
'A study by Raudenbush et al, at the Wheeling Jesuit University found that jasmine was incredibly effective in reducing stress and anxiety levels, which allows for a better night's sleep with reduced movement during the night,' says Hope, sleep expert at Simba. 'Opt for the Jasminum polyanthum variety which is said to get more fragrant at night.'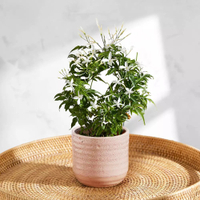 The Jasmine Hoop, £37 at Bloom & Wild
The small, star-shaped flowers on this plant have a sweet, distinctive fragrance that adds a subtle lift to any space. This one comes with the pink ceramic pot, which you can keep long after the plant outgrows it.
6. Spider plant
Though the name doesn't exactly encourage relaxation, experts highlight spider plants as one of the best plants for the bedroom because of their ability to boost the oxygen levels in the air. Their leaves are long and plentiful, and they'd complement yellow bedroom ideas particularly well.
'The spider plant is the perfect low-maintenance way to brighten your bedroom while adding some air-purifying benefits',' says Kate from Baby Bio. 'Spider plants remove carbon dioxide, as well as a host of other chemicals, from the air around us, in turn creating more oxygen.'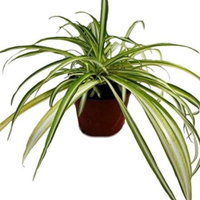 Spider Plant Chlorophytum in 12cm Pot, £7.49 at Amazon
The long and thin leaves of this spider plant drape spectacularly around its pot, and it would bring a real botanical element to the bedroom. It's a great affordable option if you're looking for a more budget buy.
7. Lavender
'It's widely known that smells such as lavender can have an incredibly positive impact on feelings of anxiety, nervousness, and restlessness due to their ability to balance cortisol levels and allow our bodies to relax before drifting off to the land of nod,' explains Suzie Wolley, Head of Product, Serenata Flowers.
Lavender is often found in sleep-related products thanks to its calming qualities - you'll be able to find many pillow mists and scented eye masks infused with the plant. But why not go one step further and bring the live plant into your bedroom?
'Lavender can help to regulate your breathing, improve your mood and lower adrenaline levels, all of which contribute to better sleep quality,' adds sleep scientist Theresa.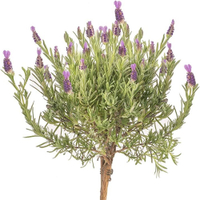 Potted Lavender Tree, £24.99 at Amazon
This potted lavender tree - technically named Lavandula Stoechas Anouk - carries the classic purple flowers known to induce relaxation, as well as some beautiful green-grey foliage. It comes in a purple pot, and it's a nice affordable option.
FAQs
Is it OK to sleep with plants in your bedroom?
'It's generally safe to sleep with plants in your bedroom', says Zach Morgan, Plant and Gardening Expert, Fantastic Services. 'In fact, having plants in your bedroom can offer several benefits, such as improved air quality because plants naturally filter and purify the air, which can help create a healthier indoor environment and enhance the quality of the air you breathe while you sleep.'
Experts give the go ahead for sleeping near plants, but there are a couple of things to be aware of when choosing from the best plants for the bedroom. Some plants, such as aloe vera, lilies, and ivy, aren't safe to keep around pets, so you'll want to avoid these if your furry friends sleep in your room sometimes.
If you have any allergies, it's important to choose plants that won't aggravate them. 'Avoid plants with heavy fragrance or excessive pollen if you're prone to allergies,' adds Zach.
Which plant is best for bedroom for oxygen?
'If you're specifically looking for a plant that excels at releasing oxygen during the night, one excellent option is the Snake Plant, also known as Sansevieria or Mother-in-law's Tongue,' says plant expert Zach.
'Snake plants are renowned for their ability to convert carbon dioxide into oxygen even at night, making them ideal for bedrooms.'
Other than snake plants, experts also recommend peace lilies, aloe vera and spider plants for boosting oxygen levels in the bedroom. 'Aloe vera releases oxygen into the atmosphere and absorbs carbon dioxide, as well as filters a range of other toxins such as carbon monoxide', says Kate from Baby Bio.
'And spider plants remove carbon dioxide, as well as a host of other chemicals, from the air around us, in turn creating more oxygen.'
Get the Ideal Home Newsletter
Sign up to our newsletter for style and decor inspiration, house makeovers, project advice and more.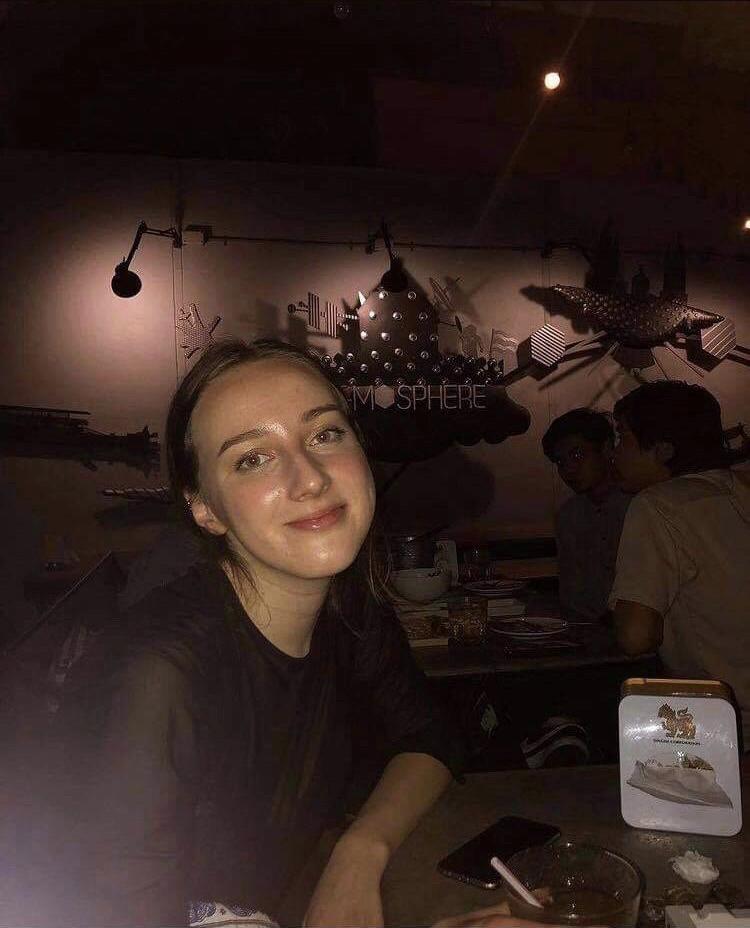 Katie Sims has been writing for Ideal Homes since spring 2022. She qualified from her Master's in Media and Journalism in 2021 and has been writing freelance since. She has worked on Ideal Home's ecommerce team where she researched the best home products on the market, and on the news team, researching the latest trends for feature pieces.