Orangery ideas – structural and aesthetic designs for your light-filled space
These light-filled orangery ideas are the perfect way to expand a kitchen, dining and living room, while also adding value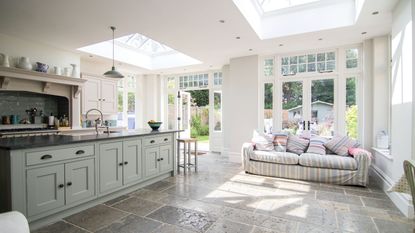 (Image credit: Thames Valley Windows)
These beautiful orangery ideas demonstrate how you can effectively enhance your home and introduce more natural light.
One of our favourite conservatory ideas, orangeries are quickly becoming a popular way to extend your home; being designed as an integral part of the house and serving as a valuable addition to the ground-floor living space.
Who would say no to extra space? Whether it's for a kitchen that opens out onto the garden or an entertainment hub, most people hanker after a few precious additional square metres. A sleek structure will provide extra space for a living and dining area, kitchen, office or playroom.
Orangery ideas - designs and decor
How does an orangery differ from a conservatory? An orangery is predominantly made up of brickwork rather than glass.
Vale Garden Houses director Lisa Morton explains, 'It is in a combination of factors. Mainly seen in the amount of glass within the structure and the differences can be demonstrated in both the roof and the side. In the roof construction, a conservatory will generally have over 75 per cent of the roof glazed whilst an orangery will have less.'
Although the names are frequently used interchangeably, there are differences between a conservatory and an orangery. Conservatories are largely made of glass, including the roof. An orangery features more brickwork and is a flat-roofed extension with large glass windows and roof lights.
A garden room or garden summerhouse, is characterised by a solid roof and walls with generous windows.
When thinking about building an extension, it is important that you opt for the right design for your house and garden.
1. Increase light and space with an orangery
Orangeries came to prominence in the mid-18th century, where, as their name suggests, they were used to mimic tropical climates in which to grow oranges and other citrus fruits. Kew Gardens saw the addition of its orangery in 1761.
'In contrast to a conservatory, an orangery tends to have a solid perimeter flat roof, with natural light being provided by one or more roof lanterns. To apply some statistics, if the structure has less than 75 per cent glass in the roof it tends to be classified as an orangery,' explains Barney Bell from David Salisbury.
2. Choose the right design for your home
'Glazed additions can be built to suit any period of architecture if they are guided by the trends and styles of the era,' says Lisa Morton, director of Vale Garden Houses. 'Mixing architectural periods would be frowned upon, unless the period of the property is less clearly defined, with additions or alterations made over the years. Here, the house can take a more relaxed approach.'
While you may have a specific size in mind for your addition, the proportions of the original property should determine what you choose. 'A modest house would not befit an oversized conservatory, and similarly, a larger property will require a more substantial structure to maintain a correct balance,' Lisa advises.
3. Trade white walls for bright colours
When dressing your orangery, take inspiration from conservatory interiors – opt for UV-resistant furnishings and opt for bright and airy décor.
With floor-to-ceiling windows, an orangery often needs livening up with soft furnishings to prevent the space from feeling stark. Brighten up the floor with an eye-catching patterned rug and characterful cushion covers to match.
4. Create a cohesive space
A mix of styles spanning modern country to sleek minimalism (see the Barcelona chair above in ivory leather) work beautifully together in this generous orangery thanks to the neutral colours and airiness of the space.
Traditional dark wood furnishings add areas of interest to the scheme while allowing the beautiful arched French doors to take centre stage.
5. Use an orangery to embrace open-plan living
Create different zones within a larger orangery for a valuable multi-functional family space that can be used for after-school study as well as grown-up evening dinner parties.
A generously sized dining table is positioned directly below the apex for maximum impact. A glass roof creates an illusion of space and height which is accentuated by the use of pale furniture and neutral paint.
Run the same flooring across the two zones to create a feeling of continuity within the open-plan living room.
6. Mix materials
'We're often asked whether modern glazed extensions – including modern conservatory ideas – only work on modern buildings or if a contrast with a period property can work,' says Karen Bell at David Salisbury. 'A contrast with the original building can be acceptable, as long as it does not obscure the original architectural features of the property.'
'In the case of Listed Buildings, the rules are that much tighter. But sometimes the nature of modern glazed extensions ensure the original features are often clearly visible and maintained.'
This orangery with a wooden frame and tiled roof helps to welcome a glass extension without imposing on the aesthetic of a period property.
7. Use your orangery to create a botanical oasis
Turn your orangery into a tropical haven with plenty of conservatory plant ideas and vintage-inspired bistro table and chairs. Though this room may not actually be in the garden, it still oozes a fanciful garden feel.
With colour and life provided by the lush foliage, your conservatory furniture ideas can be more muted, blending into the scheme and creating a haven of tropical lushness.
8. Add warmth with an oak frame structure
An oak frame is the pinnacle of orangery construction. 'Oak is a beautifully raw and sustainable material that will effortlessly compliment any style of property, instantly filling your home with irresistible character and warmth. Although natural, Oak is both robust and versatile which results in a wealth of different styles that create striking architectural features like exposed rafters, glazed gable ends and feature trusses to name just a few,' says experts from Julius Bahn.
9. Make it modern
A modern glass extension idea gives a contemporary twist to a traditional orangery design. The solid roof construction allows for more thoughtful light placement, from spotlights to downlighters to create ambience and atmosphere in the additional living space.
10. Decorate with white to create a peaceful place
Create a distressed floor as shown in this simple yet effective conservatory flooring idea. Use watered-down paint to achieve a whitewashed effect, then finish it off with a satin epoxy varnish. Hang metal pendant lights above the table to create an intimate feel for dining.
Large-scale pendant conservatory lighting is a design statement in itself. This coastal-inspired extension has a wonderfully bright feel thanks to its fresh decor in shades of white and grey. Stick to the same colour palette for a cohesive and considered look.
11. Keep it cool
With any glazed extension maintaining a consistent temperature is key – especially during summer as without the right measures in place your orangery ideas will quickly feel more like greenhouse ideas.
Roof vents will help to maintain a comfortable temperature inside. Choose a type that opens and closes automatically. Pair this with conservatory blinds that will reduce the amount of light entering the room and help to keep it cool.
'Not only do conservatory window treatments add your personality into the space as well as texture, colour and cosiness, but they are also a practical choice. In summer, the ability to lower the blinds will protect you from the sun's glare and create privacy while in autumn and winter, they can prevent draughts and offer insulation,' explains Adam Knight director at Nefarious Design, who designed this space.
Also, ensure you fit high-performance glazing. Check the energy rating: A is the most efficient; G is the least.
Also consider introducing some of these ways to make a conservatory warmer, to help your orangery say welcoming throughout the winter months.
12. Be sympathetic with the surroundings
When choosing an orangery design it's good to think about how the structure will work within the plot you have. Being sympathetic to the existing house helps to make the extension an addition which enhances the look of the house, rather than stand out like a sore thumb. This Vale Garden House garden room is the perfect extension on this country cottage-style home.
The rich green frame seamlessly blends in with the lush foliage of the cottage garden beyond. The arched windows of the small conservatory feel elegant and perfectly paired for a period property with character.
13. Be inspired by Crittall-style glazing
The process of planning an orangery is very similar to planning a conservatory matters of materials, position, size, shape and cost will all be very similar.
'When adding an orangery to your house you are making a design statement. Extensions can take on many shapes and sizes but adding a traditional orangery to a modern house can lift the design and be inviting rather than sterile,' says Rudolph Diesel from Rudolph Diesel London.
'You do not always have to have the small square glazed panels, you can also opt for larger panes of glass within a Crittall frame. The larger the glass panes, the more modern the look will go and the smaller the glass panes, the more traditional the look will feel. It all depends on how much light you have and want to let through.'
FAQs
What is the difference between an orangery and a conservatory?
The difference between an orangery and a conservatory is the amount of glazing – a conservatory has more glass than an orangery.
'The primary difference between the two is that a conservatory tends to have the majority of its roof glazed,' explains David Salisbury's creative director, Karen Bell. 'Whereas an orangery has more of a solid perimeter roof with a roof lantern or lanterns to allow light in.'
'With bespoke orangery design there is not a hard and fast rule. But we tend to go by the metrics that if there is more than 75 per cent glass in the roof, then the extension is a conservatory. Anything less than that, we categorise as an orangery.'
'Orangeries are often specified where a large extension is required but where there is a limit on height,' Karen explains. 'For example, perhaps to avoid the extension impacting the view from an upstairs window.'
How much does an orangery cost on average?
'The average starting price for an orangery is around £20,000', suggests David Salisbury's creative director, Karen Bell. 'But, as with the cost of a conservatory, if they want beautiful proportions, designs, quality of materials and good aftercare, then they'll need to pay more.'
'A typical David Salisbury project would start at £40k but larger projects could rise to £100k and over. It's very much dependent on size but also design. Also what the site itself is like and the extent of any associated building works.'
'A bespoke orangery extension will add value to a property so should be viewed as an investment rather than just a one-off cost. A well-known brand will also add wow factor and therefore make the property more attractive to future buyers.'
'With a bespoke timber orangery, it's hard to say an average as each individual design can vary massively,' explains Mervyn Montgomery, Managing Director, Hampton Conservatories. 'It's possible for homeowners to add a glazed extension to their property on a budget. However, if they want a truly bespoke room, the cost will increase. '
Does an orangery need planning permission?
No, the majority of orangeries will not need planning permission as they will fall under permitted development. However, all additions will be required to comply with building regulations.
If your home is listed, you live in a designated area, such as a Conservation Area, or are planning a particularly large or multi-storey addition, then it is likely that you'll need consent. The exact requirements will vary from project to project but your local authority will be able to provide further guidance on the necessary requirements and give an idea of acceptable designs. See planningportal.co.uk for more advice.
'If your project does require planning permission, there are ways to increase your chances of being accepted. Discussing your ideas informally first with your local planning officer is a good way to ensure you're not wasting time and money. It's also worth producing plans and photographs. Do your research; look for similar extensions in your area to build your case, and emphasise the build quality to make it more difficult to say no to,' says Karen Bell from David Salisbury. 'You may also want to consider telling your neighbours in advance - often a friendly and courteous heads up is enough to stop someone objecting, which gives you one less hurdle to overcome.'
Get the Ideal Home Newsletter
Sign up to our newsletter for style and decor inspiration, house makeovers, project advice and more.
Tamara was Ideal Home's Digital Editor before joining the Woman & Home team in 2022. She has spent the last 15 years working with the style teams at Country Homes & Interiors and Ideal Home, both now at Future PLC. It's with these award wining interiors teams that she's honed her skills and passion for shopping, styling and writing. Tamara is always ahead of the curve when it comes to interiors trends – and is great at seeking out designer dupes on the high street.