32 open-plan living room ideas to make the space stylish and seamless
Make more of your square footage by creating a beautiful and multi-functional open-plan space for all the family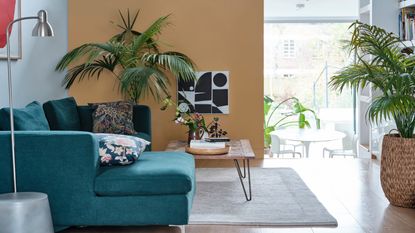 (Image credit: Farrow & Ball)
These days you're more likely to find free flowing living spaces than more smaller, closed off rooms. Open-plan living room ideas are a hallmark of contemporary homes, thanks to their ability to cater to nearly any occasion, but are also becoming common place in Victorian homes too.
Our homes need to be more fluid than ever before, and your choice of living room ideas play a big part in this. After all, you need to create a space that works for the whole family in a range of different situations.
'We know by now that our homes need to be ready to transform into whatever we need, be that a home gym, classroom or office – often with just a moment's notice,' says Rebecca Snowden, interior style advisor, Furniture And Choice. 'Creating these dedicated spaces in our home doesn't have to mean sacrificing style.'
'Open-plan spaces are increasingly popular and are great for entertaining, but can sometimes feel sparse or empty,' continues Martin Waller, Founder, Andrew Martin. 'Use contrasting colours to demarcate distinct spaces and inject personality into different areas of the room. Wallpaper can also be used in certain areas of the space to create a distinct zone.
'Use statement lighting to create different zones, that each have a purpose. Open furniture, such as cabinets, bookcases, or shelving can be used to create different zones, without making the space feel closed in. Alternatively, a folding screen can provide privacy, something that is often lacking in open plan living.'
Open-plan living room ideas
'Whether it's a big project like adding some sliding doors or a divider wall, or simply laying out your furniture in an intelligent way,' says Rebecca, Furniture and Choice, 'there are plenty of ways to create self-contained spaces within open-plan living room ideas in a way that works for you.'
1. Create a layout that suits multi-purpose functions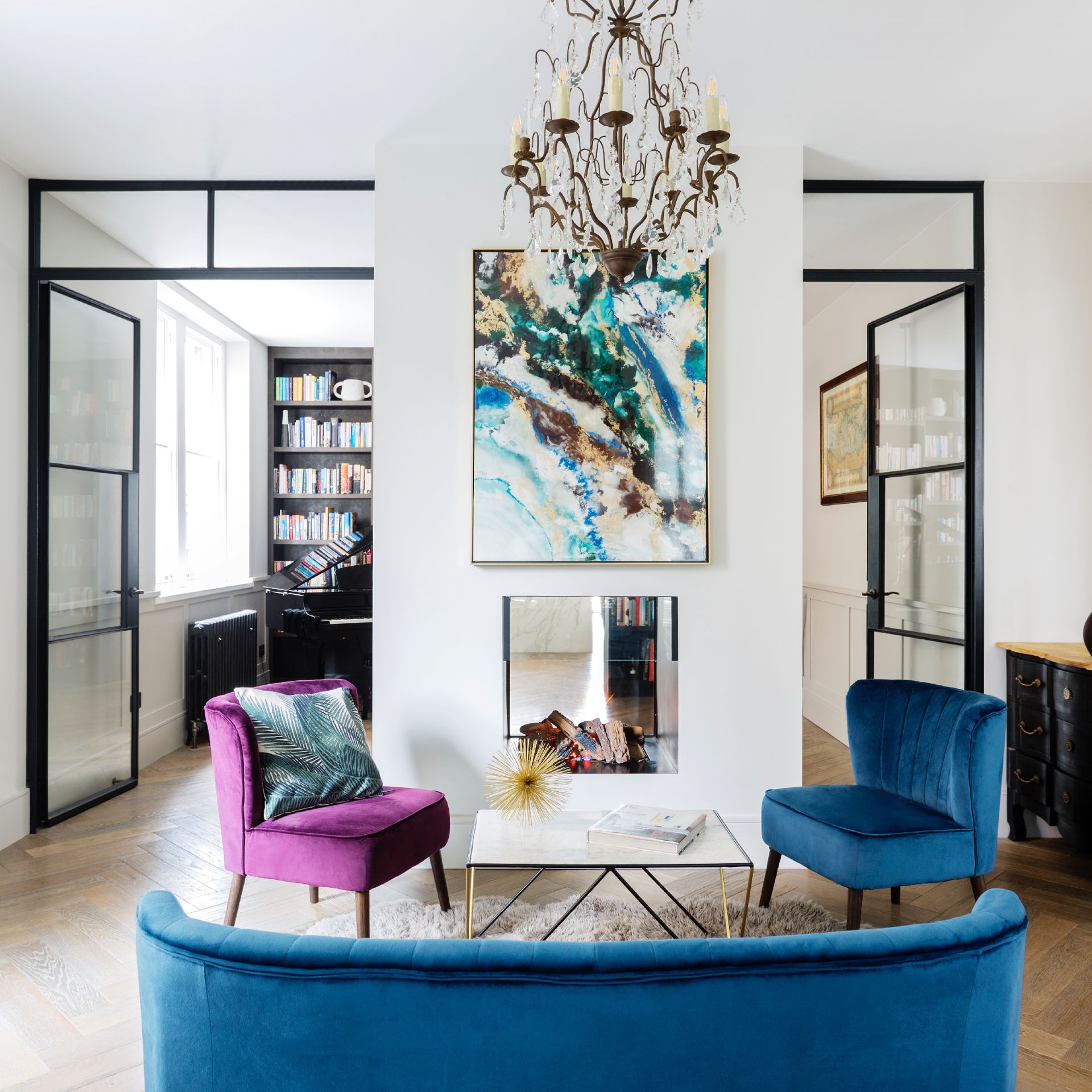 Open plan living rooms are incredibly versatile, they allow extra light to flow in, make spaces feel larger and they can create interesting areas that can be used for cosy nooks one minute and entertaining the next.
'With many of us needing our homes to balance working from home with family life, as well as time to relax and switch off, there has been a rather seismic shift in open plan living to a more considered and versatile layout. This new direction in layout allows for the many facets of daily life to take place in harmony.
Areas such as snugs are increasing in popularity, and these cocooning rooms allow for a space to not only kick back and watch a film but also a quieter spot away from the hustle and bustle of the home to sit and read the papers in a calm and relaxing environment,' says Caroline Milns, head of interior design, Zulufish.
Caroline has over 25 years experience at the cutting edge of design and interiors. She began her career as a textile designer for Monkwell fabrics, before progressing to manage a team of designers for the John Lewis home design studio. In 2007, Caroline retrained as an interior designer, working for Helen Green and McVitty Interior Consultants on both residential and commercial projects, before launching the interiors arm of Zulufish in 2013.
2. Paint your storage in the same shade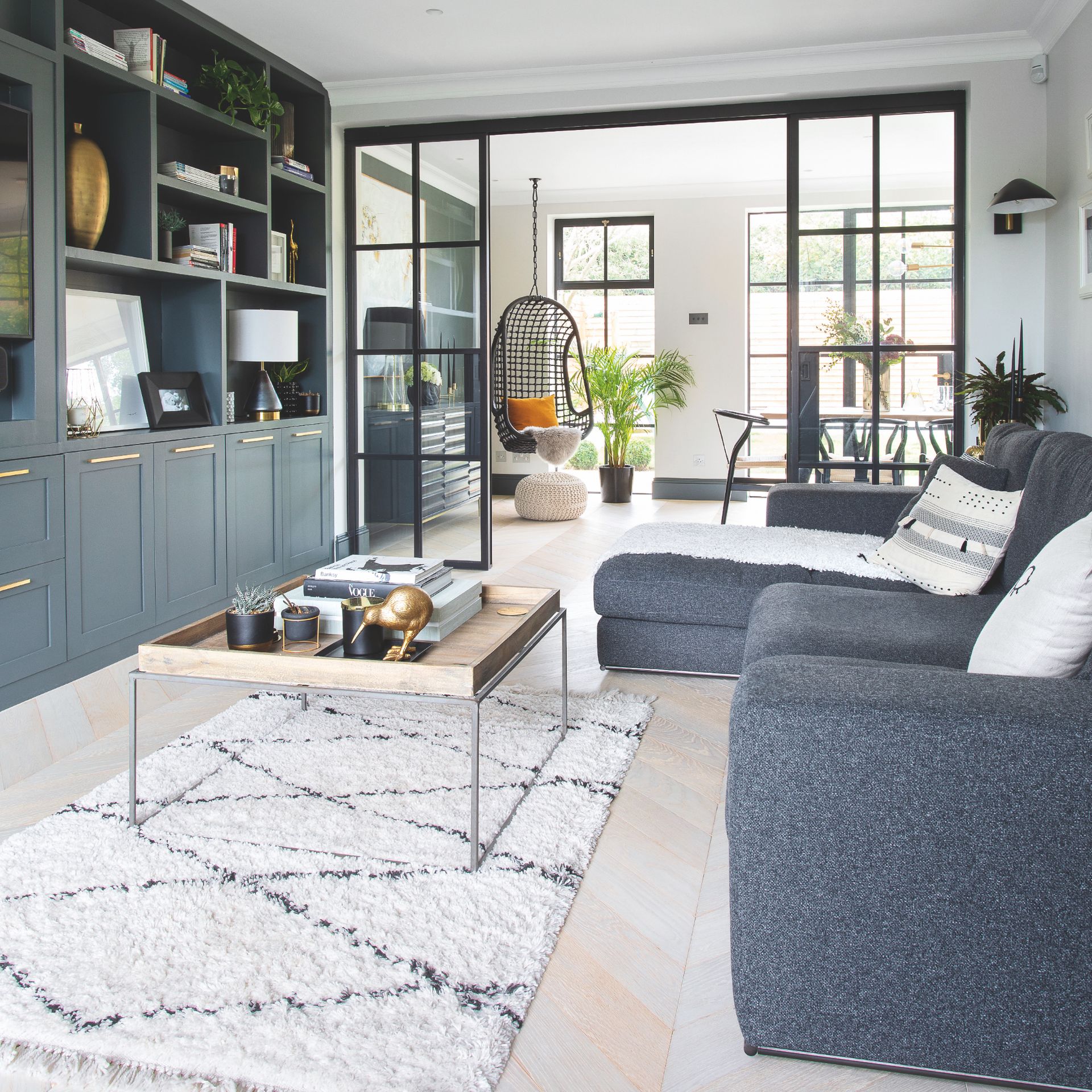 Cohesion is the glue that holds schemes together, and if you want to create an open plan living room space that works with the rest of the rooms then it's a key element to implement.
By choosing the same paint shade across the rooms for your living storage ideas, you'll create this effect and it will do the trick perfectly – use matching handles too.
3. Create an earthy base with stone and blush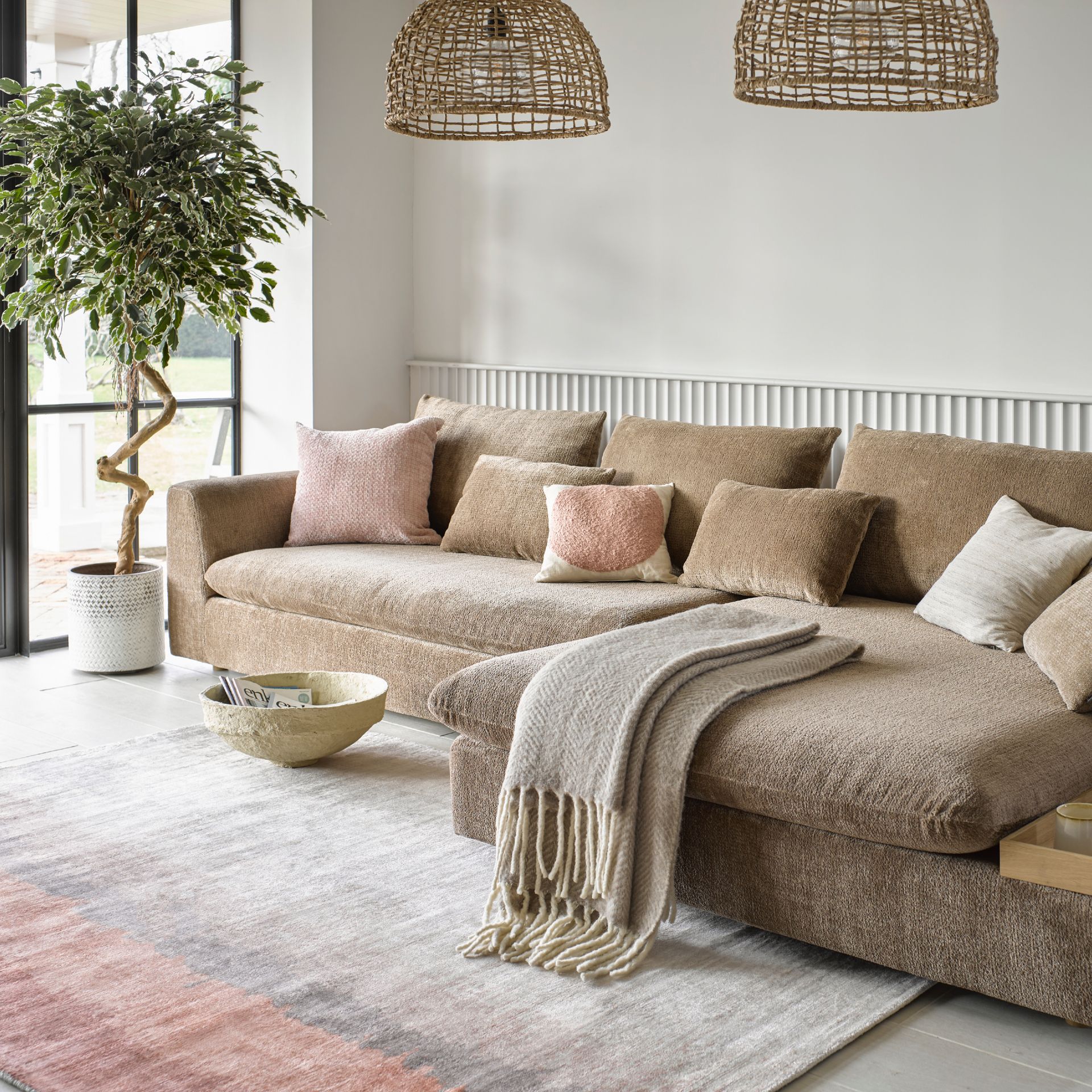 It can be tricky to choose the right living room colour scheme for open-plan living rooms as you want the scheme to work with the rest of the spaces it links to.
'Stick to neutrals for something a little more pared-back and relaxed - introduce muted earthy tones not just through your paint colours, but also in the natural materials and textures like timber, jute and greenery,' advises Francesca Hadland, styling expert, Bridgman.
'Warm neutral tones that ground the home and garden are going to be particularly popular in 2023. The classic earthy greens, browns and blues will remain a staple, while deep plum and mustard tones will bring more colour to interior palettes.'
Since graduating in 2020, Francesca has immersed herself in all things home and garden, working across home staging, luxury furniture and garden design, as well as attending Interior Styling courses at the University of the Arts London. She keeps her pulse on emerging trends to help her in her role as interiors expert and content manager at Bridgman. She is currently transforming her first house just outside of London.
4. Plan your scheme with a vision board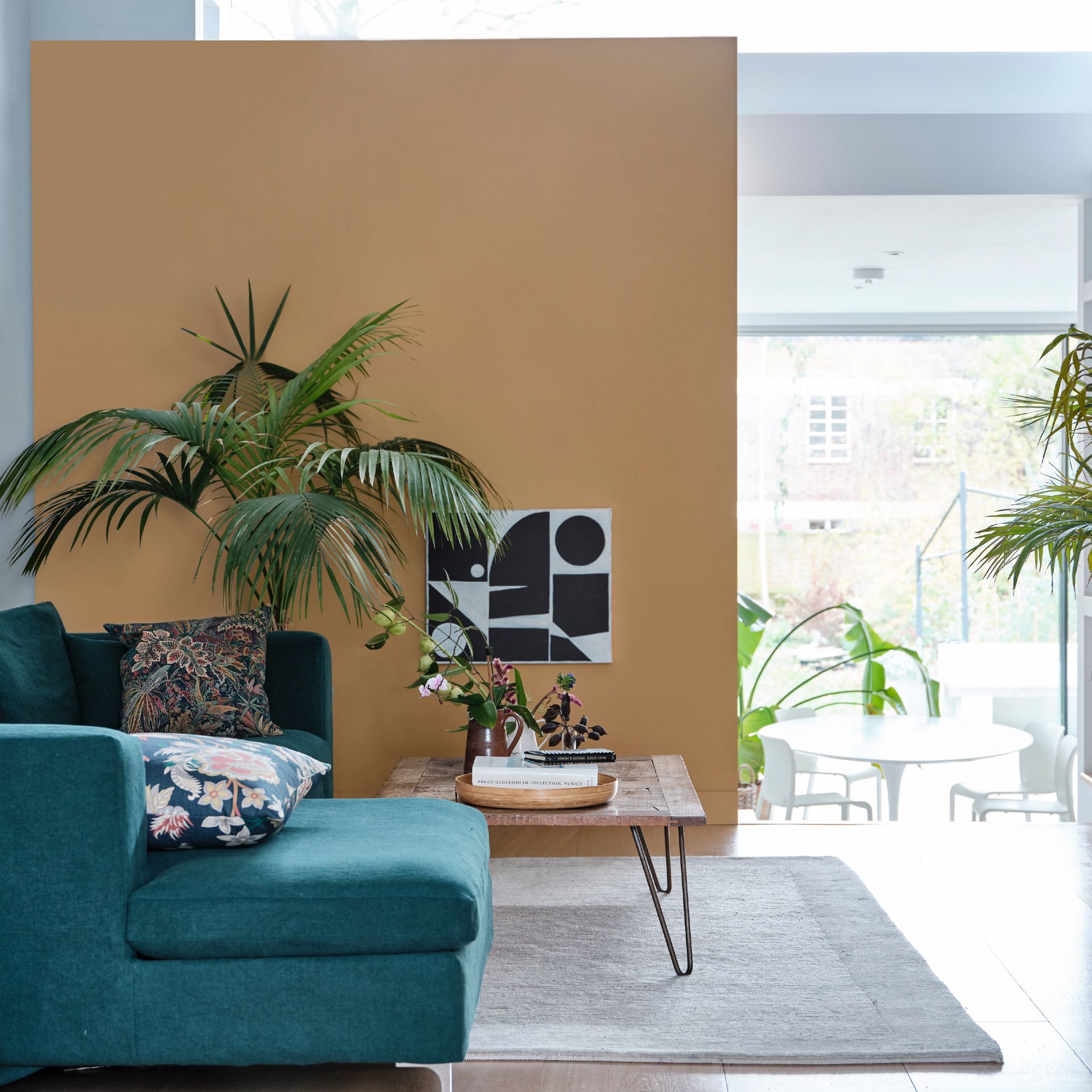 If you want to be bolder with your colour choices but not sure how they'll work together then do a little prep work before you start.
'Start with a mood board which will include fabrics, flooring and your main colour. Then by gathering all the elements you can start adding accents, this could be as simple as a piece of painted furniture or by framing a picture in another colour,' says Patrick O'Donnell, brand ambassador, Farrow & Ball.
5. Create flexibility with a modular sofa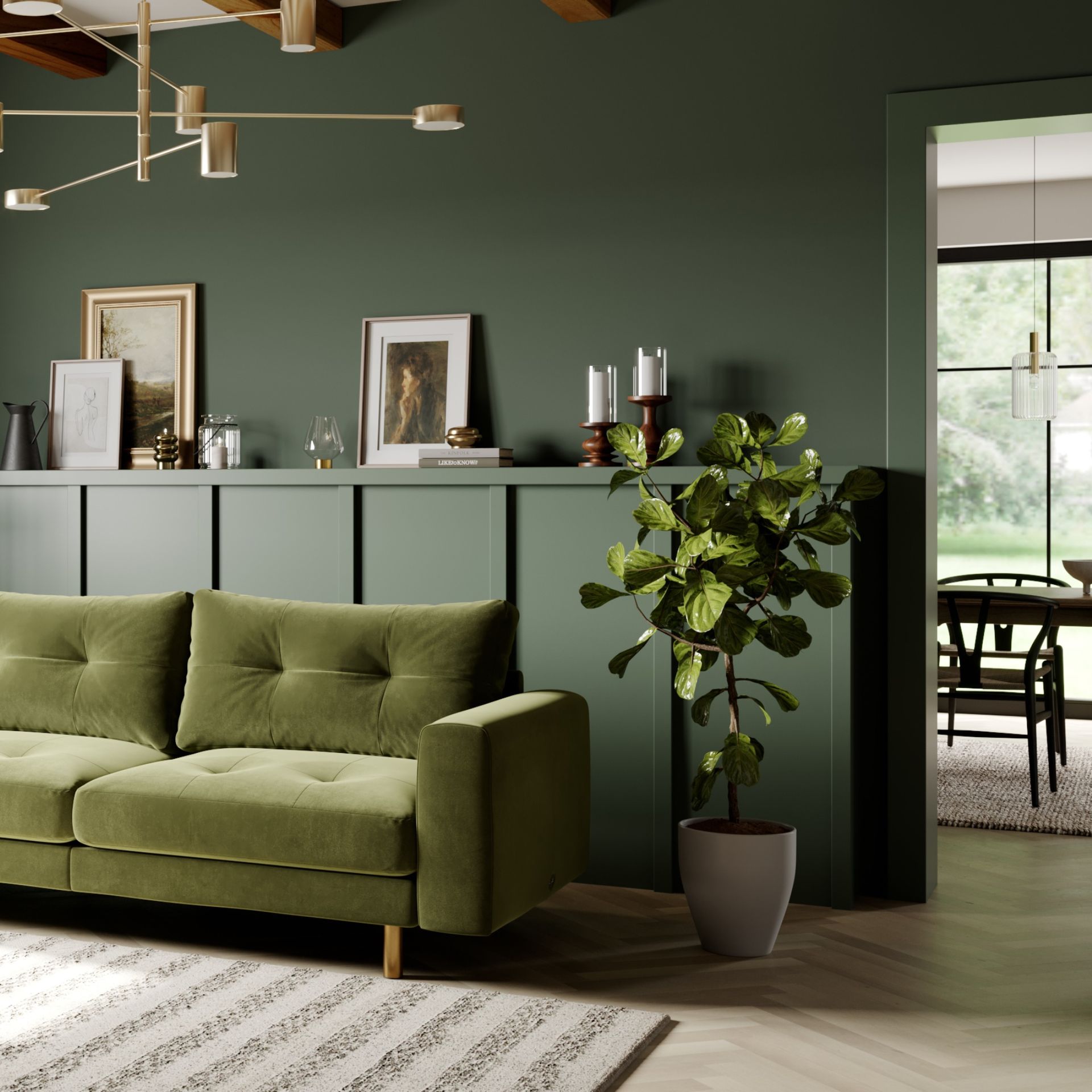 When choosing a sofa for an open-plan living room, a modular version is among the best sofa options. 'With trends changing from open plan to broken plan and back again, we need the flexibility to switch up our spaces whenever we feel like it. Rather than having to look for new furniture, a modular sofa will give you all the freedom you need.
'Similar to life-sized Lego, simply separate the units to reconfigure from one large sofa to two smaller sofas to completely reinvent the space. The possibilities are truly endless when you go modular – we promise you'll never look back,' says Dani Burroughs, head of product, Snug.
6.Use a centrepiece to create a focal point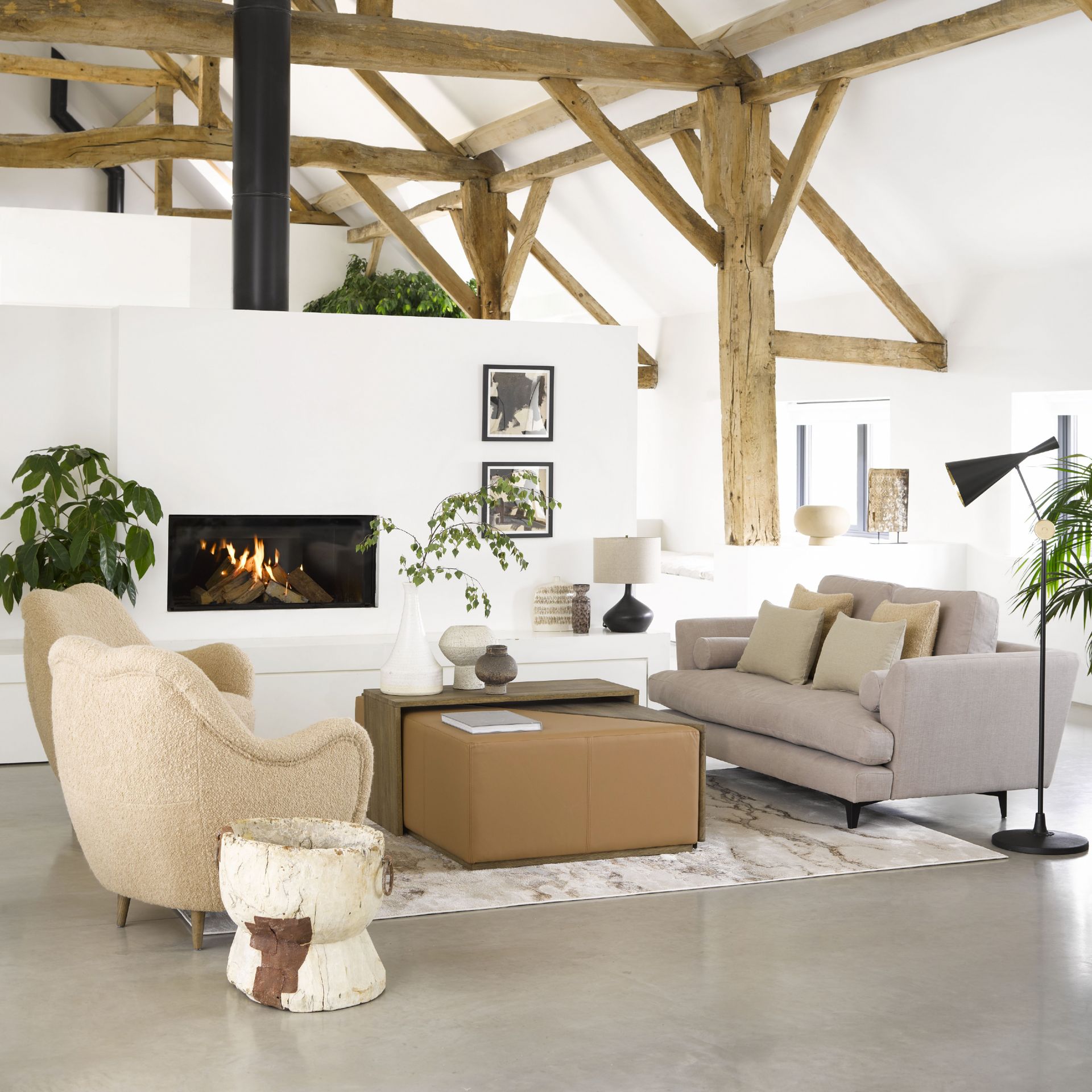 Fireplaces are the ideal feature in an open plan living room as Patricia Gibbons, design team, Sofa.com explains:
'Every room in the house benefits from a centrepiece, as it provides great guidance for the design of the space around it, and a fireplace is always one of the first choices. When deciding on the layout consider the scale and proportion of the furniture to the fireplace, aiming for harmonious pieces that won't overcrowd the space.
'Opt for sofas which flank the fireplace to create a balanced and comfortable composition. This will define the seating area, encouraging conversation and relaxation as well as maximising the warmth and ambience from the fireplace.'
7. Use wood to frame two spaces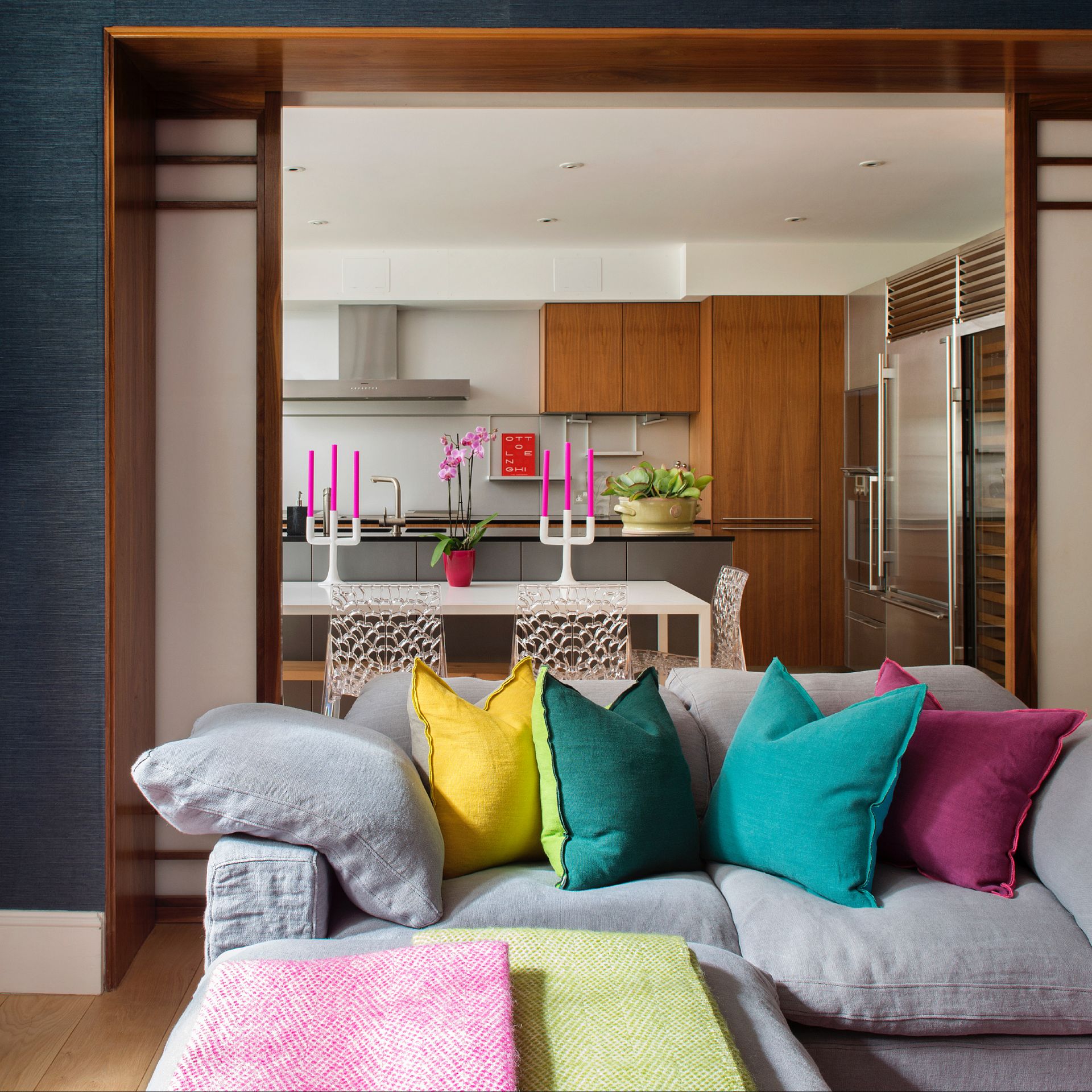 Open-plan living spaces work well in small spaces as they allow the light to flow through the linking areas.
You can create a focal point with a wood 'frame' that goes around the opening it could be used for storage too – a great place to store books and all the pieces you picked up using home decor discount codes.
8. Be consistent with your lighting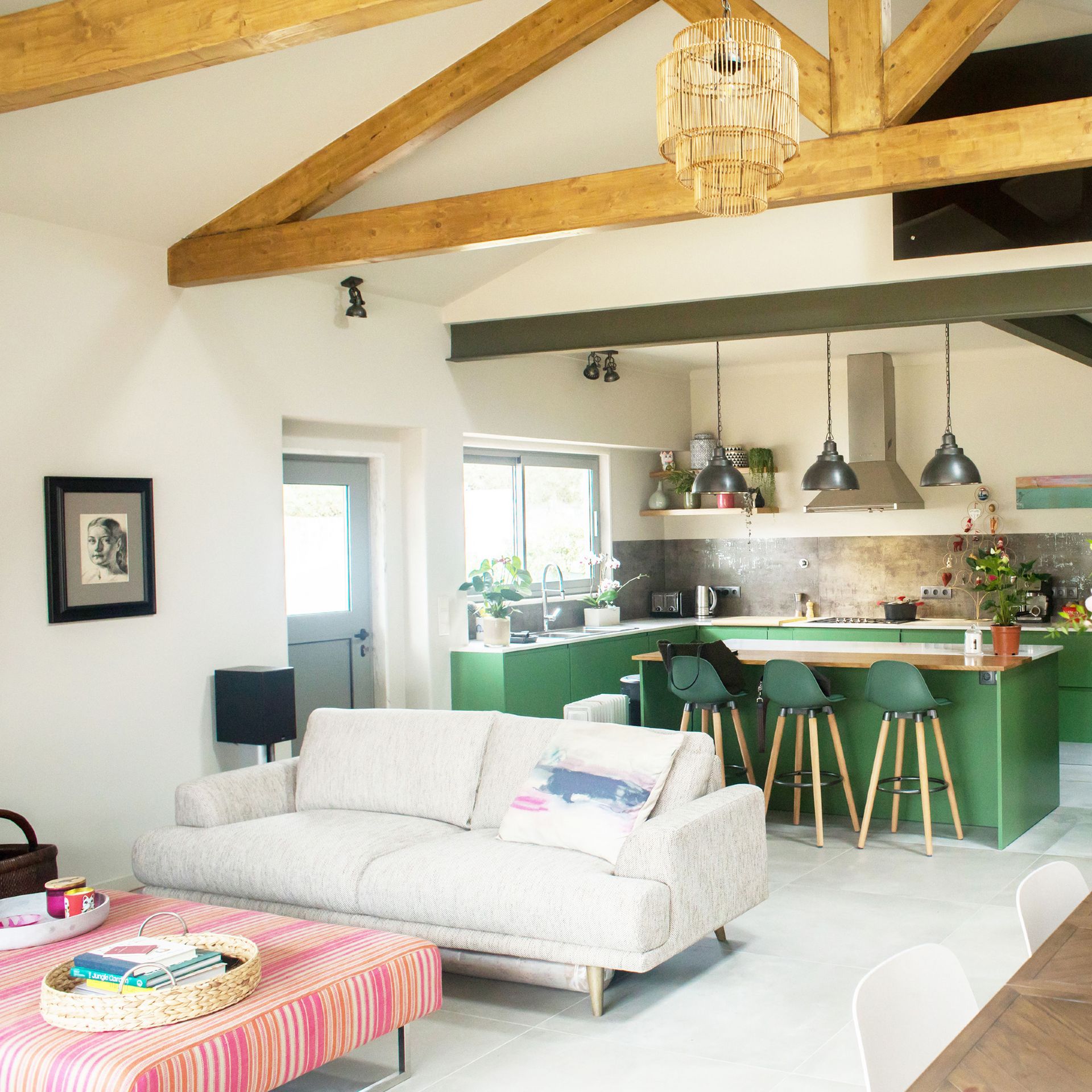 'Using living room lighting ideas to define zones in an open plan living room/kitchen area can add depth and interest, whilst creating an orderly living space. In the kitchen a well-placed pendant or cluster of decorative lights can draw the eye giving each area a clear purpose.
'Using warmer, lower-level lighting such as table lamps in a casual seating area will help create a cosy, relaxed feel. Embracing the full range of lighting sources available, from decorative pendants and wall lights that enhance your kitchen design, to functional LED spotlights and under-cabinet task lighting, will allow you to create a space that is both practical and welcoming with clearly defined areas.
'Dimmable operation is also a great way of creating different zones, this allows you to adjust the brightness creating different atmospheres in different spaces throughout the day,' advises Mara Rypacek Miller, managing director, Industville.
9. Open up purely for the view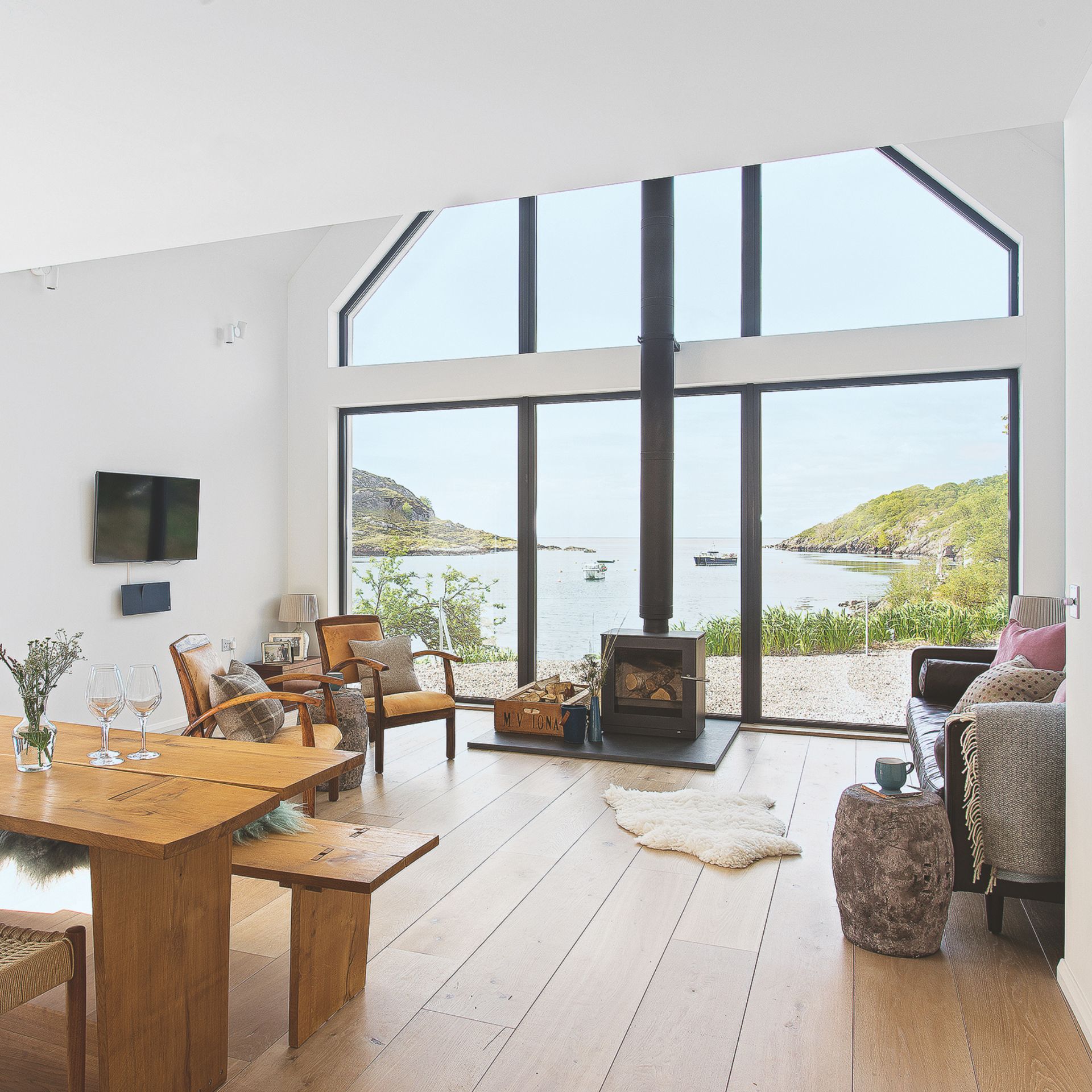 One of the main advantages to opening up and combining living spaces is that you can let the space flood with light and therefore take advantage of views, whether they're of the garden or spectacular scenery.
In this instance, don't block the view with furniture, keep them to the sides and use designs light enough that they can be moved if you want to sit in the morning sun with your coffee first thing.
10. Let the finishing touches be the link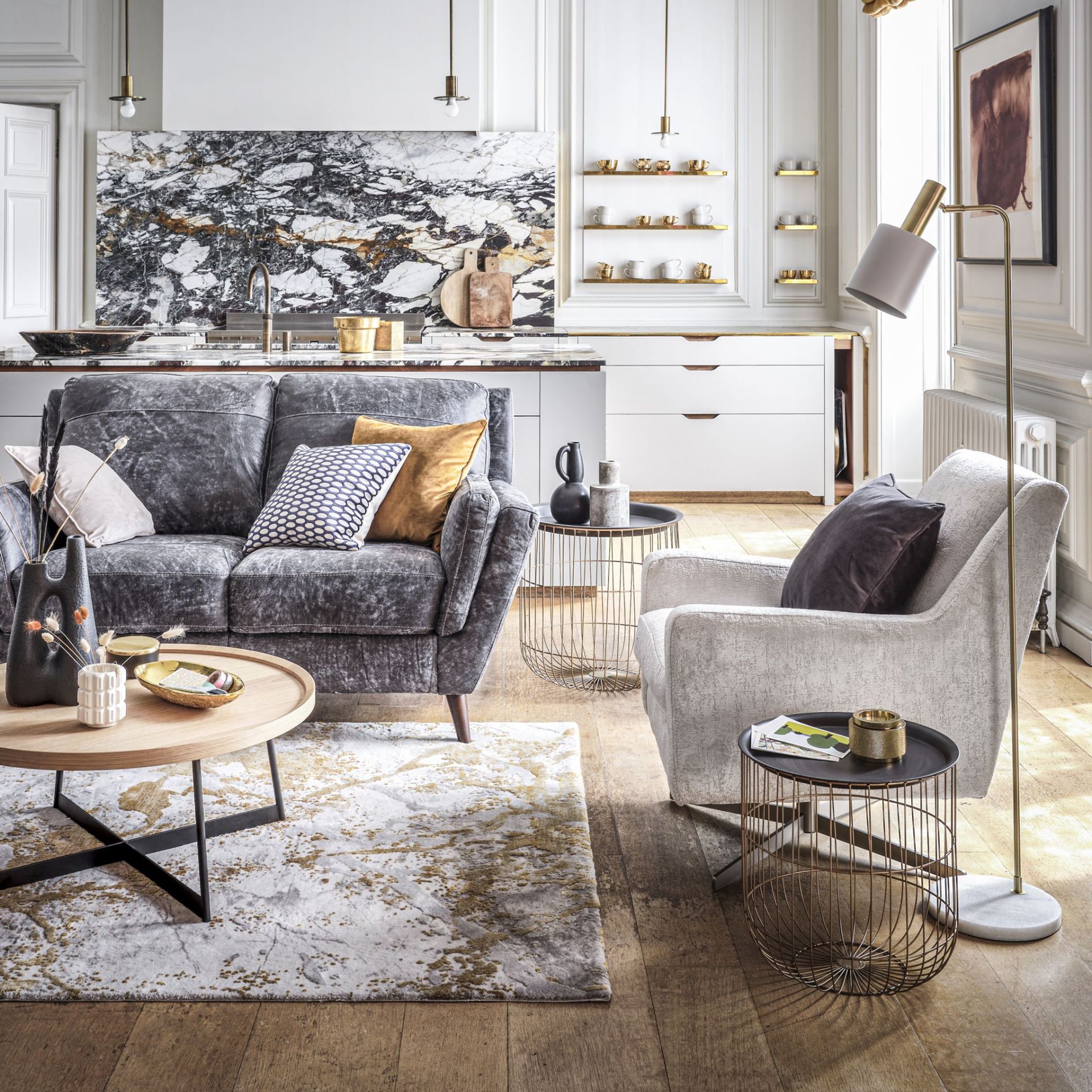 'The secret to open plan living is ensuring that each space retains its own character whilst the overall design feels connected and coherent,' says Gisela Lancaster, head of buying, Sofology.
'Your upholstery, and the accessories you choose to pair with it, can dramatically change the look and feel of the chosen scheme. Grey is often used as a new neutral as it is super versatile and can be dressed up or down depending on the look you are aiming to achieve.
'Metallics are a great fool for a tonal grey wall and sofa pairing. They add pace and pizzazz when used sparingly, adding a touch of luxury to the look.'
11. Create cohesion through colour palettes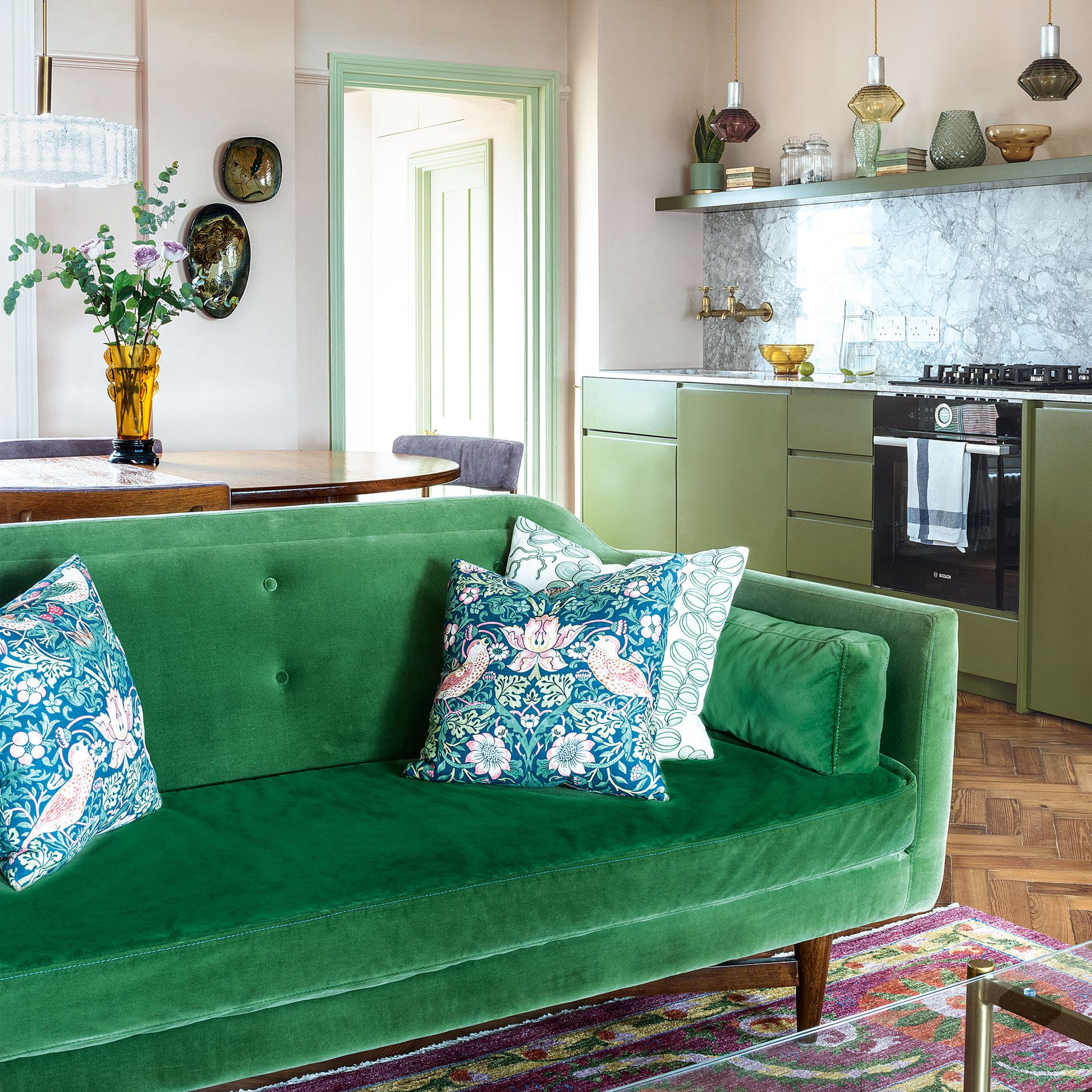 'It is easy for the different areas to get lost and feel disjointed if the design is not cohesive,' notes Rob Ellis, Head of Design, dwell. 'So it important to zone the different areas, whilst keeping a common colour palette throughout.'
'Start by deciding how you will use the rooms, for example a distinctive dining space for friends and family, paired with a relaxing living room. To keep a consistent feel throughout, choose similar colours and textures across the two rooms.'
'If your scheme is blue, avoid it looking one dimensional by including different tones of blue to create layers and depth. This could be a soft, dusty blue rug under the dining table paired with a statement dark blue velvet sofa.'
This is especially useful in tandem with small living room ideas, as too many colours and textures can be overwhelming.
12. Zone with an oversized rug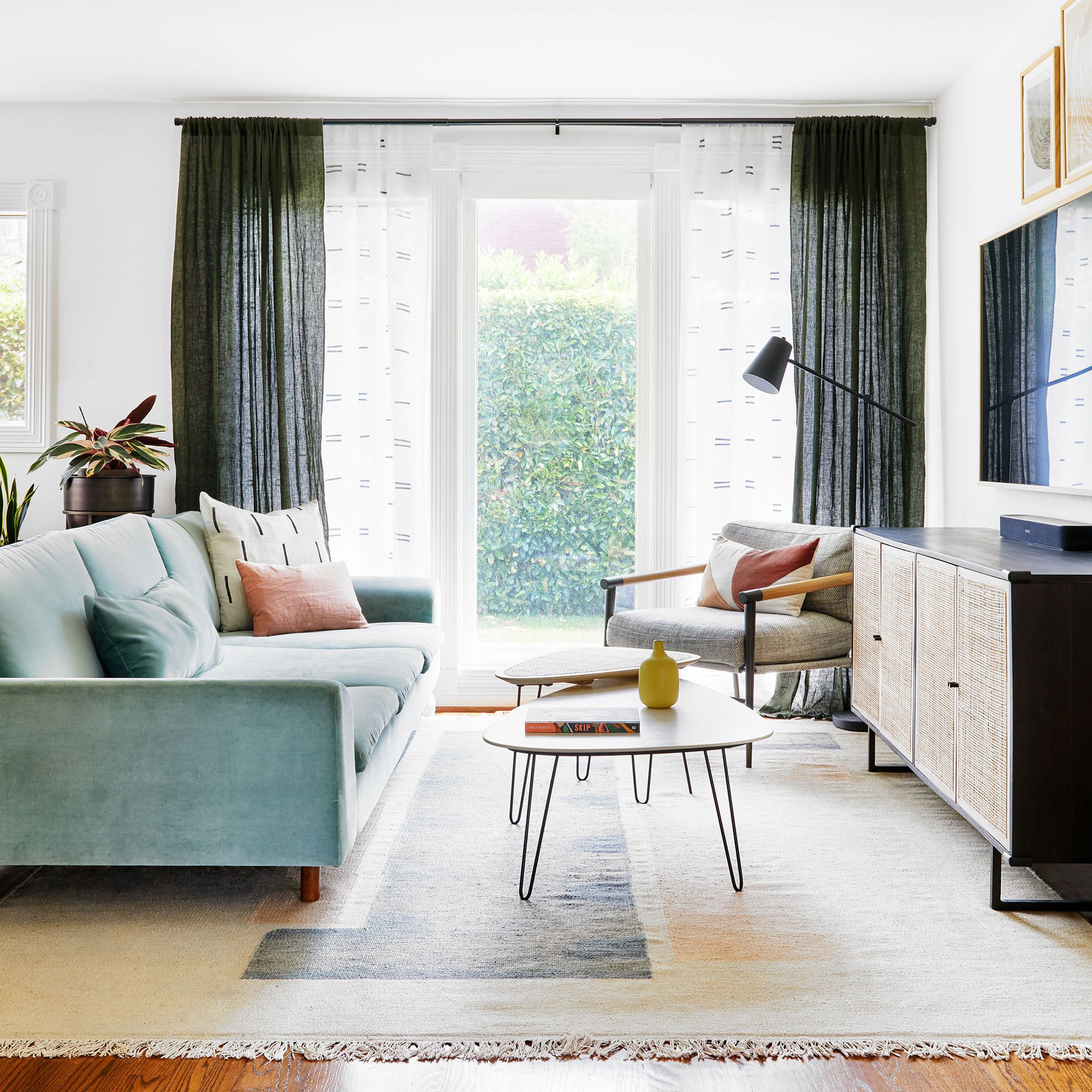 You can visually zone spaces without any building work or big projects. A large, oversized rug goes a long way with open-plan living room ideas.
Choose an option which can comfortably fit your sofa, armchairs and coffee table. This 'island' created by the rug becomes a room in its own right, differentiating it from the dining or kitchen areas in the same space.
For modern living room ideas, choose a rug with pattens that reflect the graphic shapes and lines used elsewhere in the area.
13. Use the same flooring throughout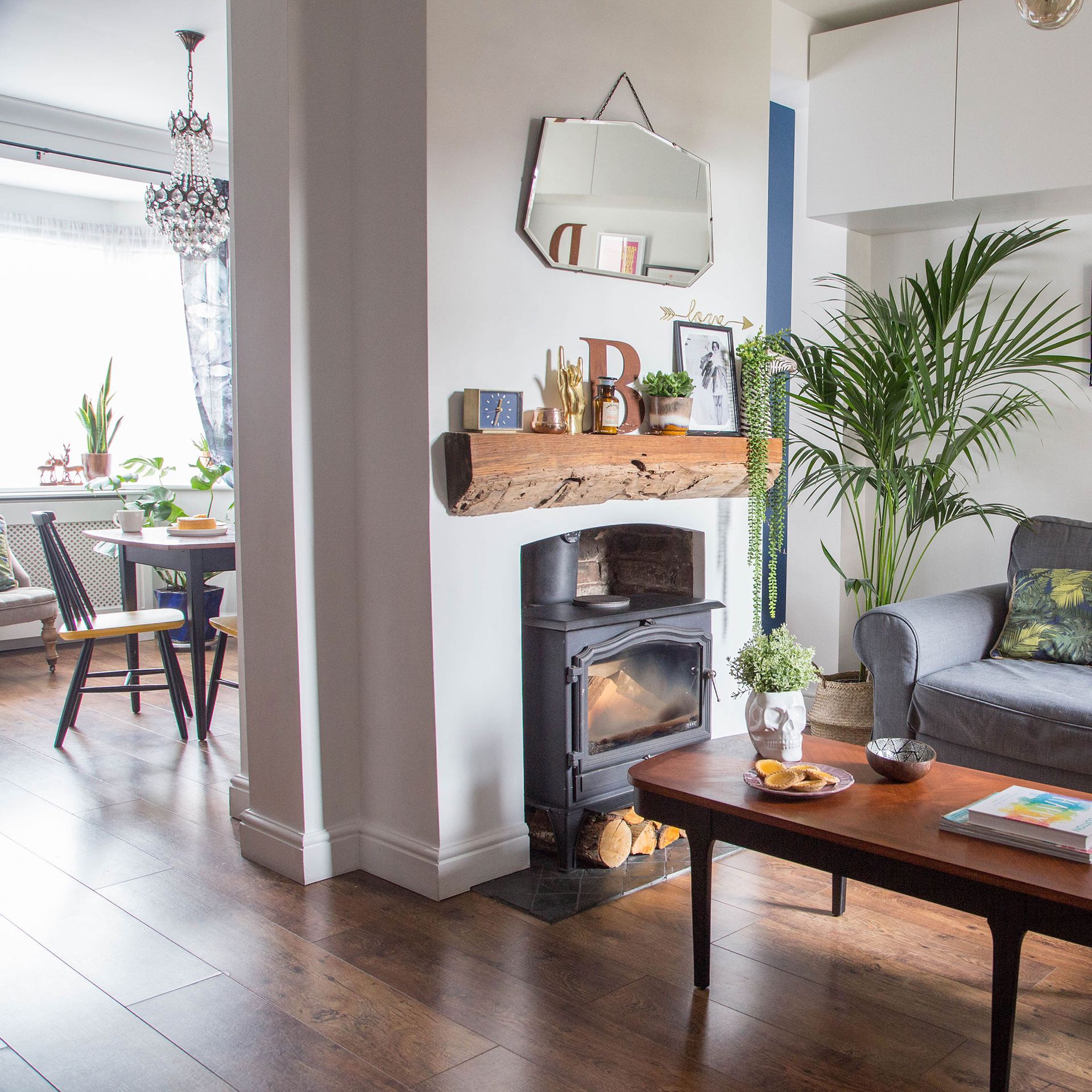 'In today's modern home, people are choosing open-plan layouts to maximise the feeling of space and light,' says Simon Myatt, Brand Ambassador, Havwoods. 'This remains a popular trend in the living areas, where flooring is used to transition seamlessly from one room into the next, without interruption from door bars or floor strips.'
'Alternatively, use living room flooring ideas to zone. In this way, you can create zoned areas, perhaps by layering your floorboards in alternate patterns, or choosing slightly different tones or textures.'
14. Make it work for every function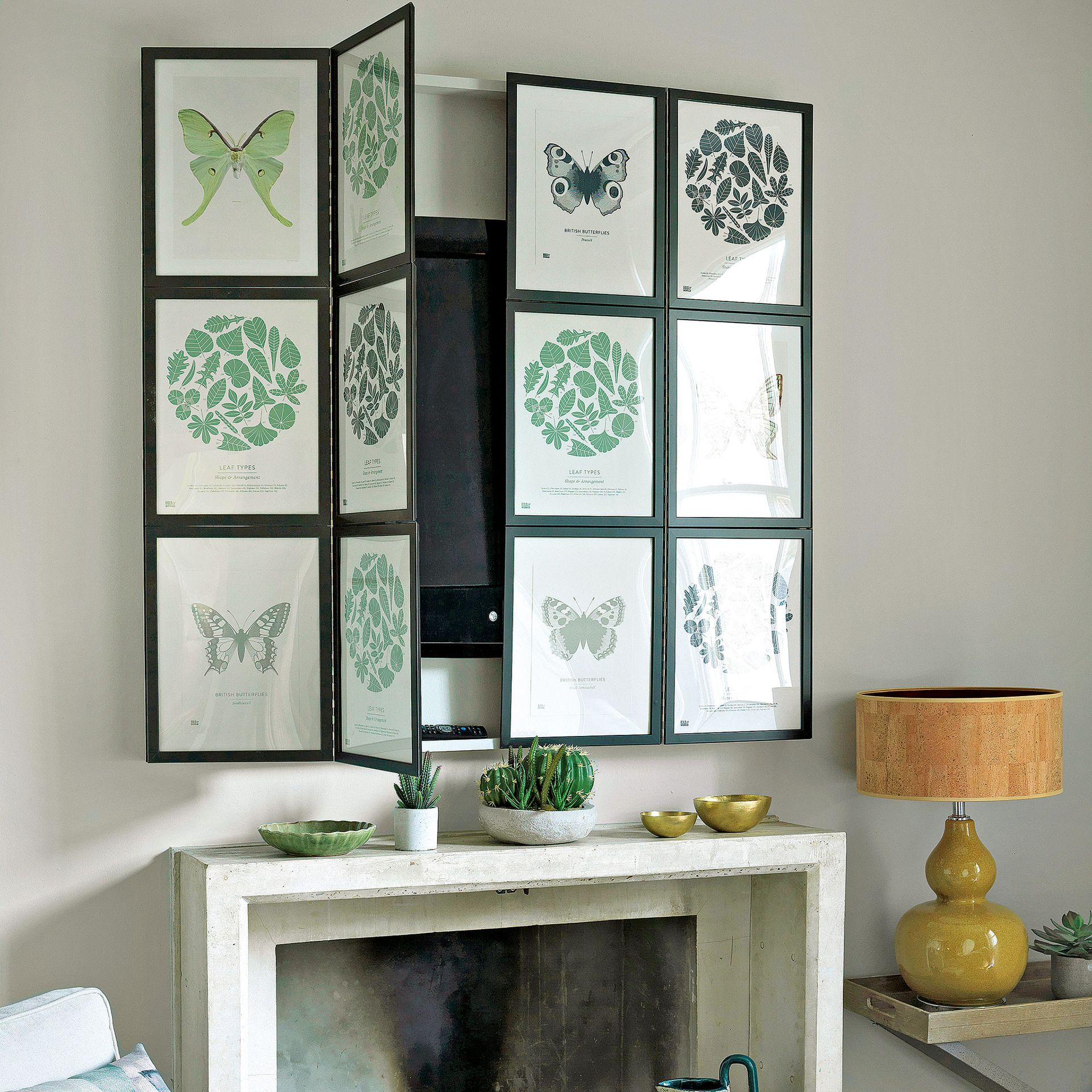 'An open-plan living area is often a multifunctional space that is home to entertaining, relaxing and dining,' reminds Rob from dwell. And while that it is on the whole a positive thing, it can be tricky to fully visually close off one function to focus on another. For example, tucking away the family/entertainment side of things when you want a relaxed, conservational space, or a WFH location.
Learning how to hide a TV is a great example of the ways you can keep all these elements in one space, but gloss over them when not in use.
15. Use steps for a subtle division of space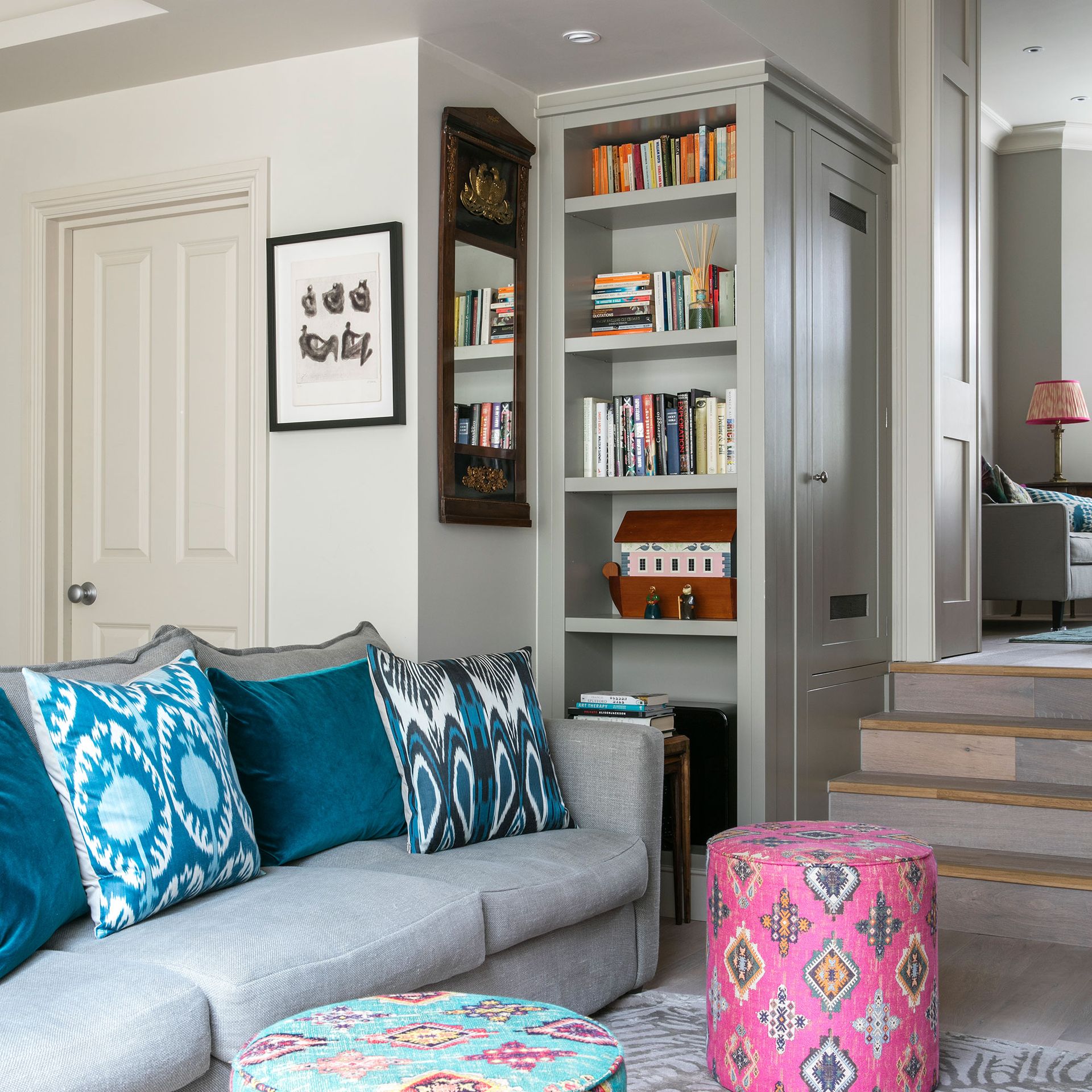 Not all home layouts are created equal. If you don't have a large, flat space to explore open-plan living room ideas, then think outside the box. A few steps leading to the dining or kitchen space will allow the spaces to stay open and connected, even if on slightly different levels.
This can provide a welcome small feeling of separation for family living room ideas, so you can easily keep an eye on the kids while still feeling as though you each have your own space.
Keep the colour palettes the same across the areas to really hone the link between the spaces.
16. Link colours between distinct space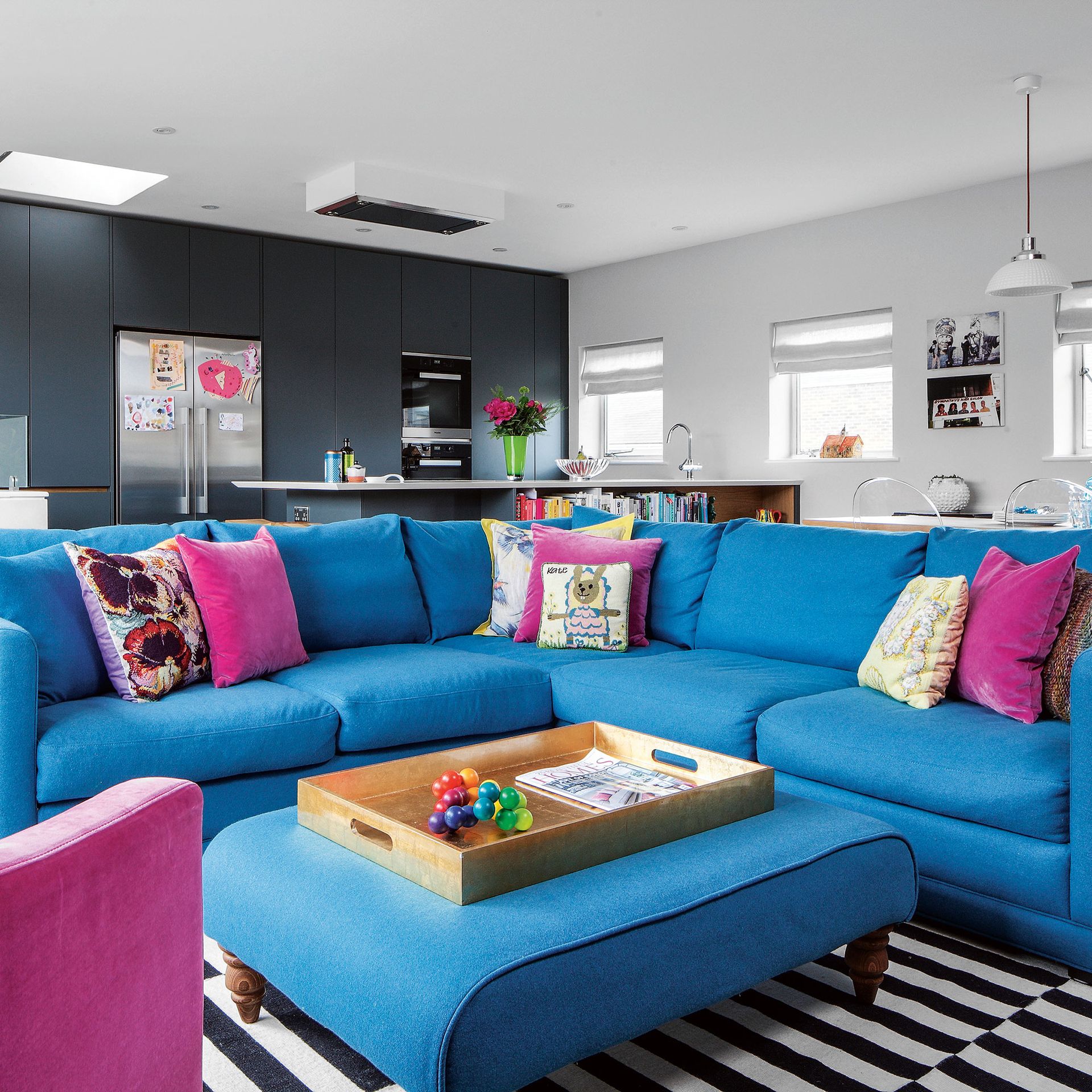 'When designing an open-plan living room, think about the scheme as a whole,' advises Ann Marie Cousins, Founder, AMC Design. 'The different spaces need definition but there needs to be a thread that ties it all together.'
'So, if you have a navy sofa in your open-plan sitting room with richly-patterned scatter cushions with orange, teal and green, you might then opt for a leather upholstered bar stool at navy kitchen island ideas to merge the two together.'
'By bringing colour from one space to the other with pattern and texture, but allowing for differentiation, the spaces will tie together but not match.'
17. Use paint to define different zones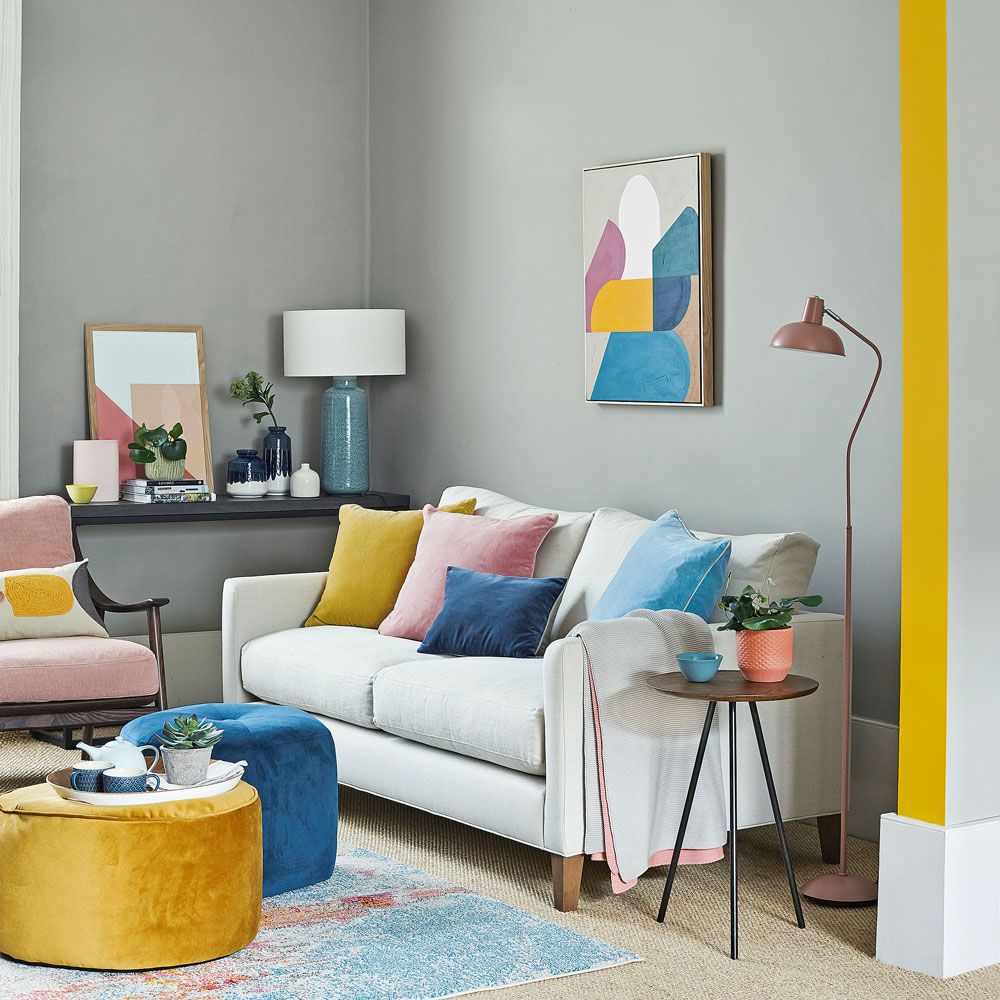 Open-plan living room ideas needn't be devoid of different personalities for different purposes. Opening up a living room and dining area is great to create a more generous space, ideal for busy family life. But it does blur the lines when it comes to lifestyle choices.
Simple paint ideas on architectural details, such as widened doorframes and arches, helps to gently signify different zones within the open space.
Creating zones within the larger space helps to give a sense of purpose for a living room end to that of a dining area or a kids playroom. This unimposing way of dividing the living space doesn't defeat the object of making it open – it merely gives more structure to how you use the space.
18. Continue a style throughout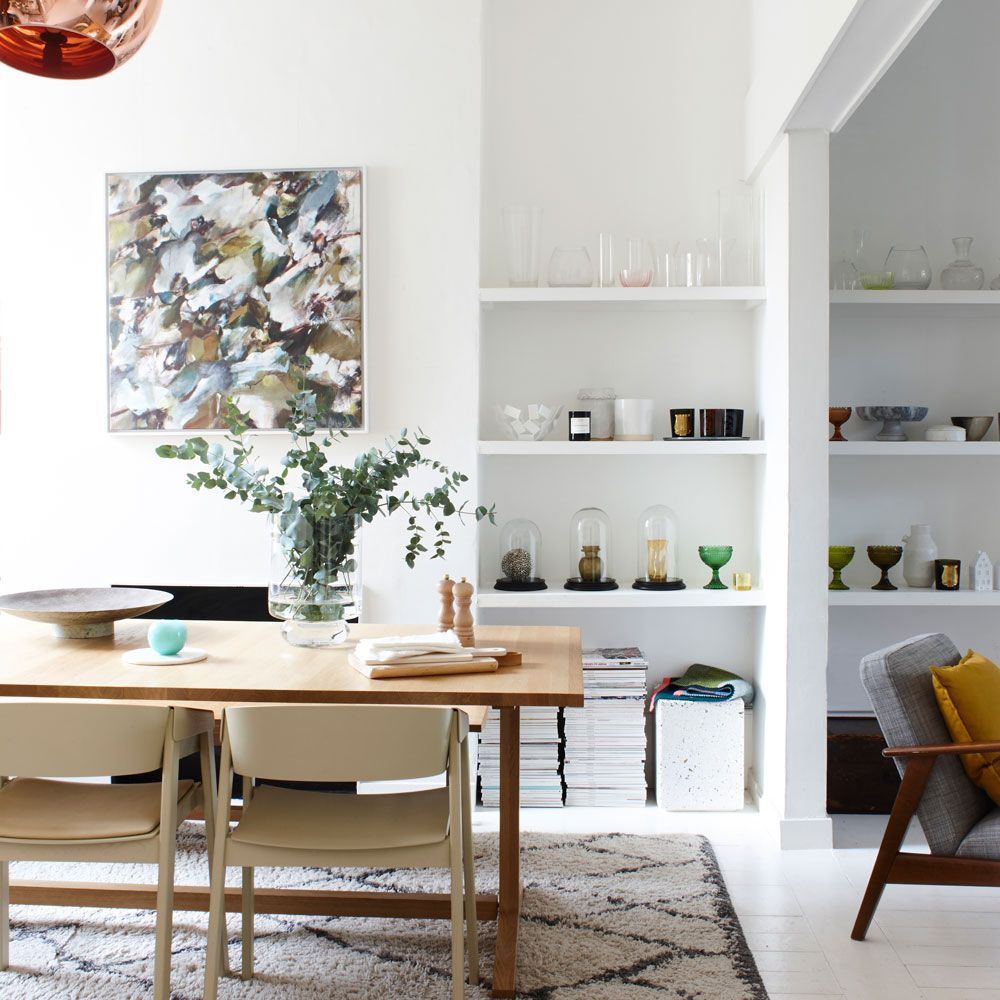 Create a seamless flow from one living area into the next by way of a considered decorating scheme throughout.
'Keeping a cohesive scheme will allow the style of the space to flow seamlessly from room to room,' explains Juliette Thomas, Founder & Director, Juliettes Interiors.
'Whether that's using the same paint colour across your living room wall decor or incorporating the same textures across your soft furnishings, from curtains to scatter cushions, this will tie everything in together.'
19. Cheat it with broken plan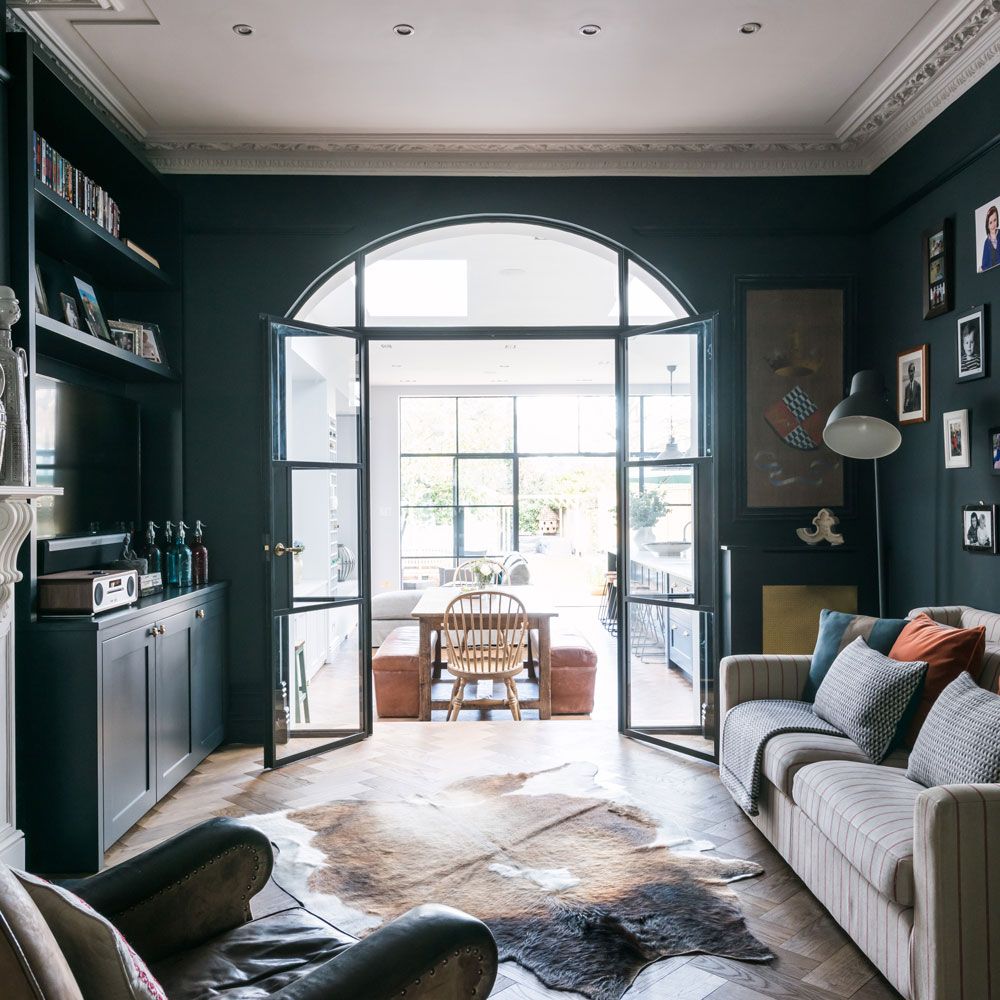 Broken plan is the newer take on open-plan living room ideas. All the benefits of the latter, but allows you extra flexibility.
Replacing traditional doors with a unique glass door frame helps the open layout onto the space beyond. A feat in interior design, using glass in place of hard materials makes the walls disappear - while allowing you to shut off the living room for more intimate use, as and when some 'me time' is needed.
20. Leave a partition wall to benefit both areas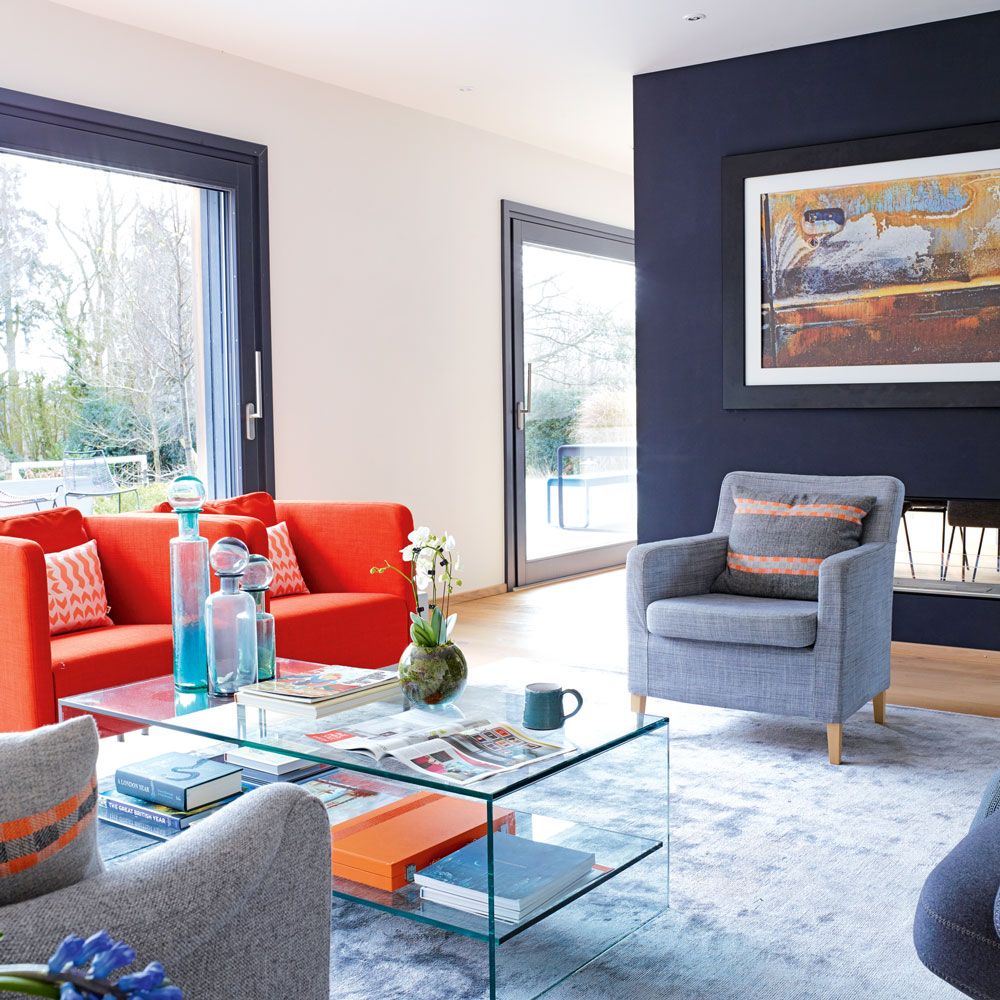 While you may desire the feeling of openness, you might not want to create one vast space that is devoid of structure. If this is the case consider leaving a section of wall still in place, to divide one end of the room to the other.
Having an element of division allows you to retain a living room layout – not losing a wall to place furniture against or hang wall art for instance. A smart space could use the diving wall to situate open living room fireplace ideas to ensure both areas either side of the wall benefit.
21. Add personality with block painted zones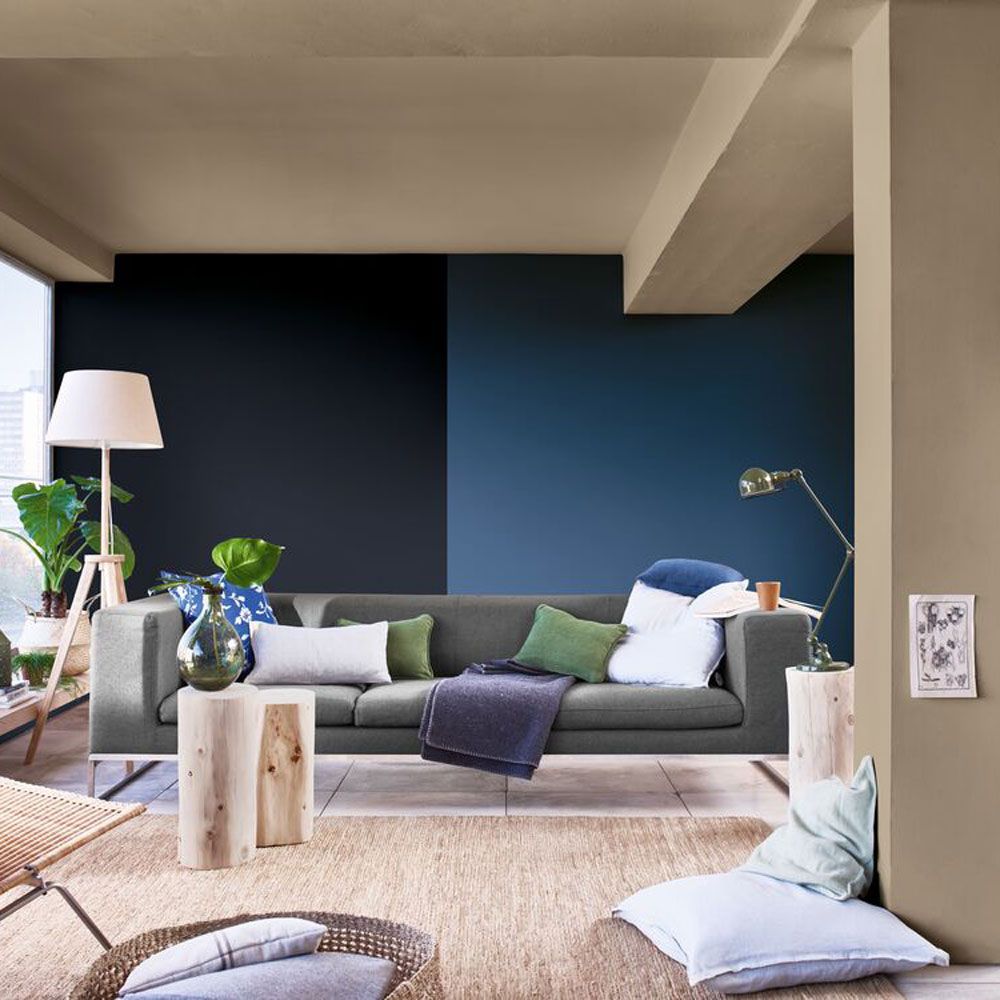 While lounging, eating and working may all take place in one large open-plan area, it doesn't mean you can't zone each area with a different colour. Signify a change of purpose with a splash of colour, with a thoughtful living room paint idea to transform with accent walls.
22. Utilise a neutral scheme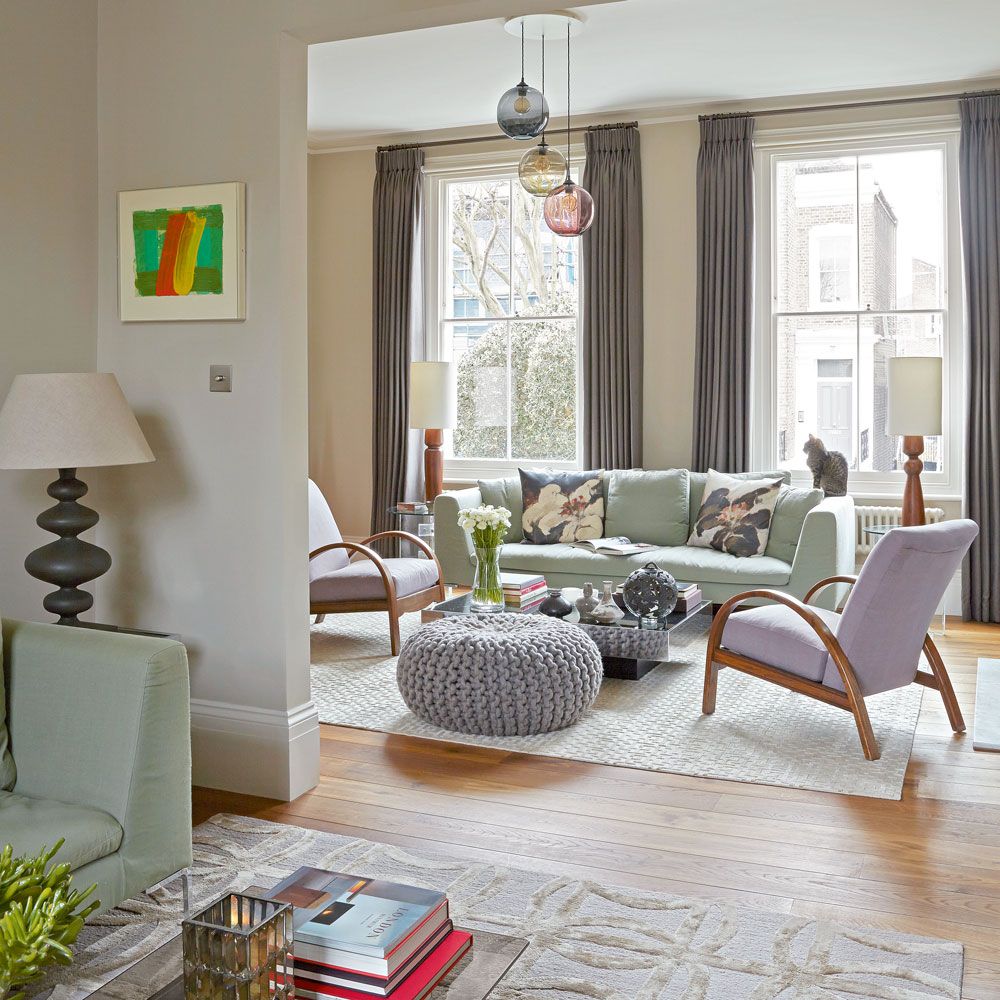 Create an effortlessly sophisticated and inviting open-plan lounge by choosing neutral living room ideas, using the same paint shade and flooring throughout.
This soft approach helps to make the space feel more grounded, and adaptable for all uses. Echo tonal accent pieces, such as lilac-grey and charcoal, to add soft colour contrasts without making the space feel overwhelmed.
23. Choose a sliding door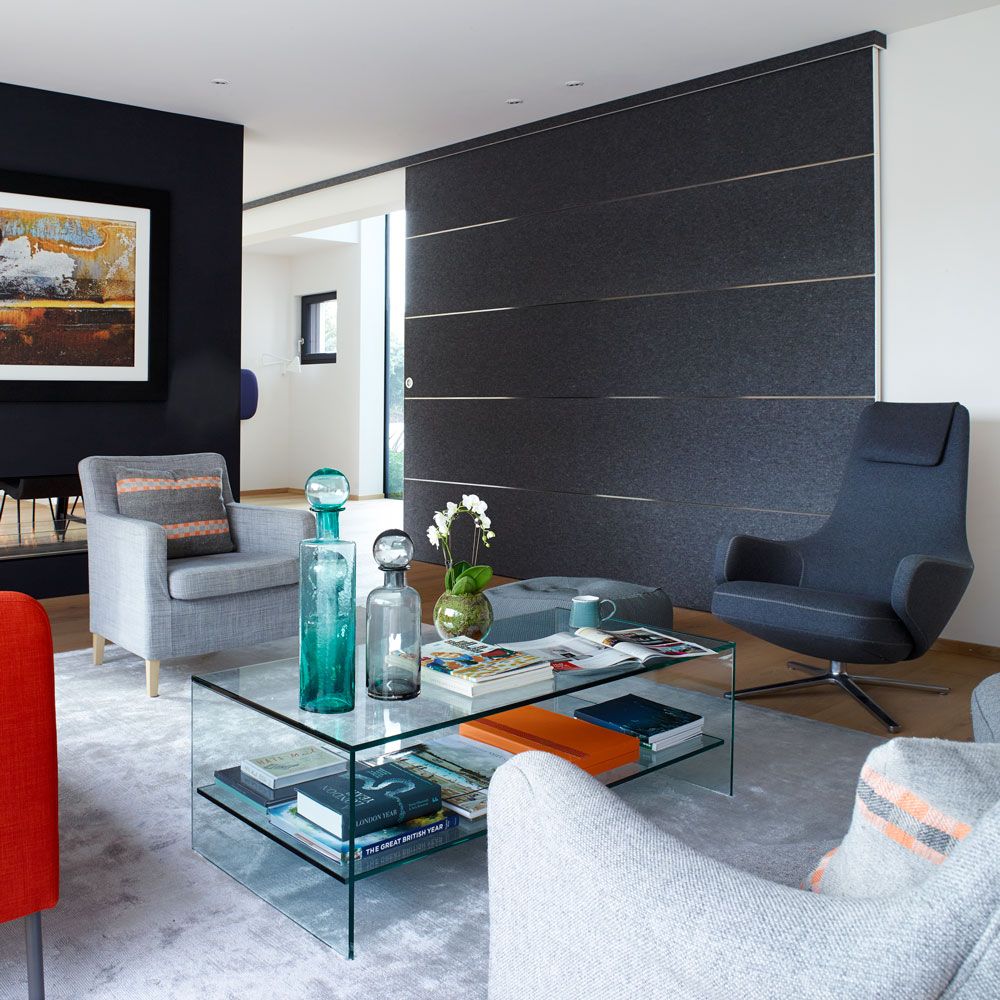 'Sliding doors work well for larger spaces and can really make a difference in a room' explains Rebecca from Furniture and Choice. 'While they require more work to incorporate into a space, including sliding doors into your interior design will enable you to separate an open space with style and versatility.'
'As an example, incorporating a sliding door into your kitchen/dining/living area will provide you with the flexibility to close off one space when you need to. Perhaps for home working, but then seamlessly transform it back into a vibrant space for dining and entertaining when needed.'
24. Create distinct areas with different textures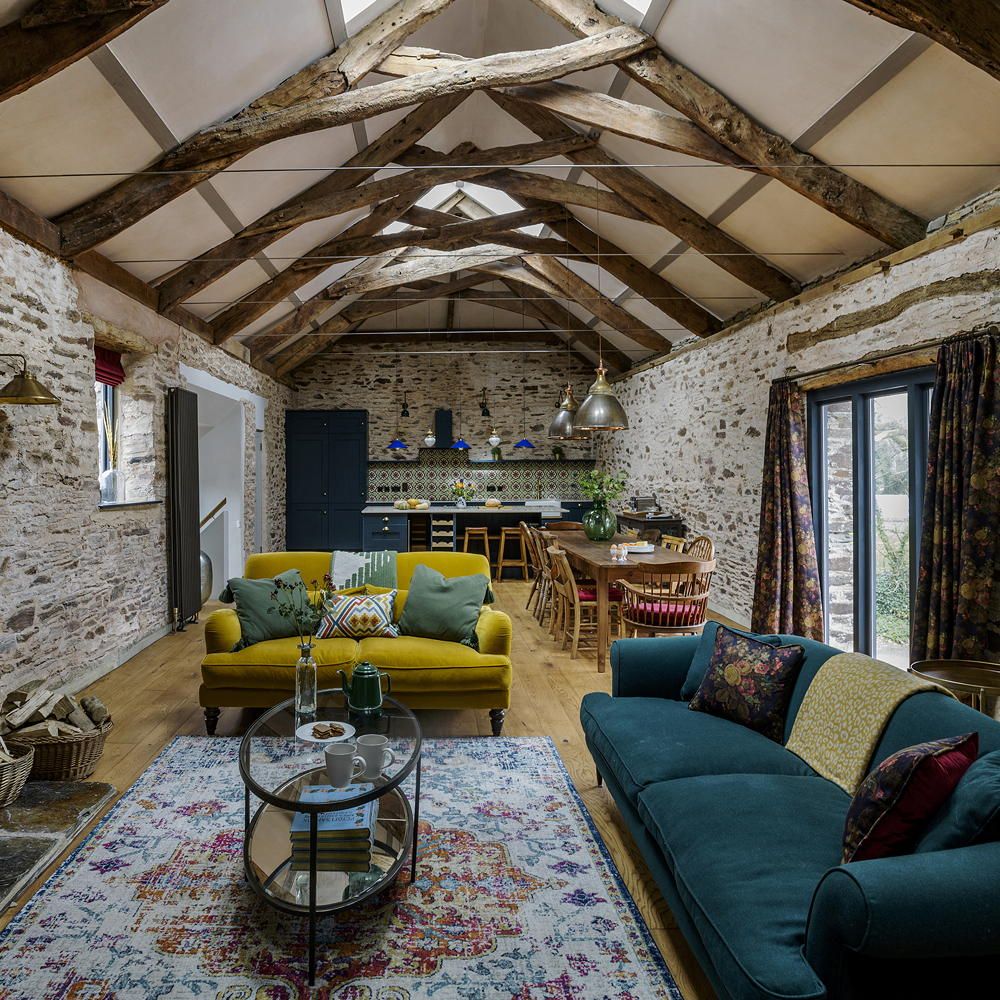 Instead of zoning with paint colours or furniture, you can go a long way by playing with materials. Using different textures can be used to create distinct divides in open-plan living room ideas, separating off the dining or cooking areas.
You might want to overload the former with softer, plush items to hone the relaxed element of the area, while kitchen ideas or dining spaces may be filled with harder surfaces and materials.
25. Use partitions to display items to reflect the zones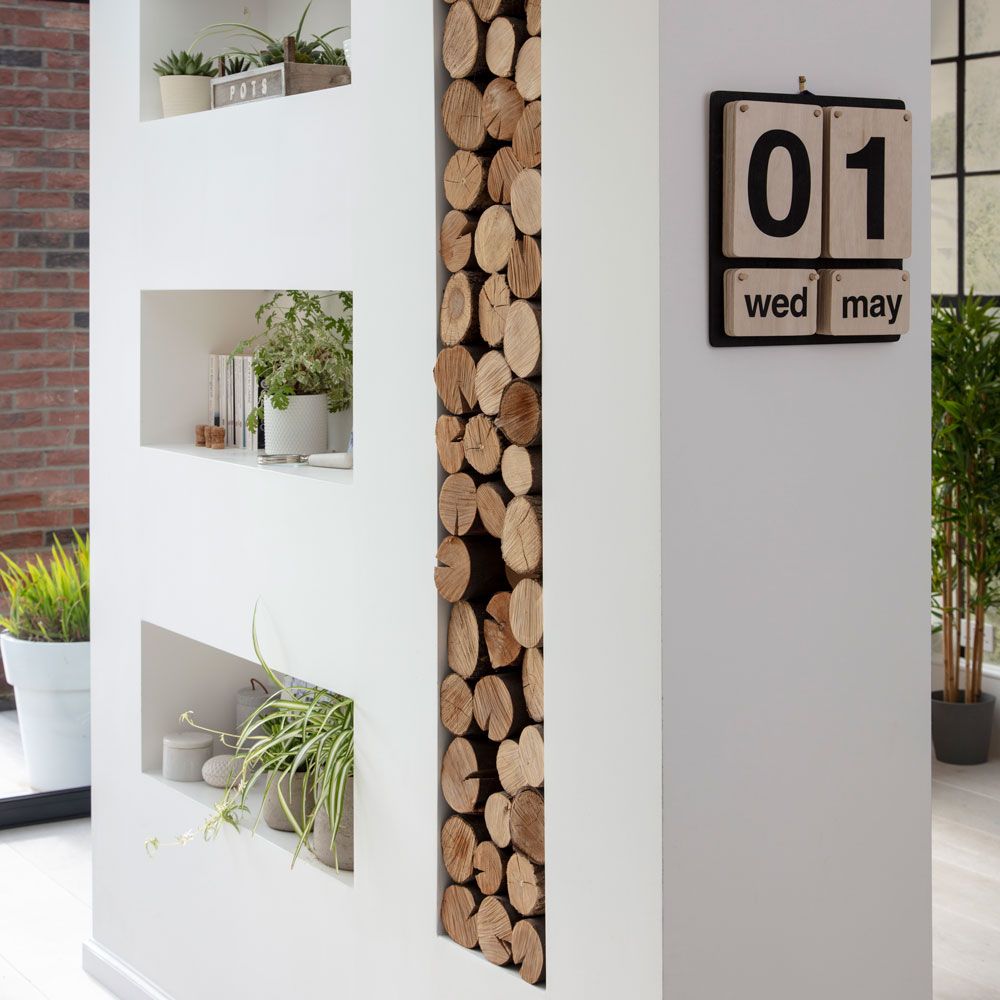 When planning how to design a living room, partially divide an open-plan space with a central column. Within that partition wall add handy alcoves to provide extra storage and also helps to add a decorative touch.
Each side of the partition can be used to display items relevant to the use of that space. For example, decorative kitchen items in the dining area, and books and plants in the living section.
26. Open up a period property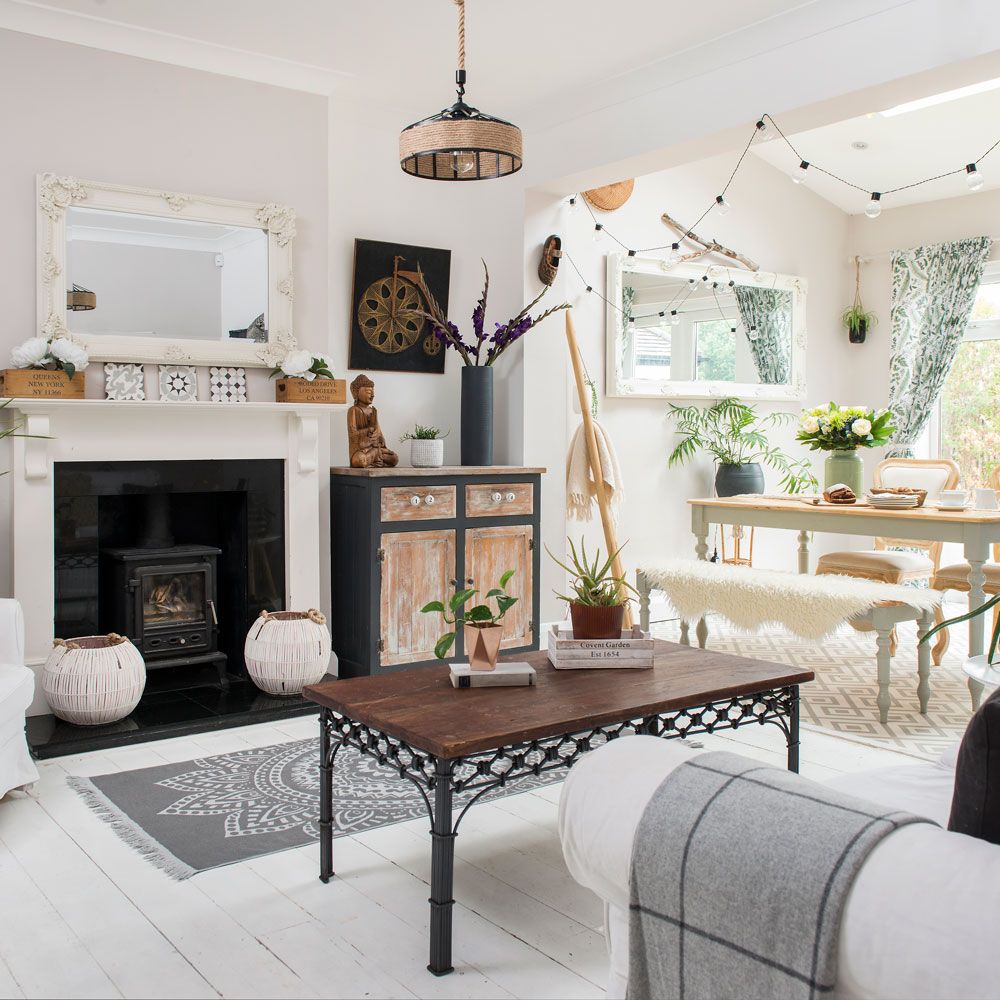 Don't let the age of your property deter you from making modern alterations. Formal front rooms in older properties can often feel dark and enclosed, so knocking through to form an open-plan living room is a popular choice. Removing a wall between rooms offers greater flexibility for the space and enhances the light in townhouses and terraces particularly.
Before undertaking any work make sure to consult a structural engineer and research any planning permission required.
27. Make rooms work on another level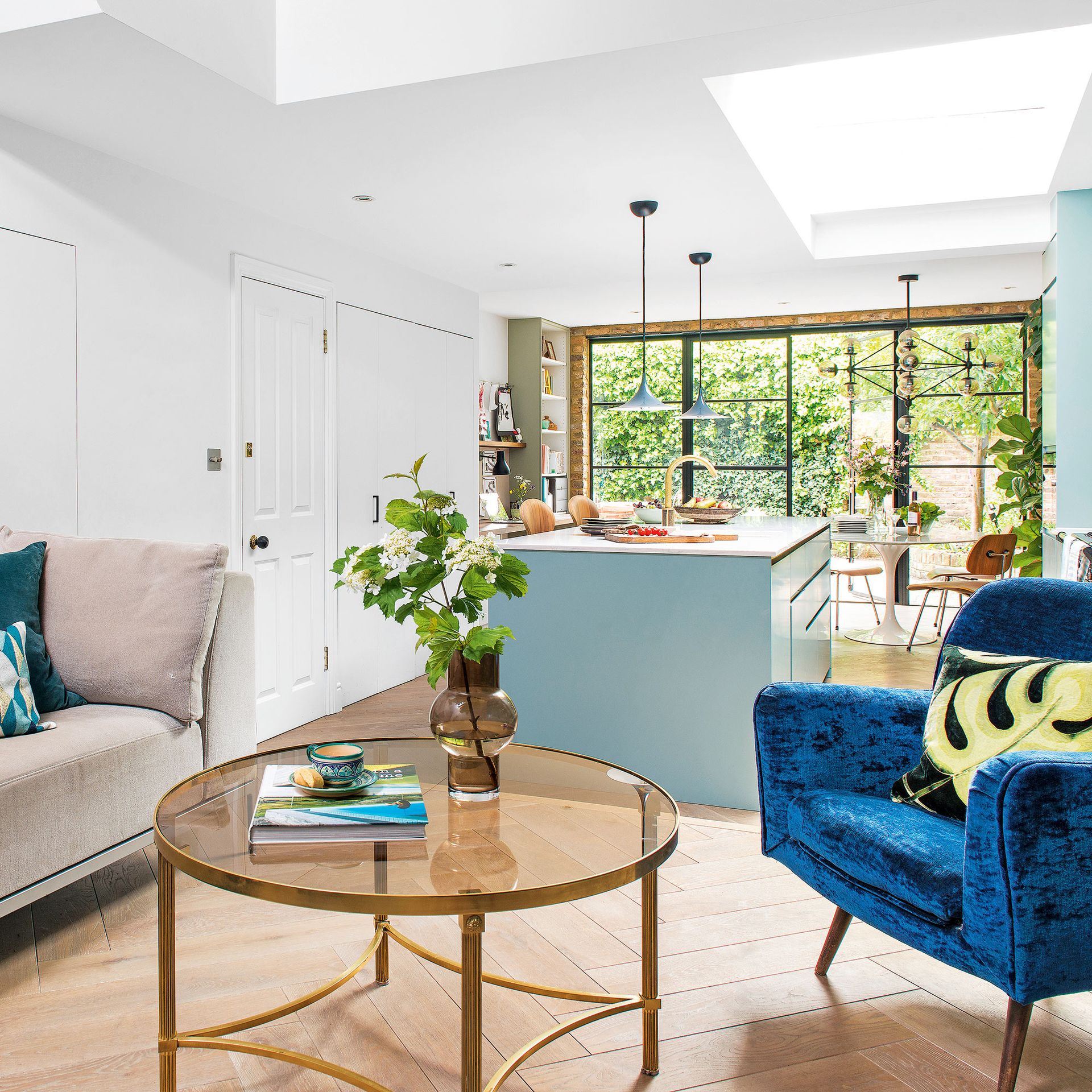 Not all homes have horizontal ceilings and single-level floors. Highlight these features by building clever storage and outside-of-the-box zones. Play with the levels in tandem with your open-plan living room ideas.
Be savvy with heigh ceilings and create a mezzanine to act as extra living space – such as a home office or guest bedroom. Using a tonal colour palette throughout will help tie the areas together.
28. Boost light and energy with a skylight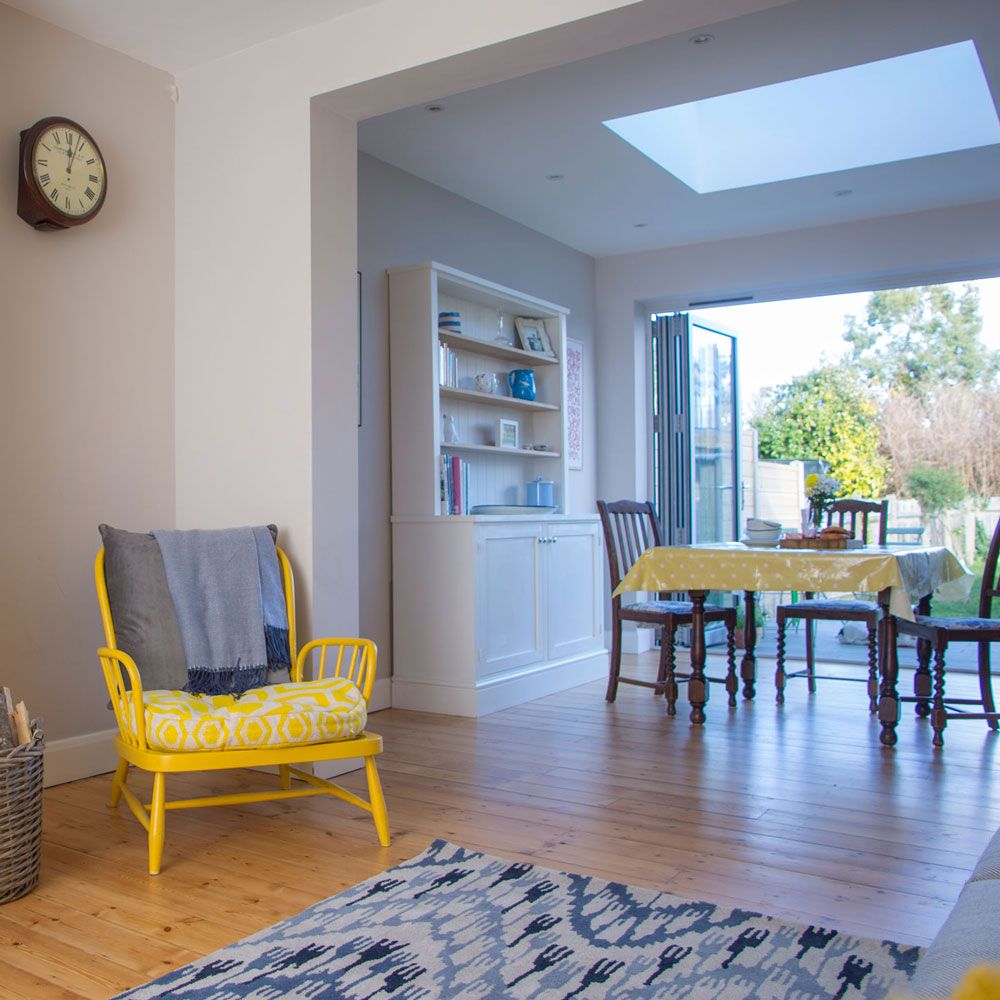 The beauty of open-plan living room is the sense of space, keeping the mood as light and airy as possible aids this effect. Skylights are the ideal solution for single-floor spaces or extensions.
29. Take windows from floor to ceiling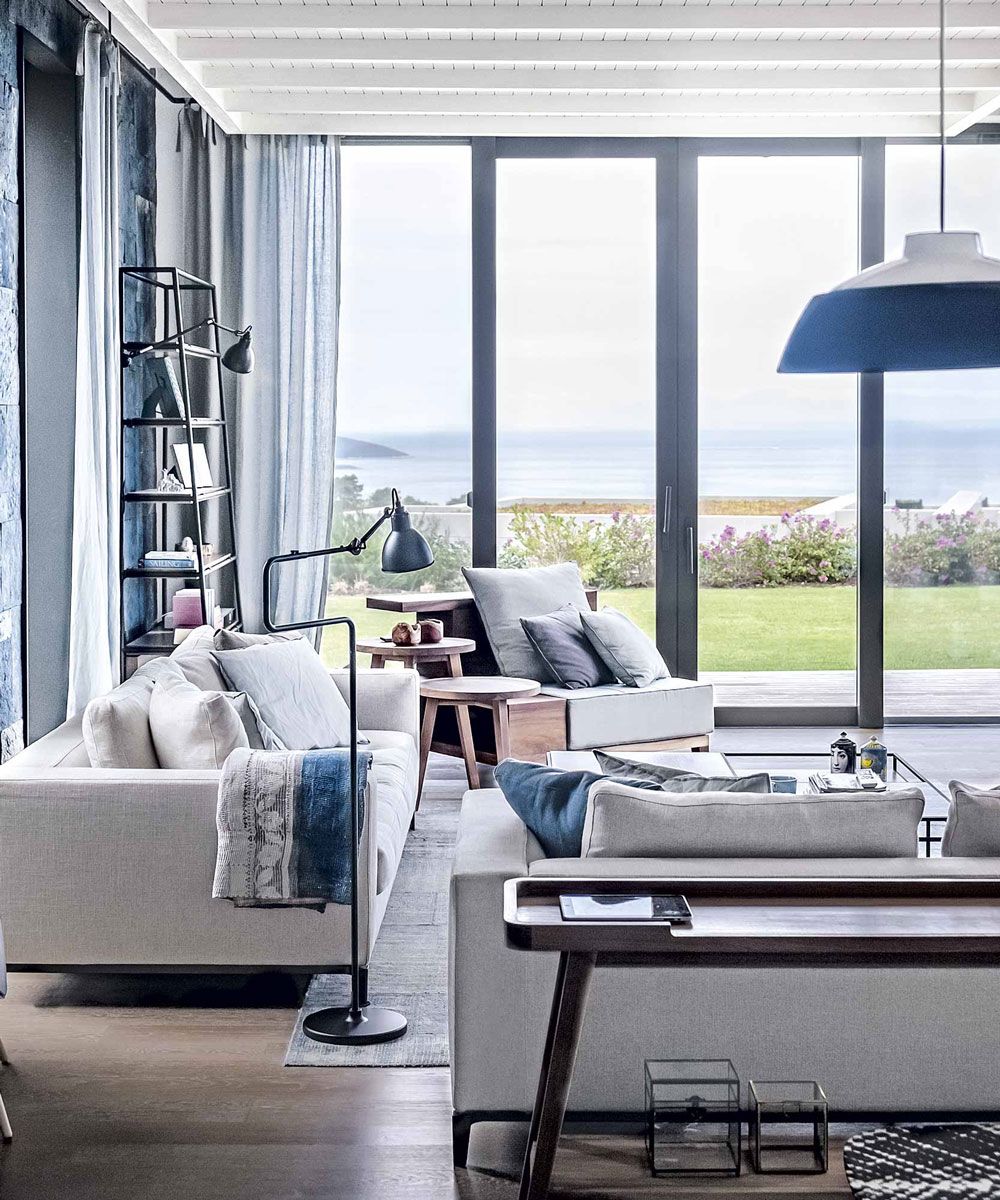 Think about natural light sources to ensure the room stays bright. Making the most of natural light is a great way to keep a room feeling vibrant and lively and can even help a space feel larger than it actually is.
Take things further by optimising your open-plan living room to flow seamlessly out to an adjacent outdoor space. Consider wall-to-wall, floor-to-ceiling patio doors - they will extend your room and optimise light. Make the transition from inside to out seamless by colour-matching internal flooring with external garden decking ideas.
30. Choose an L-shaped sofa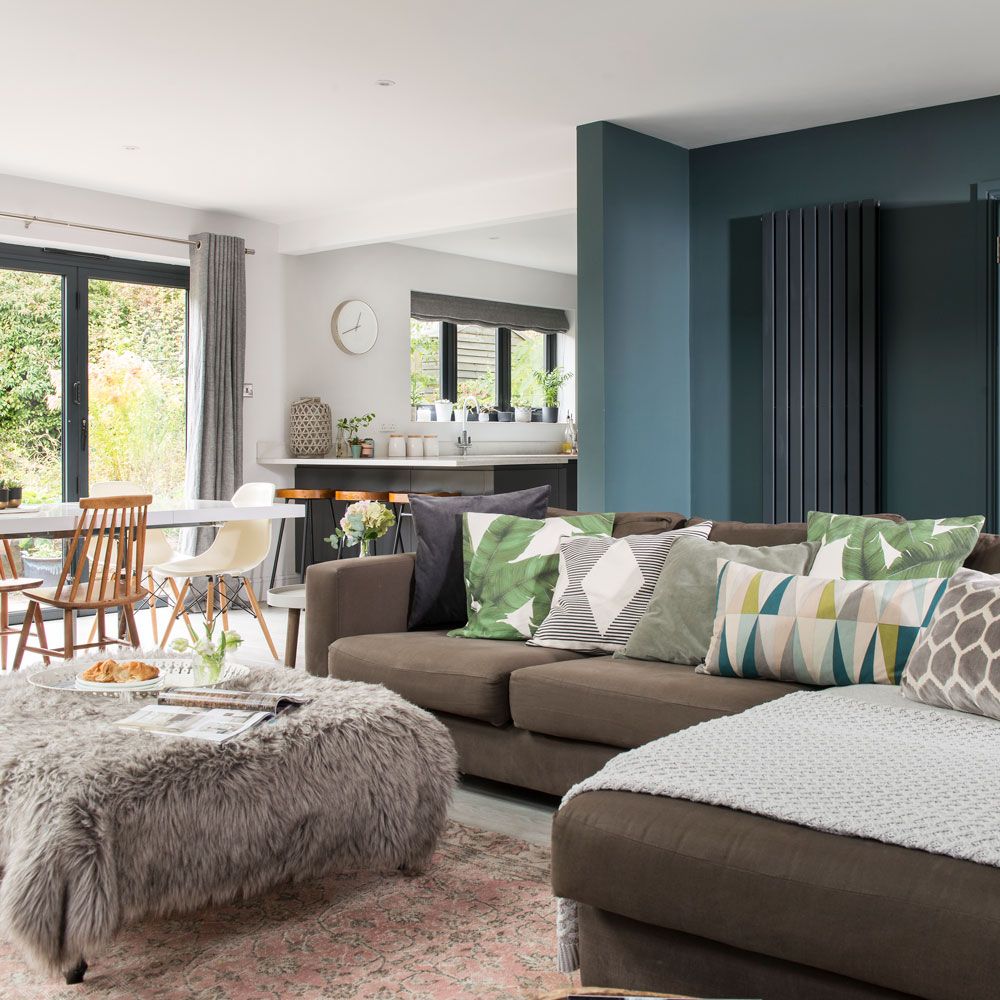 Use a corner sofa to define the seating area in a multi-functional open-plan living room ideas, and add a sense of intimacy to a large room. Create a comfy haven and nestle a rug and coffee table into the gap made in front of the living room sofa ideas to give a friendly, more cosy feel.
To further enhance the warm mood and create a cosy feel, paint the wall in this area a darker shade than used in the rest of the room. The moody colour behind the sofa helps to enhance it and make it even more inviting.
31. Plan out your space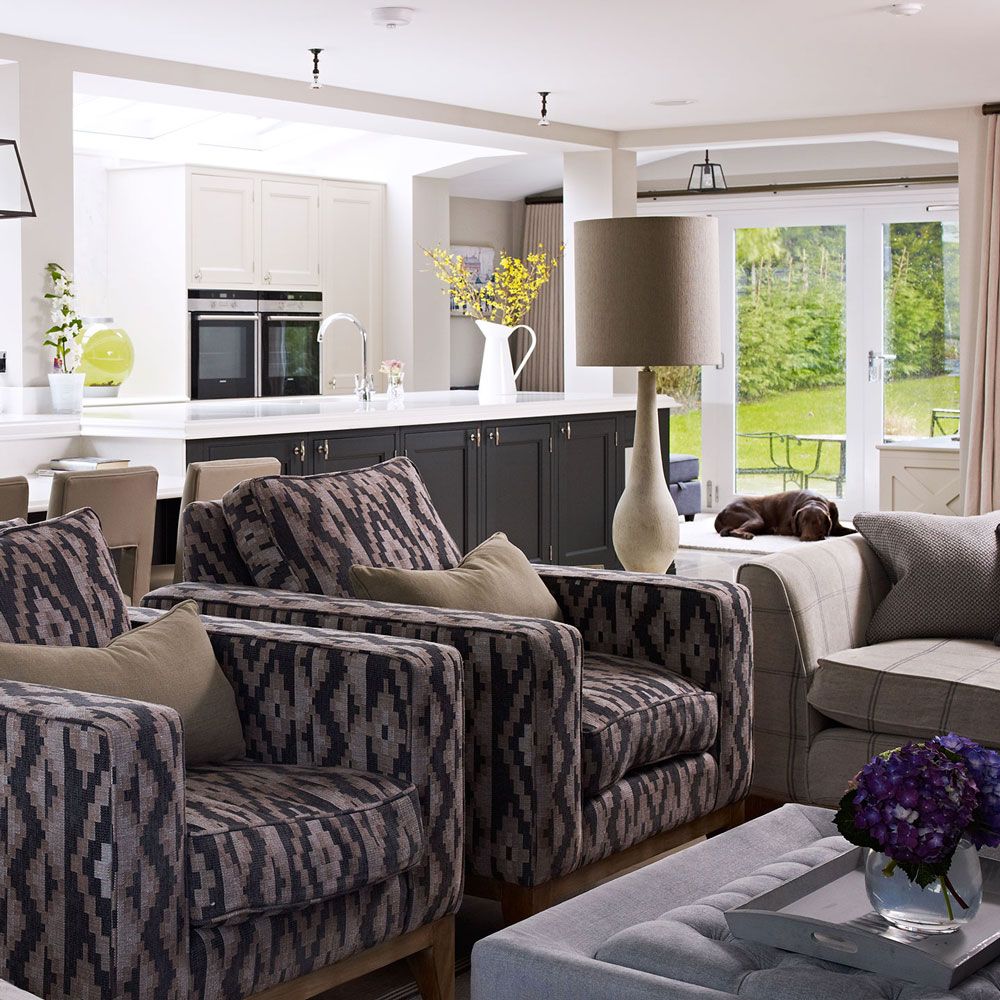 As one of the most social spaces in the house, your living room needs to look good, work hard and function well. Before you begin any work, take a little time to work out how the space functions for you. Is it a relaxing haven, and entertaining space of family central? A sophisticated neutral palette helps create a comfortable feel in this kitchen living area.
The trick is to pay attention to balancing the colour scheme and keeping everything in proportion. After all, open-plan living room ideas are a fundamental part of modern family schemes and need to incorporate all aspects of living.
32. Reconsider furniture placement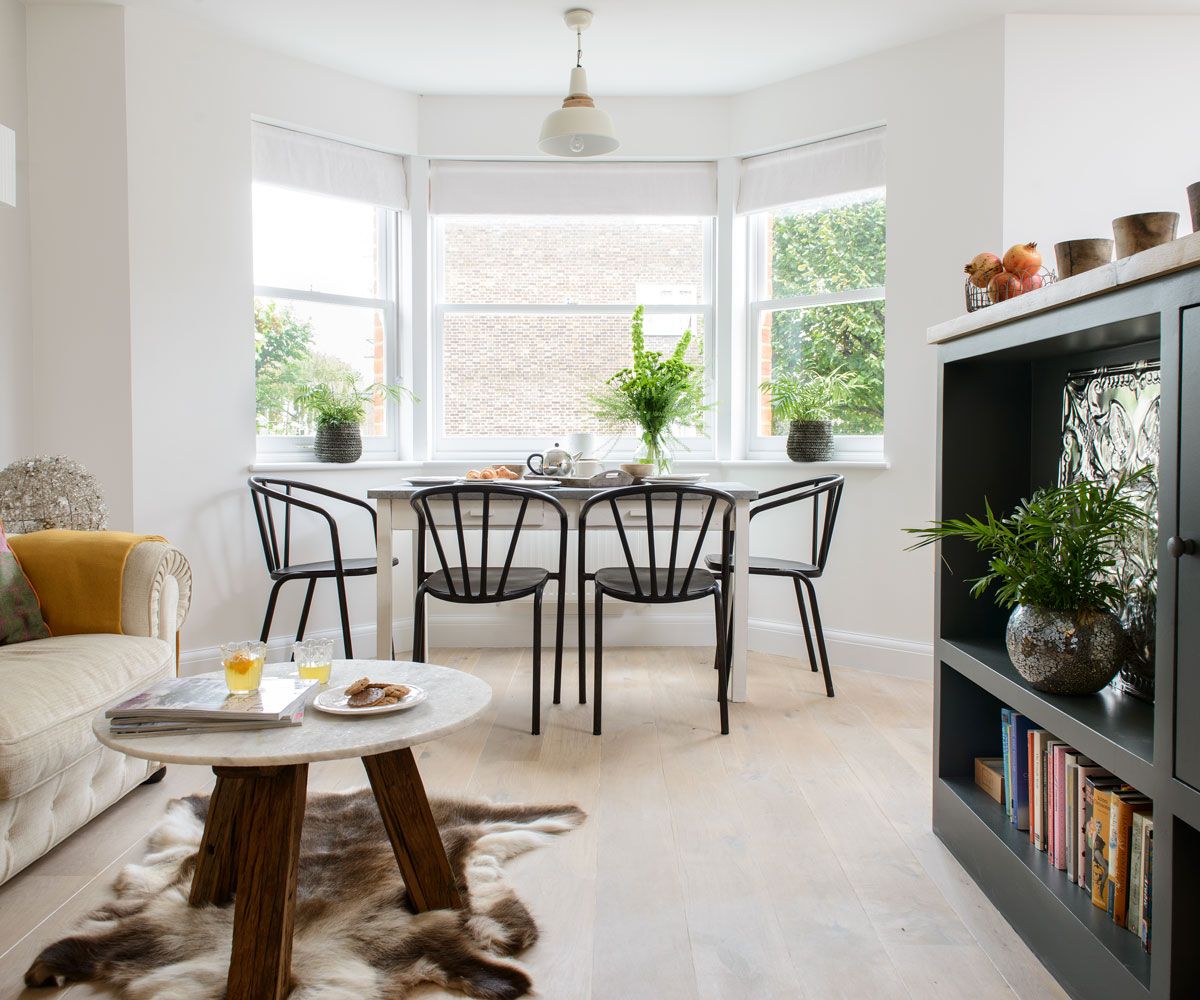 It's very easy to keep your dining areas in, or linked to the kitchen section of your open-plan living room ideas. Howev