Patternalities – what do your pattern choices say about you?
Livingetc takes a look at what your favourite pattern might possibly reveal about your character...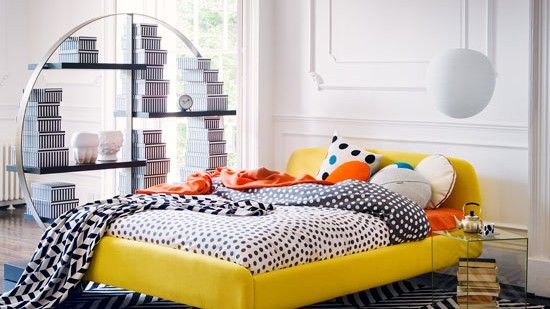 (Image credit: TBC)
Hopeless romantic? Neat freak? Wild child? We present the Livingetc patternalities, where we analyse what a favourite style could possibly reveal about a character. Who would have thought flicking through a fabric book and settling on a preferred design could be as insightful as a trip to the local tarot reader...
Favourite pattern: chevron
High one minute and low the next, your life is a white-knuckle rollercoaster of emotions. Friends might find the constant lurching from one thing to the next a little tiring, but they at least find comfort in your consistency.
Favourite pattern: ombré
You're a bit of a shady character, known amongst friends for sitting on the fence and your inability to make decisions. On the flip side, this means you find it easy to see different points of view and are usually a soft touch.
Favourite pattern: paisley
Although you're drawn to wonderfully exotic pastimes, you are really a traditionalist at heart. Delicate, you can be brought to tears in a moment. Likely to have a mix of Scottish and Iranian ancestry.
Favourite pattern: florals
The most varied patternality; you have been known to demonstrate a wide range of characteristics from romantic and twee to bold, exotic and outgoing. With a tendency towards effeminate and delicate behaviour, you can also be a little childish.
Favourite pattern: tartan
A lover of order and organisation, you are always immaculately turned out and you keep your home spotless. You have a strong sense of family values, but a need to 'belong'
can make you into a bit of a try-hard.
Favourite pattern:
Op Art
You've got the most enigmatic patternality, with a hard-to-read character full of hidden depth. Trouble is, many people find they get a headache if they spend too much time with you. You commonly have a very black and white approach to situations.
Favourite pattern:
animal print
Regardless of whether you are leopard lover or a zebra fiend, your penchant for animal print reveals you as a wild child. Brave, confident and never afraid of confrontation, you are always vying for attention and keen to be the leader of the pack. Not known for adaptability to new situations.
Favourite style: s
tripes
A loyal friend, you exude unstated confidence and are unwavering in your decisions.
You're particularly cool when you've got the blues.
Favourite style:
Toile de Jouy
You are likely to be a born and bred country gal, with a love of farming and other rural pursuits. You take things extremely literally, although of course you always bring a certain joie de vivre to any gathering.
Find more pattern ideas on the Livingetc homepage.
******